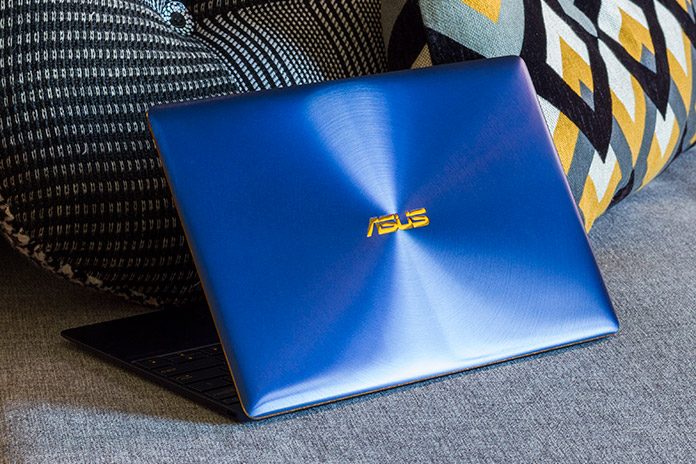 Intel introduced U-series Core processors back in 2011, enabling a new breed of notebooks dubbed ultrabooks. The chips were more power-efficient than their predecessors, which let us squeeze them into thinner chassis without compromising performance and battery life. And so our premium ZenBook family was born.
Five years later, we've come up with something truly special to celebrate the anniversary. The ZenBook 3 redefines expectations for high-end ultraportables. It's slimmer and smaller than its ultrabook predecessors without giving up the Core i7 horsepower that make them so appealing. It's also strikingly beautiful, with exquisite materials and high-end features that complete the package.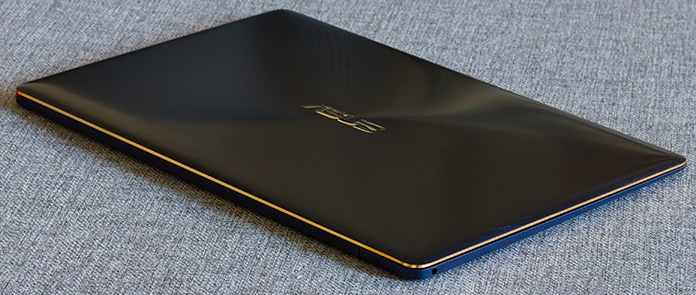 Float like a butterfly
To fully appreciate what we've achieved with the ZenBook 3, you need a sense of just how small it is. The 11.7" x 7.5" footprint is roughly the size of a standard sheet of paper. While the chassis isn't paper-thin, it measures a mere 11.9 mm at its thickest point. Tapered edges create the illusion that it's even slimmer, and they're not just for show. The lean proportions leave little to grab onto, making the raised edges handy for prying the notebook off flat surfaces.
The ZenBook 3 is skinnier than any MacBook and weighs less, too. It barely tips the scales at 910 grams, an impressive 33% lighter than the MacBook Air. Maybe we should have called it the ZenBook Helium instead.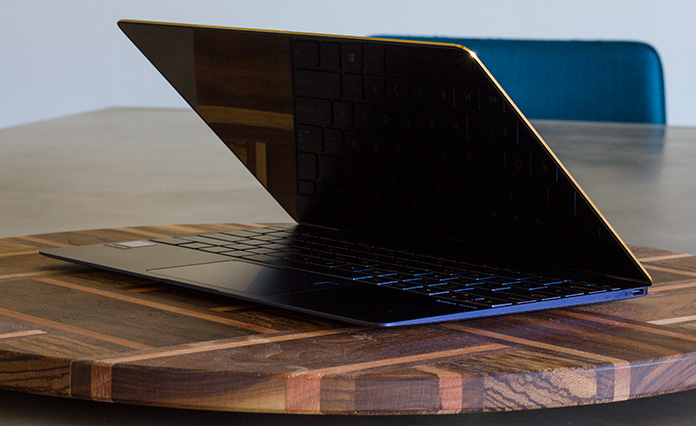 Shaving millimeters and grams can compromise strength, so we switched to aerospace-grade 6013 aluminum for the ZenBook 3's main pieces. This alloy is 50% stronger than the metal typically used in notebooks, allowing us to create thinner panels without losing rigidity. The lithe body is remarkably stiff and sturdy as a result.
Using a tougher metal makes it particularly difficult to etch the concentric circles that appear on every ZenBook. The unique pattern is worth the painstaking effort required, because when the light catches the lid just right, with the added glint from the diamond-cut edges, the ZenBook 3 looks absolutely gorgeous. The spun metal finish also helps hide the fingerprints and smudges that accumulate with daily handling. You can keep up appearances without constant buffing.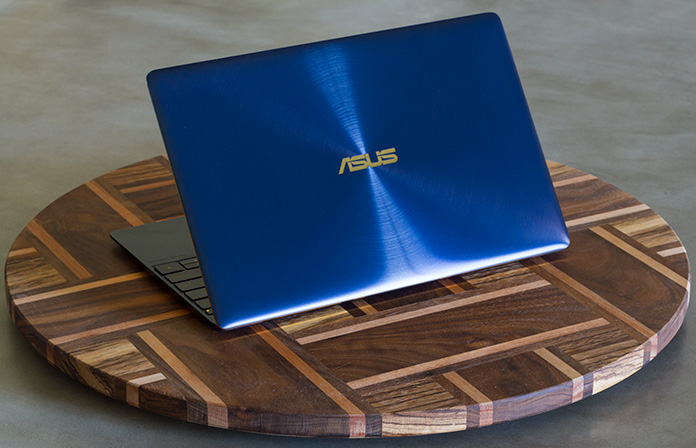 Appearances matter in the world of luxury hardware, which is why we take particular pride in the ZenBook 3's signature color. The distinctive royal blue and gold trim strike a delicate balance between boldness and elegance. The rich, anodized tones complement each other nicely, and the keyboard lighting is gold to match.
Although gold trim permeates the lineup, blue isn't the only primary color. The ZenBook 3 is also available in a subtler shade of quartz gray.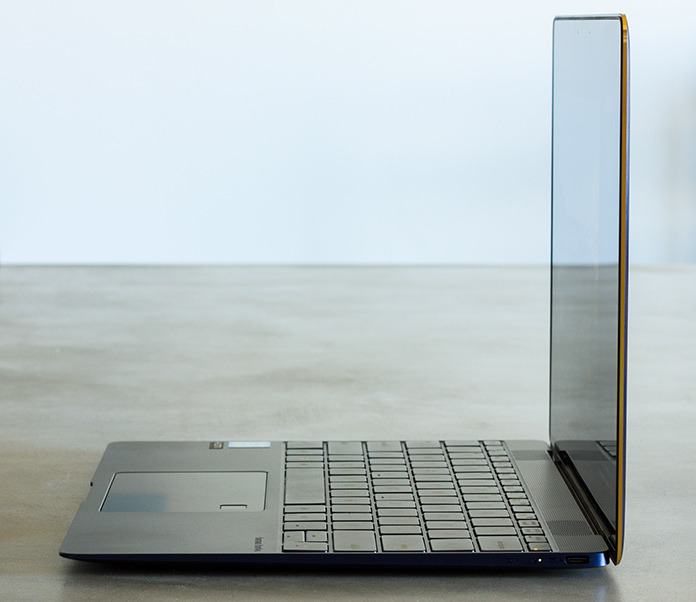 Sting like a bee
Putting an ultrabook on a crash diet usually involves switching to Y-series processors from the Core M family. These chips share silicon with their U-series counterparts, but they're on a much tighter leash. While ultrabook chips operate within a 15W power envelope, Y-series CPUs like those found in the MacBook are limited to just 4.5W. Less power means lower clock speeds and slower performance.
Instead of scaling back, the ZenBook 3 offers full-fat 15W CPUs based on Intel's 7th Generation Core architecture, otherwise known as Kaby Lake. Options scale up to the Core i7-7500U, which has a 2.7GHz base clock speed and 3.5GHz Turbo peak. With dual cores and the ability to execute four parallel threads via Hyper-Threading, the chip is fast enough to blast through web surfing, productivity, and even content creation. The ZenBook 3 breezed through the writing and photo editing required for this article, and it feels every bit as fast as bigger ultrabooks.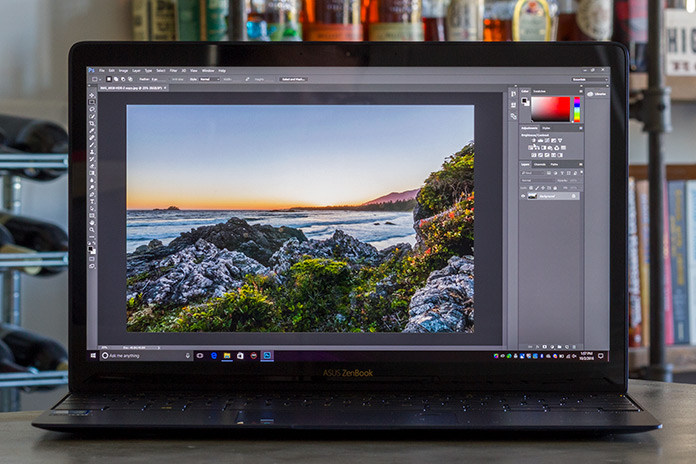 Performance isn't free. Every watt produces heat, and U-series CPUs draw enough power to require active cooling. The challenge is dissipating thermal energy inside such a slim chassis. We developed streamlined cooling module just three millimeters thick, the equivalent of a couple of pennies stacked on top of one another.
To compensate for some of the volume lost by flattening the blower, the individual blades are only 0.3 mm thick. They're made of a liquid-crystal polymer that holds up at high speeds and temperatures. The fan rotates on ceramic bearings with lower friction and quieter operation than metal alternatives. It spins up as needed and remains relatively unobtrusive with normal workloads. There's more noise at full tilt, but more of an energetic whooshing than the shrill, high-pitched whine that can plague compact coolers.
The fan is attached to a tiny radiator linked to the processor via heatpipe. It cools not only the processor's CPU cores, but also the integrated GPU. The HD Graphics 620 is legit, with advanced video decoding capabilities and surprising gaming chops. CS:GO, Portal 2, Rocket League, Mark of the Ninja, and Race the Sun are all playable at the native 1080p resolution. You have to dial back the details to smooth out the frame rate in some games, and recent blockbusters are a no go. However, Steam is filled with awesome indie titles and older releases that run on the ZenBook 3.
Dual-channel memory deserves some of the credit for the machine's graphics performance. The ZenBook 3 has up to 16GB of LPDDR3 memory clocked at 2133MHz, a 266MHz increase over the processor's maximum specified speed for that memory type. The CPU is only rated to reach 2133MHz with DDR4 memory, but our internal testing showed that DDR3L consumes slightly less power at that speed, so we worked closely with Intel to qualify it for the ZenBook 3.
On the storage front, we adopted the slimmest and fastest standard around. The ZenBook 3 has an M.2 slot linked to four PCI Express 3.0 lanes, yielding the same bandwidth as high-end desktops. The top configuration in North America comes with a 512GB SSD based on the low-overhead NVM Express protocol. You can push over 1700MB/s with sequential transfers, more than tripling the top speed of SATA SSDs. Load times are lightning quick, and multitasking feels incredibly snappy.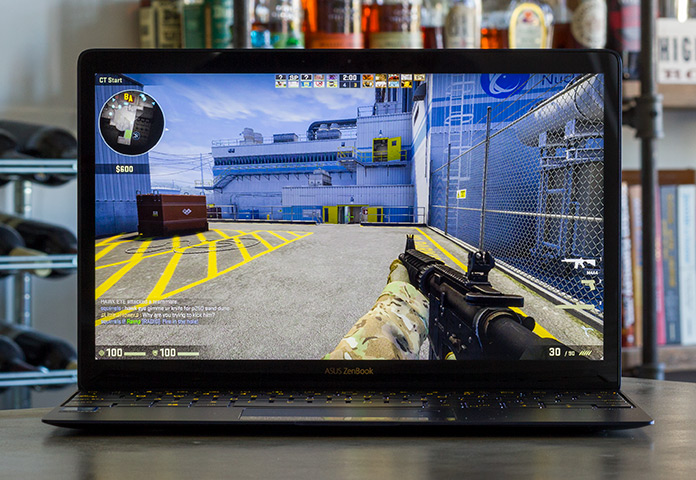 Welcome to the AV club
Much of my time with the ZenBook 3 has been spent staring at its expansive screen. That might seem like an odd way to describe a 12.5" display, but the narrow bezels make the screen seem larger, like it's reaching toward the edge of the frame. The 82% screen-to-body ratio easily beats conventional ultrabooks.
Gorilla Glass 4 stretches from edge to edge to protect the screen from scratches and impacts. This latest iteration is stronger and thinner than Gorilla Glass 3, making it a perfect fit for the new ZenBook.
The display's 1920×1080 resolution has enough pixels for Full HD content and multiple desktop windows. Pixels are packed at a density of 176 PPI, which is tight enough to produce sharp text and crisp images. IPS-type panel technology keeps the colors true, with 100% sRGB coverage ensuring you can see every hue. Wide 178° viewing angles prevent the colors from washing out when you're pitching to a group or watching Netflix with company on the couch.
After a long day, I increasingly find myself activating the ZenBook 3's Eye Care mode, which cuts harmful blue light emissions by up to 30%. Filtering part of the spectrum has an inescapable impact on picture quality, so it's not recommended for watching videos or editing photos. Eye Care mode works best for text-heavy tasks like document work. It can also help prevent late-night PC use from disrupting natural sleep cycles. If you'd rather bias the display in a different direction, Vivid mode saturates the colors, while Manual mode lets you drag a slider to set a custom color temperature.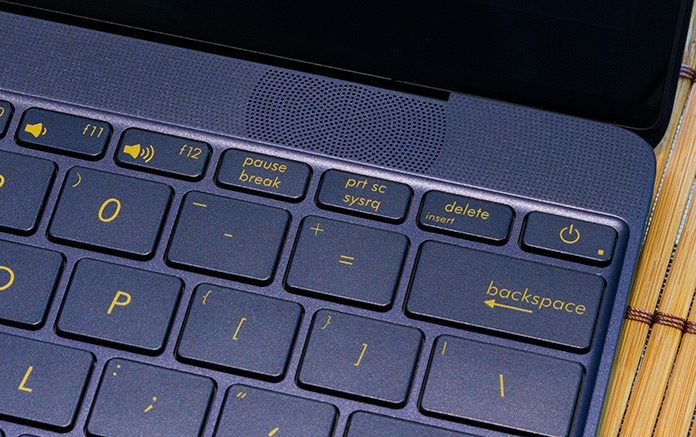 The ZenBook 3 sounds great thanks to an audio system developed in conjunction with the experts at Harman Kardon. The slim chassis leaves little room for speakers, so we worked closely with the vendor to get big sound from small packages. There are two stereo speakers in the back, plus a couple of bass drivers up front. Each bass driver uses five extremely dense magnets that let you turn up the volume without drowning in distortion.
Smart amplification algorithms keep the speakers in the sweet spot. While the bass isn't strong enough to make your chest thump, the audio is shockingly loud for such a small notebook. There's more than enough volume to fill a decent-sized room. If you'd rather keep a low profile, a standard 3.5-mm audio jack lets you rock out with your favorite headphones.
Ultraportable ins and outs
While some compact notebooks shrink the keyboard to fit their footprints, the ZenBook 3 stretches it right to the edge of the chassis. The keyboard is only a couple millimeters narrower than full-sized desktop alternatives, which feels humongous in a notebook this small. It actually took me a little while to stop instinctively scrunching my hands together every time I got ready to type on the ZenBook 3.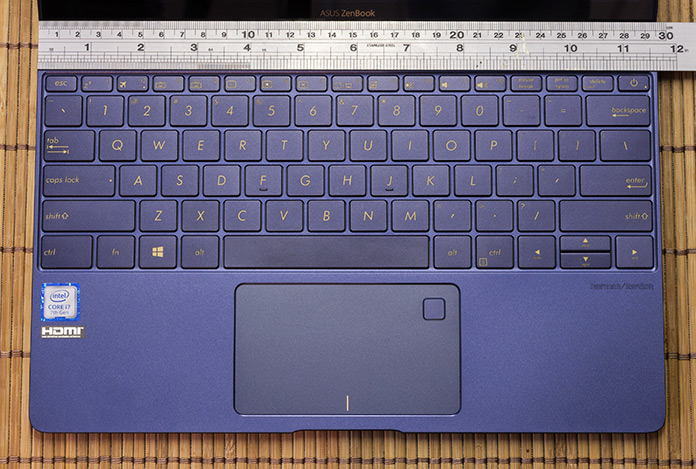 The keys have 0.8 mm of travel, which sounds a bit shallow until you realize that's double the travel of the MacBook keyboard. We worked closely with the switch vendor to ensure a clear actuation point and solid overall feel. I'm particular about such things as a writer, and I can happily type on the ZenBook 3 for hours on end. There's no flex or mushiness when bottoming out keystrokes, clear feedback keeps mistakes to a minimum, and the expansive area lets me easily ramp up to full speed.
The large touchpad provides nearly 10 square inches of area for your fingertips. The glass surface is silky smooth, which makes tracking feel effortless, and all the usual gestures are supported. There's also an integrated fingerprint reader that works with Hello, Microsoft's biometric authentication system for Windows 10. After a few minutes training Hello to recognize your fingerprint, you can log in to the ZenBook 3 with a single touch. Authentication is practically instantaneous–and much faster than typing a password.
External devices can connect via the Type-C USB port on the right side. The reversible jack does double duty as a peripheral interface and power connector. Fitting more ports into such a thin laptop isn't feasible, so we ship the ZenBook 3 with a mini dock that includes an HDMI output alongside Type-C and Type-A USB ports. If you want even more connectivity, a universal dock is available with three USB ports (two Type-A and one Type-C), dual audio jacks, wired Ethernet, a full-sized SD card reader, and both VGA and HDMI outputs.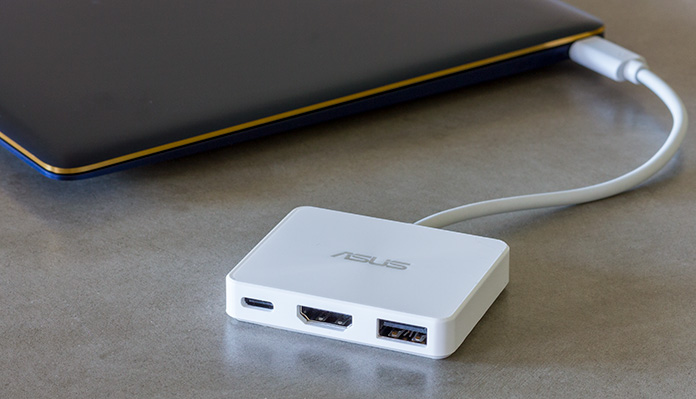 Intel chipset limitations cap the USB port at 5Gbps. The motherboard is already cramped, making it difficult to add a separate controller with higher bandwidth. That shouldn't be a hindrance for most users, though. Even "Gen 1" USB 3.1 is fast enough for the vast majority of peripherals and storage devices, including external SSDs.
If you'd rather connect wirelessly, the ZenBook 3 has Bluetooth 4.1 and 802.11ac Wi-Fi built in. The 2×2 wireless antenna is designed to let you hop on the fastest wireless networks at breakneck speed.
You'll probably spend a lot of time untethered, because the ZenBook 3 can make it through most days on a single charge. Lithium-polymer battery slices are distributed throughout the inside of the chassis to make the most of the limited internal space. There's 40Wh on tap, which is comparable to the MacBook's capacity.
Pricing and availability
Two configurations are available in the US right now. The flagship UX390UA-XH74-BL combines the signature blue with a Core i7-7500U CPU, 16GB of memory, a 512GB NVMe SSD, and Windows 10 Pro for $1599. You can also opt for the quartz gray UX390UA-XH74-BL, which scales back to a slower Core i5-7200U processor, 8GB of RAM, a 256GB SATA SSD, and the standard version of Windows 10 for $1099. That entry-level version isn't available north of the border, but Canadians can snag the top model for $1999.99 CAD.
The ZenBook 3 is available from the following retailers:
While it's nice to have an affordable entry point for the ZenBook 3 family, the XH74 suits the machine's premium status. It's perfect for discerning professionals and tech-savvy fashionistas looking for an ultraportable notebook that stands out from the crowd.