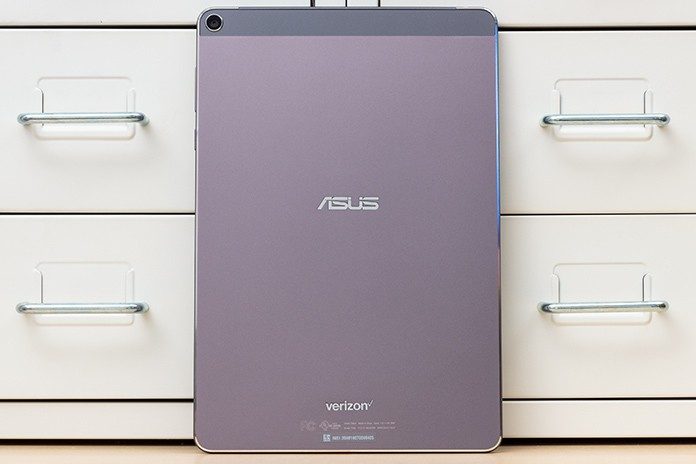 We live in exciting times. You can access practically all of your digital content almost anywhere and anytime, and you can do it with a range of devices that provide not only a conduit for content, but also a platform for communication and a means to capture the world around you. These abilities have become so accessible that they're often taken for granted, but that doesn't take away how transformative and empowering the age of connected mobile computing has become.
The new ASUS ZenPad Z10 tablet is a poster child for the current era. Its large 10" screen offers a vivid view of your digital world, while its support for Verizon's LTE network keeps you connected on the road. At only $229.99 on contract, it's also inexpensive enough for just about anyone to afford.
While the price tag might make you expect something cheap and flimsy, the ZenPad Z10 is anything but. Its metallic unibody chassis is elegant, with sleek lines framed by chamfered edges that accentuate the slim profile. The slate gray back is smooth to the touch, with a matte finish that helps hide the fingerprints and smudges that inevitably accumulate with normal use.

Despite the fact that the tablet is just 6.9 mm thick, there no hint of sag or flex when it's held by a corner. The body is stiff and sturdy, which is especially impressive considering the weight—or lack thereof. The ZenPad Z10 tips the scales at just 490 grams or 1.08 lbs. You'll barely notice the weight when carrying it around, and the tablet is light enough to hold for hours of reading or Netflix binging.
Primed to entertain
The thinness theme extends to the bezels, whose narrow profiles make the screen feel even bigger than its 9.7" diagonal. IPS panel technology delivers rich colors with wide 178° viewing angles, so the picture looks great in a variety of positions, whether you're using the tablet on your own or sharing it with others. If you happen to be outside, the backlight has a little extra oomph to help overpower reflections. Don't expect miracles, though; like with other tablets, the screen is still difficult to read in direct sunlight.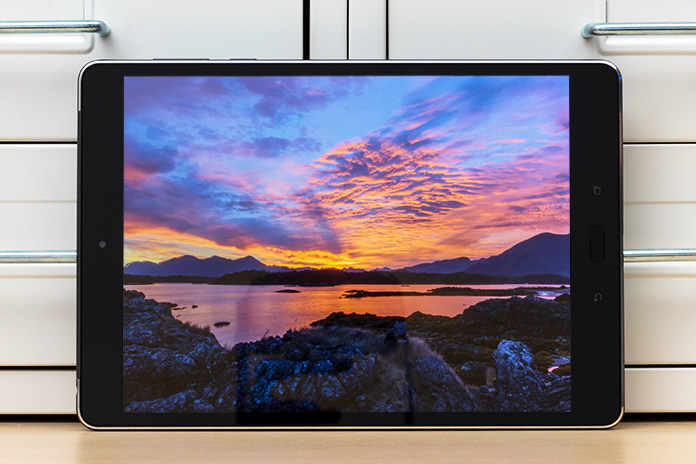 Reading in more normal conditions is a joy thanks to the high pixel density. The "2K" display has a 2048×1536 resolution with 52% more pixels than 1080p, resulting in sharper text that's easier on the eyes. The resolution and resulting 264-PPI pixel density are the same as on pricier tablets like the Galaxy Tab S2 and iPad Air 2.
Having more pixels in the display is especially beneficial for pictures and videos. The additional detail really brings scenes to life, and there's no shortage of content that takes advantage. As a bit of a photography geek, I'm especially enamored with how good my shots look on the ZenPad Z10.
If you're particular about how things look, the color temperature, hue, and saturation can all be adjusted via convenient sliders in the settings menu. There's also a blue light filter conveniently accessible through the quick settings tray. Reducing blue light output decreases emissions that can harm your eyes, and it can help prevent late-night LCD use from disrupting natural sleep patterns. I typically browse reddit and the web before bed, and filtering out blue light during those sessions seems to make it easier for me to fall asleep.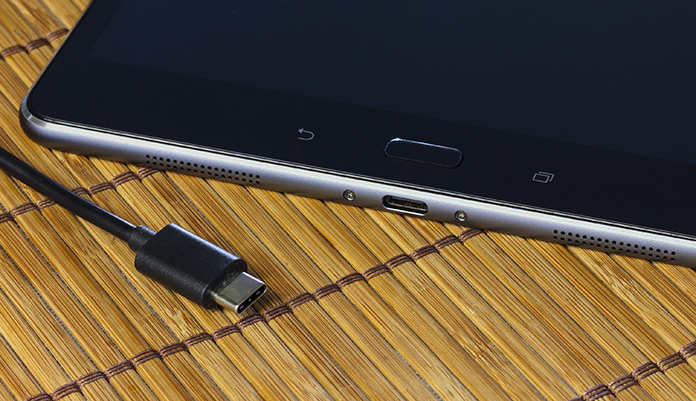 Audio is handled by stereo speakers that fire out the bottom edge. There isn't enough volume to power a party, but the speakers are easily loud enough for close company. The ZenPad Z10 also supports DTS-HD audio that can provide a measure of surround sound immersion over headphones. You can use whatever headphones or earbuds you want thanks to the standard 3.5-mm audio jack.
The headphone jack is located along the top edge, while a Type-C USB port resides on the bottom. After using the reversible port on the ZenPad and other devices, I've quickly gotten used to not checking whether the jack is going in the right way. It just works every time. The only catch is that fumbling with traditional USB ports becomes more frustrating the more you use reversible Type-C ports.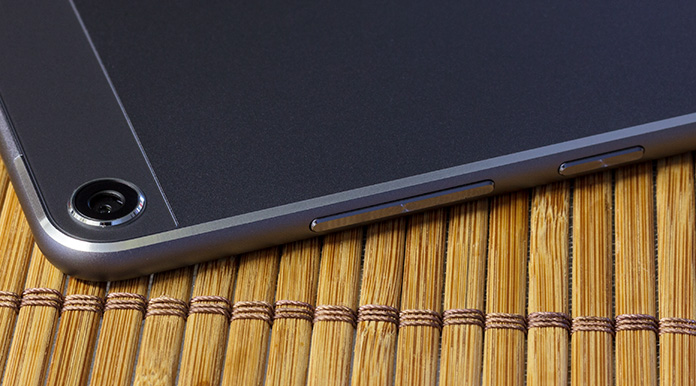 All the hardware under the hood
Inside, the ZenPad Z10 runs Android 6.0 on a hexa-core Qualcomm Snapdragon 650 processor. The 64-bit system-on-chip splits processing between two high-power ARM Cortex-A72 cores clocked at 1.8GHz and four low-power Cortex-A53 cores at 1.4GHz. Distributing the load helps the chip deliver great performance for applications that need it and excellent energy efficiency for background tasks that are less demanding. Graphics processing is handled by an integrated Adreno 510 GPU with advanced video decoding capabilities and enough horsepower for mobile gaming.
3GB of RAM ensures the ZenPad Z10 won't get bogged down when you're flipping through multiple applications. There's 32GB of internal flash, leaving plenty of room for applications, and we didn't stop there. A microSD slot lets you add up to 128GB of additional storage, making it easy to bring a massive local media library wherever the ZenPad goes.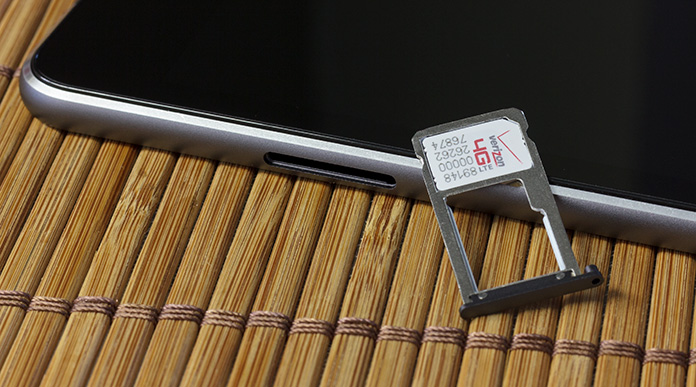 MicroSD cards are held in the same tray that houses the SIM card. The ZenPad Z10 is compatible with Verizon's LTE Advanced network, so you can stream and surf at top speed in more than 450 cities across the US. Being connected all the time is much more convenient than tethering to a smartphone or seeking out an open access point.
When you're at home, the ZenPad's dual-band 802.11ac wireless support provides a speedy Wi-Fi connection. Wireless support also extends to peripherals like keyboards, which can connect to the tablet via Bluetooth.
The ZenPad Z10 comes with dual cameras. There's an 8MP unit pointing out the back, plus a front-facing 5MP shooter for selfies and video chat. While neither removes the stigma of being that person taking pictures with a giant tablet, the cameras at least have multiple modes to help your shots look their best.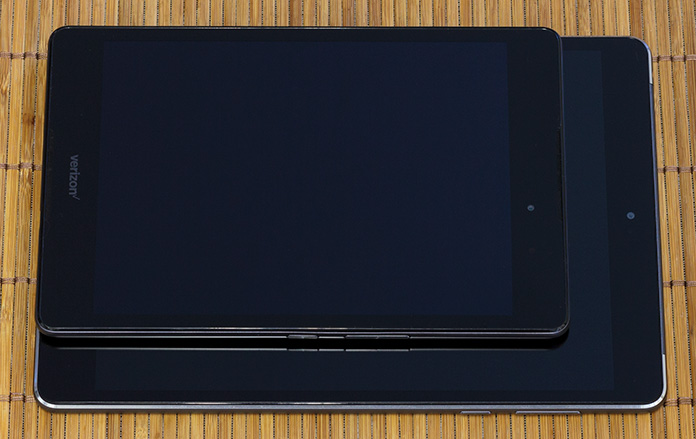 Pricing and availability
Like its 8" ZenPad Z8 sibling, the Z10 is available exclusively through Verizon in the US. The smaller version is easier to squeeze into a purse or jacket pocket. However, the Z10's bigger screen is definitely better for content, whether you're surfing the web, streaming videos, or flipping through graphic novels. Its metal unibody is also more upscale than the plastic shell surrounding the Z8.
Fortunately, upscale doesn't mean expensive. The ZenPad Z10 is available for only $229.99 on a two-year contract and $329.99 without. That's a pretty sweet deal considering the cost of comparable tablets.
If you want to protect your investment, the optional Zen Clutch wraps the Z10 in a slim cover that weighs only 213 grams. The folding folio shields the screen and allows the tablet to be propped up at a 30° or 60° angle. You can get it from Verizon for $39.99.
Check out the ASUS North America YouTube channel for a video take on the ZenPad Z10 tablet.