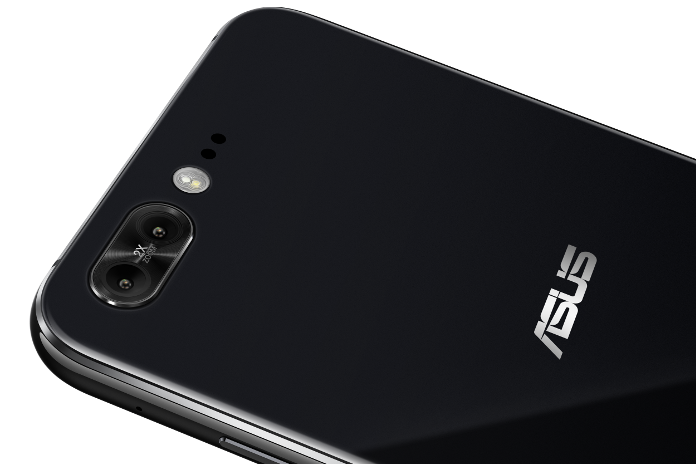 Back in 2013, you could spot the differences between a high-end phone and an entry-level device from a mile away. Top of the line smartphones cost over $600 and were fashioned from premium materials, with manufacturers priding themselves on using only the newest and most powerful hardware. In contrast, the line between mid-range and entry-level was often blurred, with little distinction between low-cost and just plain old. Too often, people bought the best of the best not because they needed the fastest phone, but because anything less almost always meant a crappy display, a terrible camera, and old software.
Fast forward a few years, and advancements in mobile technology have seen features and finishes previously reserved for flagships trickle down to more accessible price points. When shoppers can snap up a phone with an octa-core CPU, dual cameras, huge battery, and the latest version of Android for just $329, words like 'flagship' or 'best' become less relevant. Now, the challenge is not in building a Frankenphone with all the latest components, but blending the right mix of hardware to create an awesome phone at a great price. That's our goal with the new ZenFone 4.
Each phone in the lineup has its own set of unique features, and though prices vary, the underlying DNA is the same. Every ZenFone 4, from the affordable ZenFone 4 Max to our high-end ZenFone 4 Pro, has a dual-camera setup, all-day battery life, a fingerprint reader for enhanced security, and a stylish, lightweight design. They're rolling out in the coming months, but in the meantime, here's a sneak peek at the models destined for North America this fall.
Going Pro
The top's as good a place as any to start, and the ZenFone 4 Pro is every inch the headline act, leading the pack with a beautiful 5.5″ AMOLED display and a compact, sleek design. It sports a brushed aluminum frame, and Gorilla Glass protects the front and back of the device from scratches and scrapes. The edges of the glass curve gently toward the metal border to form slightly rounded edges that rest comfortably against the contours of your hand when you're holding the phone.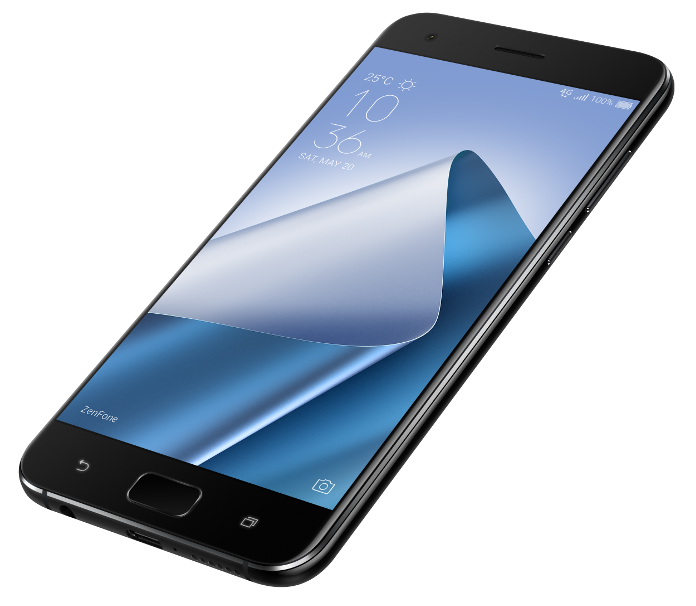 The ZenFone 4 Pro is powered by Qualcomm's Snapdragon 835 SoC, the same chip found at the heart of this year's most powerful flagship phones. Its octa-core CPU works alongside Adreno 540 graphics and 6GB of RAM to make light work of even the most demanding games on the Play Store, like Asphalt 8, Mortal Kombat X, and Vainglory. With 64GB of onboard storage, you don't need to worry about apps and games soaking up all the space on your phone, but there's support for up to 2TB more via the microSD slot just in case. That's joined by dual nano SIMs for world travelers and anyone stuck carrying two phones in an attempt to balance their work and personal lives.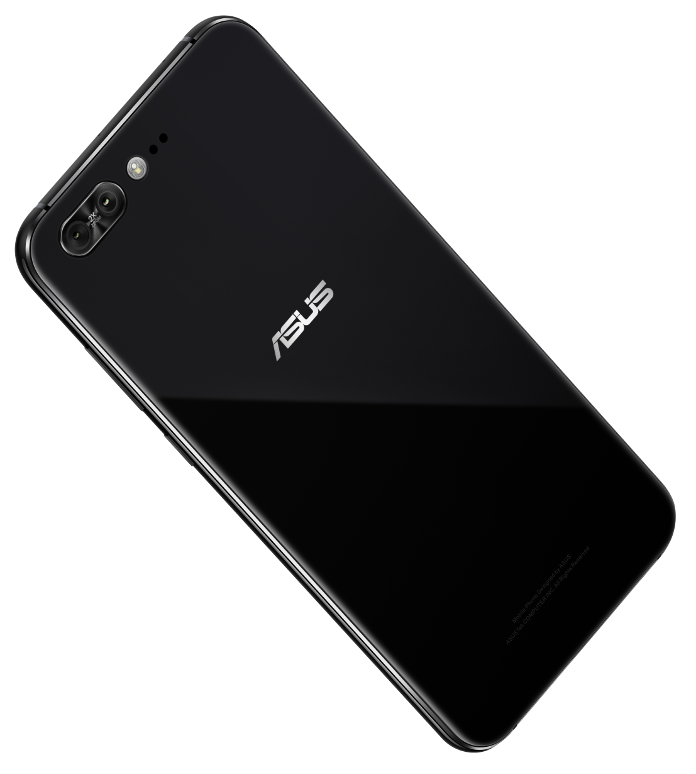 The ZenFone 4 Pro has enough brawn to go toe-to-toe with any of today's flagships, but where it really stakes its claim to the high end is with its three cameras. The primary shooter packs the same 12MP Sony IMX362 sensor, 25-mm lens, and f/1.7-aperture found in our photography-focused ZenFone 3 Zoom. Optical image stabilization offers a steady hand when shooting in low light, and 0.03-second autofocus gives you the best chance of catching those special moments blur-free. The second camera is based on a 16MP sensor, also from Sony, and features a longer 50-mm focal length to facilitate 2X optical zoom. This allows you to bring the action that much closer without sacrificing picture quality, and it does double duty with the primary lens to capture photos with a neat bokeh effect in Portrait mode. All of your favorite PixelMaster modes are present and accounted for, including Manual, HDR, Beautification, SuperPixel, Time Lapse, and GIF mode (you can read all about each of the modes here). The ZenFone 4 Pro also captures 4K video with electronic image stabilization to smooth out your clips. An 8MP front-facing shooter rounds out a trio of cameras based on Sony sensors. It has a slightly wider field of view and uses phase-detection autofocus to ensure your selfies are always on point.
At 3600mAh, the battery in the ZenFone 4 Pro is bigger than the one powering Samsung's 6.2" Galaxy S8+ phablet. Thanks to the power-efficient Snapdragon 835, it will handily see you through the day without your having to plug in at lunch. If you happen to forget to charge your phone or spend the day shooting 4K video in between bouts of Asphalt, our BoostMaster technology is on hand to quick-charge your battery to 50% in just 30 minutes.
Available in Pure Black, the ZenFone 4 is set for its North American debut this fall with pricing and availability to be announced closer to launch. In the meantime, you can check out the full specs in the table below.
Model number
ZS554KL
Processor
Qualcomm Snapdragon 835 SoC
8 x Kryo 280 CPU
Adreno 540 Graphics
Memory
6GB
Display
5.5" 1080p AMOLED
Storage
64GB + microSD up to 2TB
Primary camera
12MP Sony IMX362 sensor
f/1.7 aperture
25-mm focal length
83° field of view
Secondary camera
16MP with Sony IMX351 sensor
f/2.6 aperture
50-mm focal length
47° field of view
Front camera
8MP Sony IMX319 sensor
f/1.9 aperture
22-mm focal length
88° field of view
Battery
3600mAh non-removable
Connectivity
Bluetooth 5.0
2 x Nano SIM (3G/4G)
802.11 b/g/n/ac Wi-Fi
USB-C
3.5-mm audio
NFC
Operating system
Android 7.0 with ZenUI 4.0
Weight
175g
Price
$599 USD
$899 CAD
Availability (USA)
ASUS Store
Newegg
Amazon
B&H
Availability (Canada)
Newegg
Amazon
Canada Computers
Best Buy
Memory Express
A different frame of mind
Next in line to the throne is the eponymous ZenFone 4, which balances performance and price without compromising on features or style. It matches the Pro with a glossy Gorilla Glass front and back that's accented by a brushed aluminum frame with diamond-cut chamfered edges polished to a high shine. At 165g, it's light but solidly built. A slight curve in the glass covering the display combined with the super narrow bezels around the screen makes one-handed use incredibly comfortable.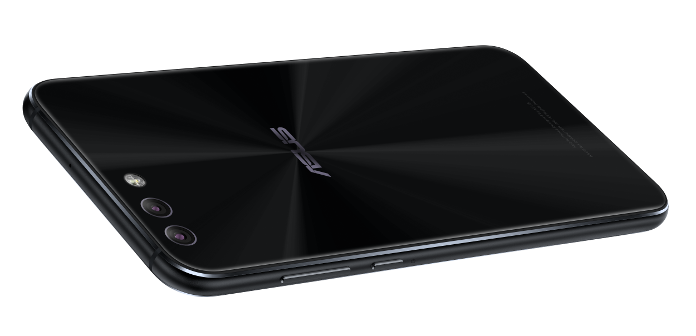 Up front is a 5.5" display, and a fingerprint sensor mounted underneath means you don't need to pick up the phone and feel for the scanner to unlock your device if it's sitting on the desk next to you. The rear is seamless, with the two cameras safely tucked underneath tough Gorilla Glass as opposed to protruding from the body. Our signature concentric circles offer a unique and soft, pearly sheen when they catch light.
Still, it's under the hood where things get really interesting for the ZenFone 4. Depending on your region, the ZenFone 4 ships with up to 6GB of RAM and either the Snapdragon 660 or the Snapdragon 630 SoC. Just announced in the last couple of months, these new chips are designed to bring flagship performance to mid-range phones, particularly in gaming and photography. The CPU's eight cores are split into two groups of four, with one set focused on performance and the other on efficiency. Together, the Snapdragon 660's eight cores promise a 20% boost in CPU performance compared the previous-generation Snapdragon 653, and graphics performance is improved by 30% thanks to the Adreno 512 GPU. The Snapdragon 630 is no slouch, either. It boasts a 30% improvement in graphics performance compared to last year's Snapdragon 625, and a 10% boost in processing performance. Performance bumps aside, this new generation of Snapdragon chips brings the ZenFone 4 Bluetooth 5.0 as well as 802.11ac, high-def audio playback, and improved support for dual cameras.
Unlike the Pro and the ZenFone 3 Zoom, which use use their secondary cameras for optical zoom, the ZenFone 4 features a second lens with wide-angle optics for outdoor photography. With its 8MP sensor and a shorter 12-mm focal length, the sidekick camera offers a 120° field of view that captures more of the scene in front of you without resorting to Panorama mode. Shorter focal lengths are used in landscape photography but can also help you out in other situations where a wider shot is preferable, like group selfies. The primary camera sports the same 12MP sensor, 80° field of view, and 25-mm focal length as the ZenFone 4 Pro. It has all the same PixelMaster modes and is perfect for everyday photography.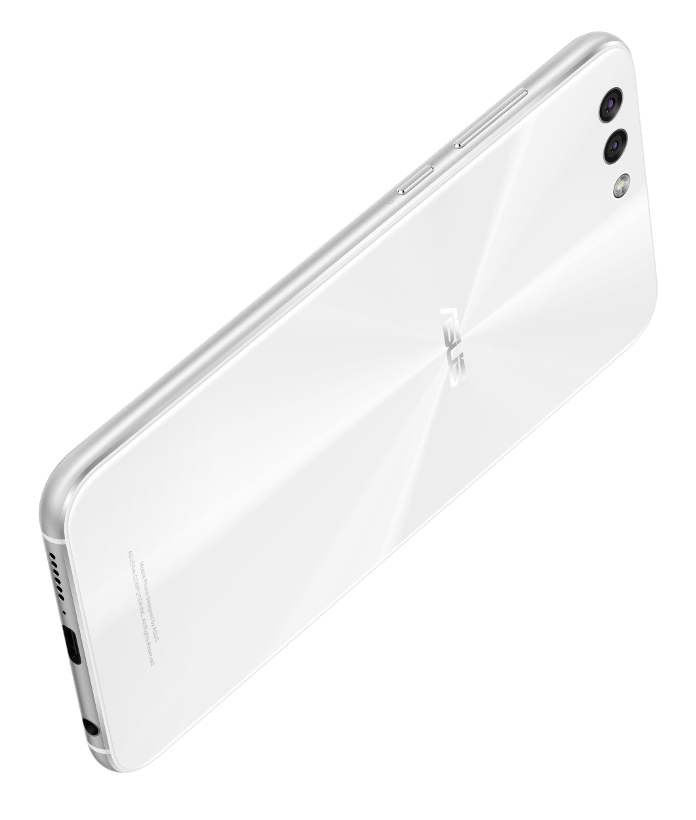 With 64GB of onboard storage and support for an additional 2TB via microSD, you shouldn't ever have to worry that your wide-angle photos are taking up too much space. If you don't need the microSD slot, it doubles as a second SIM tray, so you can consolidate your work and personal phones, or travel without worrying you'll misplace your primary SIM while you're away. A 3300mAh battery works in tandem with the increased efficiency of that brand new Snapdragon SoC to get you from sunrise to sunset on a single charge. ASUS BoostMaster is there for those mornings when you wake up and realize you forgot to plug in your phone before your head hit the pillow. It'll get you to half full in just half an hour.
The ZenFone 4 is coming later this year, with pricing, availability, and regional configurations to be announced closer to the release date. Stay tuned, and be sure to check out the specs below.
Model number
ZE554KL
Processor
Qualcomm Snapdragon 630/660 CPU
Adreno 540/506 Graphics
Memory
4GB/64GB
Display
5.5" 1080p Super IPS+
Storage
64GB + MicroSD up to 2TB
Primary camera
12MP Sony IMX362
f/1.7 aperture
25-mm focal length
83° field of view
Wide angle camera
8MP Omnivision 8856
f/2.2 aperture
12-mm focal length
120° field of view
Front camera
8MP Omnivision 8856 sensor
f/2.0 aperture
24-mm focal length
84° field of view
Battery
3300mAh non-removable
Connectivity
Bluetooth 5.0
2 x Nano SIM (3G/4G)
802.11 b/g/n/ac Wi-Fi
USB-C
3.5-mm audio
Operating system
Android 7.0 with ZenUI 4.0
Weight
155g
Maxing out on value
The ZenFone 4 Max is our value-oriented model, though it feels every bit as high-end as its siblings and has many of the frills usually reserved for more expensive phones. That includes a fingerprint sensor, which provides an extra layer of security that budget shoppers just don't see that often, along with an all-metal body and those dual cameras in the back.
There are two configurations of the Max. The bigger of the pair features a roomy 5.5″ display that's perfect for browsing the web and watching videos on the go. A more compact version with a 5.2" screen caters to people who want a pocketable phone that can be easily used with one hand. The 5.5″ version packs 3GB of RAM and 32GB of storage, while the smaller 5.2″ model is equipped with 2GB of RAM and 16GB of storage. Each has a microSD slot, so you can expand your storage by up to 256GB if you're in need of more space. MicroSD support is accompanied by space for two SIM cards, so you don't need to swap SIMs in and out if you have two separate cellular plans for work and play.
Both models are wrapped in Deepsea Black aluminum that's sandblasted to a smooth matte finish. The glass on the screen is ever so slightly curved and flows over the rounded edges to meet the chamfered accents that frame the phone. This subtle curve is followed through to the back, but it's slight enough that the Max still lies flat on a table, with minimal rocking when you poke at the display. You probably won't notice unless you're looking for it, but the Max rests even more comfortably in your hand as a result of its slightly rounded body.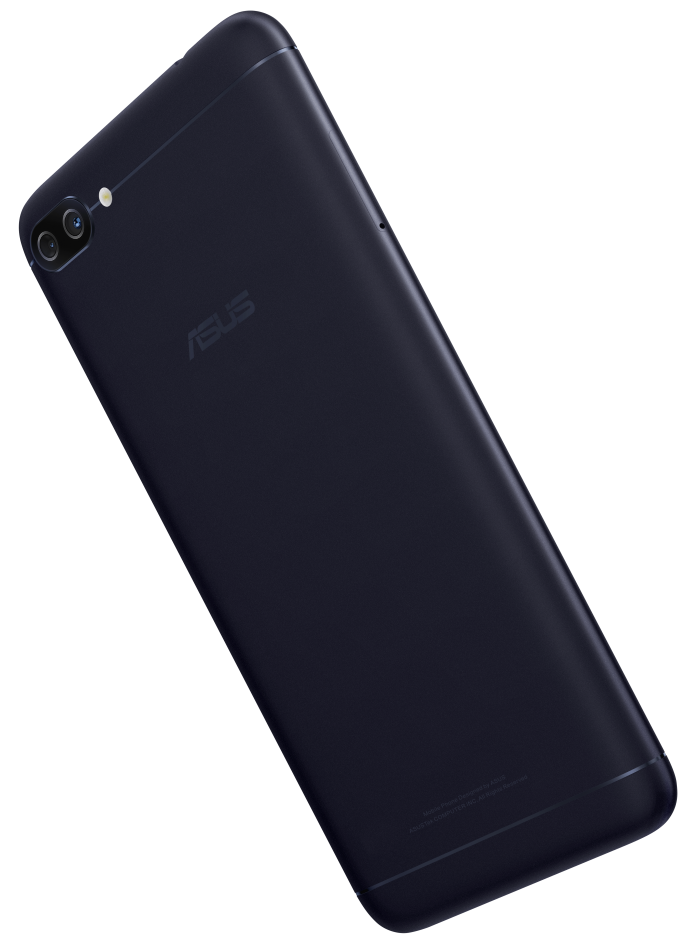 The primary camera has a 13MP sensor with a 80° FOV, 25-mm lens, and seven dedicated shooting modes, including a Pro mode that allows you to manually control ISO, white balance, shutter speed, and exposure value. That level of control on an entry-level phone is practically unheard of, and it opens up a whole new world of photography for smartphone users (check out our ZenFone 3 Zoom camera guide to see what's possible on a smartphone with a manual shooting mode).
Just like with the ZenFone 4, the ZenFone 4 Max's second shooter serves up more expansive photos using a wide-angle lens. The 5MP sensor is paired with a 12-mm lens with a 120° field of view. A shortcut above the shutter button offers the ability to conveniently toggle between the primary and wide-angle lenses for when you just want to snap a photo or two of your surroundings before switching back to the regular camera.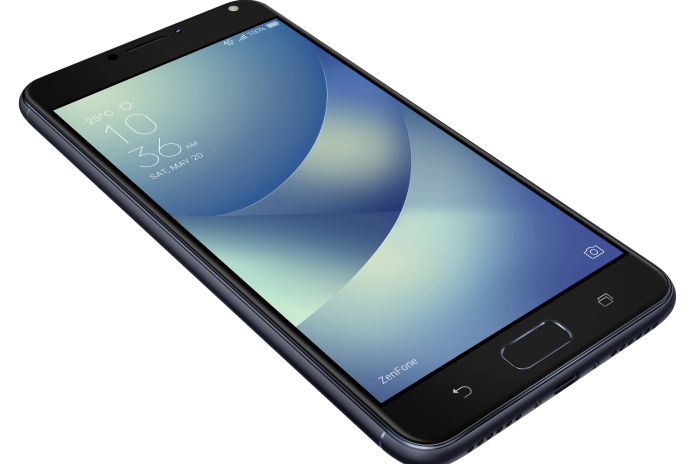 Photography fanatics needn't worry about their favorite hobby draining the battery. The 5.5″ ZenFone 4 Max has a massive 5,000mAh battery, while the smaller 5.2″ model is powered by a 4100mAh unit. Both feature reverse charging, so you can use your phone as a power bank for other devices. With the help of Qualcomm's power-efficient Snapdragon 430 SoC with Adreno 505 graphics, the battery on the larger model stretches to 46 days of 4G standby time on a single charge. To put that in more realistic terms (because no one charges their phone just to watch the battery drain in standby), the 5.5″ Max is rated for up to 26 hours of WiFi browsing. Its smaller sibling is based on Qualcomm's similarly efficient Snapdragon 425 and tops out at 18 hours of WiFi browsing. If you're using the Max to charge someone else's device, ASUS PowerMaster stops the flow of juice when your battery hits 30%, so your kindness and goodwill toward others won't leave you with a dead phone.
The ZenFone Max is out now in Russia and will be the first ZenFone 4 to launch in North America. Look out for news on pricing and availability in the coming weeks.
Model number
ZC520KL
ZC554KL
Processor
Qualcomm Snapdragon 425 SoC
4 x ARM Cortex-A53
Adreno 308 GPU
Qualcomm Snapdragon 430 SoC
8 x ARM Cortex-A53 CPU
Adreno 505
Memory
2GB
3GB
Display
5.2" 1280x720
5.5" 1280x720
Storage
16GB + microSD slot up to 256GB
32GB + microSD slot up to 256GB
Primary camera
13MP Omnivision 13855 sensor
f/2.0 aperture
25-mm focal length
80° field of view
Wide angle camera
5MP Omnivision 5675 sensor
f/2.2 aperture
12-mm focal length
120° field of view
Front camera

8MP Omnivision 8856
f/2.2 aperture
24-mm focal length
85° field of view

Battery
4100mAh non-removable
5000mAh non-removable
Connectivity
Bluetooth 4.1
2 x Nano SIM (3G/4G + 3G)
802.11 b/g/n WiFi
Micro USB
3.5-mm audio
Operating system
Android N with ZenUI 4.0
Android N with ZenUI 3.75
Weight
156g
181g
Price
$169 USD
$219 CAD
$199 USD
$299 CAD
Availability (USA)
ASUS Store
Amazon
Newegg
B&H

ASUS Store
Amazon
Newegg
B&H
Best Buy
Abt
Availability (Canada)
Amazon Canada
Best Buy Canada
Memory Express
Newegg Canada
Amazon Canada
Best Buy Canada
Staples Canada
Canada Computers
Memory Express
Newegg Canada