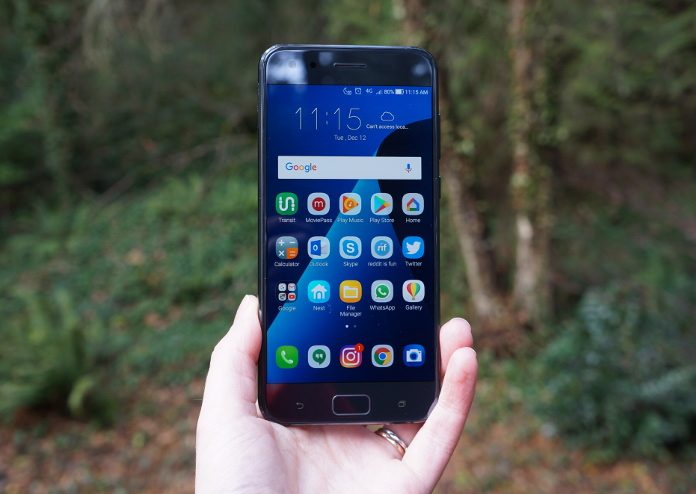 When you buy a top-of-the-line phone, you expect the best money can buy. If you're already spending upwards of $600, the word "compromise" should not factor into the equation. And still, there's a lot of that c-word floating around when it comes to premium phones. Despite their high price tags, a lot of phones are too thin for a headphone jack, have an unsightly camera bluge, or employ a battery that can't sustain all-day use. The ZenFone 4 Pro is a true flagship, packing high-end components into an ultra-slim chassis without sacrificing performance, form factor, or battery life. It uses Qualcomm's Snapdragon 835 SoC and packs 6GB of RAM, along with three powerful cameras and a battery that kisses you goodnight with 60% remaining.
Enough blue to woo
In a sea of visually unremarkable black slabs, the ZenFone 4 Pro is in a league of its own. It's instantly recognizable, even sitting backside down on a table with the screen off. The metal and glass construction feels luxurious to the touch, all satin glass and silky smooth aluminum, and its Midnight Black hue shines an almost pearlescent blue in daylight. The diamond-cut chamfered edges highlight the glossy, black finish on the aluminum frame, and the contrast in materials adds an edge to an otherwise slick design.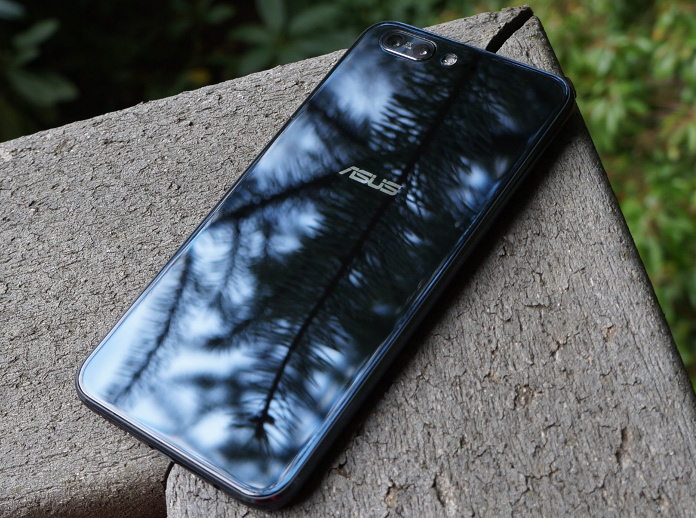 As a seasoned smartphone smasher, my anxiety kicked up a notch as soon as I opened the box. I loathe cases, especially on beautiful phones that are begging to go au natural, but I am also a proven klutz. I do a lot better with matte metal than polished glass. Luckily, the ZenFone 4 Pro's bundled bumper put my mind at ease while still showing off the shiny chassis. The transparent rubber case is low-profile enough that I don't mind its snug, form-fitting presence around the phone's body. And even swathed in TPU, the proverbial potato sack of the phone world, the ZenFone 4 Pro is gorgeous from every angle.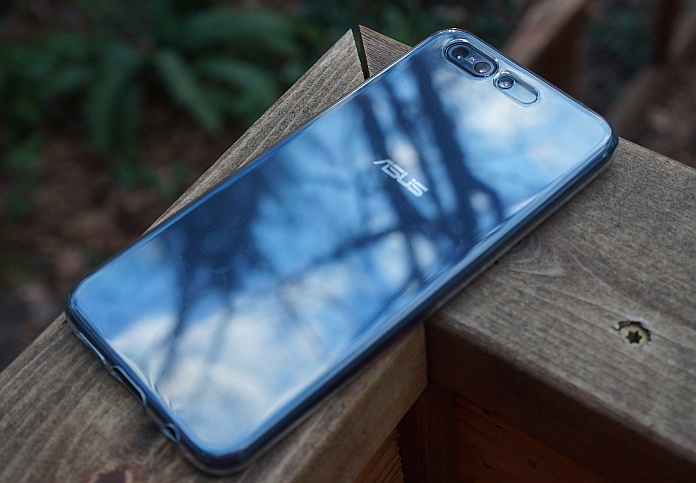 The only interruptions to the Gorilla Glass 5 that flows from top to bottom on both sides are the fingerprint sensor, which is located in its rightful spot on the front of the phone, and the camera setup, which is around back. A fine metal seam outlines the dual cameras and is the only thing preventing a completely flush rear finish. The daring who choose to go case-free don't have to worry about a protruding camera module scraping against the desk when they set their phone down. It lies perfectly flat, with no wobble when you poke at the screen or swipe away notifications.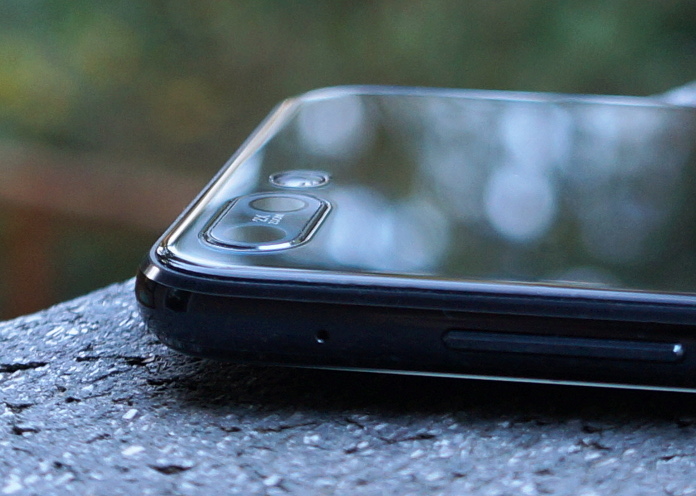 The whole package measures in at 7.6 mm thick, just a hair thinner than Apple's iPhone X, and we didn't have to remove the headphone jack to achieve a slim profile. Old faithful is right where it belongs, next to the charging port, so you can use your favorite headsets and portable speakers without fussing with dongles or clogging up the USB-C charging port.
Taking in the view
Of course, the main event for any phone is the screen, and the Pro's premium chassis doesn't distract from that. Razor-thin 2.1-mm bezels flank the Full HD AMOLED display, making it seem bigger than its 5.5″ diagonal measurement but also keeping the width a shade narrower than similarly-sized phones, like the 5.5" iPhone 8 Plus.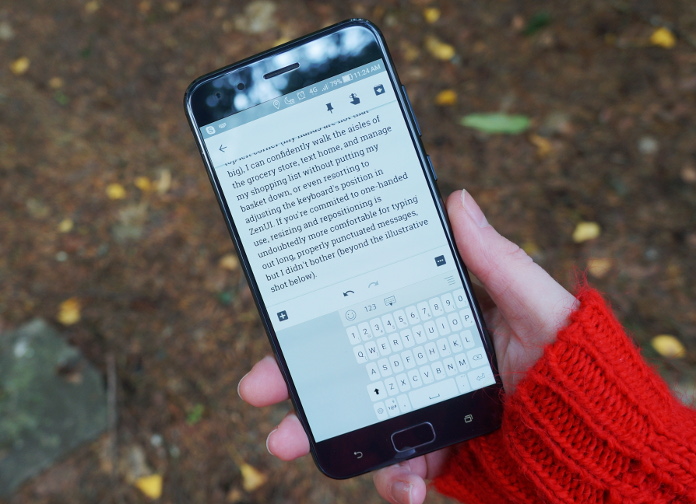 One-handed use is not just doable, it's pretty comfortable. I wrote this entire post on the ZenFone 4 Pro, and this paragraph with just one hand. While it's a bit awkward to stretch all the way to the top left corner (my hands are not that big), I can confidently walk the aisles of the grocery store, manage my shopping list, and tap out texts to my husband without putting my basket down. If you're committed to one-handed use, the ZenUI keyboard settings allow you to pinch and drag to resize and reposition the keyboard for maximum comfort. That includes not only enlarging and shrinking for bigger or smaller letters, but also shifting the whole thing to one side, which is undoubtedly more comfortable for typing out long, properly punctuated messages with one thumb.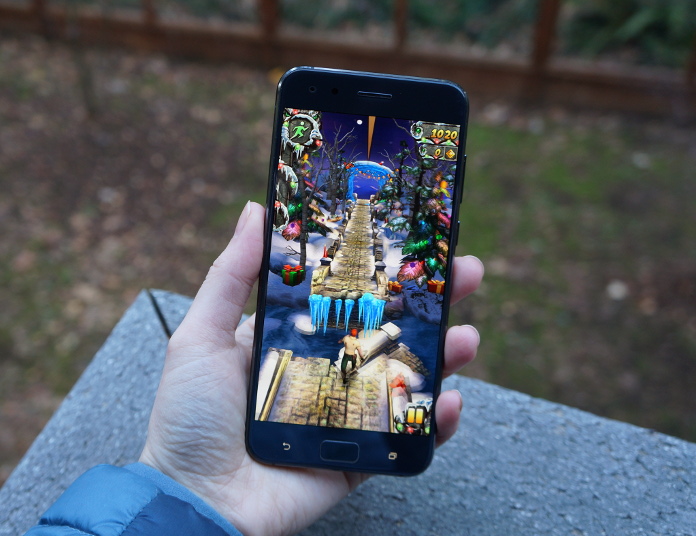 The AMOLED panel keeps colors vivid and bright, which is especially noticeable in colorful games like Temple Run 2. Moodier titles, like DC's Injustice 2, benefit from the pure blacks you get OLEDs. The display maxes out at 500 nits, which is bright enough for sunny days and altogether too bright for the overcast Pacific Northwest. I normally keep brightness all the way down to spare my delicate eyeballs from harsh light, but ASUS Splendid technology offers a filter that dials down harmful blue light that can make it harder to fall asleep at night, and potentially lead to macular degeneration. Splendid also allows you to tweak the display settings to suit your preferences, with sliders for warming up and cooling down colors, or even saturating everything with Super Color mode.
The power behind the Pro
Beauty is only skin deep, but the ZenFone 4 Pro packs both style and substance in spades. Fueling it is Qualcomm's Snapdragon 835 SoC, which is paired with 6GB of RAM to ensure seamless multitasking between all of your favorite apps. Built for the most powerful phones available today, the Snapdragon 835 utilizes an octa-core Kryo 280 CPU and Adreno 540 graphics. It's a champ, handling anything I threw at it with aplomb, whether I was Black Friday shopping, making Skype calls, or fending off a good night's sleep with more demanding apps, like Asphalt 8 and Modern Combat 5. The latter is a couple of years old, but its visuals are still nothing short of stunning. The opening setting of Venice, Italy, is chock full of sparkling canals, bobbing boats, thick smoke, and fiery crashes. The Snapdragon 835's Adreno 540 GPU doesn't even flinch, and gameplay is super smooth.
I was able to write up this post with plenty of interruptions from Instagram, WhatsApp, Outlook for Android, and Hangouts without any issues. Double-tapping the menu button allowed me to flip back and forth between Google Keep and a lively group chat discussing latest season of The Bachelor (why do we need four Laurens?) in an instant, and the ZenFone skipped merrily between an assortment of chat and social media apps with no delay, responding as soon as I tapped the incoming alerts and before they even had a chance to roll back into the notification shade.
Low lights, camera, action
The entire ZenFone 4 family features a powerful front-facing camera as well as dual cameras in the back, but comparing the setup on the ZenFone 4 Pro to that of the ZenFone 4 Max or the ZenFone 4 is apples to oranges. While the Max uses its second camera to capture expansive wide angle landscapes and group photos, the ZenFone 4 Pro's camera serves an entirely different function.
The primary camera uses 12MP sensor with a 25-mm lens, optical image stabilization, and the ability to capture 4K video and high-def slowmo videos at 240 frames per second. The second camera features a 16MP sensor with a 56-mm focal length. Though most smartphones make do with digital zoom when you pinch to bring your subject closer, the ZenFone 4 Pro follows in the footsteps of the ZenFone 3 Zoom and uses its second camera to offer a 2.3x optical zoom without any of the loss in image quality you usually see with zoomed-in smartphone photography.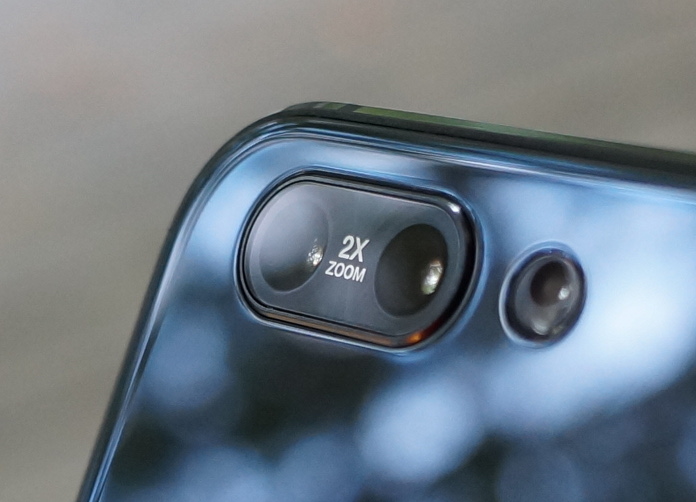 The ZenFone 4 Pro comes primed with an Auto HDR function that toggles high dynamic range on and off depending on what the camera senses. Just like the flash, you can take control at any time or even force HDR off via the handy on-screen controls. You'll also find a button for switching the aspect ratio of your photos from 16:9 to 4:3 or 1:1. While 4:3 uses the sensor's full 12MP resolution, switching to 16:9 or 1:1 allows you to better frame your shots in real time, whether it's wider landscape shots or square snaps for Instagram.
Eight dedicated shooting modes are designed for a variety of scenes. Outside of Auto, there are the self-explanatory Panorama, GIF, and Time Lapse modes, as well as Super Resolution, which captures incredibly detailed images by combining four 12MP shots to form one high-res image. It's great for macro shots and photos you plan to crop and print later on. And, of course, Beauty mode is on hand to brighten and smooth complexions in selfies and add warm rosy cheeks to your family photos. The best of all is Pro mode, which offers full manual control of shutter speed, ISO, white balance, exposure, and more, allowing you to fine tune your camera's settings to perfectly match the moment. A full guide to using all of the different modes, including Pro (it's not as hard as it sounds), can be found here.
If you don't go in for any of the fiddling around with different settings, point-and-shoot photography on the ZenFone 4 Pro is pretty amazing, even in low-light environments. I snapped the picture you see in the gallery below on a rainy night when the sun was long gone, and the ZenFone still managed to outline the clouds in the night sky as well as capture the detail in the front of the building. The shot of my Christmas tree is clear, without any of the nasty noise or fuzziness you often see around light sources in dark pictures. Click the buttons below to browse through a gallery of ZenFone 4 Pro shots.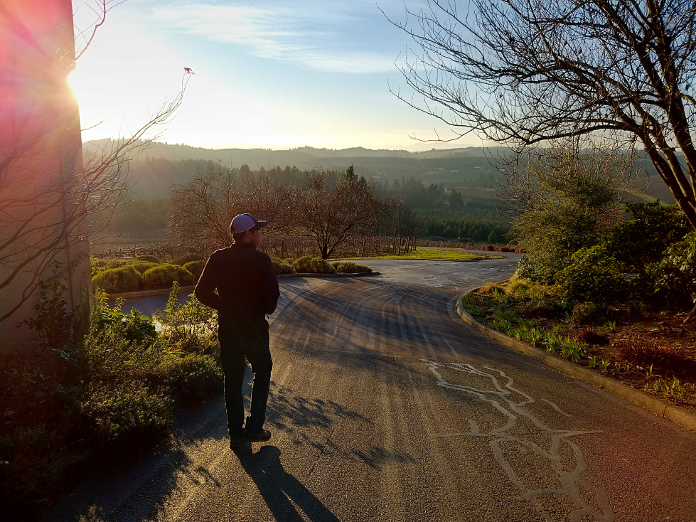 br>
The front-facing selfie snapper rounds out a hat trick of cameras for capturing life from every angle. It uses an 8MP sensor with phase-detection autofocus to help you get crisp, clear photos. A Selfie Panorama mode stitches multiple photos together for wider group shots, and Beauty mode makes sure you always look your best.
All of your photos and videos are stashed on the phone's 64GB of onboard storage, but if you shoot a lot of Super Resolution photos or 4K video, you'll probably need more space. The ZenFone 4 Pro has a microSD slot on the side with support for up to 2TB of additional storage, and it's easy to access. You just need your SIM ejector tool to pop out the tray. If you're living your life in the cloud, that microSD slot doesn't have to sit empty. It can also be used to stow a second SIM card, whether it's for work or a local SIM for travel to foreign lands.
Battery life everlasting
Battery life used to be a big struggle for high-end smartphones because of their cutting-edge components. It's not too hard to find a phone that will last a full day, but we still don't expect flagships to have the staying power of mid-range models or entry-level devices. It's just not a fair comparison. The ZenFone Max can stretch to almost three days, which is pretty incredible. But it also has a lower-power Snapdragon 430 SoC and a chassis big enough for a 5000mAh battery, so it's not exactly working against the odds. The Pro's slim frame means it can only accommodate a 3600mAh battery, which is tasked with feeding more powerful components to boot. I expected to go back to charging nightly, rationing the last 20% in the couple of hours before bed, but was rather surprised to find that I was regularly able to eke out a second day from one charge.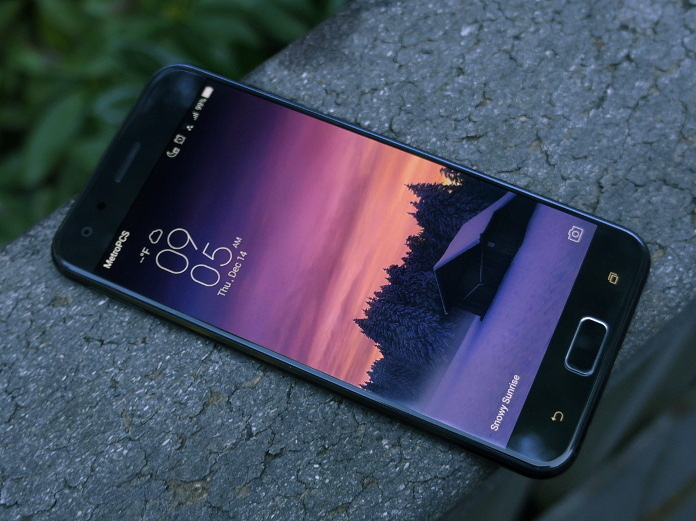 Sure, on heavy use days with hours of talk time, the ZenFone 4 Pro hits less than 40% by 10pm. But those days are the exception rather than the rule for me. Despite my phone's primary purpose, I usually only begrudgingly accept 1-2 calls per day. With more typical use, I can comfortably wait to connect to my charger until the day-and-a-half mark. On the lightest days, where I barely look at my phone because I'm so busy, I go to bed with close to 70% in the tank. Regularly, I find myself hitting the hay on night two with 20% left in the tank. Given how much my smartphone use varies day to day (and how bad it is for your battery to completely drain before charging), it's a good habit to plug in nightly regardless, but it's also nice to know you don't need to keep a charger in your car or a USB cable in your purse.
Even streaming music, which typically drains my battery quicker than anything else, didn't have a dire effect. And with a headphone jack negating the need for finicky adapters, I listened to a lot of music. During my annual, pre-holiday "Crap, relatives are coming," deep clean, I listened to eight solid hours of Motown. Streaming from Google Play Music with a no-name external speaker plugged into the headphone jack, I still had 61% remaining when I cracked open my "job well done" beer at the end of the day. On the go, I was able to plug in any of the headphones I had lying around, whether it was the bundled earbuds or a more specialized pair of cans, like the ROG Strix Fusion 300.
DTS's Headphone:X technology can take multi-channel audio and recreate a 7.1 surround sound experience with just your regular headphones. This creates a much richer, more immersive experience for movies and games when you plug in. The ZenFone does just fine without headphones, too. I tested everything from Metallica to Taylor Swift, and the ZenFone pumped out enough volume to satisfy. Even with the phone on the other side of my office, I wasn't willing it to go to eleven.
Model number
ZS554KL
Processor
Qualcomm Snapdragon 835 SoC
8 x Kryo 280 CPU
Adreno 540 Graphics
Memory
6GB
Display
5.5" 1080p AMOLED
Storage
64GB + microSD up to 2TB
Primary camera
12MP Sony IMX362 sensor
f/1.7 aperture
25-mm focal length
83° field of view
Secondary camera
16MP with Sony IMX351 sensor
f/2.6 aperture
50-mm focal length
47° field of view
Front camera
8MP Sony IMX319 sensor
f/1.9 aperture
22-mm focal length
88° field of view
Battery
3600mAh non-removable
Connectivity
Bluetooth 5.0
2 x Nano SIM (3G/4G)
802.11 b/g/n/ac Wi-Fi
USB-C
3.5-mm audio
NFC
Operating system
Android 7.0 with ZenUI 4.0
Weight
175g
Price
$599 USD
$899 CAD
Availability (USA)
ASUS Store
Newegg
Amazon
B&H
Availability (Canada)
Newegg
Amazon
Canada Computers
Best Buy
Memory Express
More power to you
With lots of smartphone manufacturers cutting features users actually want in the quest for thinner, lighter phones, the ZenFone 4 Pro is a smartphone addict's dream. Nevermind the dual-SIM support and microSD slot, a rarity outside of bulkier budget phones, the Pro manages to cram a Snapdragon 835 SoC, 6GB of RAM, 64GB of storage, and a powerful dual-camera setup into a sexy metal-and-glass chassis without sacrificing the basis. Even with its skinny construction, you still get a battery that can keep pace for an entire day without breaking a sweat, and there's no unsightly camera to scuff or headphone dongle to lose. The ZenFone 4 Pro is priced at $599 USD and $899 CAD. You can find retailers selling the ZenFone 4 Pro in the table above.