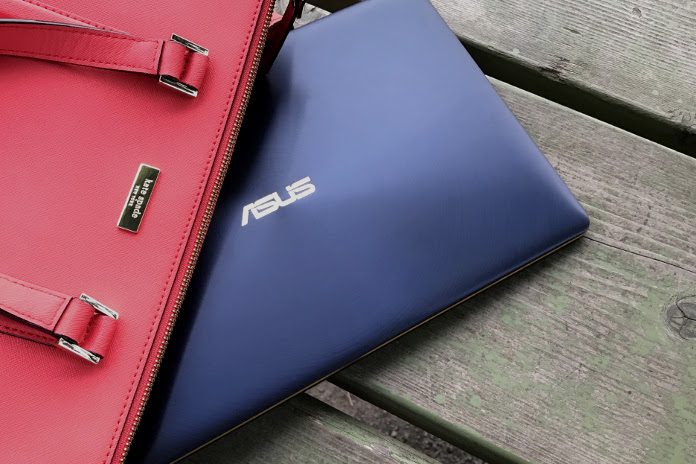 When the first ultrabooks launched, the majority featured displays 13.3″ or smaller. The ultraportable focus apparently translated to not only thin and light compared to regular laptops, but also small and cramped. While Intel's specifications for ultrabooks mentioned nothing about display size (the only size requirement was related to the thickness of the device), shoppers in 2012 had just a few options if they wanted a screen closer to a "real" laptop in size.
Thankfully, five years on, the word "ultraportable" is no longer synonymous with 11.6" or 13.3" displays; it's fairly easy to get your hands on a 14″ or 15″ ultrabook. But finding one with a roomier screen that rivals the little guys in terms of size and weight is a little harder. Opting for a larger display more often than not means adding bulk and more weight. Indeed, Intel's ultrabook requirements dictate a sub-18-mm thickness for 13″ ultrabooks, but larger 14″ and 15″ machines can be as thick as 21 mm, or even 23 mm if they've got a touchscreen. And while there are no weight restrictions to keep the scales in check, even the lightest 14″ and 15″ ultrabooks are close to three pounds.
It's a family affair
In the fall of 2016, the ZenBook 3 ushered in a new era of ultrabook for us. Squeezing a 12.5″ display into an 11.7″ x 7.5″ footprint and razor thin 11.6-mm chassis required a complete overhaul of our ultrabook design. Now, we're taking care of the folks who want the same portability and style in a larger device. The family has expanded to include the ZenBook 3 Deluxe, a 14″ ultrabook that fits inside an ultra-compact package scarcely larger than the ZenBook 3.
At 2.4 pounds, the ZenBook 3 Deluxe is a smidgen heavier than its little brother, but still more than half a pound lighter than Apple's 13″ MacBook Air, which has a smaller display. And at just a hair shy of 13 mm at its thickest point, the Deluxe is the thinnest 14″ laptop out there.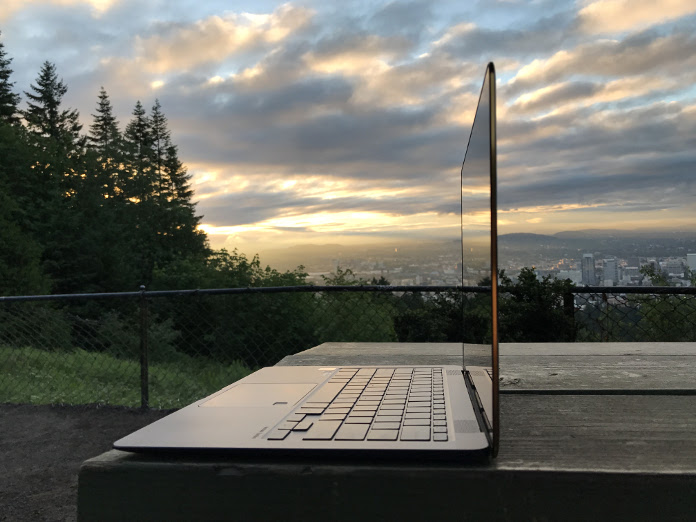 It's almost comparable to the ZenBook 3 in overall footprint, too. The Deluxe adds just a little more than an inch in width and depth, measuring in at just under 13 inches wide and a little over eight inches deep. This laptop handily fits in my purse, never mind my laptop bag.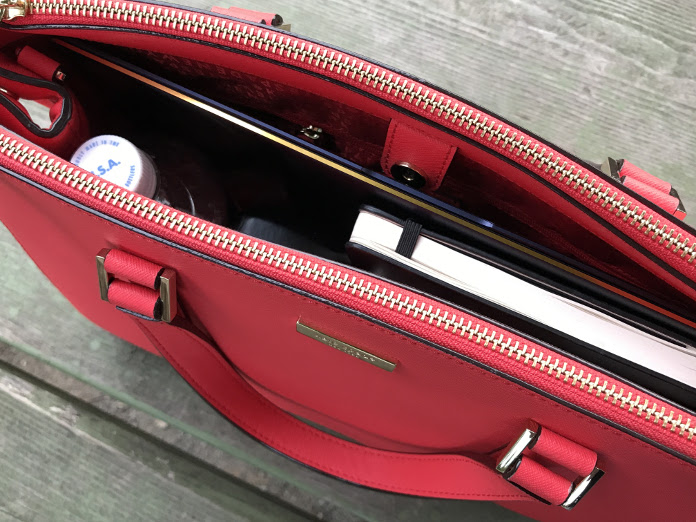 The ZenBook Deluxe does ship with a stylish sleeve to protect it from bumps and scratches, but rest assured, its elegant form isn't any less road worthy than the more aggressive or utilitarian designs out there. To preserve the structural integrity of the super slim Deluxe, the unibody chassis is machined from aluminium 6013, an aerospace-grade alloy that's 50% stronger than the more conventional aluminium 6063 used in many of today's laptop chassis. Using 6013 allowed us to build a thinner, lighter case without sacrificing strength or durability. To get an idea of just how thin the chassis is, check out this shot of the rear cover alongside a US quarter:

I'm gonna be true blue
Aesthetically, the Deluxe falls in step with the the ZenBook 3. It's got the same striking brushed metal finish in an arresting anodized blue that's contrasted by shiny gold accents. The ASUS logo on the lid pops without any need for a backlight, and the diamond-cut chamfered edges, colored using a separate anodizing process, gleam when they catch any hint of light. In addition to the regular two-stage robotic polish used on previous ZenBook generations, an additional round of hand polishing further highlights the signature concentric circle etchings on the UX490, giving the lid a silky feel as well as a navy blue glow.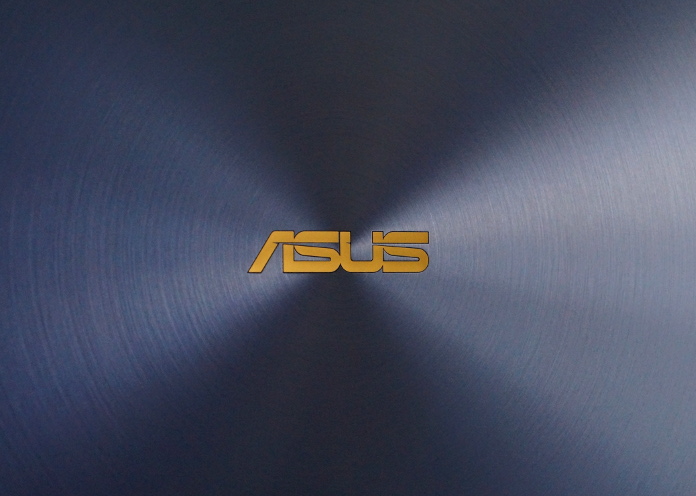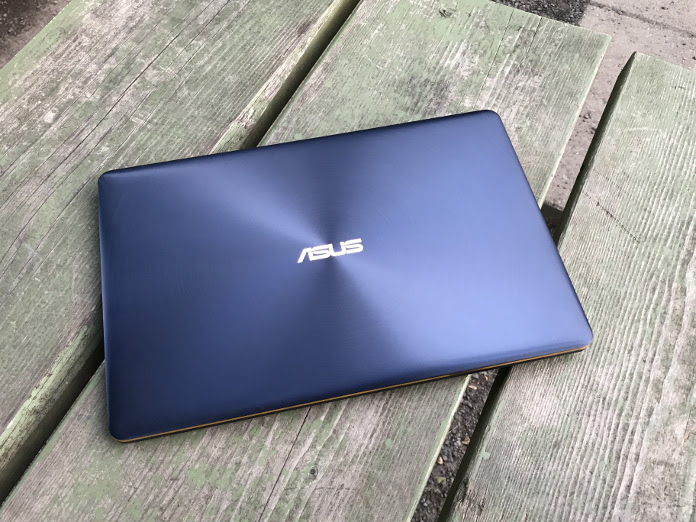 The blue and gold theme continues when you lift the lid, with gold lettering on the keyboard and a matching blue trackpad and fingerprint scanner. Fancy finishes often collect as many fingerprints as they do compliments, but the polished lid on the ZenBook 3 Deluxe is not impractical. While it wasn't immune to my year-round layer of SPF 70, the brushed aluminium did a great job disguising oily fingerprints throughout the day, and a quick wipe with my sleeve was enough to erase any evidence that I'd been using it at all.
Of course, the headline act here is the display. Cramming a 14″ full HD screen into a body that measures 13″ x 8″ is only possible thanks to the UX490's slender 7.5 mm bezels. Achieving such a narrow frame was challenging because bezel size is partly dictated by components. Thin as the lid may be, it needs to accommodate certain parts, including the display PCB and webcam module. Dell addresses the problem with the XPS 15 by moving necessary components, including the webcam, to the bottom bezel. We didn't want to go the nostril-cam route, so we had to think outside the box for the ZenBook. First, we sourced a 4-mm camera module that would allow us to reduce the top bezel to 11.5 mm while keeping the webcam in its rightful spot. Next, we split the PCB that holds the display IC so that we could shave the bottom bezel down to just 16 mm.
Aside from contributing to a smaller package overall, this skinny border really makes the 1080p display shine. I usually return home from a day of mobile productivity gasping for my HDMI cable, but the screen's 157-PPI pixel density makes for comfortable reading with text that's crisp and clear. Windows 10 scales everything to 150% out of the box, but dialing back to 110% gave me plenty of room for multiple windows without making things too small. Full 100% sRGB coverage ensures enough range for graphic design and content editing, and a 178° viewing angle keeps colors vivid when sharing the screen during collaborative sessions or watching a movie with a buddy.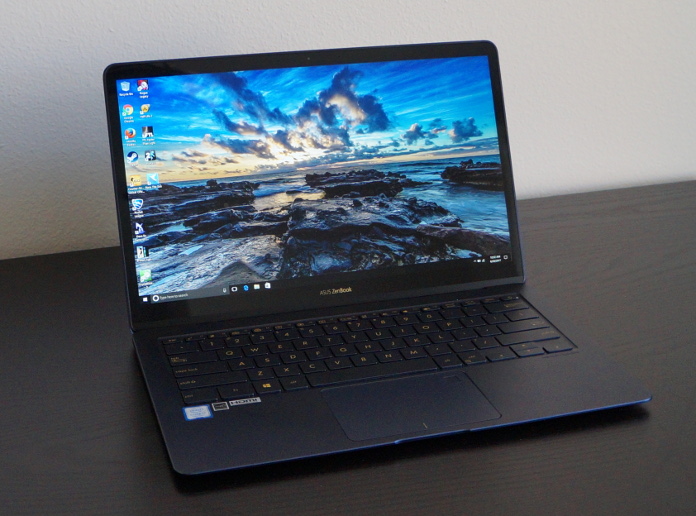 The quad-speaker system offers a surprising amount of volume for such a small machine. The sound is not at all tinny or thin-sounding thanks to tuning from the engineers at Harmon Kardon. You'll notice two of the speakers just above the keyboard, while the second pair fires downward from the underside of the laptop. Little rubber feet raise the ZenBook 3 Deluxe ever so slightly off the desk, so sound from the second set of speakers isn't muffled. Together, these four speakers produce enough volume to fill a small room. A built-in headphone jack is on hand for entertainment on the go.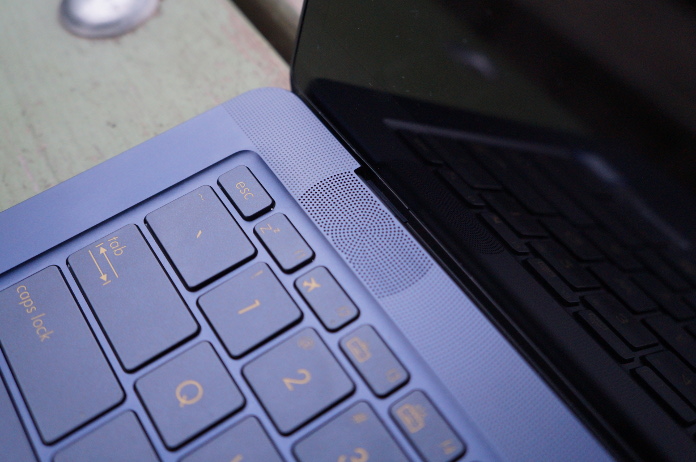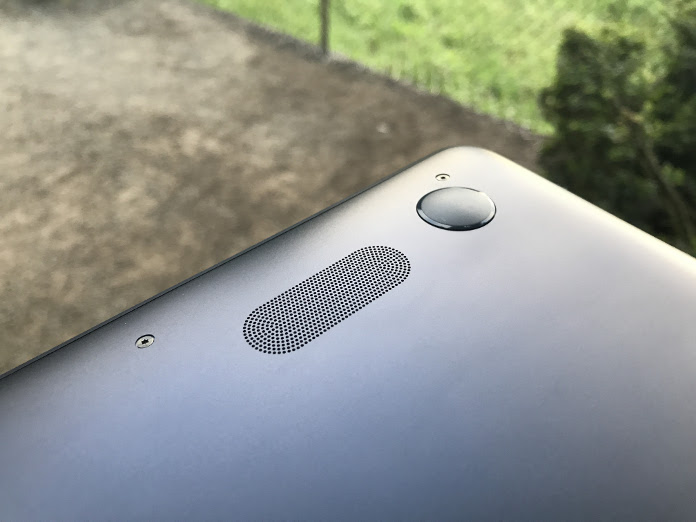 Lots of ultrabook keyboards are collateral damage in the quest for thinner machines, but typing on the ZenBook 3 is a joy thanks to its spacious full-size layout with 1.2 mm of key travel. That's 50% more travel than the UX390 and three times that of the MacBook Air. I'm not normally a heavy typist, but I enjoyed faking it while testing out the UX490. The keys have great tactile feedback (no mushiness here) and spring back up when you bottom out. It's an oh-so-satisfying experience with nice, clicky audio to match.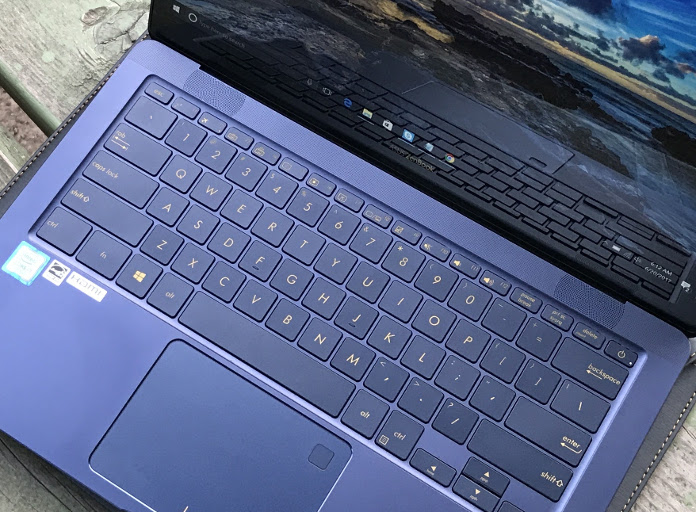 Living on blues power
Gone are the days when ultra thin and incredibly light meant all work and no play. Despite its elegant design, the UX490 Deluxe has real muscle. Though many ultrabook makers resort to 4.5W Core M or Y-series chips for a thinner fanless design, the UX490 punches above its weight class thanks to a 15W Core i7-7500U CPU. With a base clock speed of 2.7GHz (3.5GHz Turbo) and Hyper-Threading offering four parallel threads of execution, the processor works alongside 16GB of LPDDR3 RAM to make quick work of heavy multitasking, content creation, and even some gaming. The latest blockbuster titles are definitely out of reach for the Deluxe's integrated graphics, but I merrily motored through Race The Sun, Portal 2, Faster Than Light, Broken Age, and a couple of old favourites, including Deus Ex and Half Life 2, over the course of a few hours. The i7-7500U and accompanying Intel HD 620 graphics were more than up to the task. If you're really determined to have the UX490 be your one and only, it's compatible with our ROG XG Station 2 external graphics dock, which allows you to play the latest games and access a bevy of additional ports.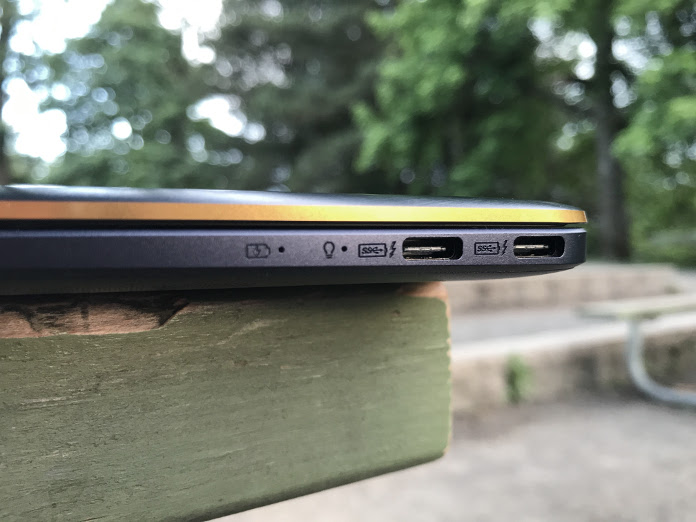 That's not to say the Deluxe is lacking in the connectivity department, though. This is another area where the UX490 strikes out on its own, leaving the ZenBook 3 and its single Type-C USB port behind. On the left side, you'll find one USB 3.1 Gen 1 port, and on the right, a pair of similarly reversible USB 3.1 Gen 2 ports with support for Thunderbolt 3 and fast charging. You can charge up via any one of the three, but I'd recommend the Gen 1 port on the left for power and either one of the two Gen 2 ports for your external monitor. Both are capable outputting video at a 4K resolution, so you can run two huge displays simultaneously if you want. Those who have yet to go all in on USB-C will have to accept their dongled fate but will be glad to find adapters for HDMI displays and USB-A devices in the box.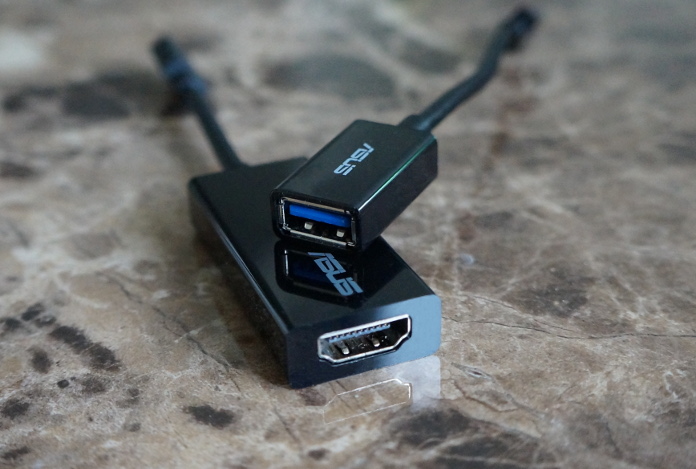 Inside and out
They say beauty is only skin deep, but the interior of the ZenBook 3 Deluxe is arguably more beautiful than its exterior. With the ZenBook 3, we had to completely overhaul our ultrabook construction to achieve such a slender end result. As second born, the ZenBook 3 Deluxe benefits from the experience we gained with the UX390. Its internal components are arranged to maximize available space without sacrificing the tapered design. Even with the added challenge of a larger display, more ports, and a bigger battery, we were still able to fit everything snugly inside the 13-mm chassis.
The display is propped up by a pair of tiny but mighty hinges. Measuring just 3 mm tall and fashioned from aluminium steel alloy, these little guys are heat-treated to ensure durability. The result is a super strong hinge that doesn't add unnecessary bulk to the rear edge of the laptop. Paws for scale.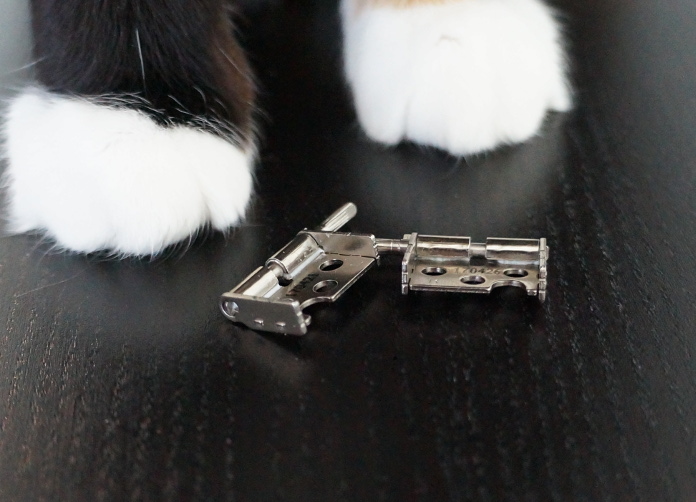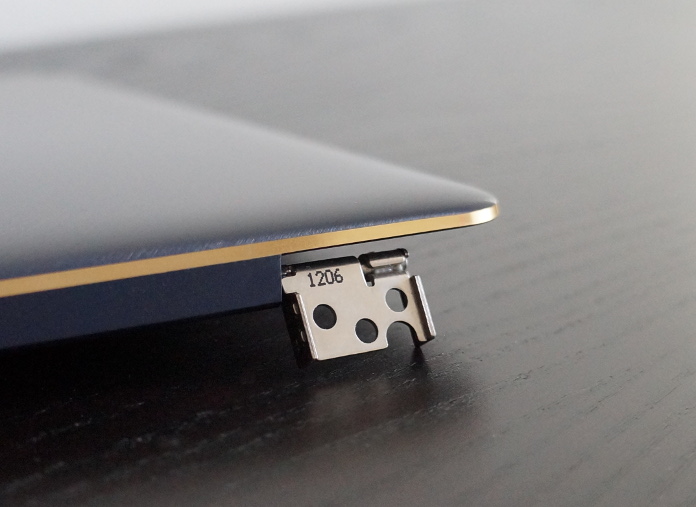 You'll need to break out your T5 screwdriver to get a glimpse of the UX490's neatly organized guts, but with just eight screws and no glue, stickers, or clips standing in your way, gaining access via the rear cover is a cinch.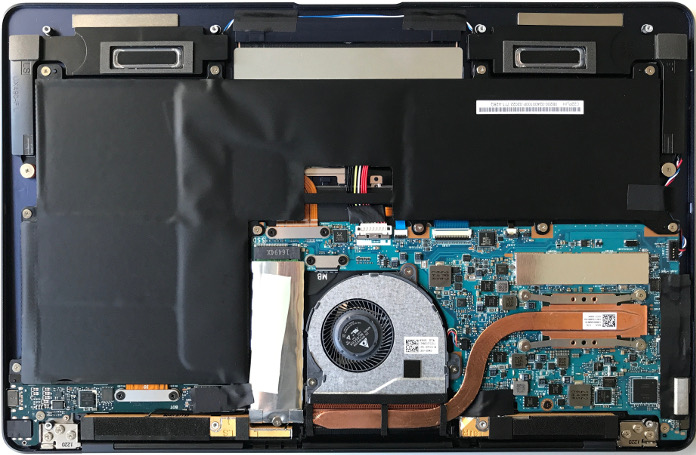 Just like the UX390, the UX490 ships with a 512GB M.2 PCIe Gen 3 x 4 SSD, which boots in a heartbeat and pushes sequential transfer rates beyond what's possible with even the fastest SATA SSDs. A CrystalDiskMark test run at our Fremont office reported sequential read/write speeds of 1839MB/s and 1526MB/s, respectively. If you find yourself hankering for more space down the line, we've kept the SSD easy to access. You don't have to meddle with anything beyond removing the backplate. The SSD sits right below the battery, and all you need to free it from its shackles is a Torx T5 screwdriver.
The Deluxe's fan is cute as a button and measures just 3 mm thick. You won't see yours outside of its cosy ZenBook Deluxe bed, but it makes this coloring pencil look like one of those giant novelty pencils you get in the gift shop at the zoo.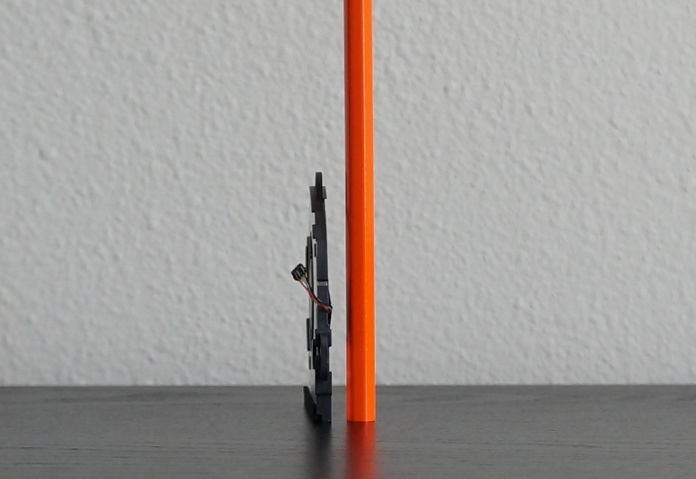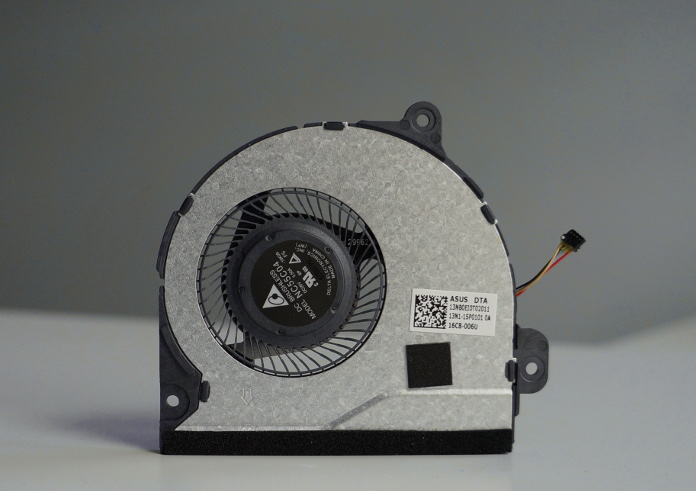 The 0.3-mm blades may look like fragile flower petals, but they're fashioned from strong liquid-crystal polymer that won't wilt when things start to heat up. When the fan is running, it's quiet as a mouse. If you're in a totally silent room, you may notice, but if you're listening to music or watching movies, you definitely won't. Even with the volume set as low as 25%, you have to strain to hear the fan.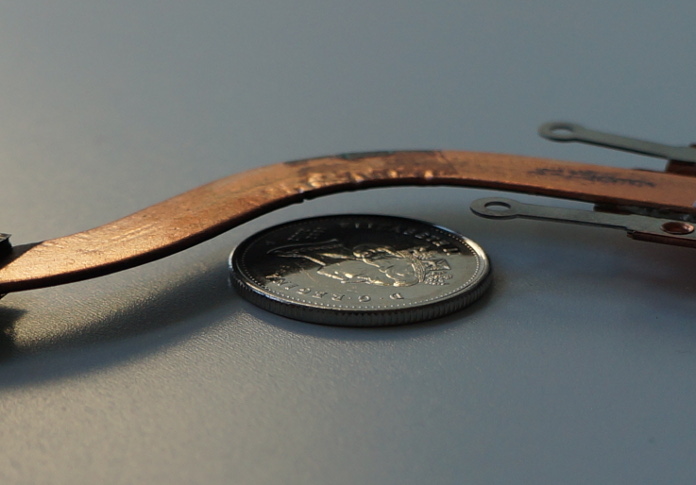 The walls of the heat pipe are just 0.1 mm thick (making it look positively dainty next to this quarter), but the cooling system does a great job keeping skin temperatures to a minimum by directing heat away from key components and out through discreet vents tucked out of sight behind the hinge. After a day of multi-tasking, including streaming video, playing music, and running two dozen tabs in Chrome, the Deluxe's edges were barely warm to the touch, and the keyboard and palm rests remained cool. The bottom was a little warmer towards the back, closer to the vents, but that's to be expected given the layout of the components. A few hours of gaming, and things were considerably warmer all over, but nothing approaching uncomfortable.
Space for a traditionally shaped battery is fairly limited within the ultra-slim chassis. We didn't want to reduce the battery size to make it fit, so like the ZenBook 3, the Deluxe features a specially designed lithium polymer battery that fills small internal gaps that would otherwise be empty.
The 46Wh battery is a little bigger than in the Deluxe's smaller sibling, and it supports fast charging, which will take you to 60 percent charged in just 49 minutes. I get through most workdays on a single charge and can stretch it even longer with Windows Battery Saver activated. Battery Saver automatically kicks in when your battery hits 20% (though I tend to switch it on as soon as I unplug my computer just out of habit), dimming the screen and reducing background activity to extend your run time. Even without such measures, the UX490 does not warrant a strict ABC (always be charging) approach to life. Those who like to play it safe will be pleased to hear that the adapter is extremely light. The UX490 and its accompanying charger weigh in at under three pounds combined. More than once, I found myself stopping on the way out the door to make sure both were actually in my bag.
UX490UA
CPU
Intel Core i7-7500U, 2.7GHz (4MB cache, up to 3.5GHz)
GPU
Intel HD 620
Display
14" LED backlit, wide view, Gorilla Glass 5
Resolution
Full HD 1920 x 1080
Memory
16GB 2133MHz LPDDR3
Storage
512GB PCIe Gen 3 x4 (NVMe) M.2 SSD

Networking
802.11ac Wi-Fi with 2x2 antenna
Connectivity
1 x USB 3.1 Gen 1 Type-C, 2 x USB 3.1 Gen 2 Type-C with Thunderbolt 3, 1 x audio combo jack, Bluetooth 4.1

Battery
46Wh
Dimensions
12.95" x 8.27" x 0.51"
Weight
2.42 lbs
OS
Windows 10 Professional
MSRP
$1699 USD
$2299 CAD
Accessories
Carrying sleeve,
USB 3.1 Type-C to USB 3.0 Type-A dongle,
USB 3.1 Type-C to HDMI Dongle
Availability (USA)
Asus
Newegg
Amazon
B&H
I want it all
With premium build quality, unbeatable design, and Windows 10 Pro, the ZenBook 3 Deluxe is built for professionals who can't afford to compromise on quality, performance, or style. Too often, shopping for an ultrabook means making some kind of concession. If it's powerful enough for serious work, it's probably on the bulkier side of portable, or it only lasts half a day off the charger. If it's super light and thin as a whip, there's a good chance it also has a cramped, mushy keyboard or limited connectivity. Based on Intel's Core i7 processor, and packing a full-size keyboard, and support for dual 4K video out, the ZenBook 3 Deluxe overcomes the usual compromises to deliver a 14″ ultraportable that's smaller than most 13″ notebooks, and powerful enough to do double duty as your primary laptop and travel companion.
Available in dazzling royal blue with gold trim, the UX490 is priced at $1699 in the United States and $2299 in Canada. Check the table above for retailers stocking the ZenBook 3 Deluxe in North America.