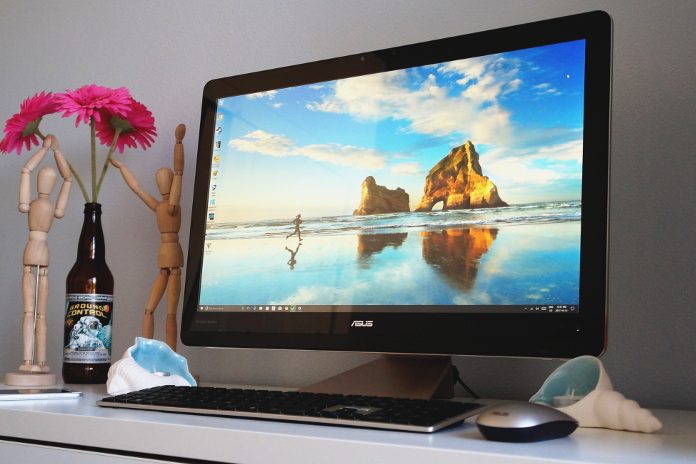 The words 'performance PC' generally don't conjure up visions of clean lines and tasteful, chic designs. Instead, you probably imagine a big, hulking box in black or gray. It's true that powerful desktop PCs tend toward the black and bold end of the spectrum. And unless you've built your own computer, complete with aesthetics tuned to your own specific style, there's a good chance your workstation is nothing to write home about looks-wise.
Still, you don't have to build your own computer, resign yourself to something box-like and boring, or switch to a completely different operating system to get a PC that looks as good as it runs and doesn't cost a fortune. The ZenAiO Pro Z240IE was designed to deliver performance capable of handling heavy workloads, like content creation and casual 4K gaming, in a sleek, low-profile package.
Just like our other ZenAiO computers, it takes up minimal real-estate and is stylish enough for any room in the house, be it living room, home office, or bedroom. But it doesn't eschew power in favor of a slimmed down aesthetic. Under the hood is an Intel Core i7 CPU, an NVIDIA GTX 1050 discrete GPU, and 16GB of RAM. The cherry on top is a 23.8" ultra HD display with a 3840×2160 resolution. It's the perfect match for users thirsty for pure power, and everything is neatly packed into a polished gold chassis.
The Midas touch
At first glance, the ZenAiO Pro looks just like a nice computer monitor. It's all display, unmarred by stickers or buttons, and the black bezels are matched by a black chin accented with the same concentric circles you see etched onto the lids of our ZenBook line of laptops. If the screen is off, you might catch a glimpse of the infrared camera up top. It will log you on via Windows Hello once it recognizes your face, but it's flush behind the glass, so it's hard to spot, and more importantly, it doesn't ruin the clean lines of the display. However, it's increasingly rare that our monitors are up against a wall or backed into a corner. With open layouts more common than ever, both at home and at work, our computers are more often out in the open, visible from every angle. And that's where the ZenAIO Pro really stands out. Or should that be blends in?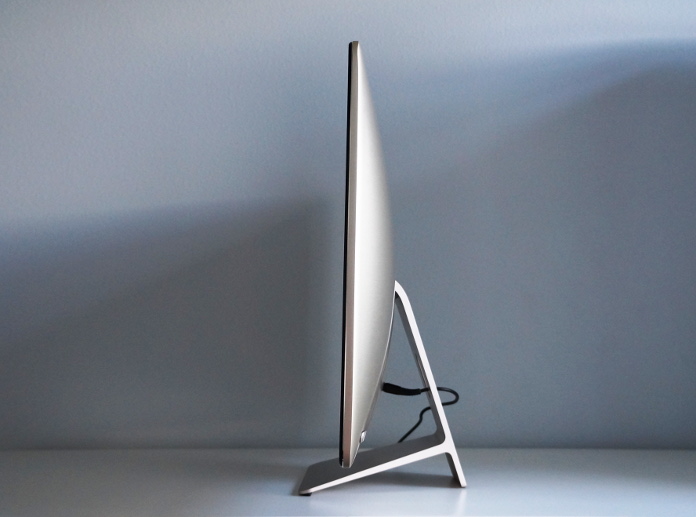 The brushed metal edges are flat and measure just 7 mm thick. Diamond-cut on the front edge, they frame the screen, glinting under overhead lighting and sloping inward to meet the display. Around back, those flat, matte edges bleed into a silky, polished rear that gently swells, expanding outward to accommodate all of the computer's components. A reflective ASUS logo gets prime placement as the headline above the adjustable arm of the ZenAiO Pro's stand. Hidden under chin are six Harmon Kardon speakers that stretch the full width of the computer for sound that is rich and loud. You could plug your headphones into the back, but why bother with half a dozen speakers ready to pump the sound right at your face?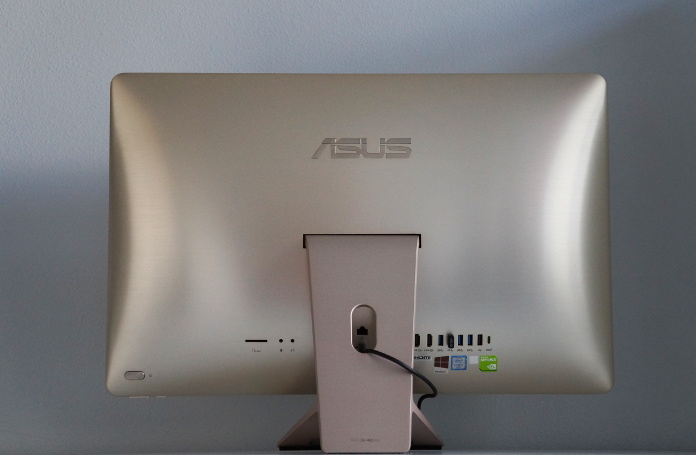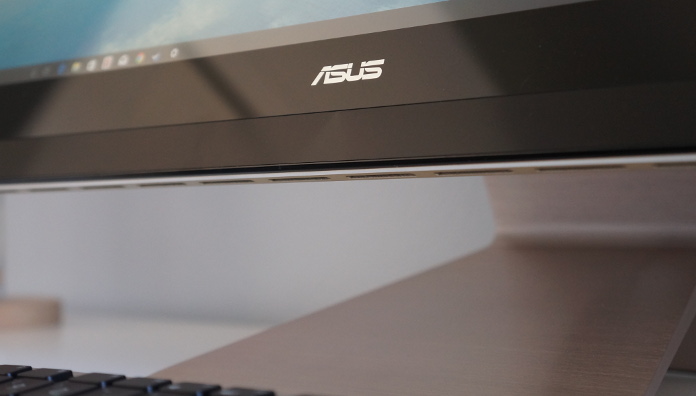 The back is where you'll find the power button, complete with our zen circle etchings, as well as a bevy of ports. Because we weren't restricted by the thin edge, we were able to squeeze in six USB ports, including four regular USB 3.1 Gen1 Type-A ports and one USB 3.1 Gen2 Type-C port. There's also an HDMI port for video out as well as an additional HDMI-in port. This allows you to use the ZenAiO Pro as a display for your console, or even as a TV if you've got a streaming stick, like a Chromecast or Roku. An RJ45 LAN port is on hand for wired internet access, though the Pro does feature 802.11ac if your router happens to be in another room. You'll probably want a visual if you're plugging in an HDMI or Ethernet cable, but I was able to reach under the monitor and plug in my USB thumb drives and the Bluetooth receiver by feel alone. The USB-C port is reversible, so it doesn't matter which way you plug in, and we all know the regular USB ports take minimum three tries even if you're looking right in the eye.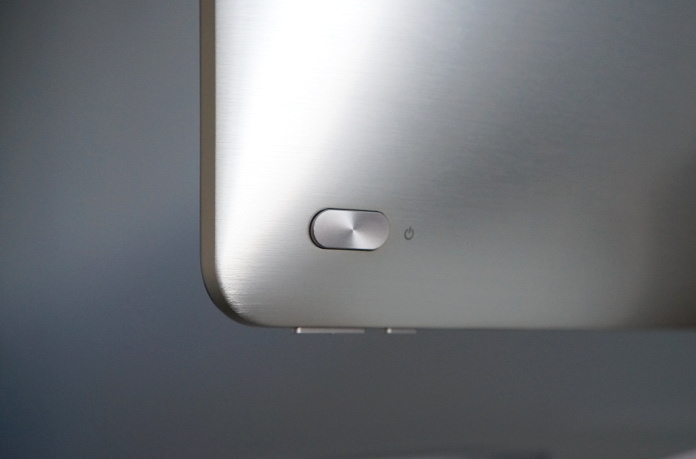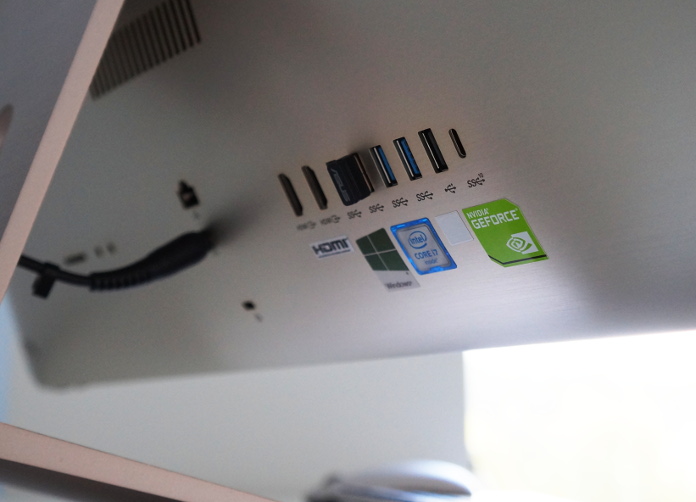 Save for the bezels, the only trace of bland PC black you'll find on the ZenAiO Pro is on the keyboard, which is just fine by me. Anyone who's ever used a white keyboard knows what they look like after a few months, so the keys are a sensible black, though they're framed in gold to match the base of the mouse and the rear of the display. Both peripherals are wireless, which means no ugly black cords draped across the desk and they can be stowed when you're not using them. I got pretty used to stashing both in my desk drawer during lunchtime Netflix sessions, queuing up my entertainment and adjusting volume using just the touchscreen touchscreen.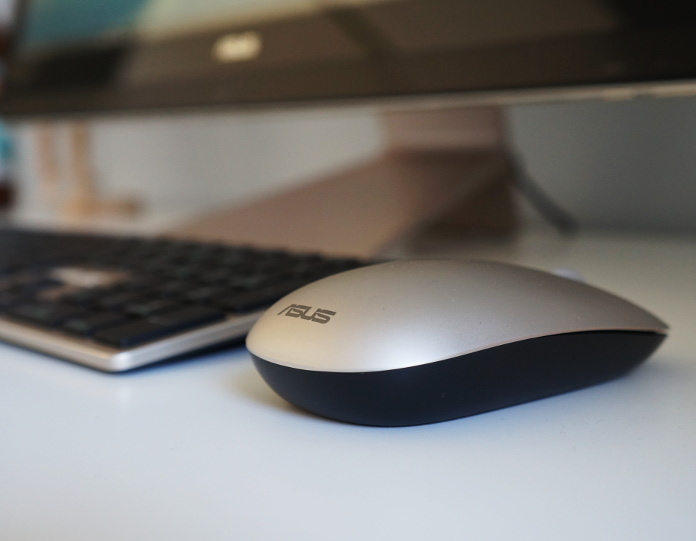 Elegantly powerful
Once you've seen the ZenAiO in person, it's hard to understand why most computer don't look like this, especially once you've seen what it can do. If we can squeeze discrete graphics and a desktop-class CPU into a laptop like the ZenBook Pro UX550, why can't we make desktops look a whole better than what we had 10 years ago? If you have no desire to dig into your shiny new PC and start swapping out components, a more compact and stylish design is kind of a no brainer.
The ZenAiO Pro boasts an Intel Core i7 processor, along with an NVIDIA GTX 1050 GPU, and up to 32GB of RAM. Intel's Core i7-7700T has four cores with eight threads and a max Turbo clock speed of 3.8GHz, which makes it perfect for multitasking and multithreaded applications where more cores offer a distinct advantage, like video editing. Meanwhile, the GTX 1050 is on hand to offer GPU acceleration to speed up rendering for video projects, making the ZenAiO Pro a prime candidate for the content creator's new best friend.
The cherry on the sundae is that big, bold 23.8" 4K IPS-type display. The 4K resolution is perfect for editing large photos, but you'll notice its crisp clear details even if you're just editing documents. Full sRGB coverage shows every hue as you edit, and wide 178° viewing angles ensure the colors stay vivid and bright, even when you're slouched off to one side during late night work sessions (because of all that Netflix you watched at lunch). You can store big media files and hefty applications on the secondary 1TB HDD, which works in tandem with up to 256GB of solid state storage to ensure fast booting and snappy load times for your most used apps and files.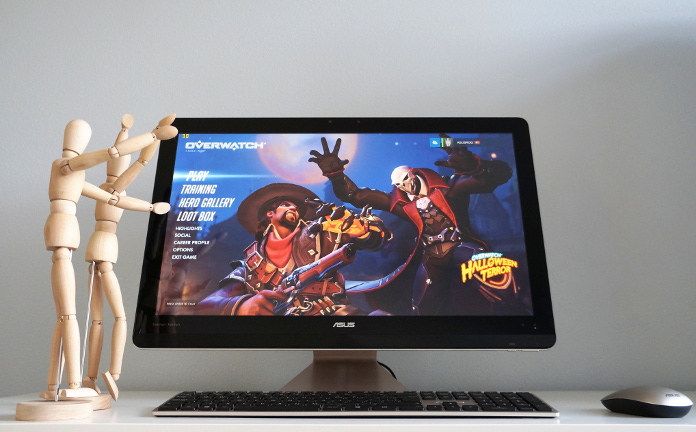 But you don't need to spend your days in an editing suite to make good use of a 4K display. The GTX 1050 might not be a top of the line GPU, but it's still more than capable of dishing up some fantastic framerates at 4K resolution. We loaded up a few favorites and ran some comparative benchmarks at 1080p versus the native 4K to see how the increased resolution would impact gameplay. Individual frame times were captured using Fraps and converted to FPS for interpretation.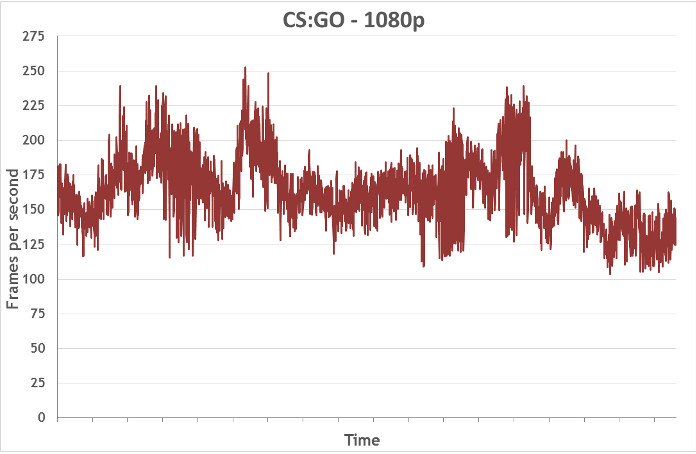 br>
At 1080p, the ZenAiO Pro had no problem with classics like CS:GO and Rocket League, as well as GTA V, which remains one of my favorites, even if it is a few years old. With the settings on high and V-Sync off, the Pro easily served up frame rates above 150 FPS second for Counter Strike and consistently clocked more then 80 FPS in Rocket League. GTA V reached as high as 138 FPS, and though it dipped below 100 FPS the odd time, it mostly stayed around 110 FPS. Switch to the native 4K and you'll see the inevitable drop in all three titles. After all, you're pushing four times the pixels. But the Pro still mostly managed to hover between 50 and 60 FPS in Rocket League, and served up between 40 and 50 FPS amidst a hail of gunfire in GTA V. CS:GO barely dropped below 60 FPS, staying around 80 FPS for the most part, but at times spiking over hundred. If you're looking to play more demanding titles at native resolution, like Doom or Overwatch, the GTX 1050 isn't the answer. But if you're into the classics, or less demanding titles like Race the Sun or Broken Age, you'll have a great experience.
More than a feeling
Most of my days don't involve playing games or editing video, though. In fact, the majority of my time is split between Chrome, Photoshop, and various productivity apps. As a result, I tend to go for capable but aesthetically-pleasing laptops instead of full blown desktops. I don't need a ton of power and I definitely don't want something ugly on my desk. So, give me an ultrabook and I'll tolerate the fact that leaving the house means dismantling my entire setup. At least it's not ruining the soothing blue and white theme I've got going on in my office.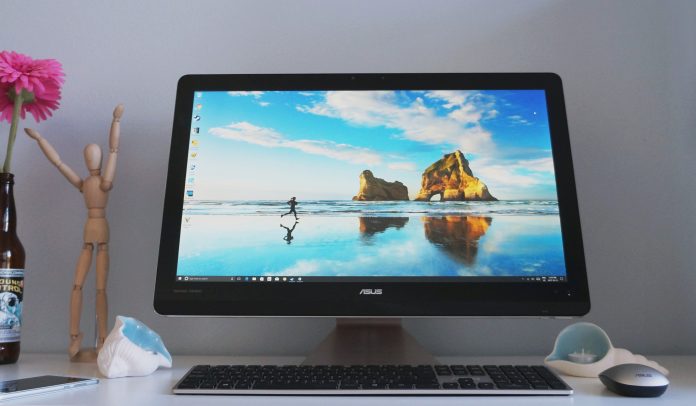 Still, that does leave me with something of a problem: sleek ultrabooks like the ZenBook 3 Deluxe look beautiful and can handle very light gaming, but their power is no match for a desktop. And while my laptop is capable of handling my current workflow, there's not a lot of room for growth. I definitely don't need a workstation capable of rendering hours of video daily, but I would like to know the power is there, even if all I plan to use it for is Overwatch.
I've been using the Pro for the past few week and it's handled everything I've thrown at it and given me a comfortable place to work that doesn't require any extra cables or peripherals. Best of all, its premium stylings aren't half expensive as they look. The Core i7 version I've got sitting on my desk has a 4K display, 16GB of RAM, an NVIDIA GTX 1050 GPU, a 128GB SSD, and a 1TB HDD, and is priced at $1,799 or $2,299 CAD. Given a Core i7 iMac with 16GB of RAM will run you about the same but leave you with a smaller 21.5" display and a slow 5400 rpm HDD, it's easy to see how a lot of people feel priced out of the premium AIO category. The ZenAiO Pro ships with Windows 10 Home and is available now in the US and Canada. Check the table below for retailers in your country stocking the Pro.
Model Name
Zen AiO Pro Z240IE
Display
23.8" UHD IPS-type touchscreen

Resolution
Ultra HD 3840x2160
CPU
Intel Core i7-7700T
GPU
NVIDIA GTX 1050
Memory
16GB DDR4 2400MHz
Storage
1TB HDD+128GB SSD
Networking
802.11 a/b/g/n/ac Bluetooth 4.1

Connectivity
1 x USB 2.0
4 x USB 3.1 Gen 1
1 x USB 3.1 Gen 2 USB Type-C
1 x HDMI-In
1 x HDMI-Out
1 x RJ45 LAN
1 x 2 -in-1 SD/MMC
1 x Headphone (Speaker Out)
1 x Microphone
1 x Kensington Lock
1 x DC-in
Dimensions
23" x 17.1" x 2"
Weight
16 lbs
OS
Windows 10 Home
Price
$1,799 USD
$2,299 CAD
Availability (USA)
ASUS
Amazon
Best Buy
B&H
Newegg
Availability (Canada)
Amazon
Newegg
Memory Express