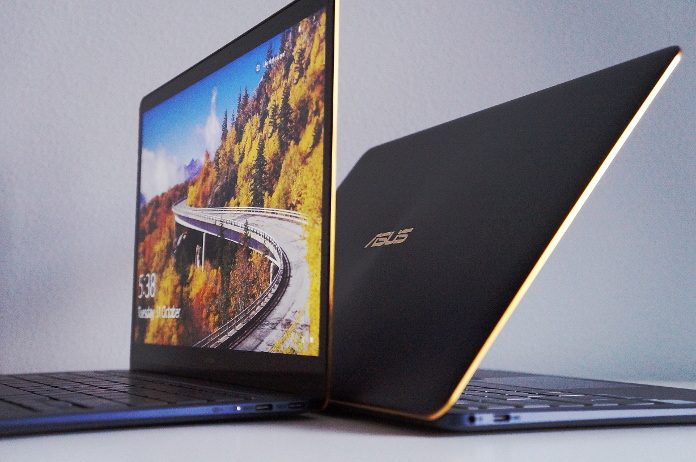 Wrapped in a stunning royal blue aluminum with gleaming gold trim, it's easy to see how our ZenBook 3 Deluxe UX490 got its name. The striking exterior highlights a razor-thin profile that takes home the title for thinnest 14" laptop available, and the Deluxe is lighter than most of the competition, too. But there's more to this ultraportable than a classy exterior and compact chassis.
Humming away under the hood is an Intel Core i7 processor, along with 16GB of RAM and half a terabyte of solid stage storage. If déjà vu is kicking in, that's probably because the debut version of the ZenBook 3 Deluxe also boasted all of the above. Now there's a new model, and while it appears all but identical from the outside, looking closely at the spec sheet reveals one major difference: the dual-core CPU at the heart of the original has been swapped for a new quad-core chip based on Kaby Lake-R.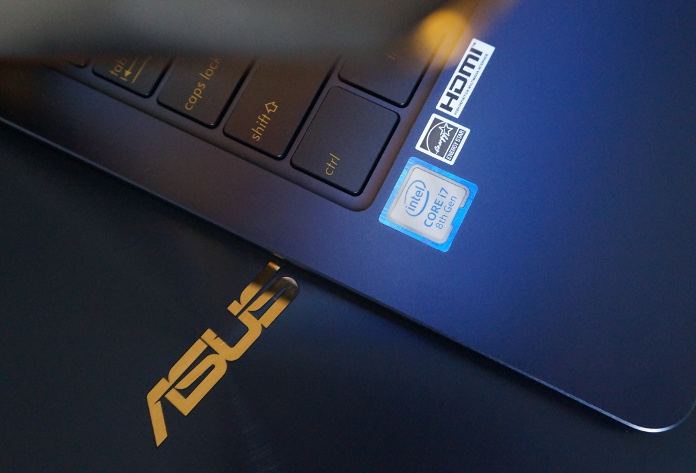 The new Deluxe's Core i7-8550U is one of the first chips from Intel's eighth generation of Core processors. Though these new CPUs share a codename with last year's seventh-gen chips, make no mistake, Kaby Lake-R is a big upgrade over the vanilla variant powering most of today's laptops. This is the first time Intel has crammed four full-fat cores into power-efficient 15W chips designed for ultrabooks and other low-profile computers. Intel claims performance gains up to 40%, a big jump in the space of just a year, and you don't need to use a KBL-R laptop or even know a whole lot about how processors work to understand where the extra power is coming from.
When less isn't more
The original ZenBook 3 Deluxe is based on a dual-core Core i7-7500U CPU from the Kaby Lake family, and performance for everyday work is as flawless as its hand-polished blue lid. With two cores and support for four parallel threads via Hyper-Threading, it handles multitasking like a boss, and I was hard pressed to find fault with its performance when I test drove it for Edge Up earlier this year. Fast forward to fall, and you'll find the newest version of the Deluxe with the quad-core Core i7-8550U. Compared to its predecessor, this Kaby Lake-R CPU has a lower base frequency for when all cores are active, but its 4GHz maximum Turbo clock for single-core loads is actually higher. And, with eight logical cores via Hyper-Threading, it's primed for multithreaded workloads like 3D rendering and content creation, along with all the heavy multitasking you can muster.
That's the on-paper promise, at least. It does a good enough job of explaining the big difference between the different generations of Kaby Lake processors in a "duh, more is better" kind of way, but it's all very abstract. The best way to show what this means for performance is to take two machines that are otherwise the same and see how they fare when tasked with the same jobs.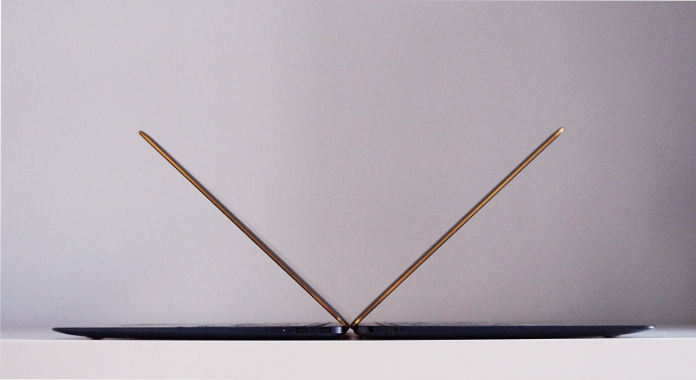 Spot the difference
Aside from their CPUs, everything about the old and new Deluxe is identical, from the 1080p display and its super skinny 7.5-mm bezels, to the backlight keyboard and the fingerprint reader embedded in the trackpad. The only way I can tell these two apart is the Intel stickers on their palm rests. For my own day-to-day use, the difference between them isn't all that noticeable. Then again, if I couldn't push the dual-core ZenBook 3 Deluxe to the brink with my regular workflow of Chrome, Microsoft Office, light photo editing, and Google Play Music, I wasn't going to be able to max out the power of the new and improved Kaby Lake-R model with the same approach. I definitely tried.
With half a dozen Chrome tabs open on each laptop, I started a 4K download, loaded up an episode of House of Cards, hit play on a Black Sabbath playlist, and queued up a Swedish short film called Ryggen Fri on Vimeo. For good measure, I launched three of the jankiest websites I could find. You know, the kind that autoplay a video as soon as the page is done loading while ads sail up from the bottom of the screen? I let these awful sites do whatever they wanted as I scrolled through and formatted 67 pages of text in Word, all while the ZenBook's four speakers blared with multiple audio streams from the stuff playing in the background.
It was torture for me, but the ZenBooks did fine. Switching between the various applications was snappy, and scrolling through webpages was responsive. The speakers served as my only indication of slowdowns or stuttering with the videos playing in the background; our SmartAmp tech kept distortion to a minimum even at full volume, and there was no tell-tale skipping to suggest the ZenBook was struggling with playback in a window or tab I couldn't see. If you spend most of your time browsing, streaming, and doing general productivity work, you likely won't notice a massive difference with Kaby Lake-R.
Where eight threads are better than four
Where you'll see the real benefit is if you want to add in heavy duty multitasking and multithreaded workloads, like video encoding, 3D rendering, or photo editing. Since I don't do a ton of that kind of work, I turned to ROG RealBench and Cinebench to help me out.
RealBench is a suite of tools that can test performance and stress stability. You'll find folks on the ROG forums using it to test overclocks, system tweaks, and upgrades, and it's perfect for showcasing the difference between Kaby Lake and Kaby Lake-R. The software uses open-source tools like GIMP and Handbrake to quantify performance with real-world work rather than synthetic tests. It gives us a much better idea of what double the cores and double the threads means for power users and content creators who do much more than just browsing and steaming.
RealBench contains individual image processing, video encoding, and multitasking tests. We ran each one three times and took the median of the results to get a final score in each category. No surprises here: while the older Core i7-7500U is certainly capable, more cores make lighter work of the load, and Kaby Lake-R runs through the tests at a faster clip than its predecessor. How much faster depends on the task.

Image processing time dropped by a few seconds, which works out to an improvement of just over 7%. This RealBench test focuses on single-threaded performance and memory, so that's not too much of a surprise.

Video encoding was much faster than we expected. The Core i7-8550U reliably finished the test twice over before the Core i7-7500U got through its first run. Times varied a bit, going up or down depending on whether I ran the benchmark at the end of a day of work, or first thing in the morning from a cold start, but the performance gap between the two was always roughly the same. If you're not working with photos and video regularly, Kaby Lake probably suits you fine; it gets the job done, it just takes longer. But if you're encoding video or doing complex photo editing all day, every day, you can't afford to sit around and wait for your computer to catch up with what you're doing, especially if you want to do other things at the same time

RealBench simulates heavy multitasking by running its rendering, image processing, and video encoding tests at the same time. Again, Kaby Lake-R fared a lot better, lapping the Core i7-7500U on the second run through. Each time we ran the test, the eighth-gen Core i7 was at least twice as fast as the seventh-gen CPU.
That's a pretty massive difference, one that I was curious to see if I could replicate in real life. For fun, I decided to bring back a modified version of my multitasking torture test to see if I could "work" while the ZenBook was doing something much more intense in the background. I ran multiple video streams, along with a couple of obnoxious websites, and tasked Handbrake with converting a video of puppies playing in a kiddie pool from 4K to 1080p. While all of that was churning away in the background, I worked on formatting and spell-checking my 67-page Word doc and tried to ignore the noise pollution coming through the speakers. The test was run on both laptops to see not only which one converted the video faster, but also if I could work comfortably on other stuff in the meantime.
The older ZenBook 3 Deluxe allowed me to go about my business without any apparent slowdowns, taking 16 minutes and one second to finish converting the video. Kaby Lake-R performed similarly well on the multitasking front; I didn't experience any interruptions in the flow of my work while Handbrake ran in the background. However, the video was done in half the time, crossing the finish line at 8 minutes and 13 seconds, which meant I could move onto the next task that much quicker. For me, that was just more benchmarks, but for video editors, that kind of time is money in the bank.
You'll see a similar result for 3D rendering, a task that typically benefits from more cores. This couldn't be clearer than in Cinebench, which maxes out your CPU to render a 3D image and then spits out a score.


Cinebench has a single-core test that shows a difference of about 11.5% in Kaby Lake-R's favor, likely due to the higher maximum Turbo frequency. But switch to the multithreaded test, and you'll see a huge leap, with the 8550U nearly doubling the score of last year's chip. Again, it's not that the 7500U isn't capable; it eventually gets the job done, but KBL-R is the Concorde that gets you there in half the time.
Kaby Lake-R features the same integrated graphics as the previous generation, though the name has changed a little, from Intel HD Graphics 620 to Intel UHD Graphics 620. At 1.15GHz, the Core i7-8550U's maximum graphics frequency is also 100MHz higher than what's available with the 7500U.

Both machines scored almost exactly the same in Cinebench's OpenGL benchmark, which tests graphics processing using a 3D scene with varying textures and effects. While the score varied by as much as 5 FPS each time we ran the test, when we looked at the median result, just two frames separated the performance of the Core i7-7500U and 8550U.
For gaming, we saw comparable performance for both CS:GO and Rocket League, though if you're looking to play games on a lightweight laptop, you're better off with the ZenBook Pro UX550 and its GeForce 1050 Ti GPU. Although we designed an ultra-thin heatsink and fan to keep the ZenBook 3 Deluxe cool under pressure, there are unavoidable performance limitations in laptops this compact and lightweight. The Pro's larger chassis has the space necessary to cool more powerful components, like a discrete GPU and higher-wattage processor.
An upgrade with no downside
Intel's U-series ultrabook processors are extremely power-efficient, but with the move to quad cores enabling such a big leap in performance, you'd expect there to be some kind of tradeoff—if not in portability, then in power consumption or price. After all, there's no such thing as a free lunch, right? Well, actually… The KBL-R version of the ZenBook 3 Deluxe sells for the same $1,699 USD or $2,229 CAD as the original model. And because Intel squeezed the additional cores into the same 15W power envelope, we were able to use the same slim chassis and impossibly thin cooling as we did for the dual-core Deluxe without any impact to battery life.
To avoid adding bulk, both versions of the ZenBook 3 Deluxe fill much of the available space inside the chassis with the same uniquely shaped 46Wh battery. My own test results are in line with Intel's claim that battery life with Kaby Lake-R is similar to that of Kaby Lake. During a continuous video streaming test, the new Deluxe ran out of juice a little before the old model, but the difference was mere minutes rather than hours, and the two traded places for "time remaining" throughout the duration of the test.
ZenBook 3 Deluxe UX490UA-XH74-BL
CPU
Intel Core i7-8550U, 1.8GHz (8MB cache, up to 4.0GHz)
GPU
Intel UHD Graphics 620
Display
14" LED backlit, wide view, Gorilla Glass 5
Resolution
Full HD 1920 x 1080
Memory
16GB 2133MHz LPDDR3
Storage
512GB PCIe Gen 3 x4 (NVMe) M.2 SSD

Networking
802.11ac Wi-Fi with 2x2 antenna
Connectivity
1 x USB 3.1 Gen 1 Type-C, 2 x USB 3.1 Gen 2 Type-C with Thunderbolt 3, 1 x audio combo jack, Bluetooth 4.1

Battery
46Wh
Dimensions
12.95" x 8.27" x 0.51"
Weight
2.42 lbs
OS
Windows 10 Professional
Accessories
Carrying sleeve,
ASUS Mini Dock (1 x USB Type-C, 1 x USB Type-A, 1 x HDMI)
MSRP
$1699 USD
$2299 CAD
Availability (USA)
ASUS Store
Newegg
Amazon
B&H
Adorama
Costco
Fry's
Micro Center
Availability (Canada)
Best Buy
Amazon
Canada Computers
Newegg
The Source
Walmart
Kaby Lake-R gives ultraportable notebooks more power for demanding work like heavy multitasking, 3D rendering, and video and photo editing. With four cores and eight threads at its disposal, the latest UX490UA-XH74-BL version of the ZenBook 3 Deluxe is a worthy companion for professionals who need of the level of performance that could previously only be found in thicker, heavier laptops. Check the table above for retailers selling the new model in North America.