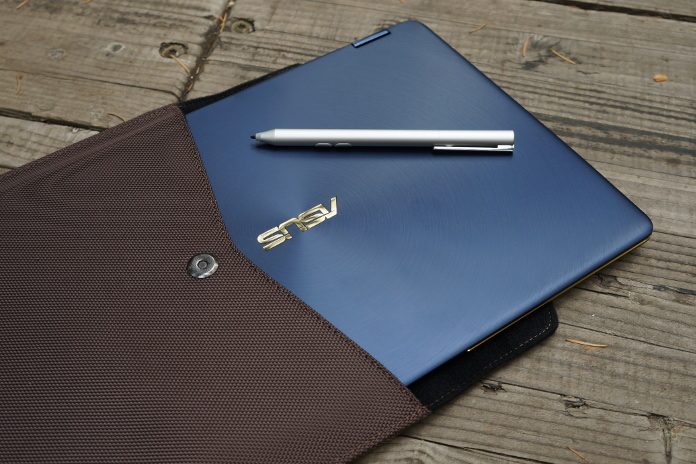 When tablets hit the mainstream, they arrived with promises to free us from the heavy laptop bags we were dragging on business trips and vacations. Slim and portable, their form factor was perfect for throwing in a briefcase or a purse to stay connected on the road. But tablets never quite made it out of the second-device category. Based on smartphone hardware and software, they were limited to apps optimized for our phones, and they lacked the input methods required for proper work. If you wanted to work on a presentation or a spreadsheet, you needed a Bluetooth keyboard, and those looking for the pen-like precision of a stylus were limited to capacitive solutions no more accurate than a finger. Active stylus input and hardware powerful enough to run desktop apps meant lugging around a convertible notebook, and until not too long ago, 2-in-1s were just regular laptops with bulky hinges or creaky pivot mechanisms.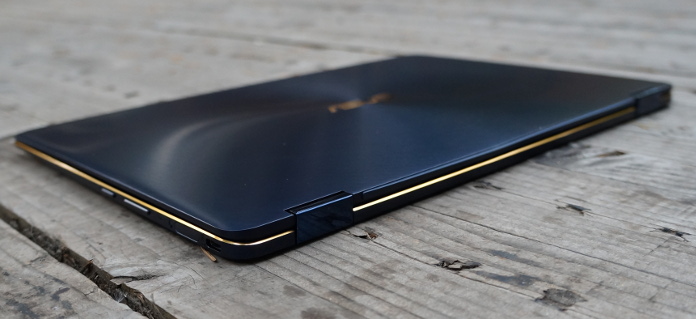 Fast forward a few years, and the quest for thinner and lighter laptops has component makers pushing the boundaries for smaller parts while manufacturers strive to find ways to squeeze everything into slimmer chassis without compromising on performance. It's given way to devices like the ZenBook 3 Deluxe, which measures just under 13 mm thick, and the ZenBook Pro, a 19-mm ultrabook with discrete graphics. It's also opened the door for true 2-in-1 versatility without the added bulk. The ZenBook Flip S UX370 combines an ultrabook-grade Core i7 processor, 16GB of RAM, and proper keyboard with a razor thin design, 360° hinge, and active stylus to give you the power you expect from a laptop with the precision and portability you need for tablet-based work.
Invisible versatility
At first glance, the UX370 looks identical to the Deluxe. They sport the same metal chassis with royal blue skin and gleaming gold accents, the product of a multi-stage anodization process that colors the aluminum body and diamond-cut chamfered edges separately. Their bodies are etched with our signature concentric circles and give off a matte glow when light dances across their lids. The devices also have similar footprints, making it even harder to tell them apart. But look a little closer, and you can easily spot telltale signs of the Flip's convertible persona.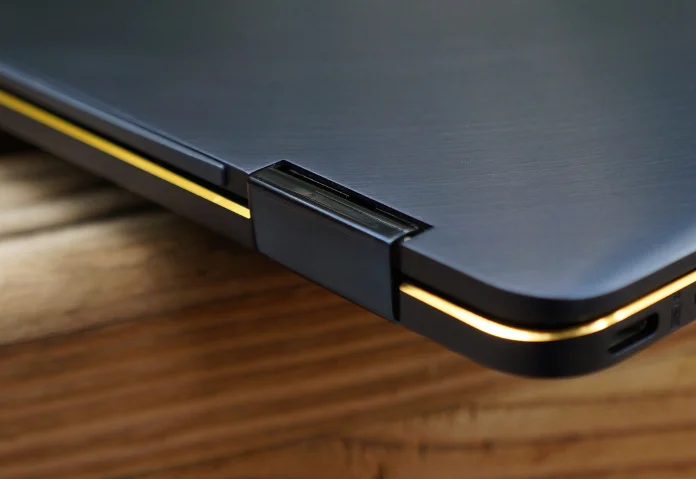 Most noticeable are the exposed hinges. CNC machined from steel alloy and covered by protective metal caps, they look like glossy jewels on the back of the laptop. These durable hinges are stress-tested to survive 20,000 open/close cycles, an impressive feat given their diminutive size. They offer a smooth, 360° transition as you flip the laptop's lid backwards to convert to tablet mode. There's enough resistance that the hinges don't feel loose or floppy, but they're not so tight that you can't open the UX370 with one hand when it's sitting on your desk. The top and bottom halves are balanced, and the keyboard barely lifts off the desk when you lift the lid.
The hinge lets the UX370 seamlessly transform from laptop into tablet, but its dual-gear design also presented an opportunity to improve the ergonomics for laptop mode. The Flip opens like a regular notebook, but once you hit 135°, the hinge switches gears, raising the rear of the keyboard ever so slightly. This makes a big difference for typing. Ultrabooks are notorious for their shallow keyboards, and though the Flip has just 1 mm of key travel, I never feel like my fingers are driving straight down into the table as I type. My hands are used to more key travel, but neither accuracy nor speed suffers when I'm tapping away at my notes. The keys are illuminated via backlight for late-night typing sessions, and the gold lettering that matches the trim running along the edges of the laptop is the cherry on top of an already stylish finish.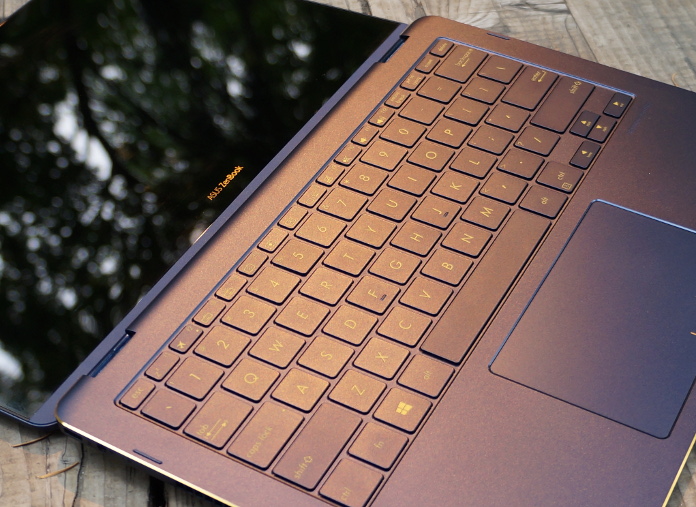 The keyboard is accompanied by a large, roomy trackpad that's silky smooth to the touch. You'll find the fingerprint sensor on the right edge of the device, easily accessible from tablet or laptop mode. I was skeptical about both the placement and size, wondering how often I'd have to tilt my head to the side to find the sensor, but I was pleasantly surprised. You don't have to hit just the right spot to unlock your computer. Clumsily rubbing the general area is enough.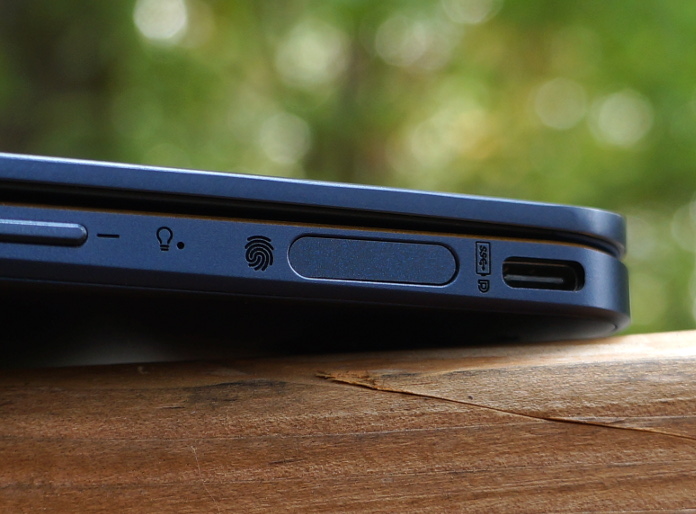 One of the other key differences you'll notice between the Deluxe and the Flip is size. Doing double duty often means extra girth, but despite functioning as both tablet and laptop, the UX370 is the thinnest member of our ZenBook family. Measuring in at only 10.9 mm thick, it's slimmer than even the Microsoft Surface Pro 4 with Type Cover, yet it still feels incredibly solid. That's thanks to the material used in the laptop's chassis. The Flip is fashioned from aluminum 6013, an aerospace-grade alloy that's 50% harder than the aluminum 6063 used in many other laptop chassis. The material isn't just more durable, though; it also makes for a lighter overall package, too. The UX370 handily fits inside my purse (a regular everyday purse rather than a giant beach tote), and at 2.4 lbs, and it's easy to forget that it's in there amongst my other sundries. If you don't want to carry a bag at all, the Flip comes with a chic sleeve that doesn't look out of place tucked under one arm.
An ultrabook in tablet's clothing
Until you see it in tablet mode, the ZenBook Flip S looks every inch a laptop and, packed to the gills with ultrabook-class hardware, it doesn't just walk the walk. With Intel's Kaby Lake Core i7-7500U CPU, a dual-core processor with support for four parallel threads via Hyper-Threading, along with 16GB of RAM, the UX370 is well-equipped for multitasking. My daily routine of email, music streaming, productivity apps, photo editing, and All The Chrome Tabs posed no problem for the Flip, and the integrated Intel HD 620 graphics served up Race The Sun and Rocket League when I needed a break. Ample storage is on hand in the form of a 512GB NVMe SSD; booting is lightning fast, and apps load on demand, without any of the lag you get with a traditional HDD. CrystalDiskMark recorded sequential transfer rates of 1839MB/s for reads and 1575MB/s for writes, making the drive more than three times faster than typical SATA SSDs.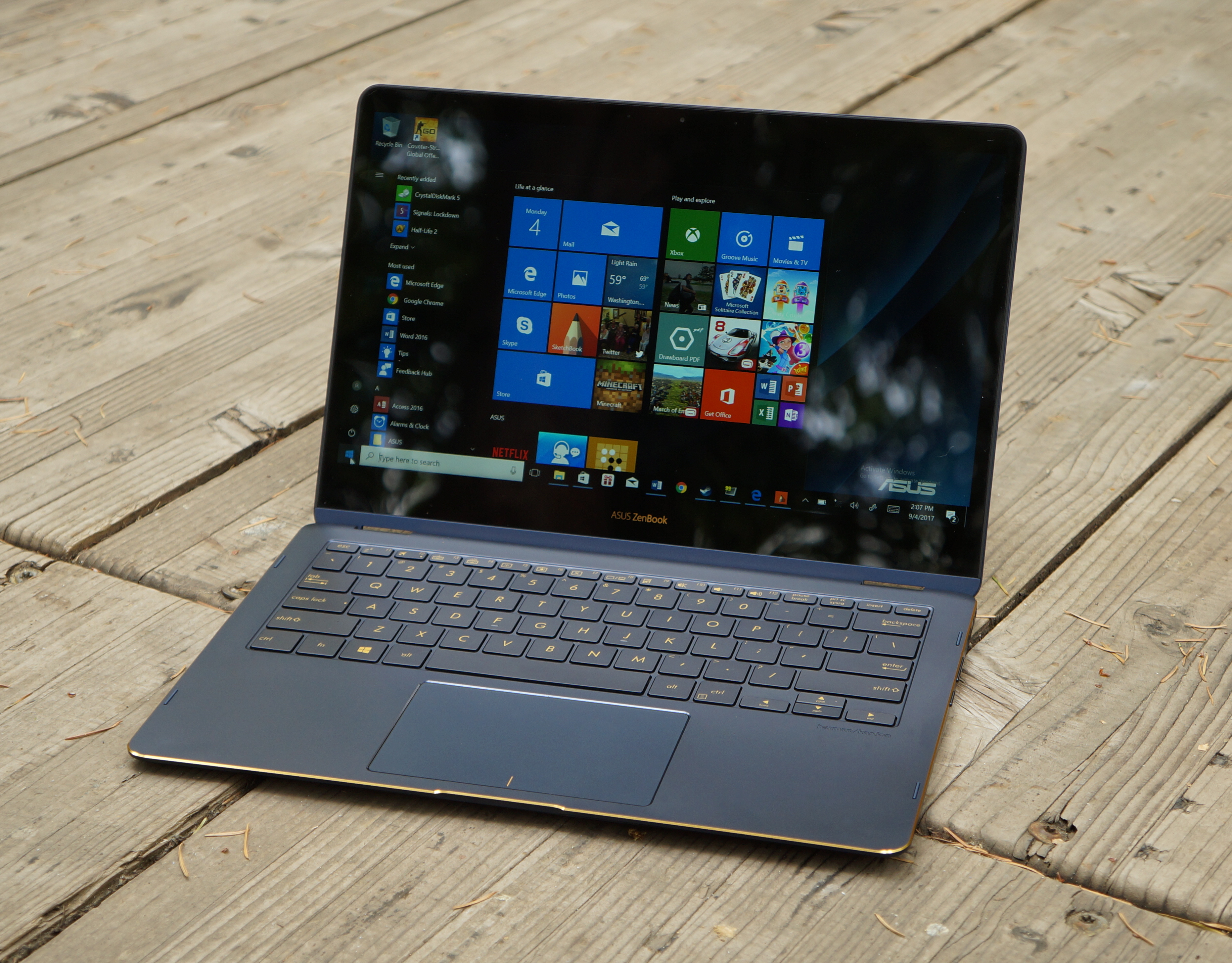 The processor is cooled by a compact thermal system with a vapor chamber that measures 0.5 mm thick and an itty-bitty fan that's a mere 3 mm tall. The fan blows air out a vent located on the side of the chassis. This puts the vent up top when you're using the UX370 in tablet mode, so it's not obscured by your hand when you're reading or taking notes. Under heavy load, you'll feel the bottom of the ZenBook Flip S warm up, but the tiny fan hums along to ensure things don't get too hot to handle.

The other side of coin
Lift the lid, and you'll meet the other half of this 2-in-1 equation. The Full HD 13.3" touchscreen is bordered by super-narrow bezels that measure just over 6 mm on either side. The top bezel is a thicker 11.5 mm to accommodate the webcam while also serving as a nice edge to hold onto in tablet mode. The 1920×1080 resolution translates to 167 PPI for crisp, clean text that makes for comfortable reading, while complete sRGB coverage ensures a full range of colors for design work and photo editing. To match the durability of the aerospace-alloy chassis, the screen is covered in Gorilla Glass, so you don't need to worry about flipping the keyboard back over to protect the display before you slip the Flip into your bag.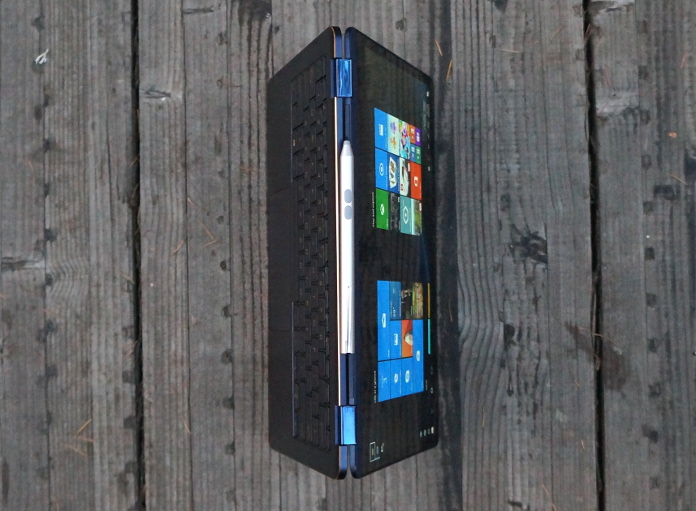 You can poke away at the display like any other touchscreen Windows laptop, but the bundled ASUS Pen is what really transforms the experience from touchscreen computer to proper tablet. It's the same active stylus that ships with our Transformer Pro detachable. With 1024 levels of pressure sensitivity, the it's capable of translating heavy and light strokes when you're sketching out portraits or designs for your next big project. Add the brushed metal finish, and this evenly weighted stylus looks, feels, and acts like a very posh pen. I am not an artist, and the ASUS Pen couldn't turn me into one (because it is not a magic wand), but I still lost the guts of an hour outlining and shading a very crude portrait of my cat.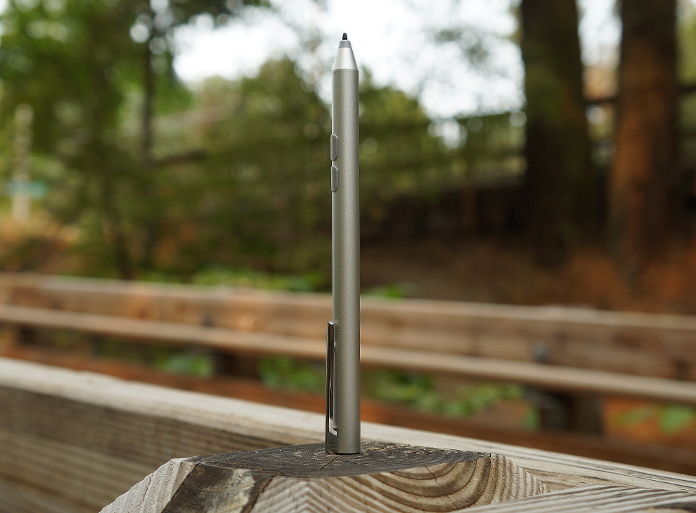 Actual artists and designers will have a lot more use for creative apps like AutoDesk's Sketchbook and Microsoft's 3D Paint, which is available as part of the Windows 10 Creator's Update. MS Paint fans can still create 2D art in the old-school version of the app, but the 3D redux lets you create and share three-dimensional models made from scratch using your own doodles or from stock shapes provided by Microsoft. It's really fun, and using the stylus to tilt and spin objects as you apply coats of paint and layer new shapes is intuitive, no matter your skill level.
Silly as it sounds, I was all but ready to give up on the stylus once I was done testing drawing applications with stick figures and messed up animals. I probably would have if Windows Ink hadn't been available to show me that there's more to tablet life than regular reminders of how much you suck at art. I definitely wasn't expecting my workflow to change so much (and so quickly) once I started using the stylus for everyday productivity.
The way I work is pretty set in stone. I'll email and IM on my phone from pretty much anywhere, but everything else happens at a desk with a keyboard, mouse, and big ol' monitor. It's been that way for years. The UX370 bears no resemblance to my usual setup, but tablet mode with the ASUS Pen might be my new favorite way to work. For anyone who refuses to let go of reminders, lists, and brainstorms laid out on legal pads and sticky notes, the ZenBook Flip is a dream come true. Windows Ink is accessible from the system tray and offers shortcuts to your pen-based apps as well as the ability to scribble down action items on stickies, doodle on a sketch pad, and even draw directly onto whatever's on screen.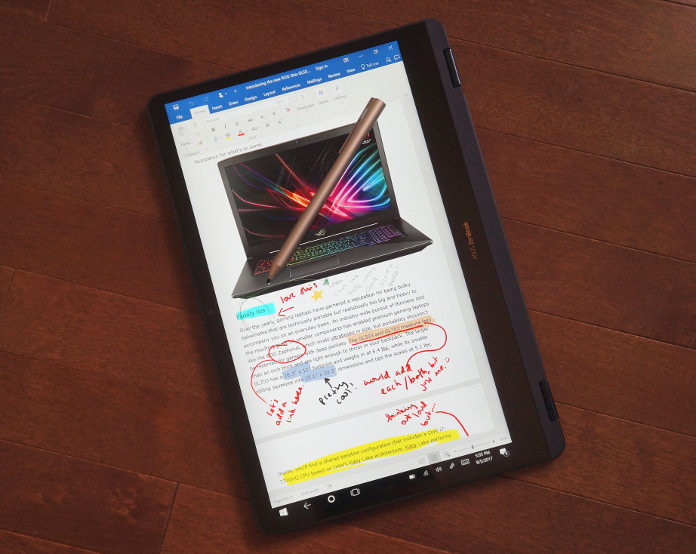 After experimenting with Windows Ink, I dipped a toe into the stylus side of my everyday apps. Annotating and editing in Word is a revelation for anyone who has suffered through the 'Track Changes' method of marking up a draft. The pen lets you underline, circle, highlight, and strikethrough naturally, adding suggestions or notes in the margins to explain your reasoning for certain edits. The ability to visually distinguish between types of markings using different coloured highlighters and pens can easily be replicated with a keyboard and Word's multi-layer toolbar ribbons, but picking through the different options is so much work, and I plowed through tasks much faster with the stylus. Much faster, that is, until I realized that the Windows Store also has games that use the stylus. Bye bye deadline, hello Signals: Lockdown and make-believe stylus soldering iron.
The ability to switch from laptop to tablet and back again might be the main attraction, but the Flip is no one-trick pony. Its 360° hinge is smooth but sturdy, allowing for a range of positions that further boost versatility. Without the assistance of a separate case with an integrated stand, tent mode props up the ZenBook all on its own, ready to present your slides to the group, connect to a video call, or play your favorite movie on a plane. If you have a little more room, the keyboard can flip back under the screen and act as a stable base. It may be potentially risky, but my favorite use for this stand mode is watching TV in the tub. With the keyboard face down, it's protected from drips of water when I reach over to pause or skip episodes. The Flip's wide 178° viewing angles ensure the colors aren't washed out even though the screen is positioned off to one side.
Plugged in
Though the UX370's slim profile prevented us from fitting a conventional battery inside, we didn't compromise on capacity. Rather than opting for a smaller pack, we filled the available space inside the chassis with a custom-designed 39Wh battery. It's rated for up to 11.5 hours on a single charge, and while uptime will vary depending on the apps you run day-to-day, I was only caught out by the low battery warning once, when I'd forgotten to plug in the night before. Even when I had to download and install hefty updates unexpectedly in the middle of the day, the Flip lasted until after dinner. If you're forgetful like me (or just in a rush and don't want to bring the charger with you), quick charging will get you to 60% in 49 minutes.
The UX370 is built for those who spend a lot of their time on the move, but we still made sure you can plug in and set up a workspace anywhere you go. There's a USB Type-C port on each side, and both support charging and 4K display out. The included Mini Hub adds a USB Type-A connection for older peripherals and external storage, as well as an HDMI port if you need to connect to a TV or projector. An all-in-one dock is available separately and includes all of the above in addition to a VGA port, Gigabit Ethernet, and an SD card reader.
UX370UA
Q325UA
CPU
Intel Core i7-7500U 2.7GHz (4MB Cache, up to 3.5GHz)
GPU
Intel HD Graphics 620
Display
13.3" IPS-type, LED-backlit
Resolution
Full HD 1920 x 1080
Memory
16GB LPDDR3 2133MHz
Storage
512GB PCIe/NVMe SSD
Networking
802.11ac Wi-Fi with 2x2 antenna
Connectivity
2 x USB Type-C, 1 x combo audio, fingerprint sensor, Bluetooth 4.1

Battery
39Wh
Weight
2.4 lbs
Dimensions
12.3" x 8.3" x 0.43"
OS
Windows 10 Pro
Windows 10 Home
Price
$1399 USD
$1899 USD
$1199 USD
Availability (USA)
Microsoft Store
Best Buy



Availability (Canada)
Memory Express
Canada Computers
NCIX
N/A
No-compromise computing
For a long time, a 2-in-1 meant two devices squeezed into a single unit without much consideration for size or style. Unless you had a reason to own one, convertibles represented a hefty compromise in either portability or power. Plenty of people who benefit from tablet functionality day-to-day, like health care workers and field techs, require desktop software to do their jobs. They were limited to heavy laptops with touchscreen interaction thrown in as an afterthought. And artists and designers in need of a lightweight device with the precision of pen-based input were stuck with supplementary slates designed exclusively for drawing. Neither drawing tablets nor bulky laptops were a good fit for the professional looking for a lightweight device with enough power and versatility for working on the road.
Fortunately, the push for increasingly slim computers has given us laptops that rival tablets in size, which in turn has made truly portable but potent 2-in-1s a reality. Priced at $1,399 USD and $1,899 CAD, the ZenBook Flip S crams a Core i7-7700U CPU, 16GB of RAM, and 512GB of storage into a stylish package scarcely bigger than a magazine. Most importantly, it doesn't look like a specialized piece of equipment, and it doesn't prioritize one side of the equation at the expense of the other. Slotting right into ZenBook family between the chic Deluxe and powerful Pro, the Flip S opens up the world of 2-in-1 versatility to regular people who may otherwise never have considered how a tablet could complement their workflow.
The premium blue-and-gold version of the UX370 is exclusive to the Microsoft Store and ships with a bundled ASUS Pen and Mini Hub. It also has Windows 10 Pro, which offers Bitlocker encryption, Remote Desktop, and Device Guard for professionals who need to meet corporate requirements. If you can live with the standard version of Win10, don't need the extra connectivity or stylus, and have subtler tastes, the Flip is available as the Q325UA at Best Buy for $1199. It's otherwise identical to the UX370 save for an understated gray chassis with silver trim.