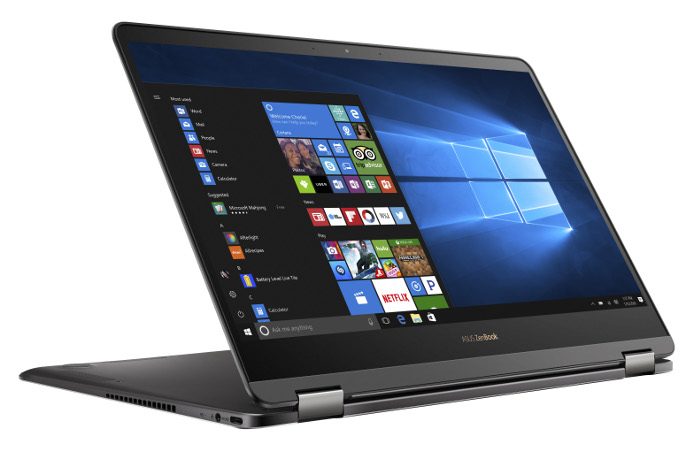 Consumers have spent the guts of a decade sussing out modern tablet productivity. It's not a hard sell at the outset; lighter, thinner devices with touch-friendly apps promise to liberate us from hefty laptop bags and big, fat adapters. But with tablet sales slipping, it's become clear that these devices are a less-than-perfect solution for those who want true productivity on the go. They're supplementary, more add-on than replacement. They don't really solve the problem, so much as create a new one: can I leave my laptop at home today, or should I bring it as well?
As components shrink and notebooks become thinner, lighter, and more powerful, the compromises that tablet productivity require become harder to swallow, so consumers are moving towards another type of machine: a hybrid that combines laptop and tablet in a single device. The decline in tablet sales is largely attributed to the growing popularity of 2-in-1s and convertibles, where the goal is to offer the portability of a tablet with all the functionality of a laptop. Unfortunately, a lot of devices created in pursuit of this goal end up leaning too far in one direction or the other, and the inevitable compromises soon follow. Pick your poison: heft or dongles?
Finding balance without the sacrifice
With the ZenBook Flip S UX370, we've created a convertible that strikes a fine balance between laptop and tablet. To make the grade as a replacement for your laptop, the UX370 had to be capable of more than just email and general productivity. Intel's Kaby Lake Core i7 U-series CPU with Intel HD 620 integrated graphics is complemented by up to 16GB of RAM and will carry you through video streaming, snappy web browsing, and seamless juggling of spreadsheets. It's not going to be your first choice for complex video editing with lots of layers, but digital artists will be able to run Lightroom and Photoshop comfortably. Up to 512GB of PCIe storage means large media files will load quickly, and you won't be constantly dumping your work onto the cloud to free up local storage, either.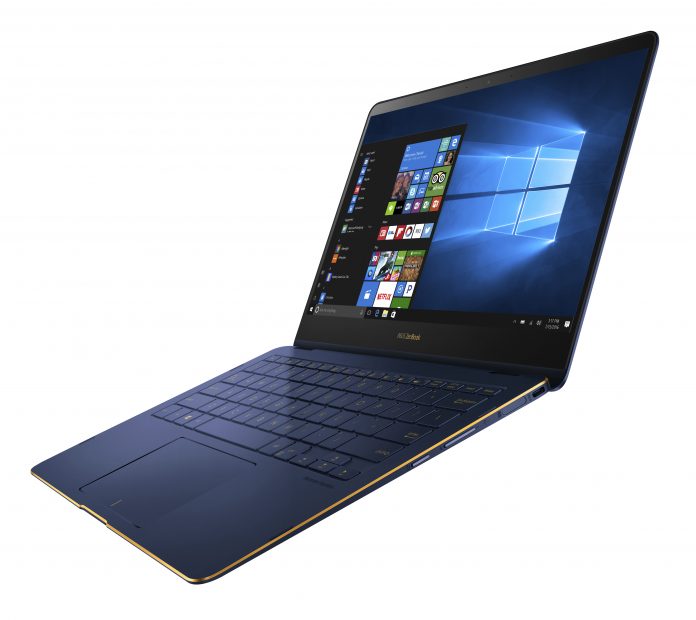 Next, we considered ways to make the ZenBook Flip S as portable and compact as possible. We're no stranger to ultra-thin laptops, but the Flip needed to even thinner than an ultrabook if it was going to be carried around in tablet mode. No matter what your job—sales manager, designer, or field tech—heavy is heavy.
We looked beyond the typical materials for something that could shave off weight and bulk without sacrificing durability and found our solution in aluminum 6013, a lightweight, aerospace-grade alloy that's 50% harder than the aluminum 6063 used in a lot of today's laptops. The UX370's machined aluminum chassis yields a finished product that's just 10.9 mm thick and only 2.4 lbs, keyboard and all. It's thinner and lighter than many current-gen convertibles, like the Lenovo Yoga 910 and Dell XPS 2-in-1, and just a touch thicker than some tablets without keyboards, like the iPad Pro and Microsoft's Surface Pro.
Touch, type, transcribe
Working in tandem with the AL 6013 to keep your Flip looking good as new is Corning Gorilla Glass, which protects the 13.3" screen from scratches and scrapes when in tablet mode. No need to return to laptop mode every time you want to put your computer away. Corning's got your back, er, front. As beautiful as it is tough, the ZenBook's display is available in either Full HD or 4K resolutions, and it covers 100% of the sRGB color gamut, so your sketches and designs will look crisp and vivid. Wide 178° viewing angles mean you can easily share what you're working on without having to pass the computer around.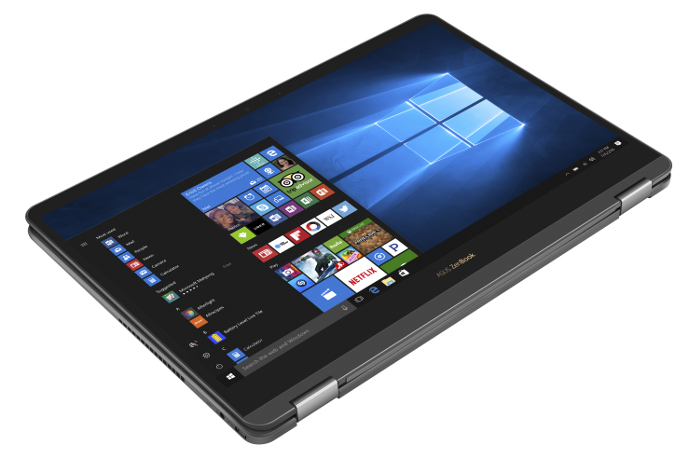 Pen input comes via the Asus Pen, an active stylus just like the one that ships with our Transformer 2-in-1, so drawing or scribbling down notes in tablet mode mimics the feeling of writing with a real pen. There are no fuzzy bobbles or rubbery blobs on sticks here; you can sketch and shade with precision. As for regular touchscreen interactions, high-fidelity actuators yield more responsive touch input, so you can leave your pen in the Flip's swanky leather case if you prefer to use one of the ten styluses nature gave you.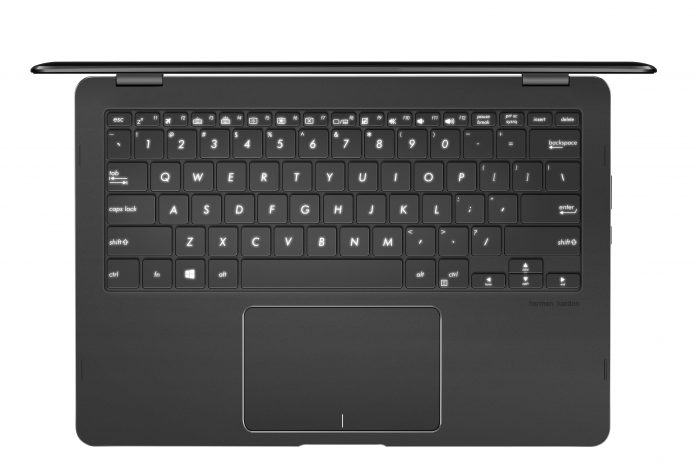 Despite its slender profile, the full-size keyboard boasts 1 mm of key travel, twice that of the MacBook Pro. It's also backlit, so you still can type comfortably when they dim the cabin lights on that red-eye flight. Underneath is a trackpad coated with glass for smoother navigation compared to the standard mylar finish. There's also a fingerprint sensor that offers biometric sign-on via Windows Hello. It's conveniently located on the side of the device, so it's easily accessible in tablet mode. Rubber feet ever so slightly raise the edge of the chassis off the table, so you don't have to lift the device to log in with a fingerprint while in laptop mode.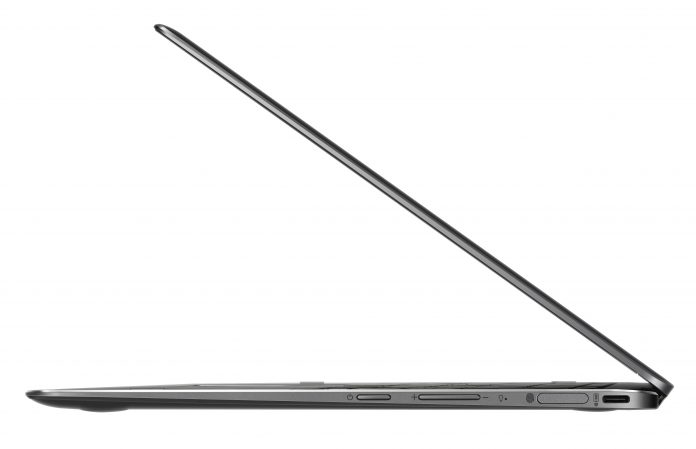 Anyway you want it
Though tablet and laptop modes are likely the most common choices, the 360° hinge obviously allows for any angle or position you like. The keyboard can double as a stand if you want to watch videos or flip through slides and sketches during a meeting. It goes without saying that a convertible is no good if the transition between tablet and laptop is clunky or floppy. We worked with our hinge vendor to create a dual-gear hinge durable enough to survive our 20,000-cycle stress tests and small enough to fit the Flip's compact body. CNC machined from steel alloy and protected from damage by a special metal cover, the hinge offers smooth 360° rotation with a distinct transition between laptop and tablet modes. The hinge tilts the keyboard slightly upwards, which reduces the amount of visible bottom bezel in laptop mode. Go beyond the maximum angle for laptop mode, and you'll feel the hinge switch gears for other orientations.

The ZenBook Flip S features an audio combo jack, and the volume button sits on the left side, so you can easily adjust your sound in tent or tablet mode without pawing at the screen. There are two fully functional USB 3.1 Gen 1 Type-C ports, both of which support peripherals, charging, and display output. You never have to choose between topping up the battery and transferring data or driving a display. The battery clocks in at 39Wh and features fast charging to get you out the door quicker on busy days. Though any fast-charging battery will slow down after it charges to a certain level, the ZenBook Flip S can get to 60% capacity in only 49 minutes and reach 90% after just 90 minutes.
| | ZenBook Flip S UX370UA |
| --- | --- |
| CPU | Intel Core i7-7500U 2.7GHz (4MB Cache, up to 3.5GHz) |
| GPU | Intel HD 620 |
| Display | 13.3" IPS-type, LED-backlit |
| Resolution | Full HD 1920 x 1080 |
| Memory | 16GB LPDDR3 2133MHz |
| Storage | 512GB PCIe/NVME SSD |
| Networking | 802.11ac Wi-Fi with 2x2 antenna |
| Connectivity | 2 x USB Type-C, 1 x combo audio, fingerprint sensor, Bluetooth 4.1 |
| Battery | 39Wh |
| Weight | 2.4 lbs |
| Dimensions | 12.3" x 8.3" x 0.43" |
| OS | Windows 10 Pro |
Slim down but don't compromise
Built for professionals constantly traveling to and from client meetings and off-site appointments, the ultra-portable ZenBook Flip S UX370 bucks the trend of lopsided convertibles that make us homesick for our "real computers." It's the best of both worlds.