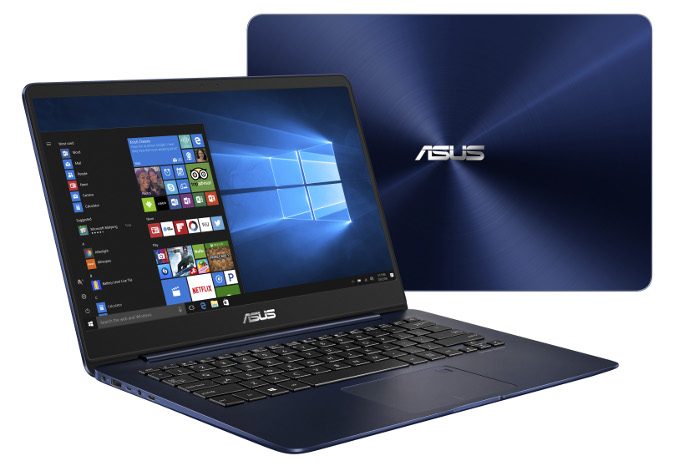 You only get one shot at a first impression, and the ZenBook UX430 doesn't squander its opportunity to win you over. Measuring in at just 15.9 mm thick, the UX430 is thinner than the 13" MacBook Air. It's smaller and lighter, too. With the help of razor thin bezels, we've squeezed a 14″ Full HD display inside a body that measures just 12.8″ by 8.9″. That's scarcely bigger than a legal pad and thinner than two ZenFone 3 Zoom's stacked on top of each other. No small feat when you consider there's a discrete GPU tucked inside.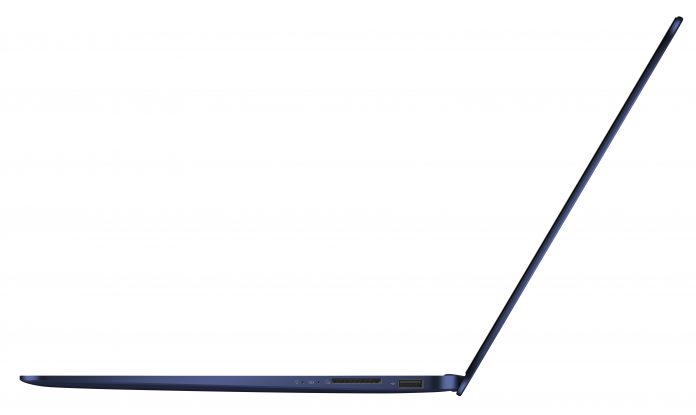 Oddly enough, the ZenBook UX430's compact form factor isn't the most eye-catching aspect of this computer, nor will it be the reason you reach out to pick it up for the first time. Credit for that goes to the laptop's Royal Blue exterior accented by a unique glass-like finish on the lid. It's unlike the lid on any other laptop we've created and is created using a process called nanoimprint lithographic etching.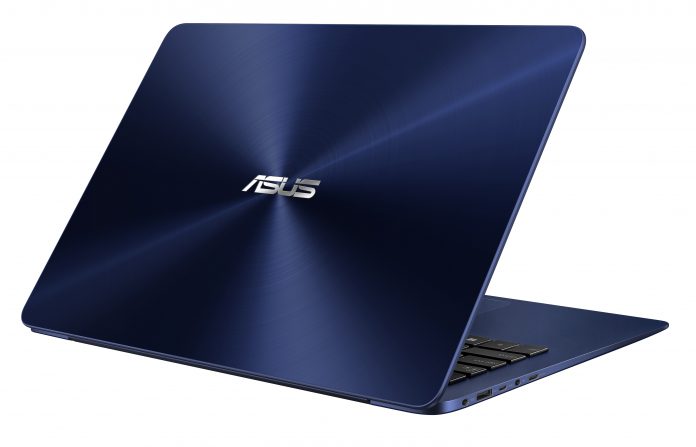 Nanoimprint lithographic etching is a multi-stage process similar to silk screen printing. It starts with stamping a pattern onto a raw metal substrate using chemicals that are resistant to corrosion. Next, the lid goes into an electroplating tank where chemicals react with the untreated areas, creating an etching based on the imprinted pattern. The lid is then colored using anodization before a final layer is added and cured using UV light to produce a hard, glossy finish. The end result is a shiny surface that shimmers with our signature concentric circle pattern. It takes twice as long to make as our traditional ZenBook finish, but it's wholly distinctive and just as durable as the spun metal you see elsewhere in the ZenBook line. If glossy polish isn't your thing, the UX430 comes in standard spun metal flavors, too.
More than meets the eye
With a distinguishing finish and an all-metal body that's thinner and lighter than most 13″ notebooks, the UX430 is notable for its aesthetics alone. However, we're not ones to prioritize style over substance, and while you'd be forgiven for thinking integrated graphics was a given in a laptop this compact, you'd be wrong. The ZenBook UX430 is our thinnest laptop ever to feature a discrete graphics option. Specifically, it can be configured with NVIDIA's GeForce 940MX, which works alongside Intel's seventh generation Kaby Lake Core i7 CPU, up to 16GB of DDR4 RAM, and up to 512GB of M.2 SSD storage. This ultrabook has enough power for a little League of Legends over lunch or some CS:GO between classes. Outside of playtime, the UX430's discrete GPU means you'll also see improved performance in creative applications, like photo and video editing, which utilize the GPU to accelerate certain tasks. That's not to say discrete graphics are absolutely required for content creation, but the GeForce 940MX can double the performance of Intel's integrated HD 520 GPU in Photoshop, Illustrator, and Lightroom. An upcoming version of the UX430 will also feature NVIDIA's newer GeForce MX 150 GPU.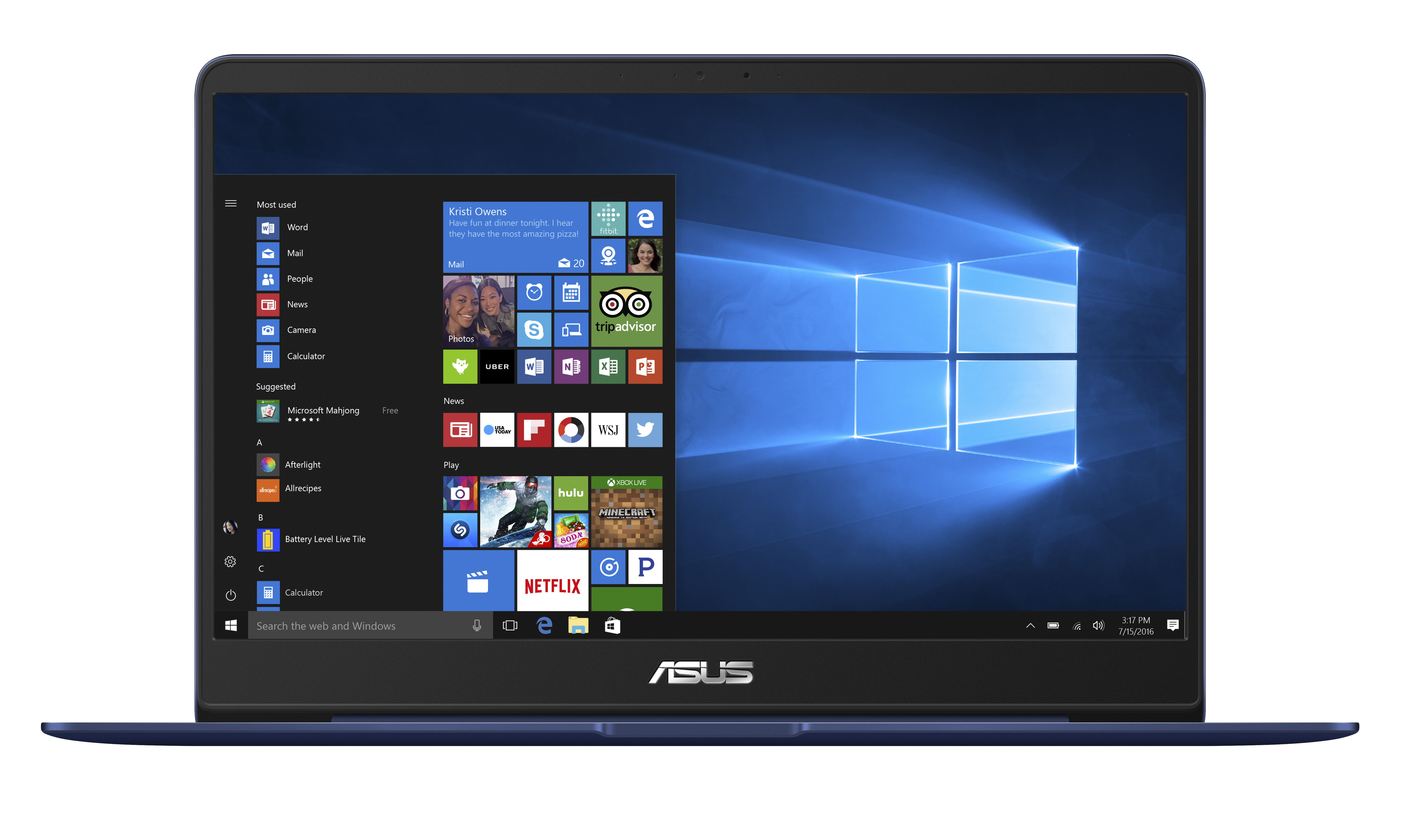 Lift that nanoimprint lithographic lid, and you'll see that the key to fitting a 14″ panel inside such a compact package is a super-narrow frame. The UX430's bezels measure a scant 7.2 mm on either side, while the top bezel is a little wider to accommodate an HD webcam in the preferred location (no nostril cam here). Videos and photos shine on a Full HD panel that tops out at 300 nits of brightness and covers 100% of the sRGB color gamut, while 178° viewing angles allow for creative collaboration without breathing down each other's necks. The person sitting next to you or looking over your shoulder will see the same bold colors you do.
True, on-the-go productivity
Of course, an ultra-portable is no good if you're chained to an outlet or can't wait to get back to your desk and the convenience of your external peripherals. A 50Wh battery ensures you'll have enough juice for nine hours on a single charge, so you're not obligated to haul the charger everywhere you go. We also took special care to provide a comfortable typing experience, so you can maximize productivity while out and about. The ZenBook's keyboard is optimized for comfort with 1.4 mm of travel (compared to a much shallower 0.55 mm on the Macbook Pro), and the trackpad is glass-coated for smooth and precise navigation. A fingerprint sensor that supports secure login using Windows Hello is embedded in the top right corner of the trackpad for anyone who prefers the added security of biometric logins over regular "pick your favorite color" passwords.


Those of us married to our trackball mice can rest easy, too. The UX430 doesn't eschew connectivity in its quest for a smaller form factor. On the left sits a USB 3.1 Gen 1 Type-C port with support for display out, so you can hook your laptop up to a 4K monitor while you're at your desk. That port is joined by the power connector, a USB 3.1 Gen 1 Type-A port, a Micro HDMI port, and an audio combo jack. On the right, you've got a full-sized SD card reader for easily transferring photos and videos, as well as a trusty USB 2.0 port.
ZenBook UX430UA-DH74
ZenBook UX430UN-IH74-GR
CPU
Intel Core i7-8550U
1.8GHz (8MB Cache, up to 4GHz)
GPU
Intel UHD Graphics 620


NVIDIA GeForce MX150
Display
14" Wide View, non-reflective matte finish
Resolution
FHD 1920 x 1080
Memory
Up to 16GB DDR4 2133MHz
Storage
Up to 512GB M.2 SATA3 SSD
Networking
802.11ac Wi-Fi with 2x2 antenna
Connectivity
1 x USB 3.1 Gen 1 Type-C, 1 x USB 3.1 Gen 1 Type-A, 1 x USB 2.0 Type-A, 1 x combo audio jack, 1 x SD card reader, 1 x Micro HDMI

Battery
50Wh
Dimensions
12.6" x 8.6" x 0.6"
Weight
2.8 lbs
OS
Windows 10 (64-bit)
Price
$1,099 USD / $1,399 CAD

$1,299 USD
Availability (USA)
ASUS Store
Newegg
Amazon
B&H
Micro Center
Staples
Fry's
Costco
Availability (Canada)
Best Buy
Canada Computers
Memory Express

Visions
Staples
The Source
Newegg
Costco
N/A
Portable performance
The ZenBook UX430 is made for creatives who need the portability of an ultrabook but can't prioritize convenience and style over performance and connectivity. North American variants will be available in Royal Blue, complete with the nanoimprint lithographic finish, and Quartz Grey, without the gloss.