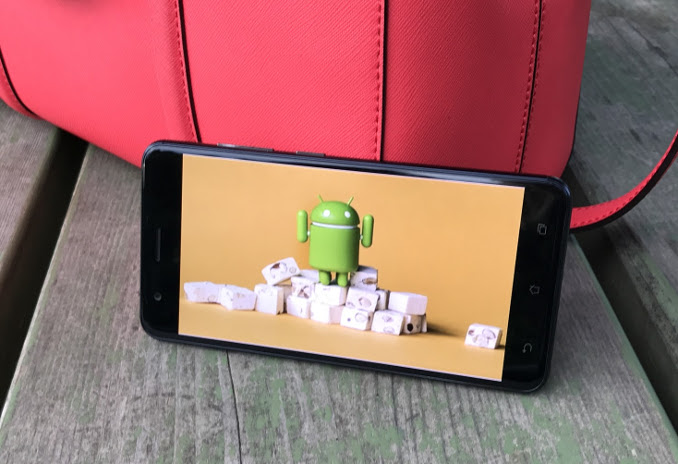 Our ZenFone 3 Zoom smartphone launched in April, and today we're excited to be pushing out an OTA update to Android N, also known as Nougat, for users in the USA and Canada. This is a pretty big update, and it's packed with improvements to Android as well as some tuning from the ZenFone team here at ASUS.
Behind the scenes, Nougat promises performance enhancements as well as battery optimizations beyond what was possible with Android 6.0. With 5000mAh on tap, the ZenFone 3 Zoom doesn't really need any help in the battery department, but there are still plenty of other goodies to enjoy.
Multitasking made easy
When the first phablets launched back in 2011, most balked at their size. The idea of carrying around a device measuring five inches or more seemed outrageous. Six years on, 5″ phones are actually on the more compact side. What's more, we're finally able to do some meaningful multitasking with all of that extra real estate.
Multi-window support is one of the biggest changes with Android N, introducing the ability to run two apps side-by-side on your phone's screen. Though not all third-party apps support it, this split-screen mode is great if you're mapping traffic while looking at meetings in your calendar, or compiling a list of must-see spots for an upcoming trip while chatting with a friend.
Splitting the screen is activated by tapping the overview or app switching button on the bottom right and dragging your first app to the top of the screen. That'll activate multi-window mode and pin the app to the top of the screen, and then you can flip through your list of running applications to choose your second window. While in multi-window mode, you can copy and paste text from one window to another. Typing works in either window as normal—just tap a text-input field to pull up the keyboard. You can also use multi-window mode to view two Chrome tabs at once by popping one tab out as a new window.
A little tip: If you're split-screening in portrait, you can resize the windows as you see fit by dragging the top or bottom edge up or down, but only if you've got your phone's display text set to "small." More on that later.
Quick app switching is the other big multitasking improvement with Android N. It allows you to toggle back and forth between two apps by double tapping the overview button whenever you want to quickly move from the current app to your last active one. This is similar to tapping overview and selecting your last opened application, but the small change makes a huge difference. Booking flights via Chrome while comparing the dates against your calendar, or seamlessly switching between a Yelp and a Hangouts conversation with a friend, just feels like less work. Quick app switching also works in split-screen mode if your multitasking ambition is off the charts. If you double tap the overview button, you can toggle back and forth between two different apps in the bottom window (or press once to change the bottom app to any other one).
No more noisy Notifications
There's more to multitasking than quickly switching between apps or interacting with two of them in split-screen mode. A lot of our app switching is prompted by notifications that only warrant one or two actions before you go right back to your primary task. Mercifully, Google's taken steps to make notifications less of an interruption in Android N. This includes giving users the ability to quick reply to messages directly from the notification shade, without navigating away from what you're currently doing. Praise be.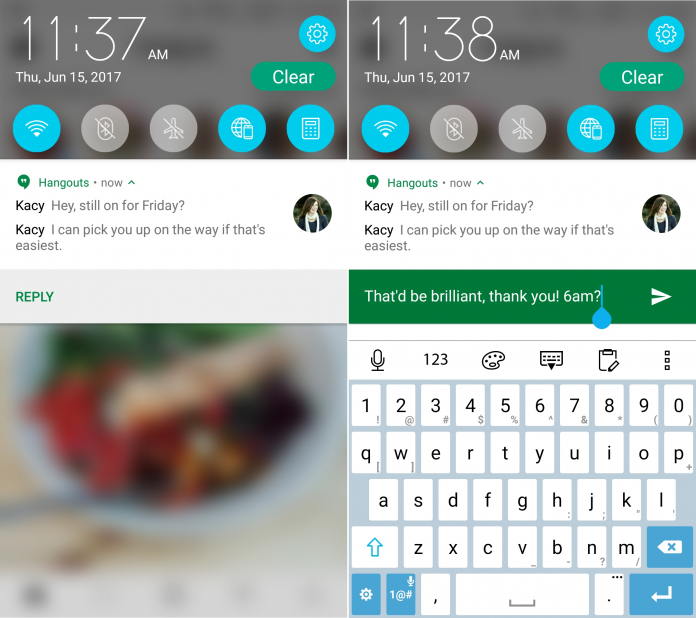 Notifications aren't just less annoying in Android N, though. They're also way more useful. Previously, modifying notification preferences meant digging into the settings menu or blocking notifications from the app entirely via Mobile Manager. The process wasn't exactly frictionless, which made it a little easier for overzealous apps to get away with bothersome notifications. With Android N, you can modify a given app's notification settings via the notification shade as soon as it starts to annoy you. Just hold down any notification from that app to modify its permissions.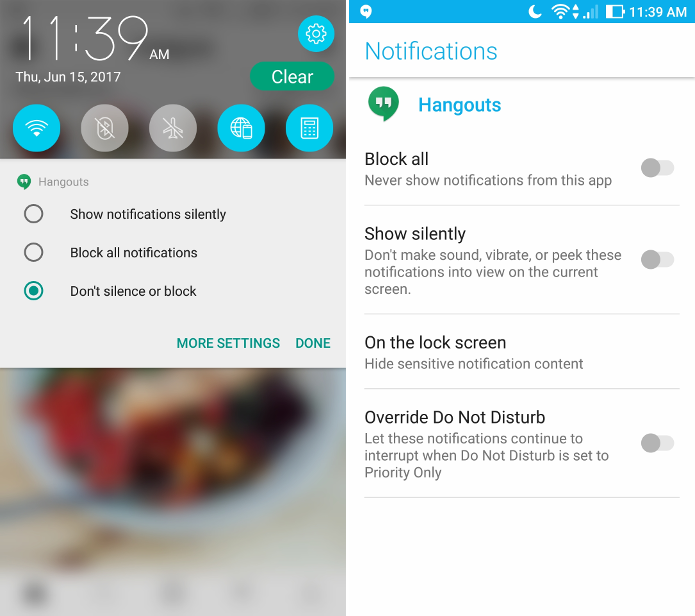 For apps that are super active in the notifications department but too important to restrict, Android N's bundled notifications keep clutter in the notification shade to a minimum. Twitter replies, Instagram likes, and that barrage of morning emails are confined to a single notification for each app. You can drag down to view all notifications from that app (or to interact with a specific one).
Bells and whistles
A lot of the updates in Android N you'll discover as you use your phone day-to-day. They're not fundamental changes to the way your phone handles important functions like notifications or multitasking, but fine tuning and tweaks designed to make your experience more pleasant. Some of our favorites so far:
The ability to adjust display size
This is in the display menu and lets you choose one of three display "sizes," effectively magnifying (or shrinking) everything from app icons and text to the status bar. You'll notice a difference not only in your home screen but also within your favorite apps.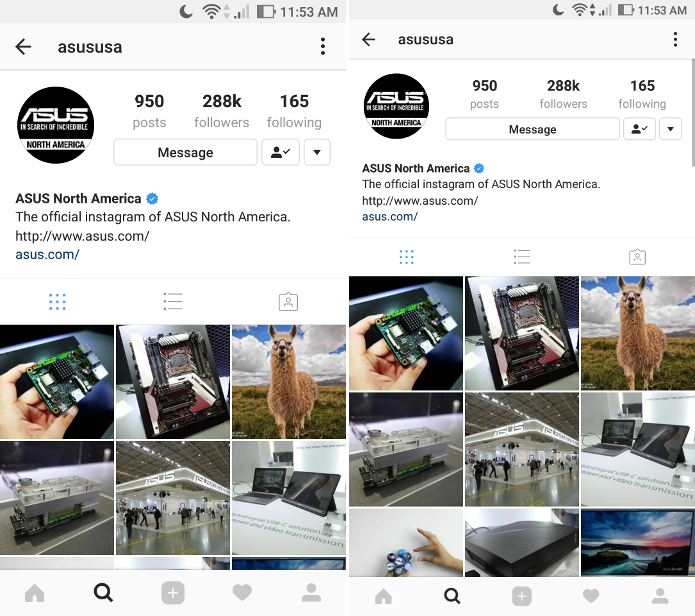 New emoji
Android N brings includes a host of new emoji across all categories, including food, animals, people, and objects (we really didn't have a spoon until now?). There's also a slew of updates to existing emoji, with additional gender and skin tone options for emojis related to people or professions. Dancing girl twins in leotards, meet dancing boy twins in unitards!
Custom wallpapers for home and lock screens
No more worrying that your cuddly puppy's derp face may not be the most professional wallpaper in a business setting. Android N lets you use different wallpapers for your home and lock screens. If you're looking for complementary wallpapers, check out some of the themes in ZenUI, which offer unique but related images for both, as well as matching icons and widgets.
Changes for ZenFone users
The ability to shoot in RAW
We built the ZenFone 3 Zoom for shutterbugs, and it already includes Manual mode along with 18 additional shooting modes specialized for different scenarios. With Android N, we're adding the ability to shoot in RAW rather than saving images as JPG files. JPGs take up less space because they're compressed, and any image data lost during that process can't be retrieved. When you shoot in RAW, all of the data recorded by the camera's sensor remains intact, so you've got a lot more flexibility for editing. To start shooting in RAW, activate Manual from the modes menu and then hit the gear symbol in the top left. Toggle "Save RAW file" to "On" and you're good to go.
Portrait mode
We're also introducing Portrait mode. This one uses both of the ZenFone 3 Zoom's lenses to create a shallow depth-of-field or bokeh effect for portrait photos. The Zoom's 56-mm lens focuses on the subject in the foreground, while the 25-mm lens gathers light and other information necessary to create the blurred background. Portrait mode is easily accessible via a dedicated shortcut next to the shutter button in the camera app, and it also appears in the modes menu.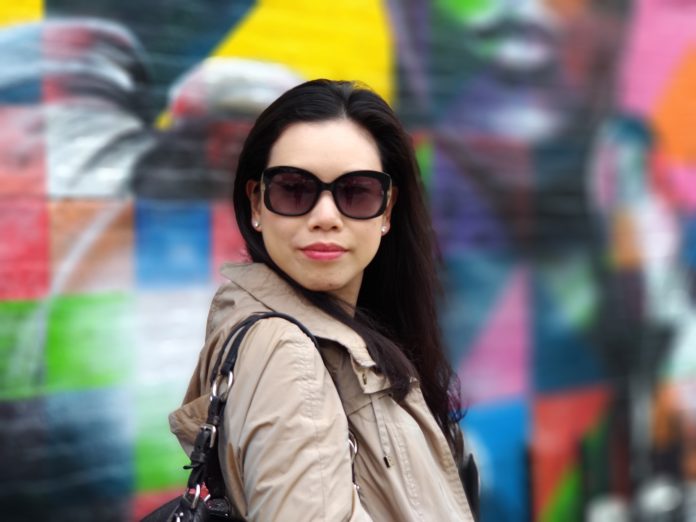 A lighter ZenUI
We're hearing all of your feedback, so along with changes to Android, this update brings some tuning to ZenUI. Once you install the update, the following ZenUI apps will be removed from your device to provide a more lightweight install:
Do It Later
Laser Rule
MiniMovie
MyASUS
PhotoCollage
ZenCircle
ZenFit
ZenTalk
ZenUI FAQ
It's worth noting that if you've updated the above apps via Google Play, they'll be a part of your user data and will remain on your device after updating to Android N. If you're doing a fresh install complete with a factory reset, these apps will not be added to your device. If you find yourself missing certain apps, like Do It Later, you can always download them via the Play Store.
Availability and installation
Android N is rolling out over the air to ZenFone 3 Zoom users in North America starting today, so keep an eye out! This is a big update, at roughly 1.9GB, so you may need to clear some space on your phone before making the jump from Marshmallow to Nougat.