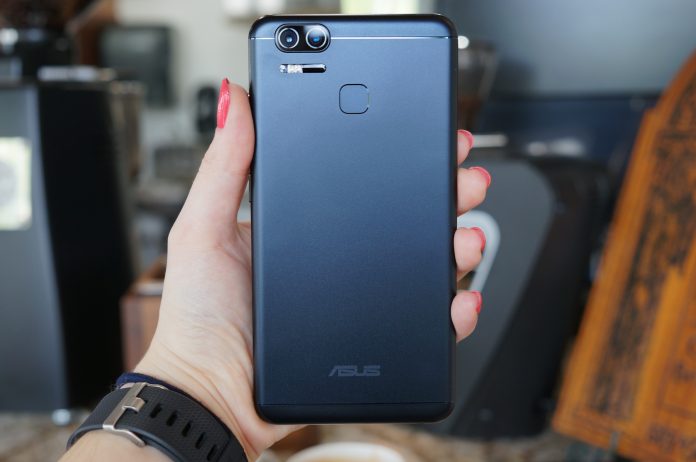 Five months after we debuted the ZenFone 3 Zoom at CES 2017, the snap-happy smartphone has finally landed in North America. Our love letter to smartphone photographers everywhere, the Zoom features a matte metal design, dual cameras with optical zoom, and a battery built to not only withstand a day of shooting (and then some), but also charge other devices. It's all wrapped up in a stylishly compact package and shipped unlocked for only $329. That's a screaming deal, for sure, and one that warrants a little more exploration of the goods at hand.
Going beyond Deluxe
This past fall, we took the ZenFone 3 to a premium place with the introduction of the ZenFone 3 Deluxe. Despite its affordable price, the new ZenFone 3 Zoom doesn't sacrifice the high-end finishes of its pricier sibling. Instead, the Zoom combines some of the best aspects of the Deluxe's design and adds noteworthy features of its own. There's the massive 5000mAh battery, the beautiful 5.5-inch AMOLED display, and the pièce de résistance: that awesome camera setup.
The ZenFone 3 Zoom effectively has three cameras. The first features a 12MP Sony IMX362 sensor and uses optical image stabilization to keep your shots steady. Its lens pairs a 25-mm focal length with a wide f/1.7 aperture to capture more light. A second 12MP camera sits right alongside, this time based on a Samsung 3M3 sensor. It uses a 56-mm lens with 2.3X optical zoom for better shots from a distance. The third camera is a 13MP front-facing shooter with an f/2.0 aperture and screen flash for taking high-res, perfectly lit selfies no matter the time of day.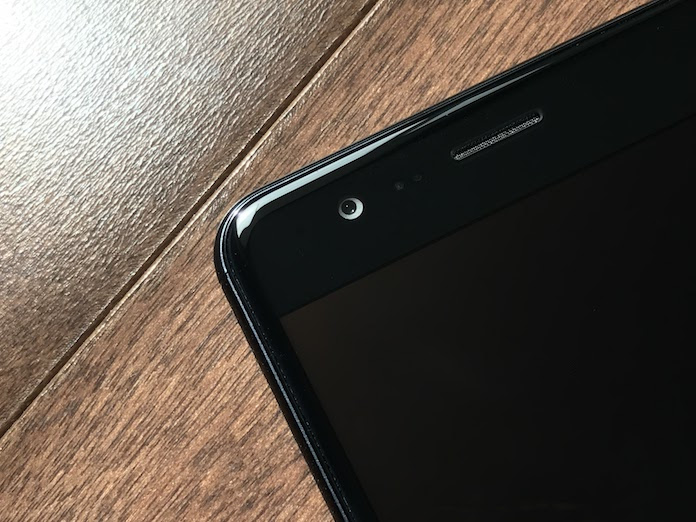 All of this comes with no extra bulk: the Zoom is less than half a millimeter thicker than the Deluxe and matches its weight to the gram, despite the upgraded innards.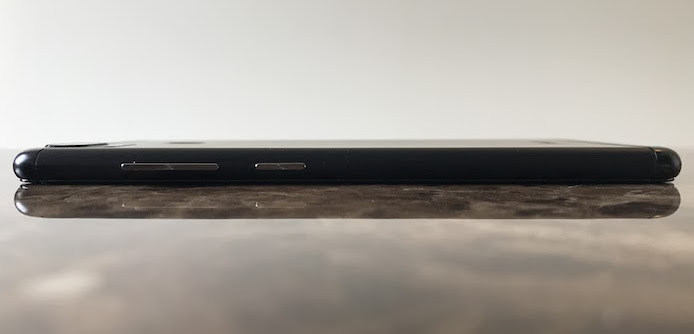 First impressions are everything
It's easy to impress with a spec sheet and some marketing shots. What really makes or breaks a smartphone is how it feels in the hand, and how it makes you feel when you use it. Call me shallow, but my phone is my life, and the aesthetics and build quality should reflect that. Even if you're not the type to panic if you're more than two feet away from your phone (good for you), nobody wants to tote around a clunky, plastic burden made tolerable only by the presence of a case.
Thankfully, the ZenFone 3 Zoom is mid-range in price but flagship in finish. The sand-blasted metal body wraps around curved edges to meet a 5.5-inch 1080p AMOLED display reinforced with Gorilla Glass to protect against scratches and butter fingers. Fans of the original ZenFone Zoom definitely will not miss its IPS display for a minute. The new model's deep blacks and vivid colors look great indoors or out, and watching videos on the go is a delight. In spite of my daily potions and lotions (make up, perfume, moisturizer, etc.), both the screen and the matte finish of the phone hold up remarkably well in the grubby-fingerprints-and-smears department.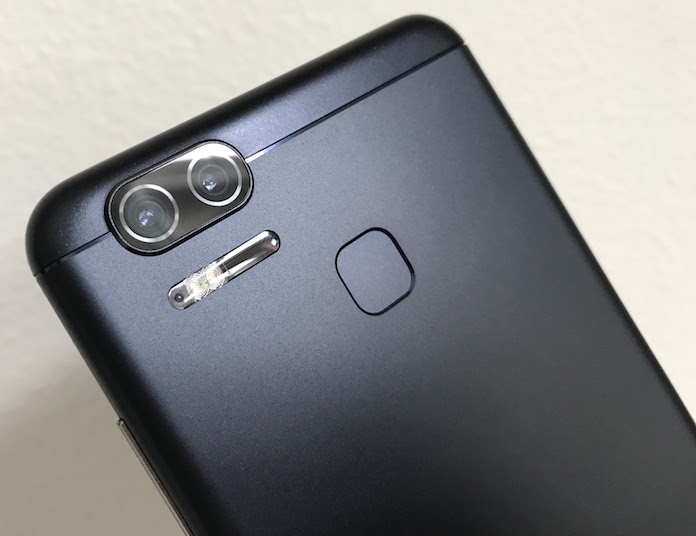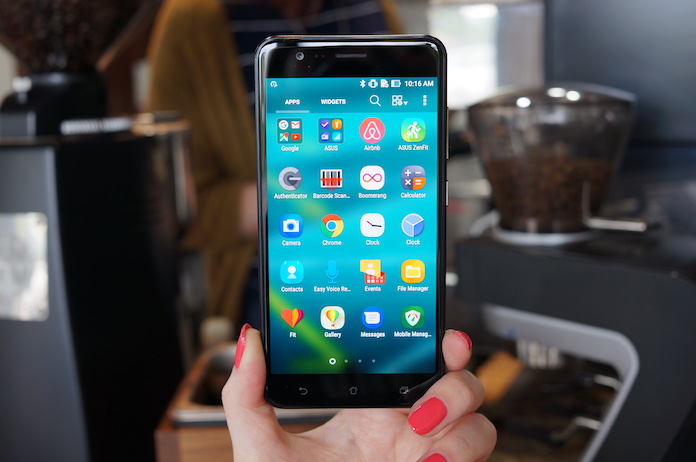 Hardware buttons are kept to a minimum. On the right edge, you'll find metal volume and power buttons etched with our signature concentric circles. It's a pretty miniscule detail but one that adds just a hint of friction to the surface of the buttons. The difference in texture makes them that much easier to find when just checking the time or blindly adjusting music volume at the gym. On the left, you'll find a slot for dual SIM cards (or one SIM plus one MicroSD). Seamless switching between work and play on a single device is the obvious benefit, but support for dual SIMs is also great if you travel a lot and never really feel good about your primary SIM knocking around in your purse or wallet.
Despite its near-phablet proportions, the ZenFone 3 Zoom sits comfortably in one hand. It measures about three inches wide, and its slim 7.99-mm profile means I don't have to adjust my grip to access the fingerprint sensor on the back, physical buttons on the edge, or nav buttons at the bottom of the display. The fingerprint sensor is discreet but wickedly accurate, unlocking the phone with the lightest tap. It's ideally located right where my index finger rests on the back of the body. More to the point, it's far enough away from the both of the cameras that I've never accidentally smudged their lenses trying to find the indented sensor by feel alone.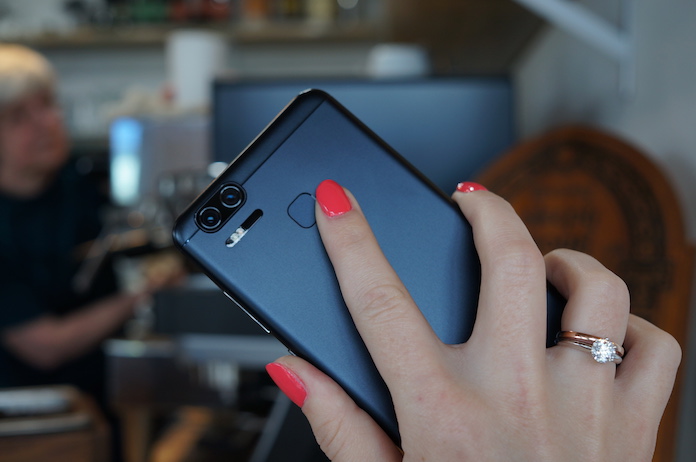 Two cameras really are better than one
We've all heard the phrase the best camera is the one you have with you, but smartphone camera technology has improved to a point where we're no longer satisfied with simply capturing the moment. Now, we want to know that every time we hit the shutter button, the resulting image is shareable, if not frameable. That's why the camera is one of the most important features on a phone these days.
Frustratingly, the quality and versatility of a smartphone camera is also incredibly hard to gauge before you buy. The only thing a demo unit can really tell you is how well the camera performs in a brightly lit store—not exactly representative of real-world use. Rest assured, the ZenFone 3 Zoom has what it takes to capture any moment, no matter where it takes place. The Zoom performs just as well on a bright sunny day as it does on the gloomiest days of a wet Pacific Northwest spring.
The combination of 25-mm and 56-mm lenses allows the ZenFone 3 Zoom to capture great shots of faraway mountains while still performing exceedingly well in middle-distance and macro photography. It took a day or so to truly recognize the potential of the cameras and the impact optical zoom can have on my day-to-day smartphone photography.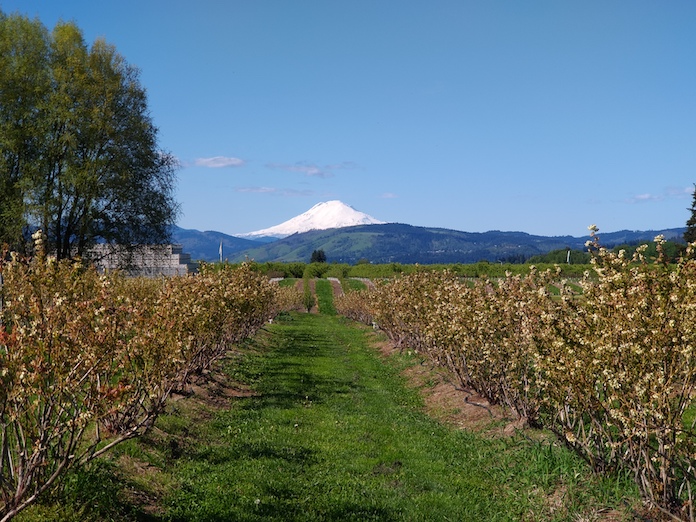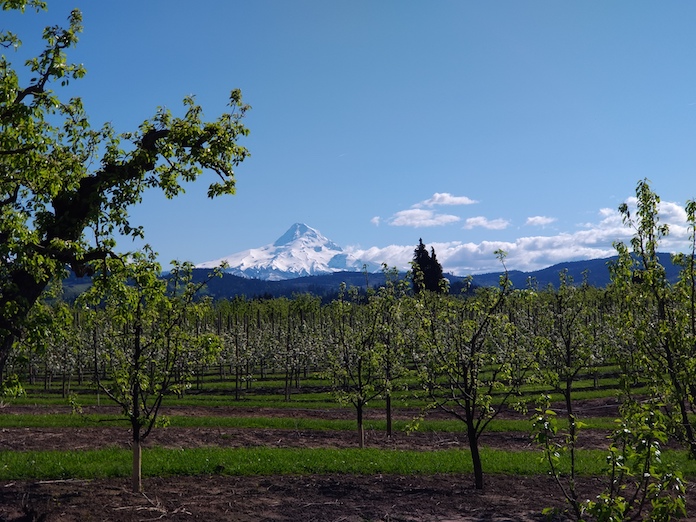 The vast majority of smartphones make do with digital zoom, which isn't really zooming at all. It looks like you're getting a tighter shot, but your phone is just cropping the image around your point of interest so it appears larger (and therefore closer). Sometimes digital zoom is enough, but there's a trade-off in quality. The camera takes that small cluster of pixels in the middle of your photo and fills in the information necessary to blow up the image to the size of a full photo. The end result is a picture with the same dimensions and resolution as a normal shot—but without the clarity you get from using all the pixels on the sensor.
Optical zoom is a totally different story that involves the focal length of the lens. When you want a closer shot, a quick tap in the camera app switches between the 25- and 56-mm shooters, taking you from 1X to 2.3X magnification without losing detail. Optical zoom is fairly rare in smartphones, and when you do see it, it's usually in a flagship device with a price to match (like the iPhone 7 Plus or LG G6, both of which will set you back at least double the cost of the ZenFone 3 Zoom) or a specialized model with a much larger form factor (like the original ZenFone Zoom). Getting optical zoom at this price point, in such a compact device, is incredible.
To see the ZenFone 3 Zoom's optical zoom in action, check out the two shots below. I snapped the first picture of this lovely boat with no zoom. The second was captured using 2.3X optical zoom. Am I on a boat? Truthfully, no. Could I Instagram the second photo and claim I saw this boat from the deck of my own boat? Yep. #ImOnABoat.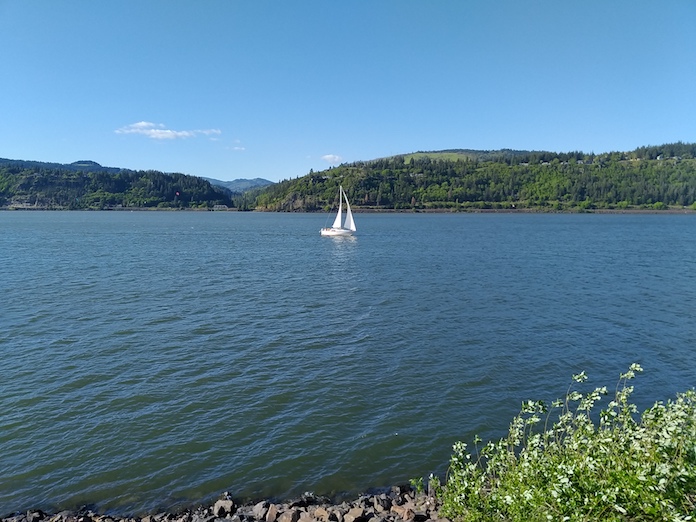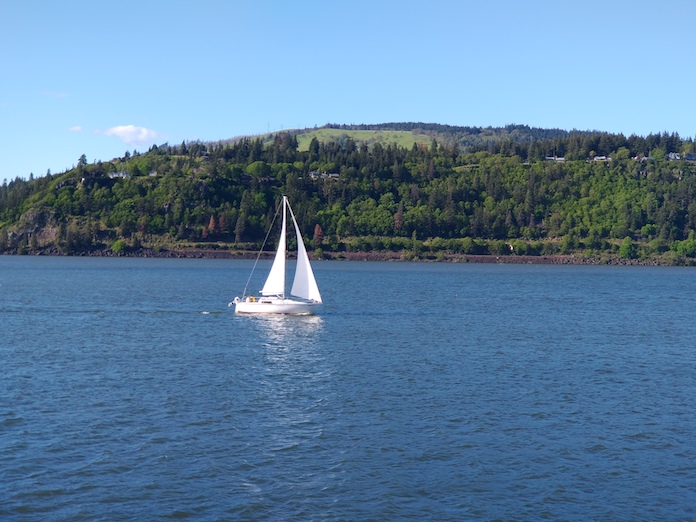 There's a mode for that (and for everything else, there's manual)
The PixelMaster 3.0 camera software boasts a slew of special modes to take the guesswork out of capturing different environments and boost your chances of getting the shot you want. For example, the All Smiles, Children, and Selfie modes automatically trigger the shutter at the right moment. There's also Time Rewind and Smart Remove to eliminate the possibility of missing the right moment or having a moving object ruin the picture completely. A dedicated Beautification mode makes the prospect of a 13MP selfie less terrifying, and the on-screen flash means you can snap selfies in pitch dark and still get a great result. There are 19 modes in total, each one dedicated to nailing a certain type of photo. We'll explore them all in detail in our upcoming camera guide.
For everyday scenarios, the default Auto mode takes in your surroundings and tweaks accordingly. Spend an afternoon in a sunny park, and HDR will make sure shaded areas look as good as those in direct sunlight. Migrate to a dimly lit restaurant, and the camera will adapt to your new surroundings to ensure your photos are properly exposed. Here's a selection of shots taken with the ZenFone 3 Zoom just doing its thing and making all the decisions for me.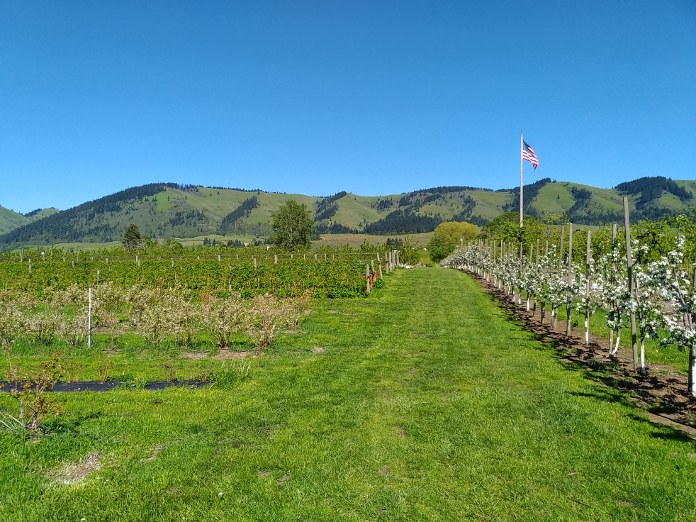 br>
While the presets and Auto mode are likely enough for most users, camera geeks will be pleased that a Manual mode is easily accessible via a dedicated button on the screen. Here, you can manually adjust everything from focus and shutter speed to ISO and white balance. Optical image stabilization counteracts any shaky hands (especially useful if you're fiddling with the shutter speed for a longer exposure) and support for shooting in RAW is on the way with an Android 7.0 Nougat update that's just around the corner. The ZenFone 3 Zoom also supports 4K video capture with electronic image stabilization to smooth out wobbly camera work. I tested this out in the car and while walking, and the results were good enough to eliminate any Blair Witch-esque motion sickness.
I won't go too deep into the camera (we've got a dedicated camera guide in the works), but I will say that Manual mode is not a scary or intimidating place to be, even if you consider yourself exclusively a point-and-shoot photographer. The on-screen functions are intuitive, and whatever setting you're adjusting is somewhat reflected on the phone's display, so you're never flying blind. If all else fails, and you find yourself really lost with a jacked-up ISO and a shutter speed that's just ludicrous, there's a reset button to undo all your tinkering. I steered well clear of the manual settings until auto-focus refused to cooperate for a macro shot. Once I dipped a couple toes in the water, I was hooked, tweaking away with every shot and ignoring life around me even more than usual.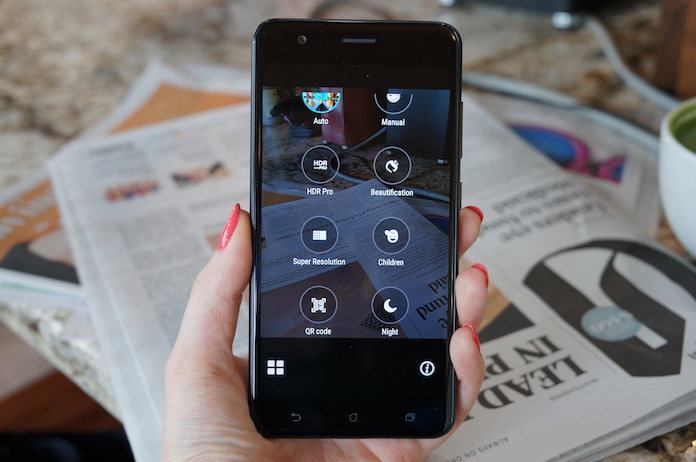 A smartphone battery that can outlast its user
After a full day of photography (taking over 200 shots with the screen's brightness turned all the way up), the Zoom's battery still had plenty of gas in the tank—more than enough to share photos of my adventures on social media, get me through the Yelp analysis and GPS navigation required to find dinner, and survive my nightly Reddit marathon. A lot of that is down to the sheer size of the battery; very few smartphones have 5000mAh on tap. But a secondary hat-tip goes to Qualcomm's power-efficient Snapdragon 625 processor. With a 2GHz octa-core CPU and Adreno 506 graphics, this chip packs enough punch for all your favorite smartphone activities without ploughing through battery life. I've experienced no noticeable lag while browsing the web, whizzing through Instagram, and watching Netflix. And losing at Real Racing 3 was just as smooth on the ZenFone 3 Zoom as on any other phone I've used. Doing all of the above, the Zoom handily made it through the day with battery to spare. For regular use, two days on a single charge is more than doable.
The ZenFone 3 Zoom's massive battery can benefit others, too. Support for OTG charging lets the phone act as a power bank to juice other devices. All you need is a compatible OTG adapter cable, which costs less than $10. The ability to top-up a friend's phone can mean the difference between finding them when the concert ends and just crossing your fingers hoping they're not relying on you for a ride home. Bonus: if you're charging their phone, they probably won't go very far anyway!
Model number
ZE553KL
Processor
Qualcomm Snapdragon 625 octa-core CPU
Adreno 506 GPU
Memory
3GB
Display
5.5" AMOLED Full HD 1920x1080
Gorilla Glass 5
400 ppi
Storage
32GB internal flash
Micro SD slot
Primary camera
12MP with Sony IMX362 sensor
f/1.7 aperture
25-mm focal length
Zoom camera
12MP with Samsung 3M3 sensor
2.3X optical zoom, 12X total zoom
56-mm focal length
Front camera
13MP with Sony IMX214 sensor
f/2.0 aperture
Battery
5000mAh non-removable
Connectivity
2 x Nano SIM (3G/4G)
802.11 b/g/n Wi-Fi and Bluetooth
Type-C USB and 3.5-mm audio
Operating system
Android 6.0 with FOTA upgrade to 7.0
Network Compatability
FDD-LTE (Bands 1, 2, 3, 4, 5, 7, 8, 17, 28)
WCDMA (Bands 1, 2, 4, 5, 8)
GSM (850, 900, 1800, 1900 MHz)
US Availability
ASUS Store
Amazon
Fry's
Newegg
Best Buy

Canadian Availability
Canada Computers
Memory Express
Newegg
Best Buy
NCIX
Price
$329 USD
$479 CAD
A high-end camera phone for half the price
The ZenFone 3 Zoom's camera is undoubtedly the star of the show, but a bevy of thoughtful extras make the Zoom a great phone all on its own: the stunning display and unbeatable battery life, not to mention dual-SIM slots and MicroSD support (both dying breeds that offer tons of flexibility). The expandable internal storage is further boosted by 100GB of free Google Drive storage for two years, putting to bed any lingering concerns about having enough space for all your photos.
Walk into any coffee shop, school campus, or office building and look for someone who wants to spend more money than absolutely necessary on their phone. For every person committed to owning only top-of-the-line hardware, you'll find a significant number of college kids, high school students, parents, and professionals that just want to a great phone that can capture life's momentous and mundane moments without breaking the bank. The ZenFone 3 Zoom is proof that a smartphone with a quality camera is not just reserved for those with six- or seven hundred bucks to spare. Tailor-made for the ardent photographer on mission to document day-to-day life, the ZenFone 3 Zoom banishes the specter of low battery for good and removes the barrier for better photos on a budget.
The ZenFone 3 Zoom comes with 3GB of RAM and 32GB of internal storage. It's available in Navy Black for $329 USD and $479 CAD from the retailers listed in the table above.