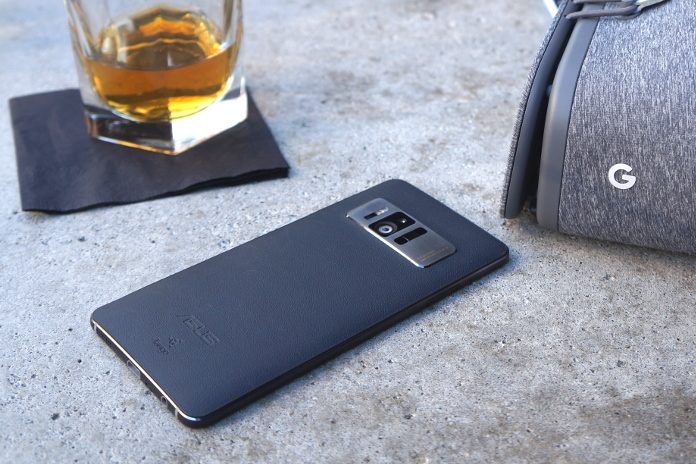 AR and VR have long been lauded as the future of computing. It's a dream that's spanned every industry, from entertainment to healthcare, for decades. But only in the last five years or so has the mainstream consumer adoption of VR and AR started to feel like a real possibility. Companies like Oculus, Google, Valve, and HTC have paved the way for all-encompassing VR experiences that deliver on the VR vision consumers have been imagining for the last 30 years. And the development of AR hardware and apps has been propelled by the advent of smartphones and a mobile landscape that's advancing at breakneck speed.
Google has been working on its AR platform, Project Tango, for the last five years, and Daydream VR, borne out of the success of Google Cardboard, was announced just last summer. With a company like Google funneling resources into these platforms, development for AR and VR apps has kicked into high gear. We felt it was high time for a device that's capable of delivering both alternate realities in one neat little package, without the need for a pricey PC or console. The ZenFone AR is the first smartphone to support Daydream and Tango and the only Tango device under six inches in size, which means you can still stick it in your pocket when you're not exploring the next frontier of computing.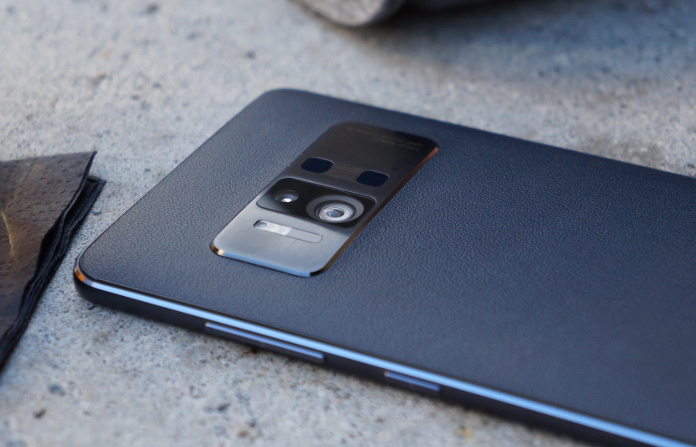 One chip to rule them all
At the heart of the ZenFone AR is a modified version of Qualcomm's quad-core Snapdragon 821 with Adreno 530 graphics. That's paired with up to 8GB of RAM, standard for many of today's laptops but almost unheard of in a smartphone. The system on chip has been tweaked for Tango to process all of the data necessary to augment reality without the help of an external co-processor. To maintain smooth tracking and keep objects from moving or skipping around on the screen as you move the phone, input from the ZenFone AR's accelerometer, gyro, and multiple camera sensors has to be timestamped every 50 microseconds using the same global clock. Timestamping, along with computer vision work and rendering 3D graphics, is too hefty a workload for regular SoCs. If you've been following the development of Tango, you might remember that the dev kit was based on Nvidia's Tegra K1, but that chip couldn't manage everything on its own. It used a separate STMicroelectronics ARM Cortex-M3 microcontroller as a sensor hub for timestamping. Qualcomm worked with Google to come up with an integrated solution that distributes timestamping, computer vision, and 3D rendering across the SoC's DSP, ISP, CPU, and GPU, eliminating the need for extra chips and limiting the burden on the CPU.
Daydream doesn't leverage the same sensors and cameras as Tango, but it does have its own hardware requirements that are critical for smooth and engaging virtual reality. Crucial to any VR experience is the screen. The AR's 5.7" AMOLED panel has a WQHD 2560 x 1440 resolution for a pixel density of 515 PPI. That might sound ridiculous (especially when you consider that the 5.7" version of the ZenFone 3 Deluxe looks great with a pixel density of 386 PPI), but you have to consider just how close your eyes are to the screen when you're wearing the Daydream View headset. Throw in the fact that the View magnifies everything on top of that, and the benefits of a high-density display become extremely clear.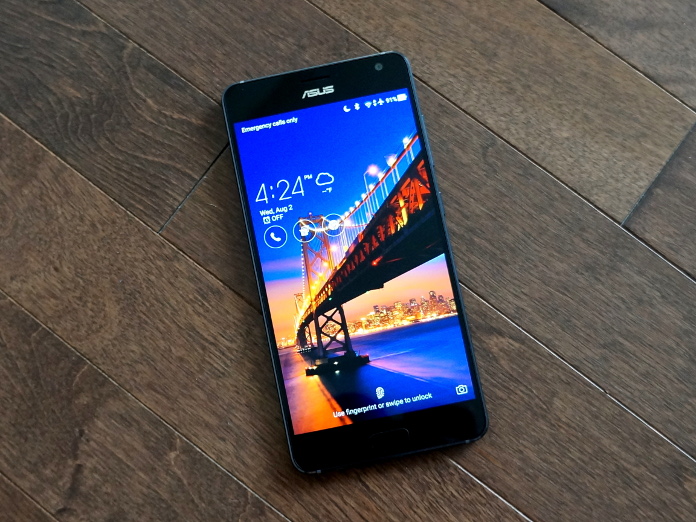 Pixel density isn't the only consideration in mobile VR, though. Part of the requirements for Daydream-ready phones is a low-persistence display with a fast response time. Persistence refers to how long pixels take to fade out after they're lit, while response time refers to how quickly pixels can change color. High persistence in VR produces blurred images as you move your head, and a longer response time means you're more likely to see ghosting, especially with rapid motion. Both are a total downer, so receiving Google's Daydream seal of approval requires a pixel persistence of 5 ms or less and a response time of 3 ms or less. The ZenFone AR's display goes beyond those requirements with an ultra low 2-ms persistence and 1-ms response time, and it's totally worthwhile. I've spent the past few weeks with the ZenFone AR and a lot of time in Daydream, and not once have I felt motion sick or gotten one of the dreaded VR headaches that often come with slow-changing or blurry images.
Eight days a week
You don't buy a sports car just to go to the grocery store, but it definitely makes the trip a lot more enjoyable. The same is true of the ZenFone AR. All of the hardware necessary to make AR and VR possible comes together for a beast of a daily driver, even if you spend most of your time in plain old reality. The Snapdragon 821 boosts CPU performance by 10% over the Snapdragon 820 that powered the major flagships of 2016, and it boasts faster app load times as well as 5% better GPU performance. Despite being faster, the S821 is also about 5% more power-efficient than its predecessor. That's not a lot, but every little bit helps when you're skipping between Chrome, Instagram, and WhatsApp between bouts of AR and VR fun.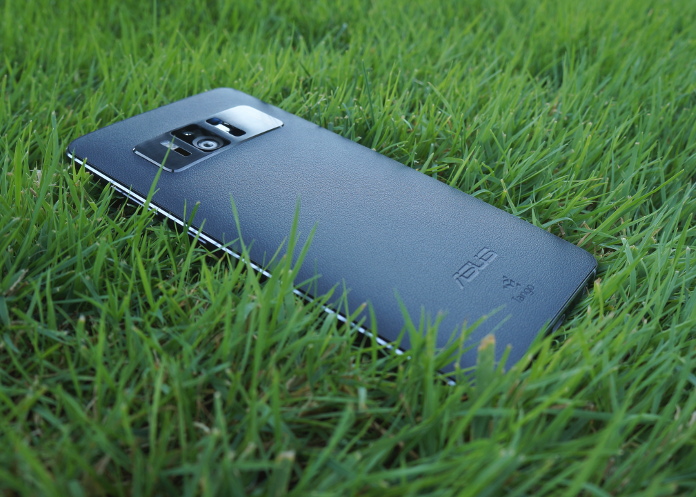 The large, high-resolution display renders text that's crisp and clear, so marathon browsing sessions are really easy on your eyes, and the AMOLED panel makes for deep blacks and vibrant colors that are particularly noticeable when watching videos. I generally don't watch TV or movies on my phone, but I navigated to the nearest free episode of whatever on the Play Store to test the display and speakers, and I ended up watching almost a full episode of Sharktacular 2017, hunched over my desk and enthralled.
The sound from the five-magnet speaker on the bottom of the ZenFone AR is loud and clean, with strong bass that rumbles through the phone and makes those shark attack moments all the more gripping. If you're polite and using headphones (good for you), the ZenFone supports the relatively new DTS Headphone: X technology, which simulates a 7.1 surround sound experience in your own little bubble. That's great for watching movies with headphones and even better for VR, where the whole point is to block out the real world by creating an immersive, 360° experience.
When it's not working its AR day job, the primary camera's 23MP sensor takes fantastic photos. Like with the ZenFone 3 Zoom, it has a suite of dedicated shooting modes to suit every occasion. HDR Pro, Beautification, and Low-Light modes are all present, as is Super Resolution, which combines multiple exposures to create a highly detailed 92MP image.
Leather rebel
The ZenFone AR is not the first Tango-enabled phone, but Lenovo's Phab 2 Pro is proof that being first isn't always best. The ZenFone handily beats the Phab 2 Pro in both portability and style. Lenovo's Tango-capable phone weighs in at more than half a pound (half a pound!), and at seven inches tall, it looks more like a tablet than a phone. By comparison, the ZenFone AR is as light as the ZenFone 3 Deluxe at 170 g, and it squeezes all the hardware necessary to power Daydream and Tango into a body that's just over six inches tall and nine millimeters at its thickest point.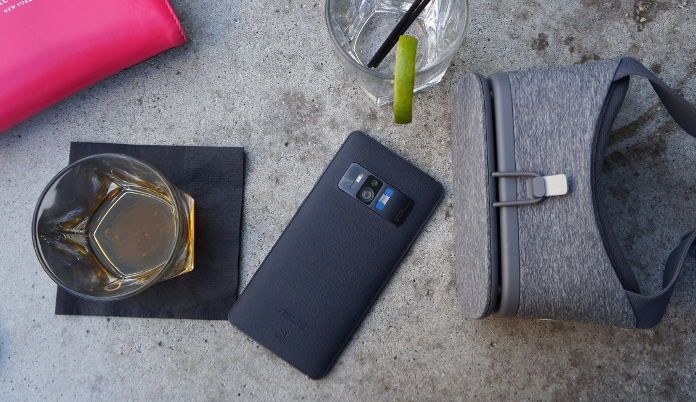 The body is wrapped in burnished leather that's accented by a precision-milled aluminum frame, and it sits comfortably in your hand without any of the "bar of soap" slipperiness that's often part and parcel of metal or glass designs. This is one great-looking phone, period. And that's important given its primary function; no matter what kind of technology lies inside, smartphones should seamlessly blend into everyday life.
It takes three to Tango
The only visible hint that there's more than meets the eye with the ZenFone AR is the unique camera setup in the rear. While the growing popularity of dual-camera phones means we've grown used to powerful multi-camera arrays like the one found on the ZenFone 3 Zoom, the ZenFone AR's bevy of cameras has a presence that's all its own. Collectively, they're known as the TriCam, and they're part of the magic that makes Tango possible.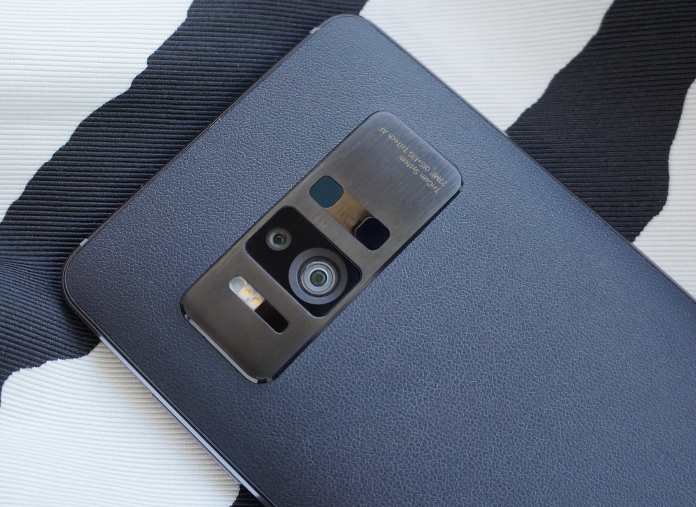 The small but mighty module you see up top is the primary camera. Its job is to capture a detailed view of the environment around you using its 23MP sensor and F2.0 lens. This provides a stunning backdrop for the AR experiences developers are building with the Tango SDK. Right underneath is the motion tracking camera, which follows the phone's position in space as you move around. You'll see it come into play in games like Phantogeist, where the baddies come from all directions, and you need to be able to duck out of the line of fire (or lazily move your arm to the left as you lie on the couch). Rounding out the trio is a time-of-flight (ToF) camera that works with an infrared projector to measure the time it takes for an infrared signal to bounce off various objects in the room. The ZenFone uses these measurements to deduce distance from various obstacles, which in turn influences possible actions in a given app or game. These three cameras work together to create a 3D map of the room around you and are crucial if you're looking for a true AR experience.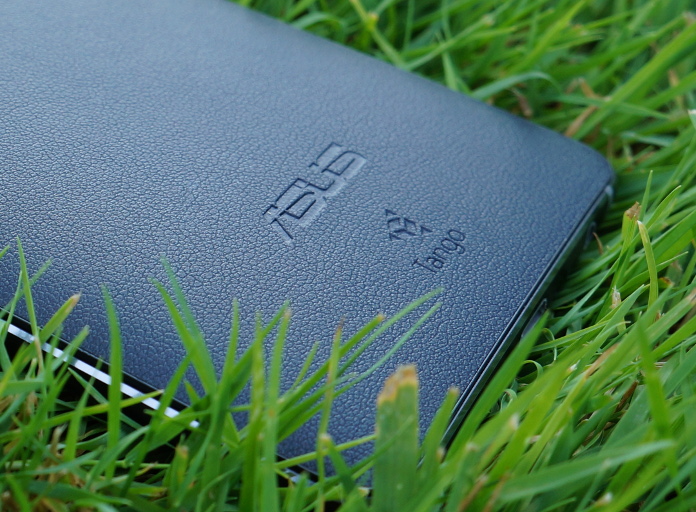 If you've played Pokemon Go, you know what AR is like on a phone that has just one camera You can see the Pokemon superimposed onto the screen in front of you, but "AR Mode" doesn't really do much more than switch on your phone's camera and overlay animated Pokemon on the view it captures The gameplay is based on map data and facilitated by your phone's camera and GPS. Where, specifically, in your environment the Pokemon appear doesn't really factor into it at all. That's why the internet is full of zany screenshots that show Pokemon in random places, like inside toilet bowls and atop caskets. The game just puts them wherever because beyond what's on the map, it can't understand what's in front of you. It still makes for a great time, but it's not quite as impressive as proper AR can be. Once you try Tango, you'll see why so many AR enthusiasts are quick to dismiss Pokemon Go.
I'll admit that I'm something of an AR skeptic, or I was. So many of the apps feel like little more than a proof of concept. Sure, it's nice to look at what amount to animated stickers dancing across my dining table (and very cool that they look like they're on the table and not floating two inches above it), but what's the point? And there's a bevy of apps that are basically just "pretend your phone is a very small window into another world." Okay, but why? Then what? Delve into the wonderful world of Tango apps, however, and it's a completely different story.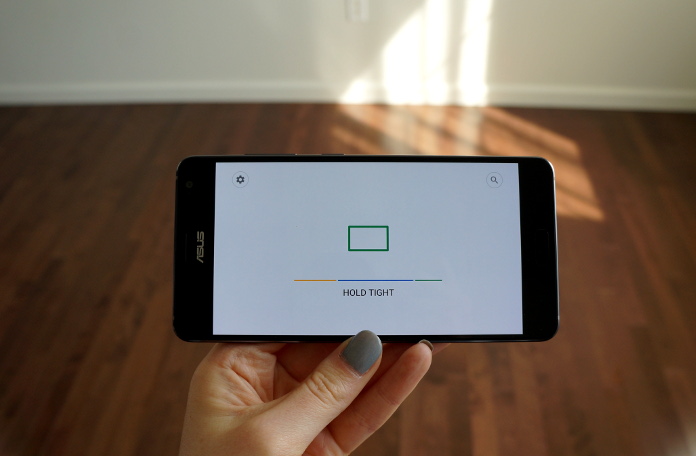 The "imagine our stuff in your house" category is probably going to be huge for AR, but home-goods ecommerce site Wayfair is already doing a great job. The company added View in Room to its regular app back in December, allowing users to place furniture in their home using a mobile device's camera (a bit like a Snapchat filter for your living room). With WayfairView, Tango users can see how 3D version of the pieces will physically fit. The app lets you to place furniture only where the TriCam has deemed there's enough space and displays measurements on screen, removing the chance that you'll impulse-buy a giant green sofa that won't actually fit in your house.
You can also push the furniture to and fro by tapping and dragging it to a suitably-sized location, and walk around to inspect your potential purchase from every angle. There's an entire section of 3D furniture to browse, and auditioning pieces is oddly captivating, especially if you've got a thing for moving furniture around "just to see." Regardless of the fact that I was staring at a relatively small screen, my brain was totally invested in this fake little world where I actually own nice stuff. At one point, I found myself walking around a virtual piece of furniture and trying to move it by stabbing thin air.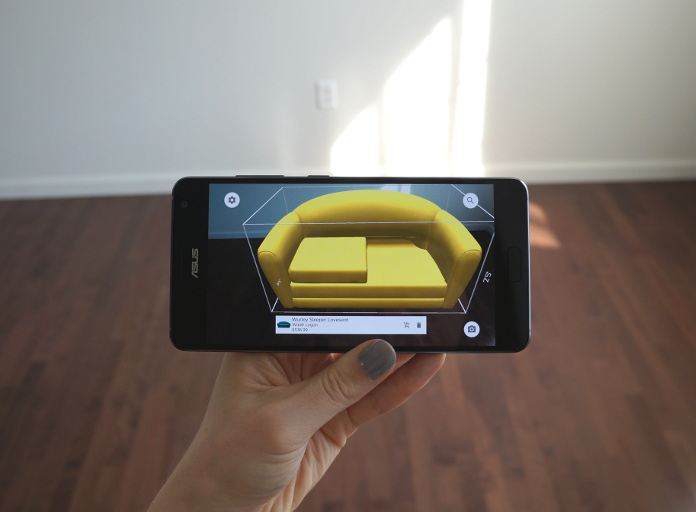 Wayfair is joined by countless other apps that present a fair case for AR being as much tool as it is toy. Google's own Measure uses the depth camera to determine the distance between pins you drop by tapping the screen. There's a disclaimer about potential inaccuracies every time you launch the app, and I found measurements varied within an inch or two depending on the camera's angle of view. That's not enough to instill confidence before I pick up the hand saw, but it's perfectly fine if all I need is a rough idea of the width of a dresser before summoning my token truck-owning friend.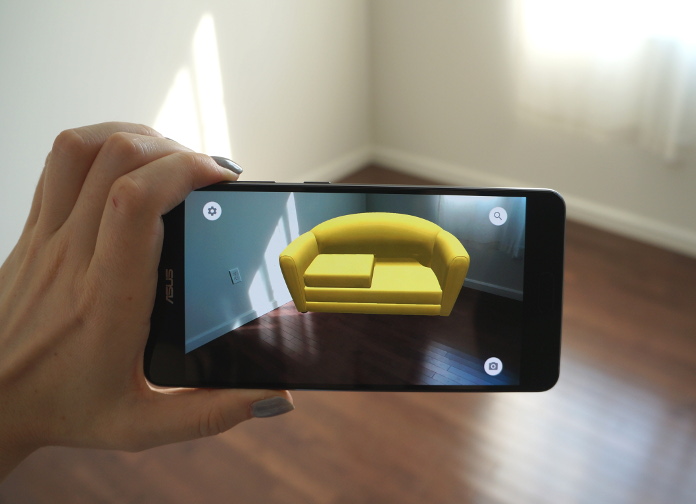 The ability to turn your phone into a multi-tool aside, playtime is where the ZenFone AR's Tango support really shines. Without a doubt, my favorite app has got to be Phantogeist. This first-person shooter starts with a gross, guileless, little alien that never managed to fully gain my trust (the casual shade he dropped about my messy house did not help his case). He's there to explain the game, but it's pretty simple: there's some kind of invasion, you're our only hope, blah, blah, blah. Way grosser (and definitely evil) aliens appear in short order, and you have to shoot them with your laser gun before they shoot you with theirs.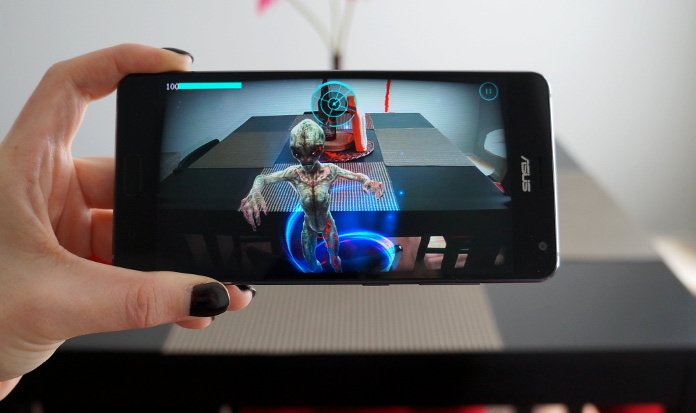 The possibly duplicitous little alien from earlier dishes out instructions for each mission, but only if you walk right over to him (that's the depth sensing camera at work), which means you do need a little bit of space to play, and you can't lie on the couch the entire time. The game recommends 10 x 10 feet of clear space, but I played among lots of obstacles and still had an awesome time. You can also play outside if you want, but indoors was almost more exciting. The depth and motion sensing cameras wreaked havoc together, conjuring up aliens that came charging down the stairs and bursting forth from the drapes. As I advanced through the game, there were aliens hiding in every corner. Like Wayfair, Phantogeist doesn't feel at all constrained by the phone's relatively small screen. Instead, it feels integral to the challenge. If you're not an AR believer, Phantogeist will change your mind.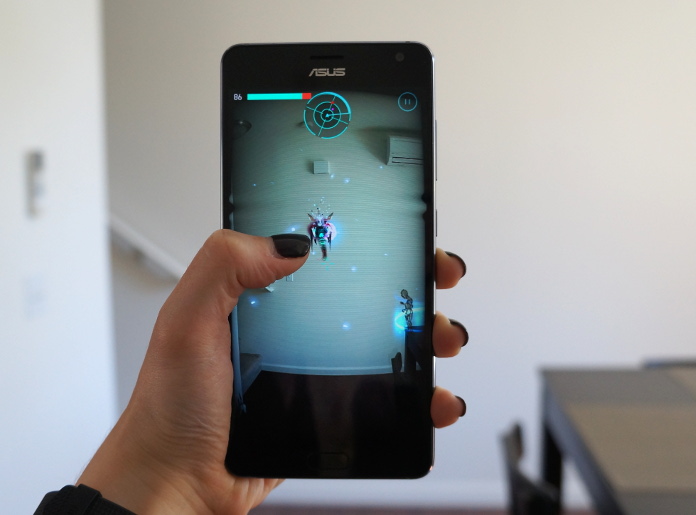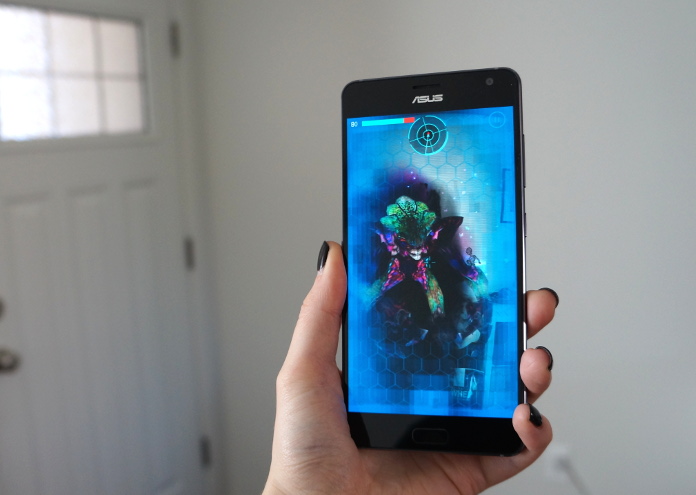 The ZenFone AR also ships with Slingshot Island, which is basically Angry Birds on steroids. The premise is the same: use a slingshot to destroy enemies precariously perched on top of increasingly complex structures. But the addition of augmented reality transforms the experience, introducing an element of strategy. The TriCam allows you to walk right up to and around the island, and study each level from every angle before you pull back the slingshot and take aim. This added dimension sucks you into the game's world, which is about eggs (as in, poached eggs, seriously), and manages to make it feel real.
So often, we think of mobile games as something casual designed to occupy our minds as we wait in line at the bank or endure a long commute. They're fun, but they're not your first choice if you're sitting on the couch with a controller within arm's reach. Slingshot Island isn't like that. Tango makes it much more than just the rehashing a genre that peaked about five years ago, turning Slingshot Island into a game you want to go home to play (and not just because you need to be very secure to play it in public).
Sweet dreams are made of this
Of course, if you want to talk looking silly while playing games, VR is the real showstopper. The ZenFone AR is Daydream-capable and a perfect introduction to virtual reality for the ViRgins out there. You'll need to invest $79 on Daydream View headgear to get started, but it's money well spent. There's nothing quite like being immersed in a virtual world, whether it's a cartoon cave or one constructed using real-life images from a 360° camera. I had my my first VR experience back in 2013 with an earlier version of the Oculus Rift and have tried the Samsung Gear VR, HTC Vive, and Google Cardboard in the years since. Though each offers its own unique adventure (and it's hard to beat the room-scale tracking of the Vive), any VR experience is pretty magical. The novelty hasn't worn off for me. Then again, I'm also blessed with the knowledge of what's possible and what's not, so nothing ever falls short of expectation. I know that Daydream is "the sitting down" kind of VR rather than the type that lets you walk around, for example, and I wondered how much of that impacted my overall impression.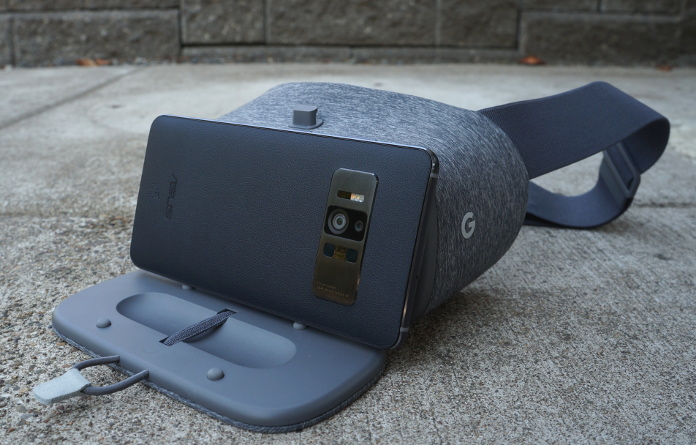 To adjust for this, I brought the ZenFone AR and Daydream View to a bar to meet a couple of my friends, Kelly and Schezza. Kelly had tried the Vive and thought it was "okay," while Schezza didn't know the first thing about VR (including what 'VR' stood for). Schez was blown away by the Daydream Welcome tutorial, which is, admittedly, pretty adorable. When you first launch the Daydream app, it shows you how to use the controller in a big, cartoon forest and has you tracking butterflies and finding animals with your flashlight. Then, it runs you through a few exercises that take the form of exhibits in a museum. Spinning planets around in the planetarium, playing fetch with a husky against a snowy backdrop, and looking for critters under rocks in the desert is a great way to get to grips with the controller, but it also gives you ample time to get used to the 360° nature of VR.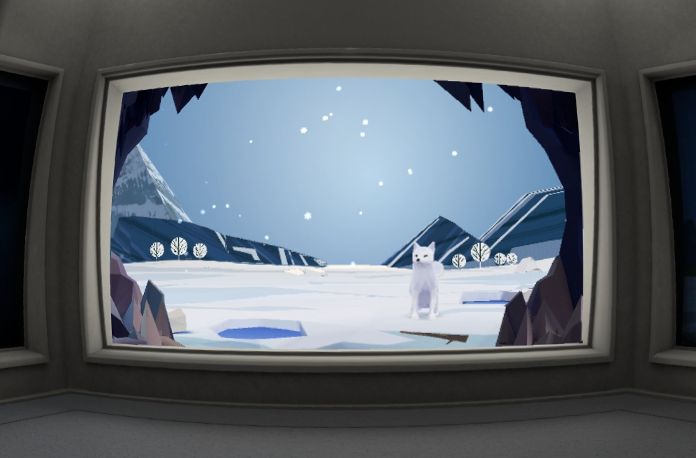 All told, the tutorial and demos take about five or six minutes, but Schez was already hooked, amazed at how smooth everything was and surprised that she could hear all of the sounds without headphones, despite our being on a noisy, open patio next to a busy road. She went back to the forest to play with the butterfly, spinning around on her chair and tipping her head back to watch as it fluttered overhead. "It's so peaceful," she said, not realizing she had come nearly face to face with the guy at the next table. "Do you think I could have a boyfriend in here?"
My other friend, Kelly, had done a VR shark dive with the HTC Vive, so she knew what to expect, but was she was also a little skeptical. She liked the Vive when she had tried it, but also admitted that she found the experience kind of dull after a while. She was a tougher audience for sure. However, Daydream scored points right off the bat for how light and compact it is, and Kelly loved that she didn't have to take off her glasses to put it on. The Daydream View weighs in at only 220 g on its own or 390 g with the ZenFone AR seated inside. That's significantly lighter than the both Vive and Oculus Rift (which weigh more than a pound each despite using a desktop computer to do all the work), and Samsung's GearVR and Galaxy S8+.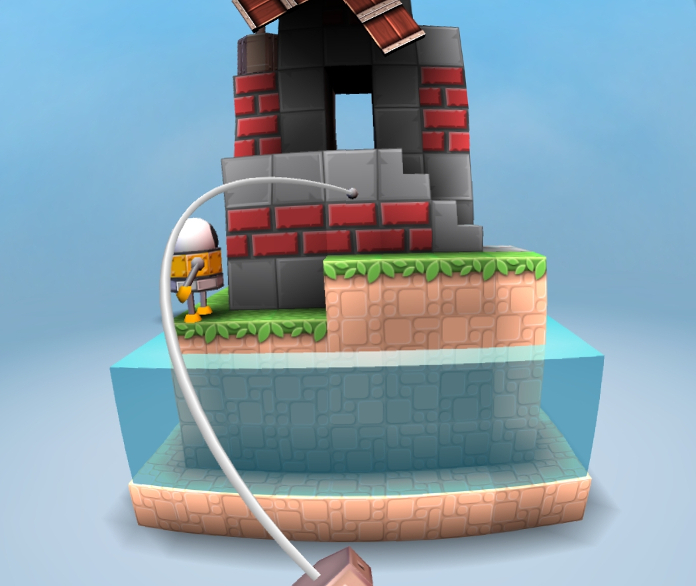 Given Kelly's past experience with VR, we skipped the passive stuff and went right to Mekorama, a popular mobile puzzle game available on iOS and Android. Mekorama is a pretty straightforward sliding puzzle, where you're tasked with helping a bumbling yellow robot find his way out of various dioramas. You use the controller to spin the building around, move blocks, and tell the dumb robot where to go. The VR version doesn't add any functionality that isn't present in the regular version of the game, but Mekorama is praised for being relaxing, and the addition of VR definitely helps shut everything around you out so you can lose yourself in the game. It's pretty easy to focus if you're sitting quietly at home, but what if you're on a plane, where it's all but impossible to forget where you are and concentrate on the task at hand? Well, Daydream and Mekorama are a match made in heaven. "I could lose a lot of time in here," Kelly admitted as she progressed through the levels, half listening to Schezza and I chat about VR boyfriends.
Hooked on a feeling
Once you've exhausted the mini demos in the Daydream app, you'll get access to the VR Play Store, which is inside the cave that serves as the launchpad for all your installed VR apps as well as the gateway to featured VR content. You can buy apps, TV shows, and other videos from the cave, but if you're looking for something specific, you're probably better off going through the regular Play Store, where you can search by title the old fashioned way.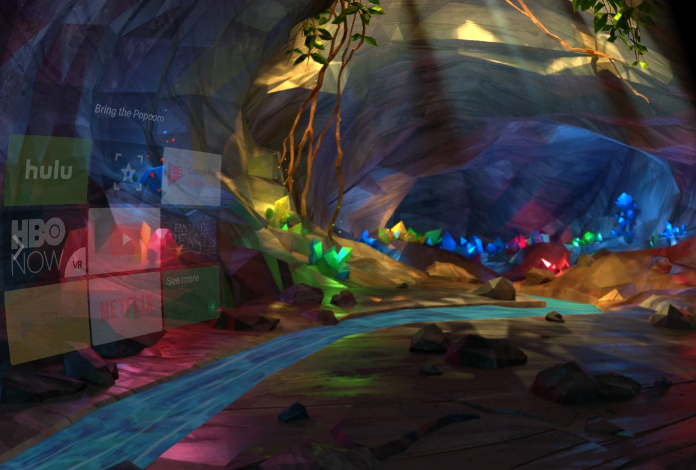 Searching for apps isn't as easy as just tapping a "VR" or "Daydream" tab in the Play Store, so you'd be forgiven for thinking there isn't that much to enjoy just yet. After all, Google only opened up the platform to third-party developers in January. However, there's actually a surprising number of VR apps that's growing every day. If you want to dive right into uncharted territory, VRHeads has a running list of what's available (that numbers in the hundreds now), but there are a couple of standouts that I love.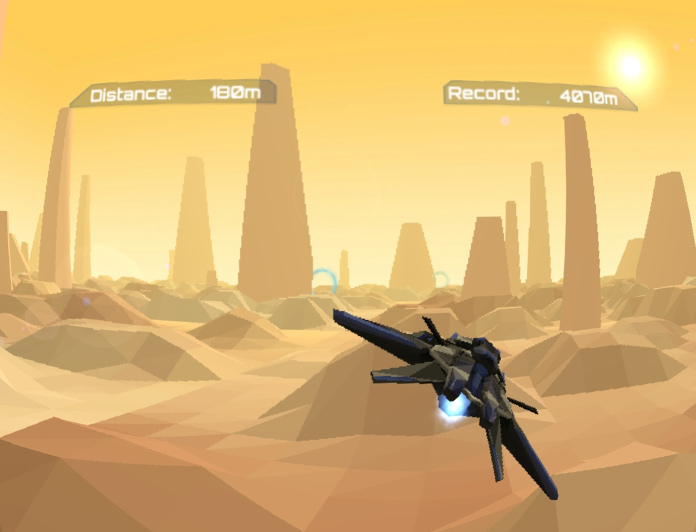 Polyrunner VR is like Race the Sun, and it's a great example of how Daydream handles a game where the visuals change extremely quickly. This endless flying game sees you pilot a spaceship through a rocky landscape using the Daydream controller to steer. Polyrunner has all the trappings of a truly vomit-inducing time: it's fast, you can't adjust the speed of the ship, and you crash a lot (or I do, at least), so there are lots of sudden stops. I can only imagine what would happen if there were any judder added to that cocktail. Thankfully, the ZenFone AR handles Polyrunner like a champ. The display's quick response time and low persistence translate to fluid, crisp visuals free of blur. The gameplay is smooth, with the only bumps in the road being a result of my own terrible reaction time and hand-eye coordination. I never get motion sickness or headaches headaches when I play.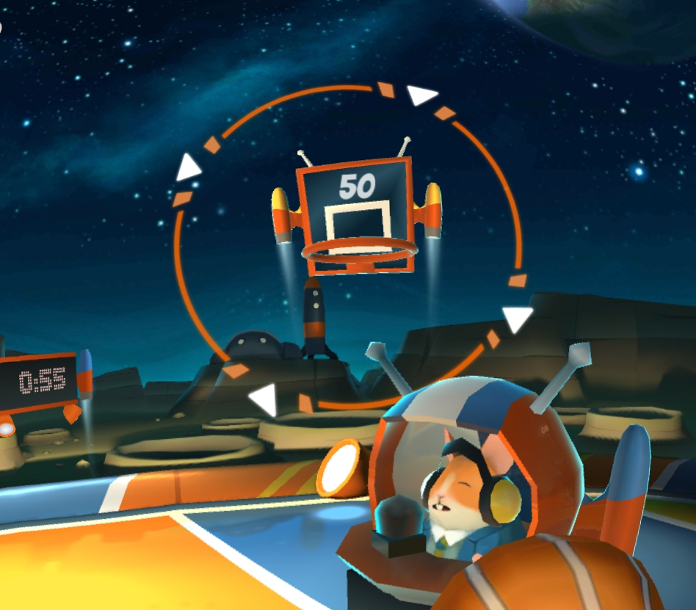 Wonderglade is a cute little game set in a theme park. You play carnival-style games and unlock more activities, like mini golf, as you go along. It has the requisite high-pitched voices for a title targeted at a younger audience, but also it's a fun game that makes really great use of the controller. Anyone who's played Wii Sports will be right at home in Wonderglade, though Schezza actually said she preferred the Daydream controller to the Wiimote for both responsiveness and ease of use.
What's old is new again
VR isn't just about the games, though. Daydream being Google's own platform, there are VR versions of YouTube, Street View, and even Photos. I didn't think I'd ever regret not taking more panoramic photos, but I found myself dolefully scrolling through the sad collection of panoramas from my ZenFone 3 Zoom, wishing I'd snapped a couple on each trip I've taken over the last few years. Google Photos VR obviously doesn't offer a 360° viewing experience (it's the same photo as before), but turning your head is way better than scrolling around with your fingers or zooming in on sections with a mouse.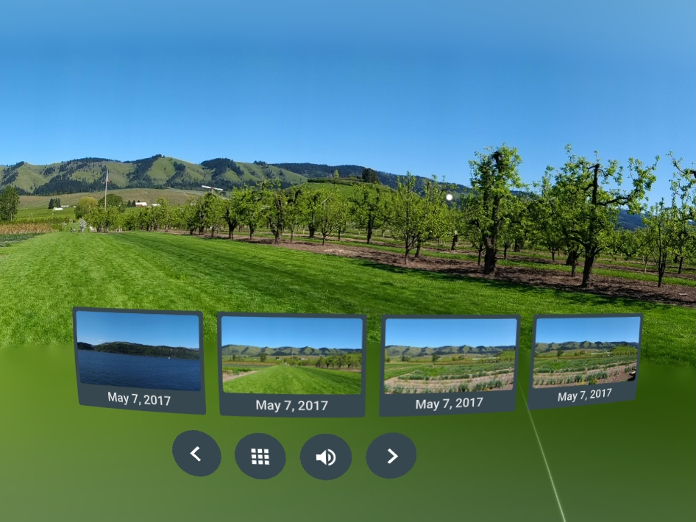 Some companies, like Netflix, Hulu, and HBO, are releasing VR versions of their Android apps, while others are going for new experiences entirely. Discovery currently has a raft of videos for Shark Week in its Discovery VR app. Watching Andy Casagrande climb into a wetsuit while his crew "keep the sharks close to the boat" (a task that looks a lot like making them angry, just saying) evokes the appropriate levels of helpless fear. Discovery then takes you under the water while Andy narrates, discussing every aspect of the shiver of sharks swimming all around him, including their individual ages, gender, and behavior (but somehow not their massive teeth). It's enough to make anyone switch to Ground Level, another Discovery title where a soothing gardener named Patrick tells you all about his job as a landscape architect at the Los Angeles Japanese Gardens. Ground Level is very relaxing and zen, until Discovery goes all Honey, I Shrunk the Kids and puts you among the ants and the ladybirds in the grass.
If you definitely don't want a scary VR experience, The New York Times' NYTVR has some great mini documentaries that are just 360° videos with no funny business. There are also guided meditation videos that do away with the whole 'picture yourself on a sandy beach' charade and just put you on the freaking beach so you can get on with the breathing and the calm, floaty feelings.
Model number
ZS571KL
Processor
Qualcomm Snapdragon 821
quad-core CPU
Adreno 530 GPU
Memory
6GB/8GB
Display
5.7" AMOLED WQHD 2560 x 1440
Gorilla Glass 4
515 ppi
Storage
64GB/128GB internal flash
MicroSD slot
TriCam
Primary 23MP Sony Exmor RS IMX318 sensor
f/2.0 aperture
OIS/EIS

Motion tracking camera
ToF depth sensor
Front camera
8MP
f/2.0 aperture
Battery
3500mAh non-removable
Connectivity
2 x Nano SIM (3G/4G)
802.11 b/g/n/ac Wi-Fi
Bluetooth 4.2
Type-C USB
3.5-mm audio
Operating system
Android 7
Network Compatability
FDD-LTE (Bands 1, 2, 3, 4, 5, 7, 8, 17, 28)
WCDMA (Bands 1, 2, 4, 5, 8)
GSM (850, 900, 1800, 1900 MHz)
Unlocked Pricing USA (6GB, 64GB / 8GB, 128GB)
$599 USD / $699 USD
Verizon Pricing (6GB, 128GB)
$649
Unlocked Pricing Canada (6GB, 64GB)
$899 CAD
Availability USA
Amazon
Verizon

Availability Canada
Amazon
Best Buy
Staples
Memory Express
Canada Computers
The new normal
It's hard to argue that VR or AR has hit the mainstream, but the thing that surprised me most about the ZenFone AR was that my antics over the last few weeks went largely unnoticed by those around me. Daydream and Tango are new platforms, and I figured I was in for a lot of weird looks if I planned to play outside or in public places. But whether I was blasting aliens in the street with Phantogeist or taking turns exploring an enchanted forest over whiskey and burgers, no one batted an eyelid at the headset, remote, or crazy gesticulation. It's still early days for AR and VR, particularly in terms of content, but it seems we've all accepted that it's only a matter of time before we dive head first into a new reality. The ZenFone AR is a high-end flagship that gets you there before anyone else.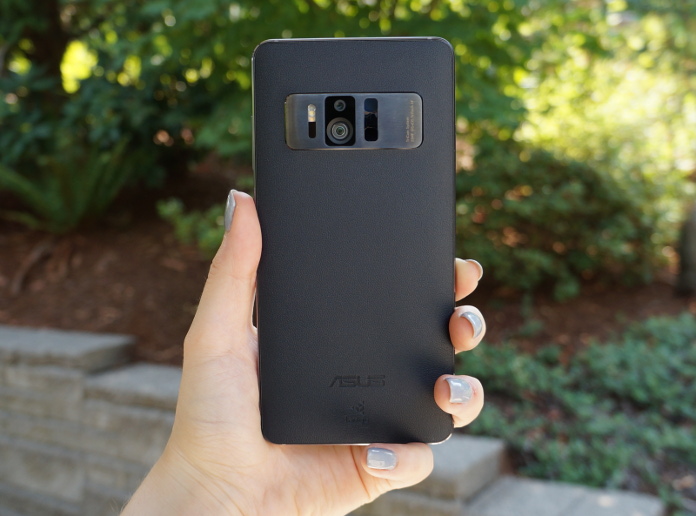 More importantly, this is a device that was built as a phone first. Typical smartphone usage is a doddle thanks to the power under the hood, but your foray into augmented or virtual reality needn't announce itself every time you take out your phone on a train or in a meeting. The lightweight and stylish ZenFone AR offers no visual cues as to the power of its high-end hardware. It supports dual SIMs, so you can easily make this both your work and personal phone, and it's available unlocked for flexibility. Even without firing up Daydream or Tango, the phone has a beautiful display and capable camera. And with up to 128GB of storage (plus support for more via microSD), you don't have to worry about games and videos leaving too little room for photos, music, and regular apps.
The ZenFone AR is priced at $599 unlocked for the 64GB model with 6GB of RAM, or $699 unlocked the 128GB model with 8GB of RAM. Verizon customers have exclusive access to the ZenFone AR at launch and the Verizon version of the phone has 6GB of RAM with 128GB of storage for $649 or $27 per month for two years. For a limited time, customers purchasing the ZenFone AR unlocked or through Verizon Wireless will get a $25 Wayfair.com gift card. Check the table above for retailers selling the ZenFone AR in the US.