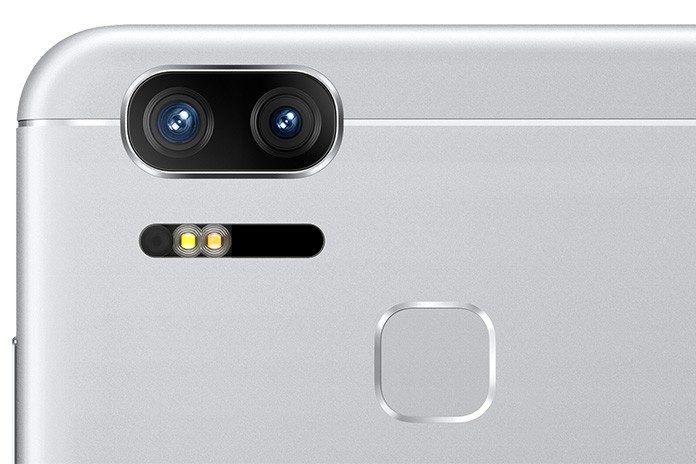 Calling the ZenFone 3 Zoom a smartphone doesn't do it justice. Yes, it makes calls. And yes, it has all the computational smarts you'd expect from a modern Android handset. But you also get a collection of cameras fit for a wide range of photography. The array of shooting options lets you capture the moment with quick snaps or carefully compose scenes to get the perfect shot.
Built for photography
Some cameras are simply better than others at dealing with certain conditions. Instead of trying to make one solution work in every scenario, the ZenFone 3 Zoom lets you instantly switch between two rear shooters optimized for different environments. The primary camera has a 25-mm focal length ideal for close quarters and indoor photography. The lens' ultra-wide f/1.7 aperture creates a shallow depth-of-field effect that sets subjects apart from their surroundings. It also brings loads of photons to the 12MP Sony IMX362 sensor, whose large 1.4-µm pixels further maximize available light to brighten dimmer scenes.
While the main camera resolves sharp details up close, the secondary one brings faraway scenes within range. Switching shooters engages 2.3X magnification with optics alone, providing a distortion-free peek at distant details. Digital magnification pushes the total zoom up to 12X to capture shots that would otherwise be out of reach.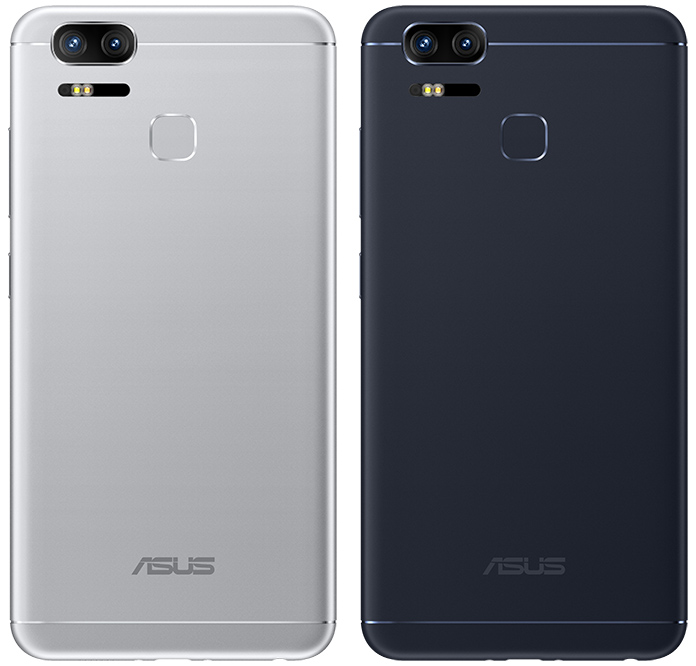 The dual cameras are just one part of a comprehensive photography payload that helps even amateur shutterbugs take amazing pictures. Our TriTech+ auto-focus system uses three different mechanisms to maintain focus even when your subject is in motion. To prevent blurring when you're on the move, optical image stabilization keeps stills steady across four axes, while electronic stabilization smooths out videos over three axes.
Automatic RGB correction makes colors look true to real life, so you spend more time taking pictures and less time editing them. There are 20 different shooting modes to suit different styles, plus a powerful manual mode for experts. Manual shooting puts DSLR-like controls at your fingertips, including the ability to extend exposures up to 32 seconds. With an upcoming firmware update to Android 7.0, you'll also be able to maximize image quality by capturing uncompressed RAW images. When it's time to turn the camera on yourself, a 13MP front-facing shooter takes selfies in high resolution.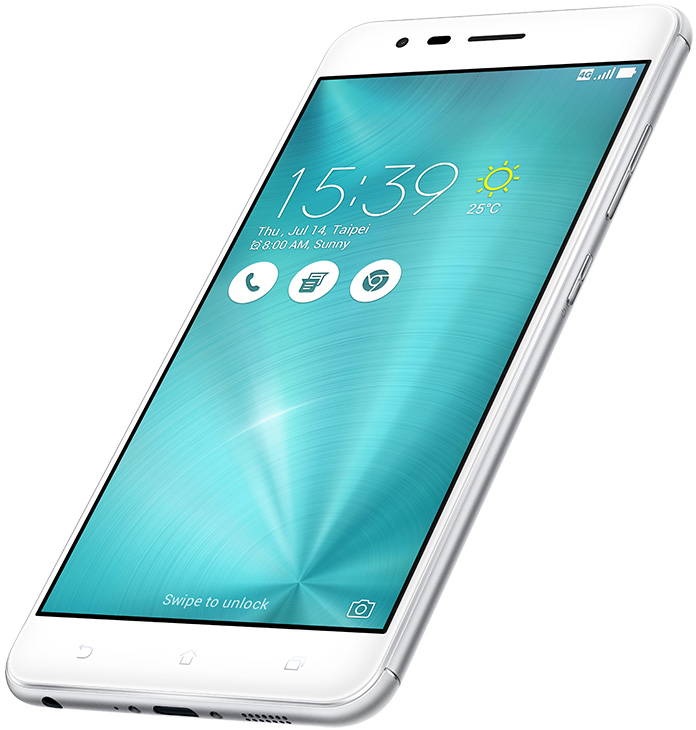 Ready for everything else
Although the camera array might sound bulky, it squeezes into the svelte chassis without bulging out. The metal body is just 7.99 mm thick and 170 grams, allowing the ZenFone 3 Zoom to slide easily into a pocket or purse.
It's not enough to just take great pictures—you want to be able to view in all their glory. That's why we equipped a 5.5" AMOLED display with deep blacks and vivid colors that bring greater visual depth to everything from images to basic UI elements. The screen is illuminated by a turbo-charged backlight with 500 nits of brightness for enhanced outdoor viewing, and it's protected by a layer of scratch- and impact-resistant Gorilla Glass 5.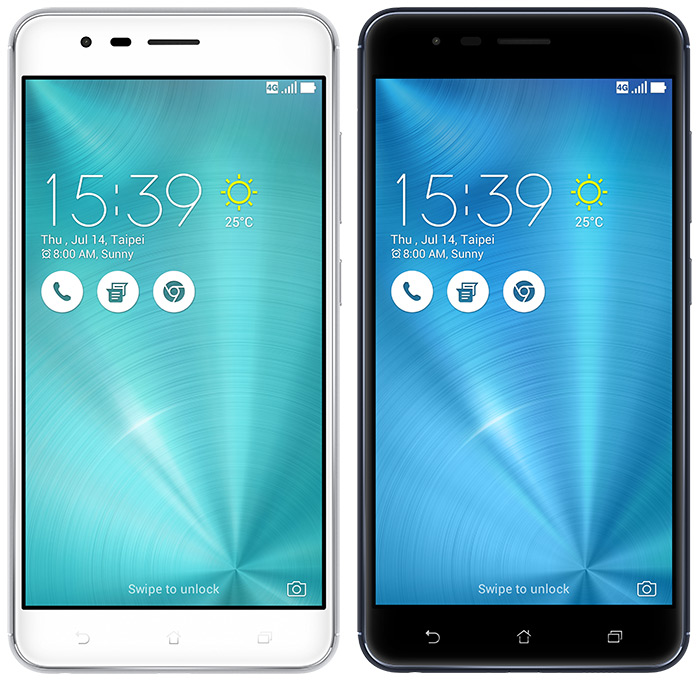 Qualcomm's Snapdragon 625 handles processing duties. The octa-core chip is a good all-around performer, and the accompanying 4GB of RAM makes multitasking a breeze. On the graphics front, the integrated Adreno 506 GPU has enough power to keep gamers occupied.
Since the ZenFone 3 Zoom encourages you to take more pictures, we specced sufficient storage to hold them all. There's 64GB of internal flash alongside a Micro SD slot that lets you easily add more. The only catch is that Micro SD cards occupy the secondary SIM slot, leaving you to choose between auxiliary storage and a second line. It's definitely nice to have both options given the dwindling number of smartphones with either one, let alone the ability to switch between both.

More common but no less important, the fingerprint reader and Type-C USB port are crucial to everyday usability. The fingerprint reader unlocks the ZenFone 3 Zoom almost instantly, making security effortless, while the reversible USB port takes the guesswork out of plugging in. And, speaking of plugging in, the 3.5-mm audio jack lets you use standard headphones without awkward adapters. Headphones get an extra boost from DTS tech capable of emulating 7.1-channel surround sound.
Power is supplied by a high-capacity battery with 5000 mAh on tap. There's enough juice to run all day, and the ZenFone 3 Zoom can moonlight as a portable battery pack to refuel other devices. That's one more capability typical smartphone classification fails to capture.
Model number
ZE553KL
Processor
Qualcomm Snapdragon 625 SoC
8 x ARM Cortex-A53 CPU
Adreno 506 GPU
Memory
4GB
Display
5.5" AMOLED Full HD 1920x1080
Gorilla Glass 5
Storage
64GB internal flash
Micro SD slot
Primary camera
12MP with Sony IMX362 sensor
f/1.7 aperture
25-mm focal length
Zoom camera
12MP with Samsung 3M3 sensor
2.3X optical zoom, 12X total zoom
56-mm focal length
Front camera
13MP with Sony IMX214 sensor
f/2.0 aperture
Connectivity
2 x Nano SIM (3G/4G)
802.11ac Wi-Fi and Bluetooth
Type-C USB and 3.5-mm audio
Battery
5000mAh non-removable
Operating system
Android 6.0 with FOTA upgrade to 7.0
Price
$399
Coming soon to North America
The ZenFone 3 Zoom comes in Glacier Silver and Navy Black. It's scheduled to arrive in North America in Q1 for $399, and you can expect hands-on impressions soon. For pricing and availability in other regions, please contact your local ASUS representative.