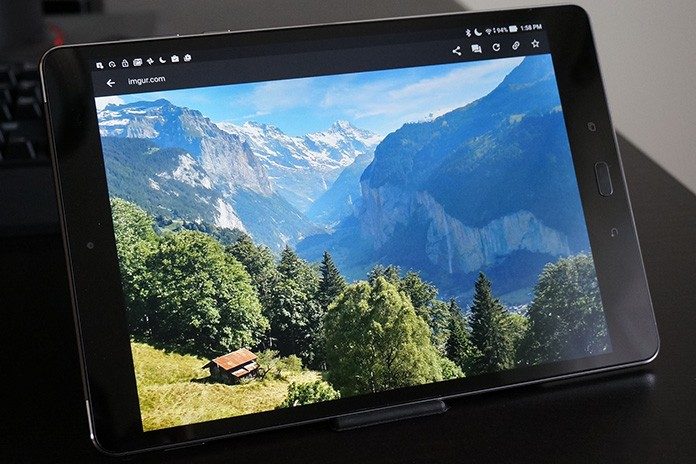 Our ASUS ZenPad 3S 10 is a tablet for people who like the design language of the iPad but desire the flexibility and compatibility of Android. To give credit where it's due, the iPad popularized the use of tablets in recent years. It isn't even close to being the be-all and end-all of the segment today, though. Nine out of 10 smartphones shipped worldwide in Q3 last year ran Android, according to data from Strategy Analytics, which means that the vast majority of buyers are investing in that ecosystem. Android users who have built up a collection of apps on their smartphones can use the same apps—some with expanded functionality—on tablets like the ZenPad 3S 10.
At $299, the ZenPad 3S 10 immediately sets itself apart by costing $100 less than the cheapest iPad Air 2. Less is more in this case, because you actually get twice the storage; the ZenPad packs 64GB where the entry-level iPad is limited to 32 GB. Adding more storage to the ZenPad is easy, too, since the tablet features a microSD slot ready for cards up to 128GB. With 4GB of RAM, the ZenPad 3S 10 also boasts twice the memory of the iPad Air 2.
The brains of the operation is a 64-bit SoC from MediaTek comprising dual ARM Cortex-A72 cores and quad Cortex-A53s in a big.LITTLE configuration designed to balance performance and battery life. The GPU is an Imagination Technologies PowerVR GX6250 with enough horsepower to handle the latest games, plus a video codec that supports 4K Ultra HD playback.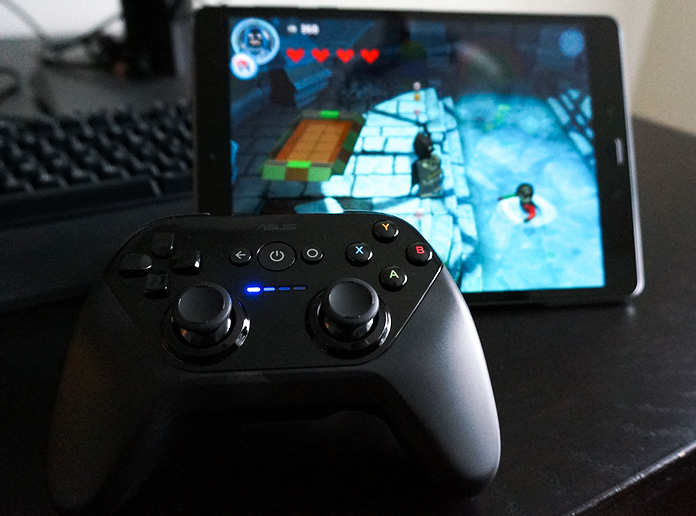 Gaming and entertainment to go
Mobile gamers will find that the ZenPad 3S 10 is up to the task of playing every game out right now at smooth frame rates. Graphics-heavy titles like Mortal Kombat X and Modern Combat 5 run without issue, which means simpler titles like NBA Jam and the Lego series play at nearly 60 FPS. It's an impressive feat that console-level graphics from just a generation ago are now possible on mobile devices that can do so much more.
Although it's easy to miss in the box, the included folding stand props up the ZenPad 3S 10 for convenient, hands-free use in landscape mode. The stand is great for watching videos and playing games that support our wireless Bluetooth gamepad. Gamers may also appreciate our Game Genie app, which lets you record and stream sessions to YouTube and Twitch.
Games and other content look great on the IPS display, which has the exact same dimensions and resolution as the screen on the iPad Air 2. Stretching the 2048 x 1536 resolution across the 9.7″ diagonal produces a pixel density of 264 PPI, high enough that individual pixels are not easily discernible. One thing you won't find on the iPad is the ability to tweak to your liking how the display looks. You can adjust the profile for a more colorful and saturated image, like those commonly found on OLED screens. One setting that's particularly appreciated is the blue light filter, which makes the display much more comfortable to look at and even reduces eye strain.
Great visuals are accompanied by robust audio. Dual integrated speakers pump out a lot of sound for their size, with minimal distortion even at maximum volume. Those who really want to amp up their aural pleasure will love the ability to output DTS HeadphoneX virtual 7.1 surround sound using the 3.5-mm headphone jack. The bundled AudioWizard app also lets you tweak the sound to your liking.

The essentials in a thin frame and compact footprint
Despite the having the same screen size as a 9.7″ iPad, the ZenPad 3S 10 manages to be more compact. The ZenPad's smaller footprint comes from thinner bezels that measure just 5.3 mm on either side of the display. The full aluminum body has diamond-cut edges with the power and volume buttons situated on the right side.
Like with all Android devices, navigation is done with three buttons: back, home, and recent apps. The home button is both an actual button that clicks as well as a fingerprint reader that makes unlocking easier and more secure. In my experience, the fingerprint reader works incredibly reliably; it's often so fast that I don't even see the lock screen by the time the display has woken up.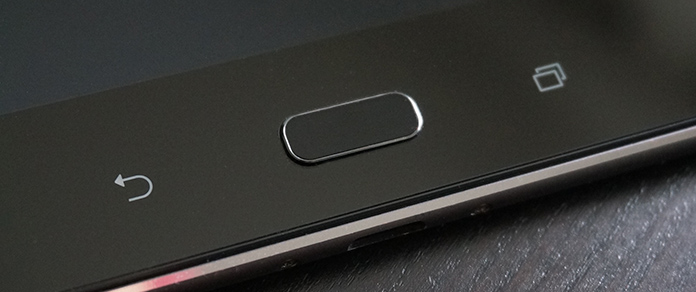 Buttons aside, most inputs will be your fingers on the touchscreen. For those who like to draw or take notes by hand, the ZenPad 3S 10 is also compatible with our optional Z Stylus. This active pen has a 1.2-mm tip with 1024 levels of pressure sensitivity.
The ZenPad's 5900-mAh battery is good for about 10 hours of continuous use, but if you need more, there's a power-saving mode that trades performance for battery life. Charging is done through a Type-C USB connector that's reversible, so there's no wrong way to plug it in. The tablet also supports Qualcomm's Quick Charge 3.0 technology, which can bring the tablet all the way from empty to full in about two hours—less than half the time it takes with a regular charger. Quick charging requires an 18W adapter that's more powerful than what's included in the box, but compatible units are affordable and easily found at Amazon and other retailers.
Model number
Z500M
Processor
MediaTek MT8176 hexa-core CPU
Imagination Tech GX6250 GPU
Memory
4GB
Display
9.7" IPS QXGA 1536x2048
Storage
64GB internal flash
Micro SD slot (supports cards up to 128GB)
Cameras
5MP front (1080p video recording)
8MP rear (1080p video recording)
Connectivity
802.11ac Wi-Fi and Bluetooth 4.2
GPS and GLONASS
Type-C USB and 3.5-mm audio
Battery
5900mAh non-removable
Operating system
Android 6.0
Dimensions
6.44" x 9.45" x 0.28"
240 x 164 x 7.15 mm
Weight
0.95 lbs
430 grams
Price
$299 USD
$469 CAD
The ZenPad's 5MP front-facing camera is great for video chat with apps like Skype and Hangouts, and the rear shooter has eight megapixels for when you want to share what's in front of you. You can capture shots with zero shutter lag, although serious photographers probably won't rely on a tablet as their primary camera.
An affordable alternative that stands on its own
The iPad may be the popular name in tablets, but it's not the best choice for everyone. With the ZenPad 3S 10, Android users can enjoy the same apps purchased on their Google Play account. Even without considering ecosystem investments, the $299 price tag leaves buyers with an extra $100 compared to the cost of the iPad Air 2. The ZenPad has a lot in common in terms of beautiful design and screen size, but you get more storage, microSD support, twice the RAM, DTS HeadphoneX output, and even slimmer bezels. Sounds like a good deal to me.
The ZenPad 3S 10 is currently available in Glacier Silver and Titanium Gray from the following retailers in the USA. Expect it to arrive in Canada soon for $469 CAD.