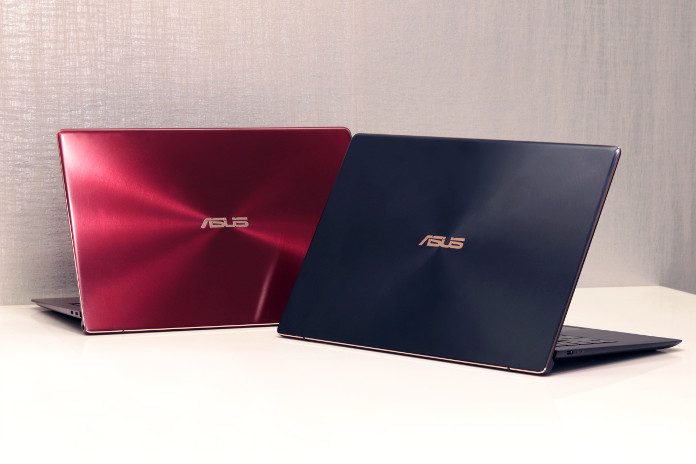 Ultrabooks have redefined our ability to work on the go. These lightweight aluminum slivers feel like freedom compared to the burdensome black plastic slabs we used to drag around. And yet they keep getting smaller. Over the last few years, we've seen ultraportables become even more compact despite increasingly more powerful components. But we've also seen some fundamental elements overlooked in the quest for thinness.
For the new ZenBook S UX391, we set out to build a beautiful ultrabook that doesn't prioritize form over function. We poured time and effort into elevating the key components that drive your productivity without sacrificing any of the raw power or razor thin edges.
Packed inside a 12.9-mm body you'll find an 8th generation quad-core processor from Intel, up to 16GB of DDR4 RAM, and a maximum of 1TB of NVMe SSD storage. That's topped with a 13.3" 4K display, and wrapped in stunning Deep Dive Blue or Burgundy Red aluminum with rose gold trim. The ZenBook S is glorious on looks alone, but the design has also been optimized for comfort. The ErgoLift hinge props the keyboard up at a more comfortable angle while also allowing for better airflow, and the keyboard itself has been redesigned from the inside out to perfect typing feel.
Come on, come on, come on, now touch me
Ultrabooks are notorious for their unpleasant keyboards, but they mostly get a pass because compromise seems unavoidable. The tradeoff for a two-pound laptop that's half an inch thick and slides into your purse is a dead, slightly mushy feeling when you type. But what if you didn't have to spend a typo-laden hour adjusting to your laptop each time you hit the road? Rather than beg forgiveness for a keyboard that feels shallow or spongey, the ZenBook S UX391 accentuates key travel for a crisper, more tactile experience that feels a lot more like the keyboard sitting on your desk.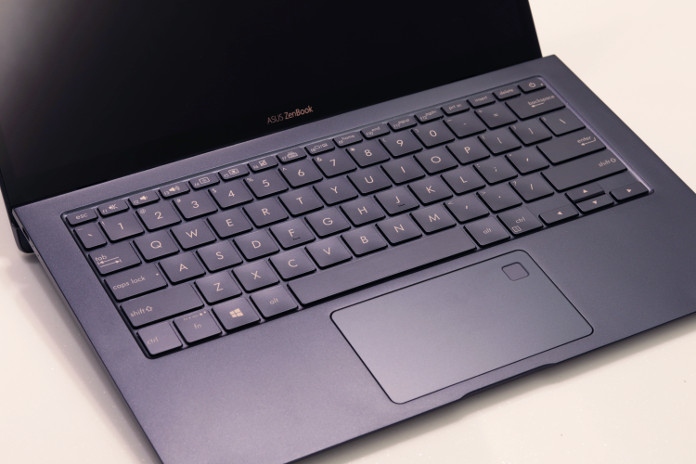 Our gold standard when developing the keyboard was the Chromebook C302, which is lauded for its tactile feel and 1.5 mm of travel. Increasing key travel is one sure step towards improving the feel of a keyboard, but it wasn't an option for the ZenBook S, where the goal is to avoid unnecessary girth. So we set about replicating the feel of the C302's keys without actually changing the UX391's 1.2 mm of travel.
After three months and six prototypes, we finally found the perfect formula. The first change is in the keycaps themselves. The surface of each one has a subtle 0.2-mm curve that cradles your fingers as they rest on the keyboard. We experimented with different depths, starting at a shallower 0.15 mm, but found that it wasn't enough to keep fingers from sliding off course.
Next, we modified the structure of the switch underneath each key. The scissor-switch mechanism remains the same, but a few adjustments to the rubber dome make a massive difference. Altering the thickness of the walls makes the dome collapse more easily, and adjusting the shape improves the feeling when you bottom out. The result is keys that spring back lightly as you type and don't feel mushy or soft as they're depressed.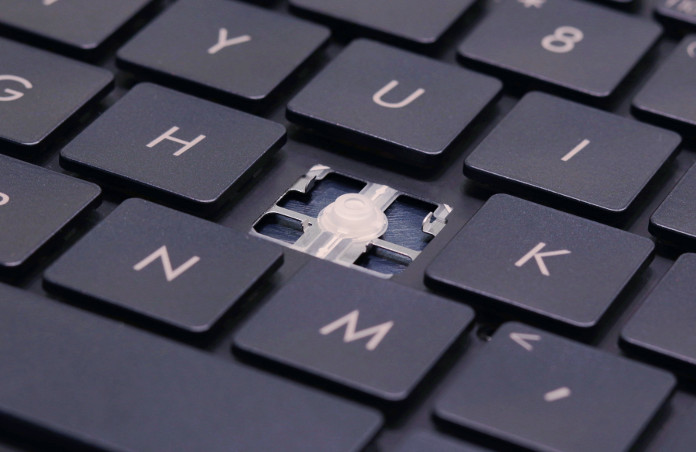 The final keyboard upgrade was inspired by a completely different laptop, one that's on the list of our favorite ultrabook keyboards but for a different reason. The ErgoLift hinge first appeared on our ASUSPRO B9440 business laptop. When the laptop is closed, it doesn't look unusual, but lifting the lid raises the rear edge off the desk, propping up the keyboard at a 5.5° angle. This change allows your hands to rest at a more comfortable angle as you type, which reduces fatigue during long work sessions, and it doesn't affect portability. The laptop's aluminum frame provides ample rigidity, cutting down on annoying keyboard flex as you type.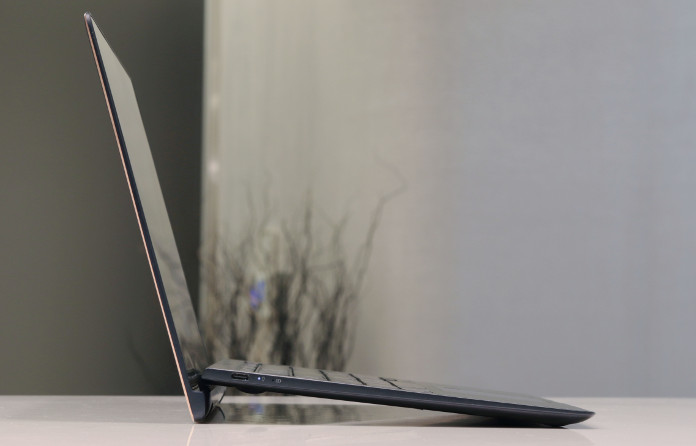 All of these keyboard modifications are designed to eliminate some of the most uncomfortable parts of working on a laptop, but we haven't overlooked the just plain annoying aspects. The cherry on top of the UX391 keyboard is a function row that prioritizes system functions over F1-F12, so you no longer have to hold down an extra key change the screen brightness, mute the volume, or make other everyday adjustments.
All wrapped in red
Swathed in durable aerospace-grade aluminum and trimmed in sparkling Rose Gold, the UX391's roots are decidedly ZenBook. But the devil is in the details, and that's where this new model branches out. Though previous generations boasted shiny gold edges, this year's ZenBooks are the first to feature delicate rose-tinted accents. Blue and orange sit directly opposite each other on the color wheel, so the coppery tones serve up a striking contrast that complements the rich Deep Dive Blue chassis, which is just a little darker than last year's shade. The ASUS logo on the lid matches the trim, and the theme continues through to the lettering on the backlit keyboard for a cohesive color scheme that's subtly stylish without being overly conspicuous.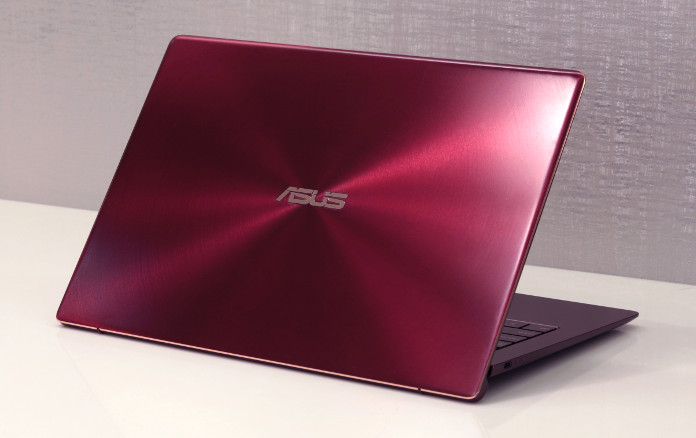 While navy blue is classically professional, the UX391's body is too hot to hide behind a power suit. It deserves an alternate aesthetic that highlights its irrefutable beauty, so we selected a dark red that's unapologetically sure of itself. The burgundy shade brings sex appeal in spades, splashing rich red across a landscape of sober greys and blacks.
Oozing opulence and echoing high fashion, fine wine, and fast cars, the bold color carries an almost reckless confidence, but it's creation was anything but hurried. Once we settled on dark red, we had to nail down the right shade. The designers at the ASUS Design Center spent a year and a half exploring every shade of juicy crimson. From succulent to syrupy, the options were numerous, with multiple mockups machined but ultimately discarded for being too dark, too bright, or not quite right.
Finding the perfect match was about more than a 'love at first sight' connection. The metal had to maintain its appearance after being machined and anodized using the same 40-stage process as the Deep Dive Blue version. Getting the trackpad and keyboard to match the luscious aluminum involved trial and error, too, but the result was worth all of the effort. It's intensely red and jaw dropping in person. Polished to a glossy shine, the spun metal finish glows when it catches the light, and the diamond-cut rose gold wrapped around the lid brings a hint of jeweled bling that adds a layer of appropriate luxury.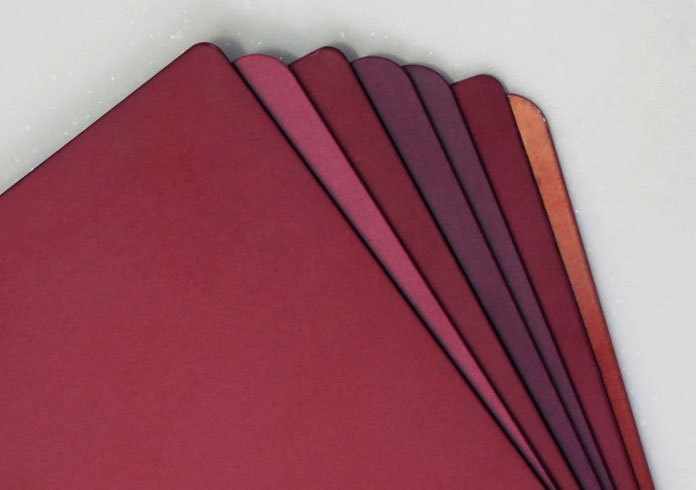 Little red Corvette
Looks alone might be enough to attract attention, but a lasting impression requires more than a sexy exterior. Luckily, the ZenBook S is as powerful as it is arresting. Powered by Intel's latest generation of ultrabook chips, it features up to a Core i7 Kaby Lake-R processor combined with 16GB of RAM. The first ultrabook CPU to feature four cores and eight threads, Kaby Lake-R pushes the boundaries for mobile productivity beyond what was possible even a year ago. In October, we pitted a ZenBook 3 Deluxe packing a dual-core Kaby Lake CPU against the exact same laptop equipped with a quad-core Kaby Lake-R chip. The new model came out ahead of its predecessor across the board, and with double the cores and thread count, it performed especially well in multithreaded applications like video encoding, 3D rendering, and photo editing. It could even chew through these heavier jobs in the background, while we worked on other tasks.
Regional configurations will vary, but solid-state storage is standard, so the system boots fast and applications load quickly. With up to 1TB of PCIe x4 storage, there's plenty of room for large files. Relying on the cloud for storing video projects will be a thing of the past, and you don't need worry about massive Powerpoint decks sucking up the last of your storage.
The NanoEdge display on the ZenBook S features super skinny bezels that allow us to squeeze its 13.3" panel into a more compact frame, maximizing portability with a chassis that measures only 12.2" across. Available in resolutions up to 4K, the screen shows off all of your content in glorious detail without the need for an external monitor. Wide 178° viewing angles ensure colors are vivid and bright when sharing the screen with a friend. The bezels on each side measure just 5.9 mm, but we resisted the urge to apply the same treatment to the top, preferring to keep it marginally thicker so we could put the HD webcam in a location that frames your face instead of peering up your nose
Not too hot to handle
Fitting everything into such a tight package wouldn't be possible without a little ingenuity in the cooling department. For the ZenBook 3, we introduced a new type of fan that measures in at a scant 3 mm tall. For the ZenBook S, we didn't go any thinner, but we did alter the structure of the fan to make it more efficient. A change in the tooling process allowed us to increase the number of liquid crystal polymer blades by 40% without making the fan any bigger.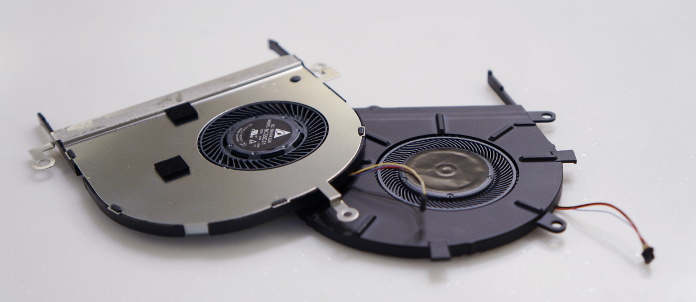 Adding blades means more air is moved with each revolution, and we optimized the shape of the shroud to improve intake. The redesigned fan can spin at slower speeds while still moving 13.4% more air than the old design, so you get more airflow with less noise. The ErgoLift hinge keeps the base of the laptop off the desk, allowing intake vents in the bottom to breathe deeper and improving ventilation. Combined, these tweaks lower the temperature of the CPU by 5℃.
The total package
Despite its slim profile, the UX391 has a beefy battery that's well equipped for life on the road. We lay the battery out in two layers to maximize available space inside the chassis. The 50Wh pack is rated for up to 13.5 hours on a single charge, so you won't constantly be hunting for power outlets when you're away from your desk. Fast charging delivers a 60% charge in 49 minutes if you need to leave the office in a hurry or charge up between meetings.
Connectivity is often the first compromise for ultraslim laptops. A lack of ports is forgivable when you're out and about and your main concern is plugging in to charge, but if you plan to set up camp at the office, you'll need a drove of dongles and hubs to hook everything up. The UX391 bucks the trend with plenty of ports for connecting peripherals, displays, and even standard analog headphones.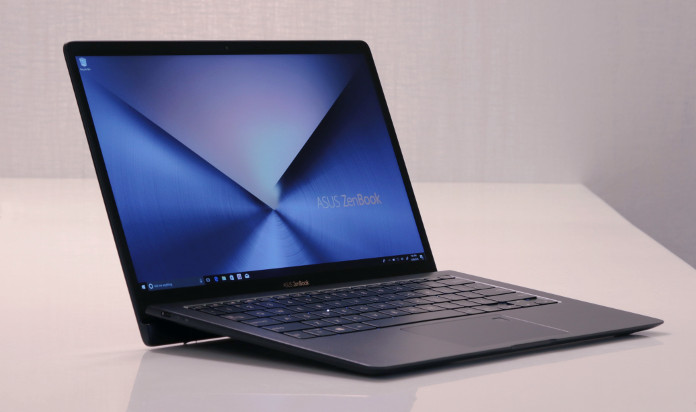 A total of three USB Type-C ports adorn the edges, including two equipped with Thunderbolt 3 technology. You can charge via any of the USB-C ports, though the Thunderbolt 3 connections are also capable of powering dual 4K displays, so you may prefer to leave those free for your workstation. Users who need more GPU power than the integrated Intel UHD 620 graphics can hook up to our XG Station Pro external graphics dock. The XG Station Pro connects via Thunderbolt 3 and can be outfitted with full-size AMD or NVIDIA graphics cards to provide the additional muscle necessary for rendering 3D models, editing complex videos, exploring virtual reality, or just playing games.
UX391UA
CPU
Intel Core i7-8550U, 1.8GHz (8MB cache, up to 4.0GHz)
GPU
Intel UHD 620
Display
13.3" LED backlit
Resolution
4K UHD, 3840 x 2160
Full HD, 1920 x 1080
Memory
8GB/16GB DDR4
Storage
Up to 1TB SSD
Networking
802.11ac Wi-Fi with 2x2 antenna
Connectivity
3 x USB Type-C with Thunderbolt 3
1 x Audio jack
Battery
50Wh
Dimensions
12.24" x 8.38" x 0.5"
Weight
2.2 lbs
OS
Windows 10 Professional
Price
$1,499 USD
Availability (USA)
Newegg
Amazon
B&H
Adorama
Micro Center
Abt
Availability (Canada)
Amazon
Ultrabooks have been around for a while, but it's only recently that they have leveled up and become a viable option for creatives and other professionals whose work goes beyond the standard suite of productivity apps. It used be that if your job required photo editing, video encoding, or 3D rendering, you were forced to shop for function rather than form. The ZenBook S mixes Kaby Lake-R with thoughtful refinements that maximize every millimeter of its thin chassis to deliver an ultraportable that's as potent as it is pretty. Its powerful quad-core processor, stunning 4K display, and ample storage check the right boxes for content creators, while the redesigned keyboard and ErgoLift hinge make working on the road feel like working from home. The ZenBook S UX391 is priced at $1,499 USD. Check the table above for retailers selling the ZenBook S in North America.
Check out our many other Computex 2018 product announcements. Skip over to this article for a summary covering the entire ASUS line-up at the 2018 show.