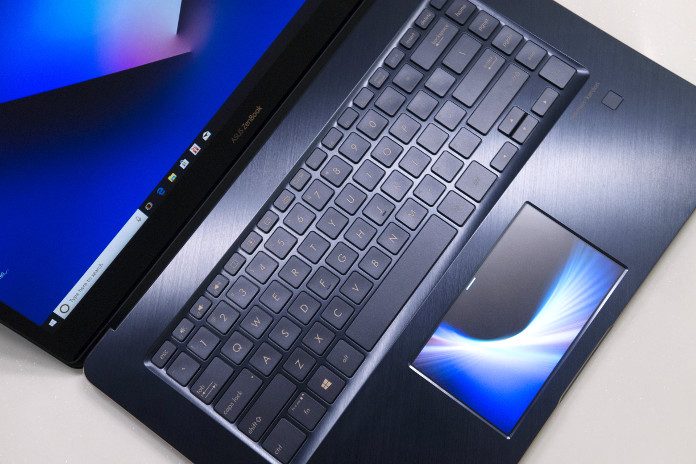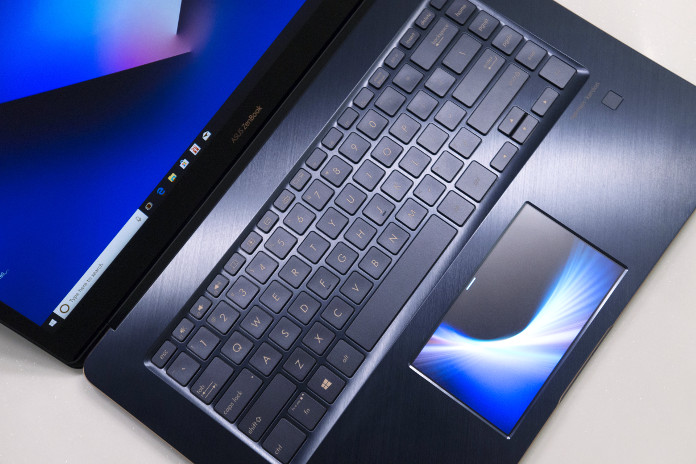 Making a high-end laptop isn't as easy as wrapping the best components in a sleek chassis and calling it a day. Aesthetics and specifications are definitely important, but it's also about being better than what's already available. The top of the line is where all of the innovation happens. It's where we have the most freedom to consider if the old way is still the best way, and every now and again, we see an opportunity to do something bold.
The ZenBook Pro is the most potent in our line of premium laptops. Made for power users, it's loaded with cutting-edge components that are just as adept at design and photo editing as they are at 3D rendering and heavy multitasking. These tasks require a lot of power, which the ZenBook Pro has in spades thanks to an Intel Core i9 processor and NVIDIA GeForce GTX 1050 Ti discrete graphics.
Laptop screens can feel cramped, especially if you're have a lot on the go at once, so we set out to improve usability with a trackpad that does more than control the cursor. The ZenBook Pro UX580 is the first laptop to feature our new ScreenPad, which replaces the trackpad with a smartphone-grade touchscreen capable of displaying additional information and offering contextual controls for desktop applications.
Screen Pilots
Making the main screen bigger is the obvious solution when trying to solve the problem of overcrowded apps, but the ZenBook Pro already packs a roomy 15.6" panel, and we wanted to keep this powerful ultrabook as portable as possible. So, instead of making the display larger and increasing the size of the laptop along with it, we opted for a supplementary screen that declutters your desktop while giving you quick access to functions that would otherwise be minimized or hidden behind the primary window.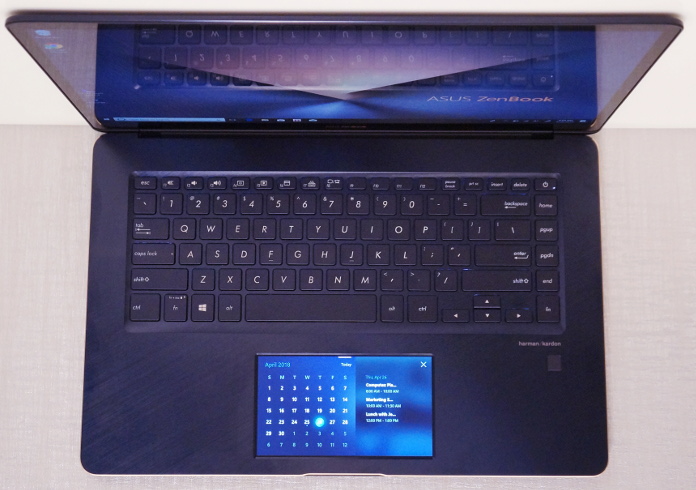 The ScreenPad uses a bright 5.5" IPS-type display not unlike the ones used in today's smartphones. It's embedded into the palm deck, right where you'd find a traditional trackpad, and lights up as soon as you turn on the laptop. The display can serve up contextual controls based on the app you're using or act as a secondary screen, whichever is most useful in the moment.
By default, the ScreenPad acts as a dashboard to bring commonly accessed but frequently hidden functions to the forefront, so you spend less time digging around in menus and switching between apps. Some apps, like Calendar and Calculator, run entirely within the ScreenPad itself, removing the need to switch away from what you're working on and launch a separate application just to earmark a doctor's appointment or verify a sum total. Others are tightly integrated with existing desktop applications and provide contextual functionality that's easier to access. The Office widget, for example, can be configured to display your calendar or the calculator alongside editing tools from the Office ribbon.
The ability to swipe to check your calendar while you're working is handy, but moving the toolbar has a much bigger impact. Editing functions are vital in Word and Excel. The ribbon where they live occupies 20% of the screen on the ZenBook Pro, so shifting those functions to the top edge of the trackpad gives you more space to do your work, which makes a big difference for dense documents and sprawling spreadsheets. Putting commonly accessed functions on the ScreenPad also makes them much easier to find.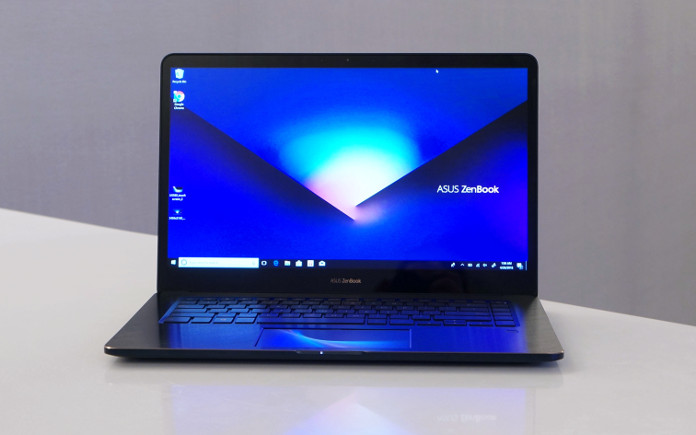 App happy
The ZenBook Pro pairs companion apps with desktop programs so that the right ScreenPad application is displayed when you get down to work. However, the ScreenPad isn't locked to those functions. You can hide the widget when you don't need it and easily navigate between ScreenPad apps by swiping down from the top of the display. If you're editing in Word but want to access your Spotify playlist, simply pull up your music controls, select the track you want, and then flip back to Office's editing widget without ever leaving Word.
For launch, we're focusing on bringing a few core functions to the ScreenPad with dedicated Calculator, NumKey, Launcher, and Music Player applications. But your activities aren't limited to just stand-alone applications; you can put anything you want on the ScreenPad if you're using it as an extension of your desktop. The display features a 1080p resolution that works out to a pixel density of about 400 PPI, so windows dragged down to the ScreenPad bring every detail with them. You probably won't want to do this with apps that would usually run full-screen on your laptop's display, but anyone accustomed to using a second screen can tell you it's handy to be able to put certain programs somewhere they're always visible. With the ASUS Sync app, you can also mirror your phone's display on the ScreenPad complete with touch controls, which removes the need to reach for your phone to check notifications or interact with your favorite apps.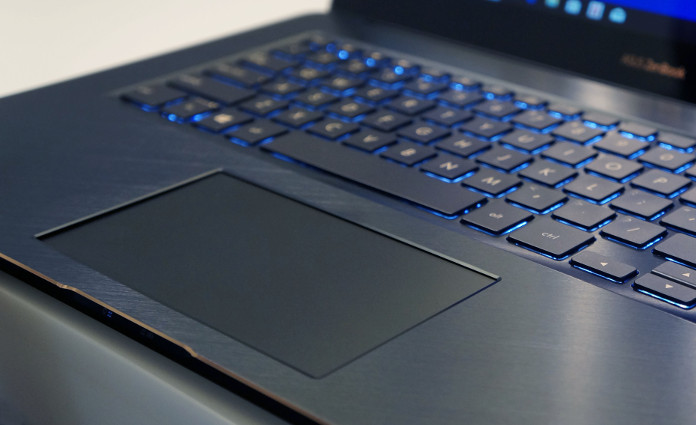 The trackpad behaves as normal when you're not interacting with widgets and apps. It has the same palm rejection as a regular, old-school touchpad, so it won't register accidental inputs, and you can tap, click, and drag the same way you always have. Smoother than silk, tracking is extraordinarily fluid, and the ScreenPad has a solid click that's clean, satisfying, and devoid of the mushiness that sends people running for Bluetooth mice. It perfectly matches the premium feel of the ZenBook Pro, and despite being a lot more complex, it doesn't make the chassis any thicker.
If you're on the go, it's best to switch off the ScreenPad to make the most of your laptop's battery. This can be done at the touch of a button, with F6 serving as a switch for toggling between ScreenPad and trackpad modes.
Power and portability in a cool package
The ScreenPad might be a big departure from our usual design, but our number one priority for the ZenBook Pro hasn't changed. We're committed to delivering a slim, sleek laptop that's exceedingly portable but packs in enough power to serve even the most demanding users.
Configurations will depend on your region, but the ZenBook Pro will be available with up to a 4K display. The skinny 5.9-mm bezels not only minimize distractions while you work or watch your favorite shows, but also facilitate a smaller footprint overall. The 15.6" UX580 fits in a more compact chassis that's only 14.4" wide and takes up less space in your bag.
With 100% coverage of the sRGB color space, the display shows every shade when you're editing, and you can be sure the colors are accurate because they're calibrated at the factory. The UHD display guarantees a delta E color difference of less than two, while the Full HD panel promises less than three. This is the first time we've guaranteed color accuracy for laptop screens, and it's a boon for content creators looking for similar accuracy to our professional-grade ProArt desktop monitors. Wide 178° viewing angles ensure colors stay vivid and bright even if you're not sitting front and center, so you can share the screen or show off your work without making the audience crane their necks for a better view.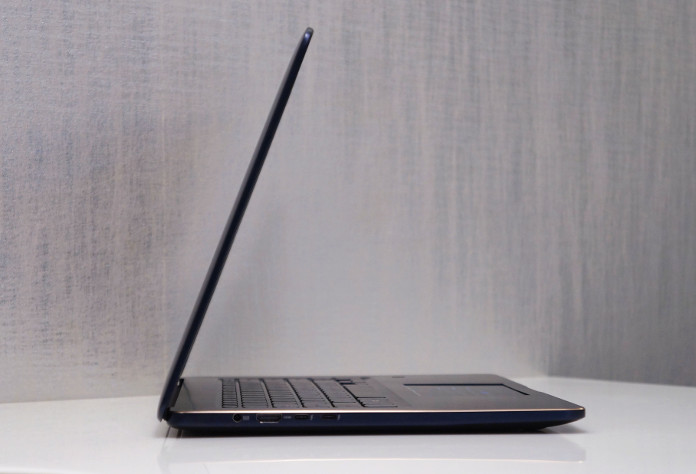 Under the hood, the ZenBook Pro maxes out on specs with a powerful Intel Core i9 processor, 16GB of DDR4 RAM, and discrete NVIDIA graphics. The Core i9-8950HK CPU boasts a peak Turbo clock of 4.8GHz and is Intel's first laptop processor with six cores and 12 threads. It's made for multitasking content creators who can't afford to have image processing stalled by a video encoding job that's running in the background. The accompanying GeForce GTX 1050 Ti GPU not only speeds up rendering jobs, but also lets you play games. Dial the in-game resolution down to 1080p, and you can enjoy smooth frame rates in classics like CS:GO and more demanding titles like Overwatch. The ZenBook Pro may not look like your typical gaming laptop, but the six-core CPU even provides extra headroom for streaming while you play.
True to its professional roots, the ZenBook Pro stays cool under pressure thanks to a cooling system that features dual fans and a triple-heat-pipe design. Dedicated blowers and radiators for the CPU and GPU ensure adequate cooling for each, while a third heatpipe hidden underneath the motherboard carries heat away from vital components to keep internal temperatures from rising too high.
Up to 1TB of solid state storage ensures quick load times for all of your applications and ample space for large media files. While specific configurations will vary from market to market, North American models will ship with a 512GB NVMe drive that's much faster than a typical SATA SSD. External storage can be plugged into any one of the four USB ports, though you may prefer to save the two reversible Type-C ports for connecting Thunderbolt devices. The ZenBook Pro can drive dual 4K monitors with Thunderbolt 3. You can also use it to hook up to an external graphics dock like the XG Station Pro, which supports full-sized desktop graphics cards that offer more power for serious CAD work, 3D modeling, and hardcore gaming and VR. When it's time to hit the road, the ZenBook Pro's standard HDMI port is on hand for connecting projectors and TVs without needing for a dongle.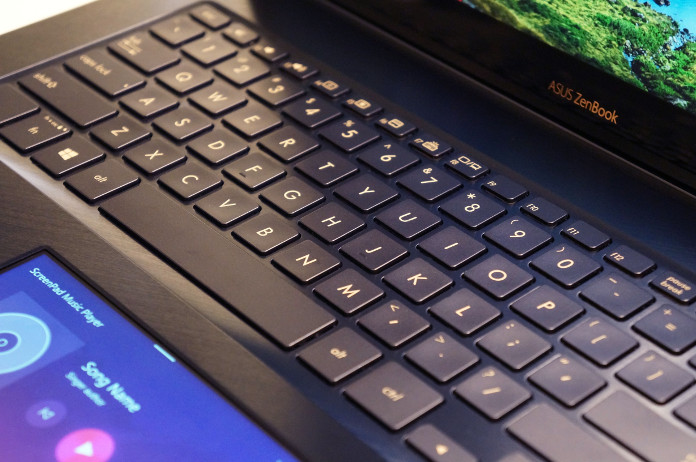 Despite its powerful internals, the ZenBook Pro is every inch an ultraportable. Measuring less than 0.75" thick, it slides easily into a laptop sleeve or tote. The diamond-cut chamfered edges are tinted with a rose gold that plays off the Deep Sea Blue aluminum chassis, adding a touch of tasteful sparkle while also giving the impression that the body is even slimmer. The Deep Sea Blue and rose gold theme is carried through to the keyboard, which is blue as can be and backlit to boot.
ZenBook Pro UX580GE-XB74T
ZenBook Pro UX580GD-BI7T5
CPU
Intel Core i9-8950HK CPU, 2.9GHz (12MB cache, up to 4.8GHz Max Turbo)
Intel Core i7-8750H CPU, 2.2GHz (9MB Cache, up to 4.10 GHz
GPU
NVIDIA GeForce GTX 1050 Ti
NVIDIA GeForce GTX 1050
Display
15.6" IPS-type, LED-backlit
5.5" IPS-type ScreenPad
Resolution
UHD 4K (3840 x 2160) display
Full HD (1920 x 1080) screenpad
Memory
16GB 2400MHz DDR4
Storage
512GB NVMe SSD

Networking
802.11 ac Wi-Fi with 2x2 antenna, Bluetooth 5.0

Connectivity
2 x USB 3.0 Type A
2 x USB 3.1 Type-C with Thunderbolt 3 support
1 x audio combo jack
1 x HDMI 1.4
1 x MircoSD slot
1 x DC jack
Battery
71Wh
Weight
14.4" x 9.9" x 0.74"

Dimensions
4.14 pounds
OS
Windows 10 Pro
Price
$2,299.99 USD / $2,999.99 CAD
Availability (USA)
ASUS Store
Best Buy
Availability (Canada)

Canada Vendors

N/A
A new take on professional
The ZenBook Pro UX580 raises the bar for premium laptops and push the boundaries for productivity on the go. Made for professionals who need more than an ultrabook to get the job done, it's spec'd for heavy workloads with a powerful 8th generation Intel processor and discrete NVIDIA GeForce graphics, while the innovative ScreenPad streamlines multitasking across commonly used applications. Announced at Computex 2018, the ZenBook Pro will be available this summer with pricing to be announced closer to the release date.
Check out our many other Computex 2018 product announcements. Skip over to this article for a summary covering the entire ASUS line-up at the 2018 show.