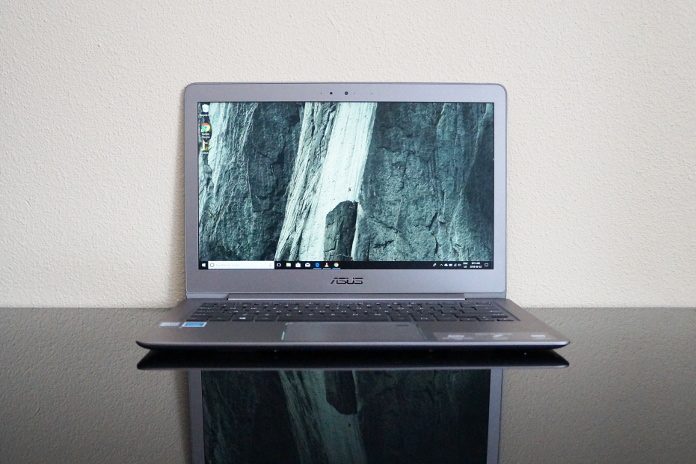 Next to the Royal Blue and gold ZenBook 3 Deluxe UX490 and ZenBook Flip S UX370, you'd be forgiven for thinking the silver ZenBook UX330UA looks a little sedate. But beneath its smooth Quartz Grey exterior, it might be the most compelling computer in the entire family.
The perfect mid-range laptop strikes a delicate balance of performance, style, and price, but it's exceedingly rare that any model exist in the center of that Venn diagram. The market is awash with offerings that only check off two of the three. Thanks to an upgrade to Intel's quad-core Kaby Lake-R CPUs, the premium finishes synonymous with the ZenBook line, and a price tag low enough that even cash-strapped students can afford, the UX330UA is something of a unicorn.
Taking the premium plunge
Last fall, Intel debuted its 8th generation Kaby Lake-R chips for ultrabooks. Though they carry the same U-series designation as the 7th generation chips powering the thin and light laptops of 2017, they change the game. These Core i5 and i7 CPUs are the first quad-core chips with the same power-efficient 15W TDP of yesterday's dual-core models. With four cores and eight threads, Kaby Lake-R offers a huge boost for multithreaded workloads, including content creation and 3D rendering, with no noticeable impact on battery life or cooling. The Kaby Lake-R version of our ZenBook 3 Deluxe UX490 left the previous generation in the dust when we compared the two. Video encoding with the Core i7-8550U was roughly twice as fast, and the 8th gen chip cut blew threw our multitasking benchmarks in half the time, too.
The quad-core CPU was a fitting upgrade for our premium ZenBook line, but there's more to the family than opulent gold accents and silky aluminum. Second in line for Kaby Lake-R was our entry-level ZenBook UX330UA, a rite of passage for anyone making the leap from the land of utilitarian low-end laptops to sleek and powerful ultraportables.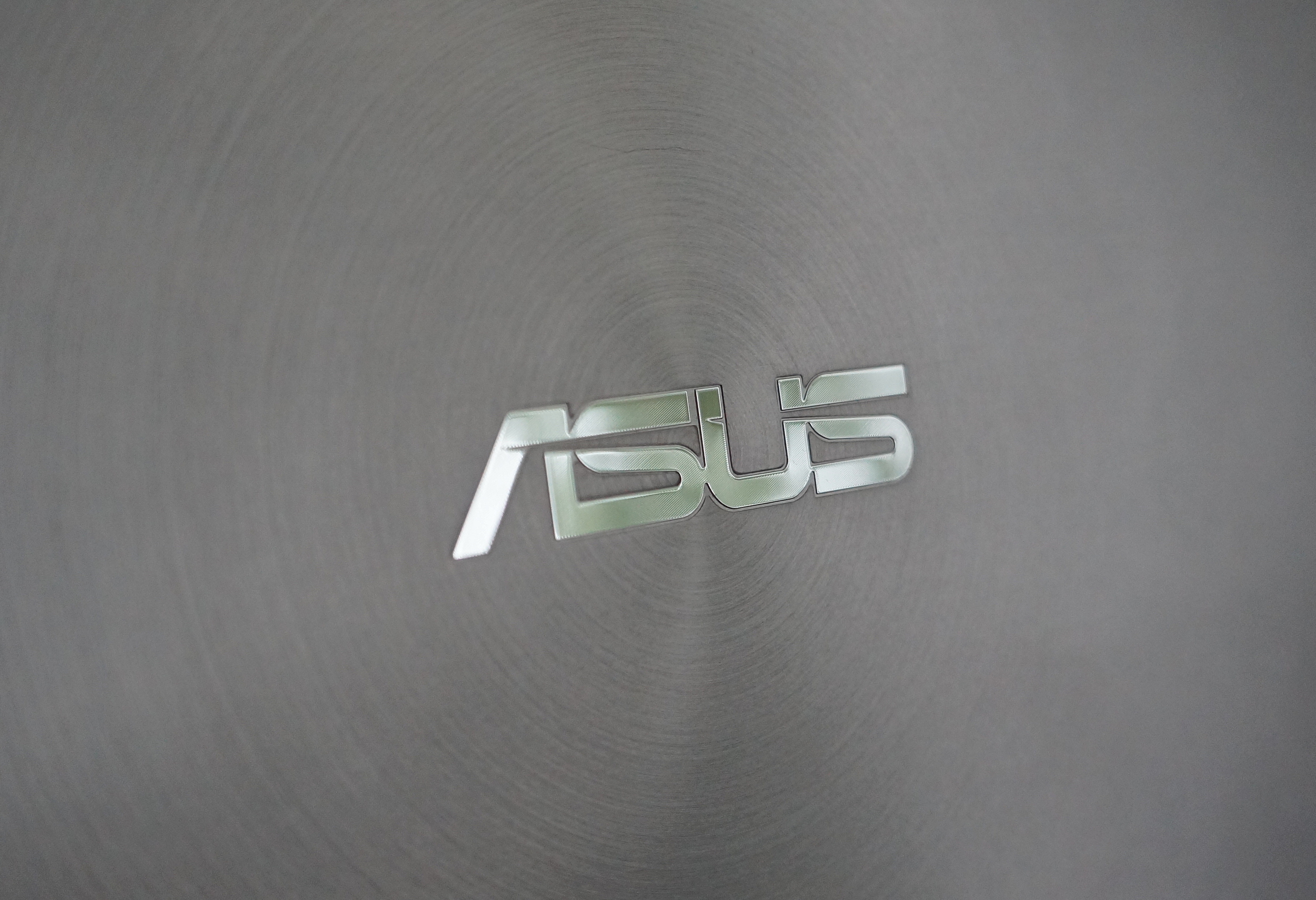 Though it's the most affordable ZenBook of the bunch, the UX330UA is held to the same standard as its pricier siblings on presentation as well as performance, and it's proof that you can save money without sacrificing style. Our signature concentric circle pattern is etched into the metal lid, lending just enough style to stand out in the sea of prosaic black and silver at the library or your favorite coffee shop. Cool to the touch, the aluminum lends a rigidness to the lid that banishes all memory of the creaky plastic that dominates the low end of the laptop market. It's anchored by a smooth hinge and lifts open with just one finger while the metal base stays solidly on the desk.
Underneath, you'll find a large trackpad surrounded by a polished silver border that matches the mirrored ASUS logo on the lid. Dressed in light grey, it features an integrated fingerprint sensor for secure log on, and is silky smooth to the touch for fluid movements as you scroll and swipe. The palm rests are a matching muted grey with a matte finish that offers traction for your wrists and palms as you skip between the trackpad and the keyboard. A white backlight illuminates the keys for working in the dark, cutting down on errors and saving you from jacking your screen's brightness all the way up just to see the keyboard a little better.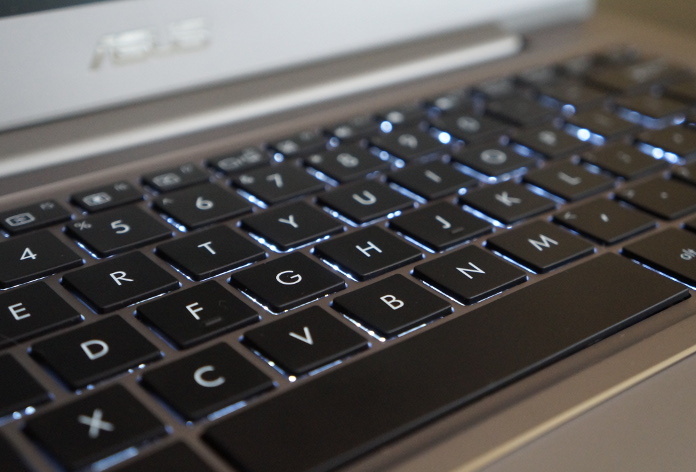 Up top, the 13.3" Full HD screen is bright, with vivid colors and wide 178° viewing angles that ensure the screen looks good whether you're sitting upright at your desk working on an essay, or lying on the bed watching Netflix. A matte coating helps cut the glare from overhead lights as well as reflections from nearby windows, so you can always see what you're doing.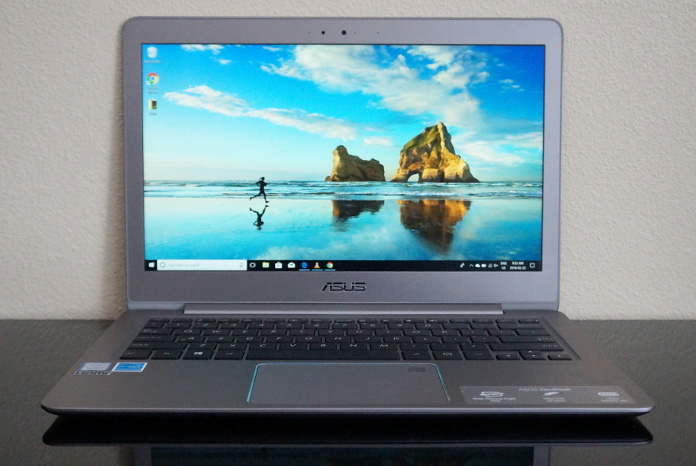 The UX330UA certainly looks the part, but its most intriguing attribute as an affordable ultrabook is not the all-metal body, bold display, or backlit keyboard (though they certain add to the allure). It's the quad-core Kaby Lake-R processor.
Ain't what you do, it's the way that you do it
When we compared Kaby Lake to its -R successor on otherwise identical laptops, we found that the difference day-to-day for Office apps, web-based productivity, and photo editing was not that noticeable, whereas performance in tasks like 3D rendering and video encoding saw a massive jump. But compare the 8th-gen processor to, say, a 5th-gen chip, and you see improvements pretty much across the board. Most of my work gets done on a 2015 ZenBook UX303 based on an older Core i5 with just two cores. Unless you're buying a new laptop every year, your upgrades are probably on a similar cadence. Any machine you buy, you expect to last you a few years, so it's unlikely your first taste of the 8th gen is coming hot on the heels of a 7th-gen system.
Because my current ZenBook is several years old, I generally try to ignore the fact that most days it acts as though it's counting the days to retirement. It doesn't fail to complete any task I assign, and it's in its element on weekends, when I'm mostly concerned with streaming music and video, browsing the web, planning trips I'll never take, and answering email. But during the week, this thing called a job means we both have to do things we're generally not that great at, like photo editing while bouncing between Excel spreadsheets and Powerpoint decks with slides numbering in the triple digits.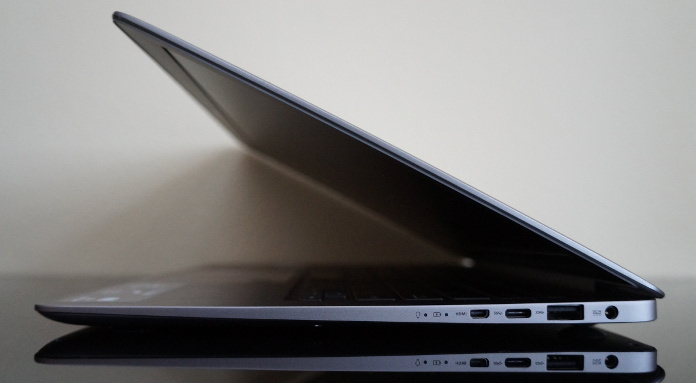 My laptop's dual-core processor can do it all, but it also takes the time to sigh inwardly whenever I ask it to go beyond the call of duty. With the UX330UA, I regained a sense of immediacy that I hadn't realized I'd lost. The Core i5-8250U's four cores and eight threads are combined with 8GB of RAM, and together they breeze through my usual tasks with a responsiveness that I just plain didn't recognize from a regular day's work. Hopping between apps in an instant, it was like my laptop and I were on the same wavelength after being half a second out of sync for way too long. It processed image after image without delay, and though I don't do a ton of work with video, I couldn't resist downloading a 4K clip to see how the ZenBook would handle video encoding while I "worked."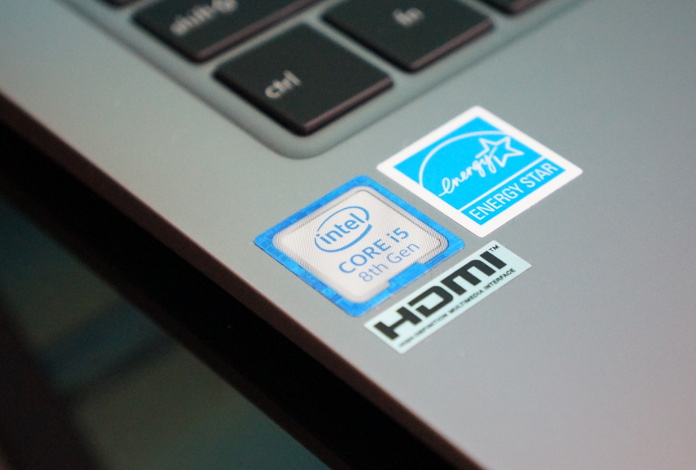 I loaded up a fast-paced Brandon Semenuk video on Vimeo, a Led Zeppelin radio station on Google Play Music, and then opened an assortment of Chrome and Microsoft Edge tabs before launching Handbrake. The UX330UA spat out a 1080p version of my video, roughly two and a half minutes of puppies slo-mo splashing around in some water, in about six minutes. That's not too shabby, and the impact on other tasks was pretty much non-existent. I noticed some lag with lots of frantic scrolling through news sites, but video clips played smoothly, and it was business as usual working away in Google Docs, chatting on IM, and streaming music. The UX330UA is perhaps not the best candidate if your job involves editing videos every day, but it's powerful enough to get the job done should the need arise.
A peek behind the curtain
Cooling often presents a problem for incredibly thin laptops, and the UX330UA measures just 0.5″ thick. But even on days spent working from the couch, the laptop nestled among a heap of blankets and pillows that generally result in hotter than normal surface temperatures, the UX330UA never seemed to struggle to keep cool. There were times when the underside was warm to the touch, but nothing that would make me consider moving to a flatter surface for better airflow. A look under the hood reveals an impressive cooling solution reminiscent of that of the ZenBook 3 Deluxe.
If you feel like voiding your warranty, the back panel on the ZenBook is held in place with just nine T5 screws. Hiding underneath the rubber feet nearest the hinge you'll find two more Philips 0 fasteners. Unscrewing all of these screws takes about three minutes, including time to pry off the feet, and that's all that separates you from a look at the daintiest little fan you've ever seen.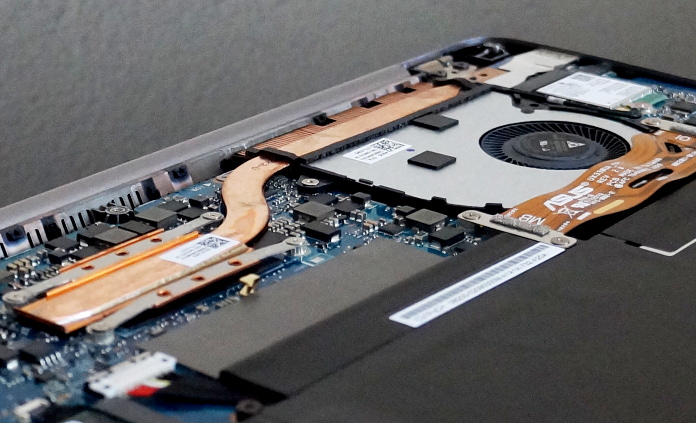 The fan and heatpipe for the ZenBook 3 Deluxe had to be redesigned to fit inside its slim chassis, and we used a similarly svelte design for the UX330UA. This low profile fan measures just 3.5-mm thick and works alongside a wafer-thin heatpipe with 0.4-mm walls. Together, they direct heat away from the laptop's internal components and out through a discreet vent hidden in the hinge. This ensures the laptop's internals stay cool and surface temperatures never get too hot for comfort. If you work in dead silence, the kind that's quiet enough to hear a pin drop, you might hear the fan spinning away during heavier workloads, but it's barely audible most of the time.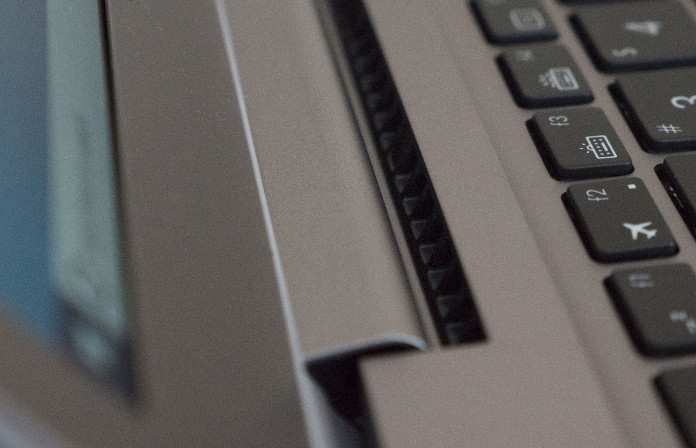 Allow your eyes to wander, and you'll spot the M.2 SSD, which is easily accessible. The UX330UA comes with a 256GB drive that loads apps and files almost instantly and boots in the blink an eye, so you're never waiting to get to work. If you want to change it out for a higher-capacity drive, swapping is as easy as undoing the Phillips screw securing the SSD to the motherboard.
One for the road
Save for the brief burst of curiosity that sent me rooting in my drawer for a screwdriver, I didn't spend a ton of time at my desk with the UX330UA, because this laptop is made to work in a new place every day. At just shy of 13 mm thick, it's compact enough to slip into a large purse, nevermind a backpack. More surprising than the overall footprint is the laptop's weight. Tipping the scales at 2.6 lbs, the UX330UA is almost as light as the razor-thin ZenBook 3 Deluxe. I had knee surgery right before I started testing, so there isn't a lot I can comfortably carry right now. Even so, most of the time I spent with the machine was on crutches, hobbling from room to room with the laptop clamped under one arm, and was never once worried that I might drop it.


All-day battery life allows for extended sessions working from the couch, or even just a comfy spot by the window in the library. I only ever plugged in the UX330UA once before the day was done, and I'd been watching Netflix all morning with the brightness dialed all the way up before settling in to do some work. If you do plan to set up shop at your desk, there's ports-a-plenty for facilitating desktop mode. You can use the micro HDMI to connect to an external monitor, while two USB Type-A ports and a more modern reversible USB Type-C are on hand for your peripherals. Alongside the audio jack and one of the USB Type-A ports sits the SD card slot, which makes transferring photos directly from your camera really easy. If you do accidentally jam an old-timey USB stick in the wrong way or get an SD card stuck inside your laptop, repairs should be relatively straightforward; all of the ports on the right side are on a separate PCB, so repairing them doesn't mean replacing the entire motherboard.
ZenBook UX330UA-AH55
CPU
Quad-core Intel Core i5-8250U 1.6GHz (6MB Cache, up to 3.4GHz)
GPU
Intel UHD Graphics 620
Display
13.3", 178° viewing angles
Resolution
Full HD 1920 x 1080
Memory
8GB DDR3
Storage
256GB SSD
Networking
802.11ac Wi-Fi with 2x2 antenna
Connectivity
2 x USB 3.0 Type-A
1 x USB 3.1 Gen1 Type-C
1 x Micro HDMI
1 x SD card reader
1 x Audio combo
Battery
57Wh
Weight
2.6 lbs
Dimensions
8.7" x 12.7" x 0.5"
OS
Windows 10 (64-bit)
Price
$749 USD / $999 CAD

Availability (USA)
Amazon
Availability (Canada)
Amazon
Power to the people
Shopping for a mid-range laptop usually isn't all that exciting. You get neither the thrill of the low prices in the budget aisle nor the safety of the cutting edge tech in high-end laptops. Instead, you're stuck comparing various configurations in the middle, trying to find that sweet spot between performance and price. And there usually isn't any room left in the budget to get picky about 'nice to have' features like backlit keyboards or fingerprint authentication.
The ZenBook UX330UA bucks the trend for affordable ultrabooks. Rather than focusing on the one feature you can't live without, like a lightweight chassis for travel, ample storage for school work, or a faster processor for photo editing, it checks all the boxes and then adds a few extras for good measure. With quad-core performance and a sleek design that takes its cues from laptops that cost almost twice as much, the ZenBook UX330UA is the ultimate first ultrabook for anyone looking to take the plunge with a premium laptop. It's available now for just $749 USD or $999 CAD. Check the table above for stores selling the ZenBook UX330UA in your region.