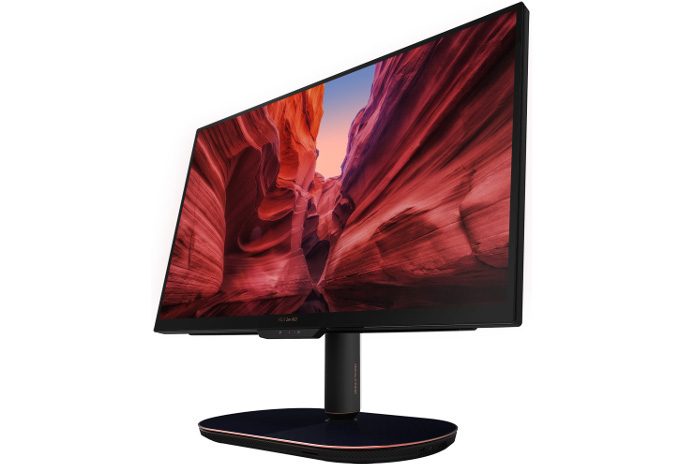 Whether they're dominating your desk or limiting leg room on the floor below, PCs have a reputation for taking up space. It's one of the major appeals of all-in-one desktops. These minimalist computers pack all of the necessary components into the monitor, so you don't have to deal with the clutter of a PC, display, and associated peripherals crowding your desk.
But all-in-ones aren't without compromise. Because they're not built to be opened up, they're not as easy to upgrade as a regular PC, which means they don't age as well. Like most laptops, the configuration you pick at checkout is what you're stuck with for the lifetime of the computer. For the newest addition to our ZenAiO Pro family, we wanted to build a powerful, upgradeable all-in-one PC that would stand the test of time.
The ZenAiO Pro Z272 starts with a stunning 27" 4K display and an impressive list of components potent enough for content creation, gaming, and heavy multitasking. A drastic redesign keeps things nice and compact but offers room to grow where you need it most.
No particular place to go
The ZenAiO Pro fits right in with the rest of the Zen family in terms of its overall aesthetic. Colored in our signature Deep Dive Blue, the oblong base is not much thicker than a regular monitor stand. It's low profile, measuring just over an inch thick and about 18" wide, and features rounded ends and rose gold accents. The expansive display has narrow bezels that show off content with minimal distraction. Dual stereo speakers from Harmon Kardon hug the back of the display, pumping out sound without marring the facade with ugly grills.
All-in-one PCs traditionally pack all the goods into the back of the display. From the front, they're something of an optical illusion and could pass as ordinary monitors. It's their profile that gives the game away, a telltale swell revealing the location of the computer's components. Squeezing everything into the monitor is one way to do it, but the cramped arrangement often means sealing everything in tight with no thought for how users might gain access later on. The ZenAiO Pro simplifies things by packing its six-core Intel Core i7 processor, NVIDIA GeForce GTX 1050 graphics, and all other components into the base.
Professional power and easy access
Configurations will vary by region, but the ZenAiO Pro Z727 will be available with up to a Core i7-8700T and 32GB of RAM. The Core i7-8700T packs six cores and 12 threads and plows through multithreaded workloads and heavy multitasking with ease. It's perfect for content creators who work on multiple projects at once. The accompanying NVIDIA GeForce GTX 1050 is on hand to accelerate rendering, providing an added boost for complex projects with lots of effects. It's also enough to fuel your gaming breaks with a couple rounds of CS:GO or Rocket League should the mood strike you. Storage will depend on the configurations available in your region, but all models pair a large HDD with a smaller SSD for the best of both worlds in terms of storage capacity and speed. This is also where the upgradeable nature of the ZenAiO comes in really handy for customizing your storage setup just the way you like it.
In North America, the ZenAiO Pro will ship with a 1TB HDD for storing all of your massive media files, movies, and music. It's complemented by a 512GB SSD to ensure a quick boot and fast load times for your applications and projects in progress. However, both the M.2 slot and 2.5" bay are easily accessible, so you can upgrade your storage situation if you're running out of room or want to invest in a faster all-solid-state setup down the road. Getting a good look at the components is as easy as rotating the top cover of the base. It pops right off, no tools necessary to reveal access to the RAM, SSD and HDD, so you can update RAM and storage down the line.
Seeing is believing
Though the design is shiny and new, the star of the show is still the display, which takes center stage thanks to skinny 12.5-mm NanoEdge bezels that minimize the black borders on three sides. The ZenAiO Pro comes in Full HD and 4K UHD flavors, the latter of which will be available in North America when the ZenAiO launches later this year. The 1080p model uses a TN panel while the 4K version is a true IPS display. Regardless of resolution or panel type, both feature full sRGB coverage, so you'll see every shade as you edit. Colors will be accurately represented thanks to factory calibration that guarantees accuracy to a Delta E color difference of less than three. This is part of a larger effort to guarantee color accuracy across pro-grade hardware, which includes the new ZenBook Pro UX580.
The ZenAiO Pro's redesign also allowed us to make the display more versatile and ergonomic. Last year's ZenAiO Pro had a bit of a belly in the back, which limited adjustments to the position of the monitor to just tilting back and forth. Because the rear of the Z272 is totally flat, it can accommodate an arm that rotates 45° side-to-side and is height adjustable to boot. This allows you to position the 27" display so it's just the right height without having to boost the whole system with a stack of books or lower your chair.
More convenient connectivity
One of the most annoying things about the minimalist design of all-in-one PCs is that because all the hardware is stashed inside the monitor, the ports are usually relegated to a hard-to-reach area. They often require you to get up and physically move the computer so you can peer behind the display to plug in a USB stick. We tried to limit the inconvenience by putting the ports on previous generations of ZenAiO just behind the bottom edge, within reach, but the new design has allowed us to move all the connectivity to the base and position them where they make most sense.
To start with, we were able to incorporate Qi wireless charging into the stand. This allows you to charge up your phone without using one of the ZenAiO's USB ports for your charger. The Z272 uses Qi 1.2.4, which is the latest version of the standard. It's built into the top cover of the base, so you just need to place your phone on the ZenAiO's stand and your battery will charge while you work.
Most of the ZenAiO's physical ports are located in the back to keep unsightly cables out of view and out of the way, but we've put a few of the most used ports along the side, so you're never stuck trying to plug in a USB stick by feel alone. One USB 3.1 Gen 1 Type-A port and one reversible USB Type-C port are located on the right side of the base along with an audio combo jack. The USB-C includes Thunderbolt 3 support in case you want to double up on 4K displays.
Around back you'll also find an HDMI port to give you multiple options for hooking up a secondary monitor. Right next to the HDMI-out is an HDMI input in case you want the Z272 to do double duty as a display for a console. Its 15 ms of latency is lower than a lot of HDTVs, and almost as low as our dedicated console gaming monitor, the ASUS CG32. Three more USB Gen 1 Type-A ports take care of all your peripherals and there's also an RJ45 for wired connections to the internet. If you don't feel like running a cable to your office, you can connect to the internet wirelessly using the integrated 802.11ac Wave 2 WiFi. When paired with a compatible router, you'll benefit from higher throughput on crowded networks with lots of connected devices.
ZenAiO Pro Z272
Display
27" UHD touchscreen

Resolution
Ultra HD 3840 x 2160 touchscreen
Full HD 1920 x 1080 non-touch
CPU
Up to Core i7-8700T
GPU
NVIDIA GTX 1050
Memory
Up to 32GB DDR4 2400MHz
Storage
Up to 2TB HDD+512GB SSD
Networking
802.11 a/b/g/n/ac Bluetooth 4.1

Connectivity
1 x USB 3.1 Gen 2 USB Type-C with Thunderbolt 3 support
4 x USB 3.1 Gen 1
1 x HDMI-In
1 x HDMI-Out
1 x RJ45 LAN
1 x 2 -in-1 card reader
1 x Audio combo
1 x DC-in
1 x Qi Wireless charger in base
OS
Windows 10 Home/Pro
Price
$1999.99 USD
$2599.99 CAD
Availability (USA)
Asus
Newegg
Amazon
B&H
B&H
B&H
Primed for work and play
With its stunning 4K display, powerful six-core processor, and NVIDIA GeForce GTX graphics, the ZenAiO Pro Z272 is tailor-made for creative professionals, but versatile enough to cover both work and play. Its stylish design is suitable for your office or the living room, and its upgradable components clear the way for massive multimedia libraries. Announced at Computex 2018 in Taipei, Taiwan, the ZenAiO Pro Z272 will be available in the coming months with pricing to be announced closer to street date.
Check out our many other Computex 2018 product announcements. Skip over to this article for a summary covering the entire ASUS line-up at the 2018 show.