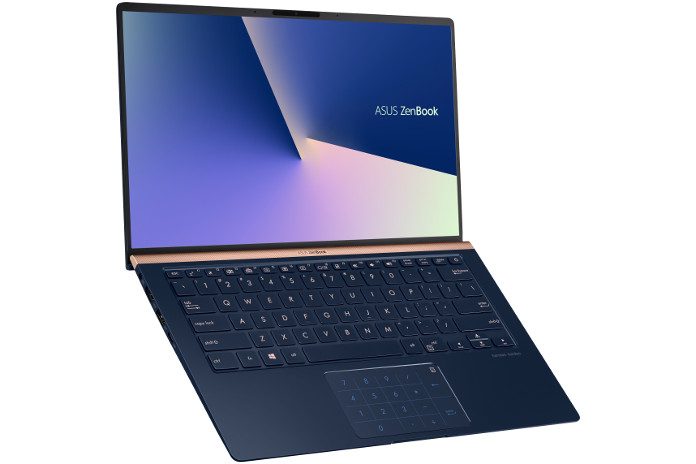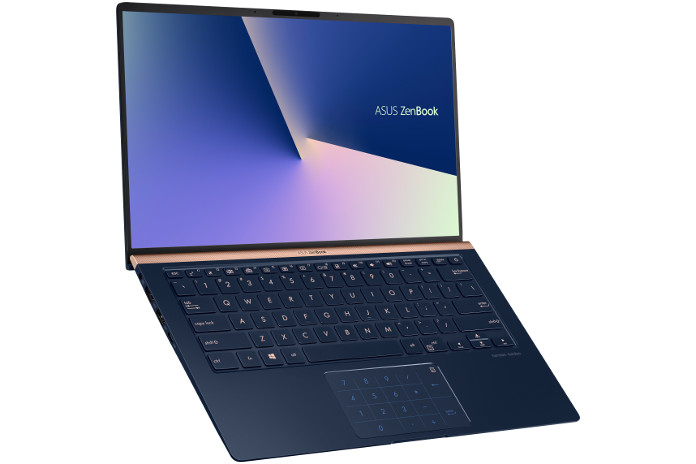 For our premium line of ZenBooks, we pride ourselves on pushing the boundaries of what's possible in ultraportable laptops, and the new newest additions to the family evince our best efforts to date. Building an ultrabook that is thinner, lighter, and more powerful is always top of our list, but the ZenBook 13 UX333, ZenBook 14 UX433, and ZenBook 15 UX533 also incorporate thoughtful design tweaks that ensure the new ZenBooks feel as good as they run.
Debuting at IFA 2018, this trio boasts powerful Intel 8th Gen CPUs and discrete graphics in 13.3", 14" and 15.6" flavors. Cutting-edge performance is coupled with a more comfortable keyboard design and layout, number pads for all three sizes, and impossibly thin bezels for the whole family.
Barely there bezels
Our NanoEdge displays feature super skinny bezels that make for a more immersive experience even on a relatively small 13.3" screen. NanoEdge began with the ZenBook several years ago and has since spread to other laptops in the ASUS lineup, but this implementation is the most impressive yet.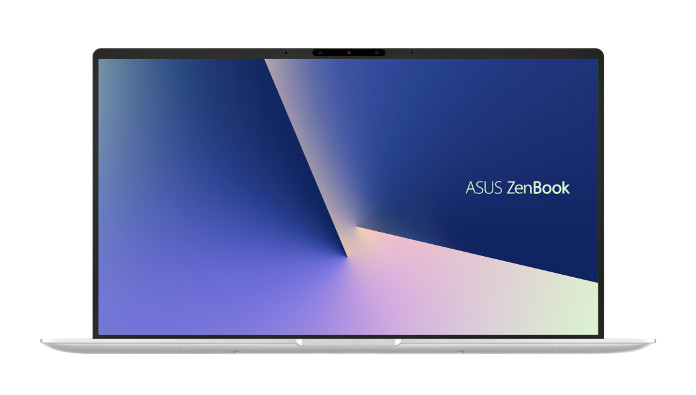 All three of our new ZenBooks have a 4-way NanoEdge bezel measuring as thin as 2.8mm on the ZenBook 13. The ZenBook 15's bezels are a little thicker, but they still measure just 3.9mm for a near-frameless, pristine picture that feels less cramped than your typical laptop display. Rather than relegating the webcam to a new and weird location, we left just enough extra space along the top edge for the 3D IR webcam, so you log in to your PC via Windows Hello, even in low light, without craning your neck or lifting up your laptop.
The ZenBook 13 and ZenBook 14 both feature a Full HD panel, while the ZenBook 15 will also be available with 4K UHD display in certain regions. All of them feature 100% coverage of the sRGB color space, so they're ideal for creative work, and they have wide 178° viewing angles to ensure colors stay vivid and bright even when viewed at an angle.
Designed for work
Of course, the display is only half of the equation, and when it comes to a great work laptop, the keyboard and trackpad are where a lot of ultrabooks fall short. The new ZenBooks feature innovative changes to the keyboard, trackpad, and even the chassis itself to ensure maximum comfort.

To set the stage for a more comfortable typing experience, the ZenBook features an ErgoLift hinge that raises the keyboard up at a 3° angle so that your hands are resting in a more ergonomic position while you type. The keys themselves are widely spaced, with gently scooped tops instead of flat chiclet-style keycaps. A generous 1.4mm of travel reduces the unpleasant shallow feel that plagues razor-thin ultrabooks, and the backlight keeps typos to a minimum when you're working late at night.
Like on many laptops, each key on the F row has a secondary function. Most layouts require you to hold down the Fn key to activate these, but that's not always convenient. If you want to quickly mute your music to take a phone call, it's much more convenient to tap the mute button instead of finding and holding Fn first. We flipped the script for that top row by making these alternate controls the primary functions of each key. Now, you can adjust volume, brightness, backlighting, and more with a single keystroke.
Finally, all three models of ZenBook also feature a numeric keypad. For the 15.6" ZenBook 15, the chassis is big enough to accommodate a numpad in the usual location to the right of the keyboard. For the more compact ZenBook 13 and 14, we had to get a little creative.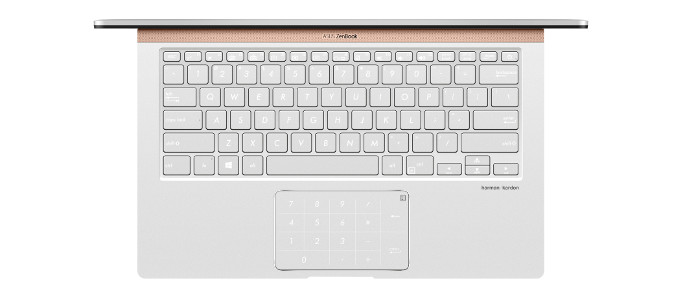 Due to space constraints, the majority of laptops smaller than 15" omit the numpad that you find on full-size keyboards, but the glass touchpad on the Zenbook 13 and 14 brings it back. With just a tap in the upper right corner, the touchpad converts to an LED-illuminated numeric keypad. You can shift to see more characters, and an integrated click button gives you much needed tactile feedback. When you're finished punching in digits, tap the corner again to return the touchpad to its normal mode of operation.
Ultraportable and ultra powerful
On the surface, these ZenBooks are geared for productivity work, but they pack enough power for more demanding workloads, too. Based on Intel's newest 8th Gen processors, they can be configured with up to a Core i7 processor and 16GB of RAM. The ZenBook 13 and 14 each boast up to NVIDIA MX150 discrete graphics to boost performance in tasks like video editing. The larger ZenBook 15 can be configured with up to a GeForce GTX 1050 Max-Q GPU for even more of a boost in projects with lots of effects. A maximum of 1TB of PCIe storage offers ample room for all your applications and files and facilitates fast boot times so you can get to work even faster. Perhaps most important for users working on the go: the new ZenBooks boast all-day battery life to save you from scouting for outlets everywhere you go.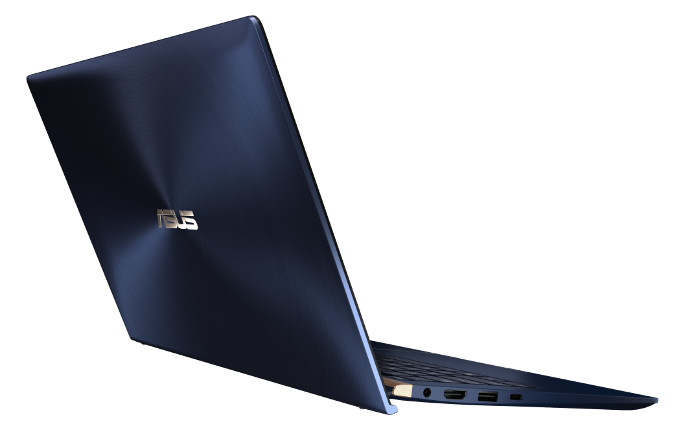 Despite the beefy battery and powerful components, the ZenBooks remain as svelte as ever. The biggest of the bunch is the 17.9-mm ZenBook 15, while the ZenBook 13 measures in at just 15.9mm. They have plenty of room for all the ports you need to live that dongle-free life, including a full-sized HDMI for connecting to external displays, a reversible USB Type-C Gen 2, and a USB 3.1 Type-A. An additional USB port is on hand for plugging in peripherals, like your favorite mouse, although you can connect devices wirelessly via Bluetooth 5.0 if you prefer. Dual-band 802.11ac WiFi keeps you connected at up to gigabit-class speeds and allows you to surf on wireless networks on the 2.4GHz band as well as the less crowded 5GHz band.
Stylish and strong
The ZenBook's NanoEdge display is nothing short of captivating, but these new laptops are showstoppers from any angle. Wrapped in luxurious aluminum and available in either Royal Blue or Icicle Silver, both feature gleaming rose gold trim that adds a touch of bling without being ostentatious. A matching rose gold ASUS logo on the lid offsets the iconic spun-metal design that's synonymous with ZenBooks.

Beauty and strength go hand in hand with the new ZenBooks meeting military-grade MIL-STD-810G standards for reliability and durability. They can endure a range of extreme environmental conditions as well knocks and jolts that might occur while you're toting your laptop around town.
ZenBook 13 UX333FA
ZenBook 14 UX433FA
ZenBook 15 UX533FD
CPU
Intel Core i5-8265U, 4C/8T, 1.6GHz (6MB cache, up to 3.9GHz)
Intel Core i7-8565U, 4C/8T, 1.8GHz (8MB cache, up to 4.6GHz)
Intel Core i7-8565U, 4C/8T, 1.8GHz (8MB cache, up to 4.6GHz)
GPU
Intel UHD Graphics 620

Intel UHD Graphics 620
NVIDIA GeForce GTX 1050 Max-Q


Display
13.3" NanoEdge
14" NanoEdge
15.6" NanoEdge

Resolution
Full HD 1920 x 1080
Memory
8GB 2133MHz DDR3
16GB 2400MHz DDR4
16GB 2400MHz DDR4
Storage
256GB PCIe 3.0 x2 SSD
512GB PCIe 3.0 x2 SSD
512GB PCIe 3.0 x2 SSD
Networking
dual-band 802.11ac Wi-Fi, Bluetooth 5.0
Connectivity
1 x USB 3.1 Gen 2 Type-C
1 x USB Type-A (up to 10Gbps)
1 x USB 2.0 Type-A
1 x HDMI
1 x Micro SD
1 x Audio combo jack

Battery
52Wh
50Wh
73Wh
Weight
2.62lbs
2.62lbs
3.73lbs
Dimensions
11.89" x 7.44" x 0.67"
12.56" x 7.83" x 0.63"
35.4cm x 22cm x 1.79 cm
13.94" x 8.66" x 0.7"
OS
Windows 10
Price
$849 USD
$1,199 USD
$1,499 CAD
$1,399 USD
Availability (USA)

United States

United States

United States

Availability (Canada)
Coming Soon

Canada

Coming Soon
The total package
The new ZenBook 13, 14, and 15 marry powerful components and elegant design in a sleek family of laptops that doesn't compromise on style or performance. Based on the latest hardware, they're powerful enough for heavy multitasking and creative work, and they all feature unique design elements to maximize comfort and keep you in the zone. The stunning NanoEdge display offers a more expansive, distraction-free workspace, while the ErgoLift hinge and new NumberPad trackpad are more conducive to long work sessions. Announced at IFA, exact models and specifications will vary between regions. Shoppers in the US and Canada can check the table above for more information on North American specs and retailers.