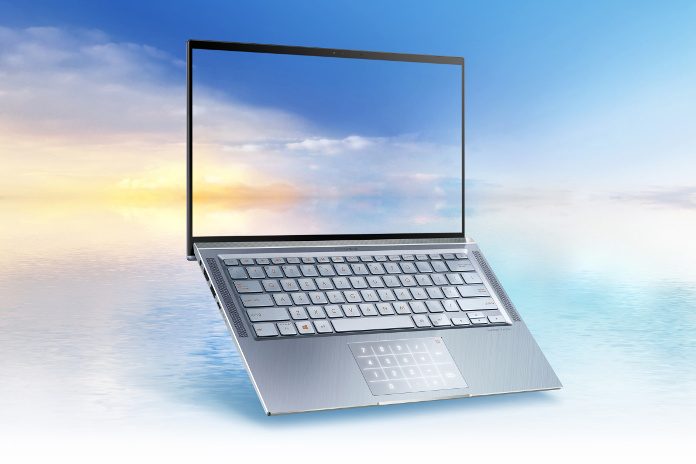 Our ZenBook laptop line is typified by classy finishes, designs that promote productivity, and high-end specifications, but premium features usually come at a premium price. The ZenBook 14 UX431 balances value and performance to deliver a sleek, more affordable ultrabook that doesn't compromise on power.
Beautifully blue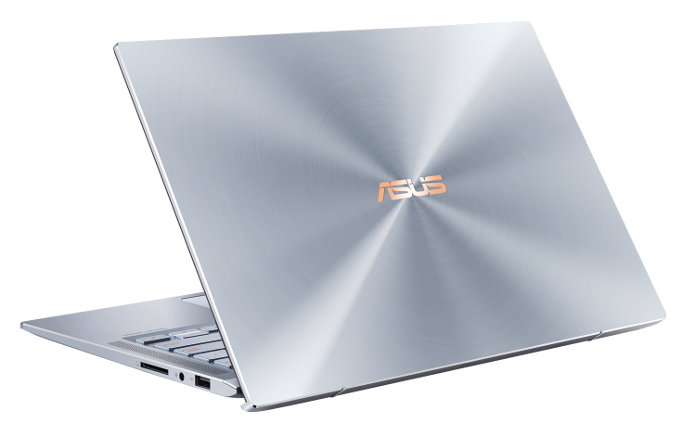 The UX431's exterior exudes sophistication without screaming for attention. Its Utopia Blue color and spun metal finish are decidedly industrial while still being distinctly Zen. Lifting the lid reveals a 14" glass panel with a Full HD 1920×1080 resolution. The IPS panel offers great viewing angles and uniform color, whether you're sitting square in front of your computer at work, or lounging to one side watching Netflix. For a more immersive experience, our NanoEdge display technology shrinks the bezels on either side down to just 6.5 mm while also cutting down on the laptop's overall size. Thanks to the narrow bezels, we were able to squeeze the 14" screen into a 13" chassis measuring just over half an inch thick. Portability is about size as much as weight, though, and the UX431 is just under 3.2 lbs, making it easy to slip into your bag or tuck under your arm and carry anywhere.


Despite its good looks, the ZenBook 14 UX431 prioritizes function alongside form, and we made some thoughtful tweaks to ensure the design serves more than just aesthetics. The ErgoLift hinge automatically props the keyboard up at an angle when you open the laptop, creating a more comfortable typing position while improving airflow under the chassis for better cooling. The gently dished keycaps and deep 1.4 mm of key travel make typing on the UX431 feel more like working on a desktop. Finally, the touchpad pulls double duty by displaying an illuminated NumberPad. Unique to ZenBooks, the numpad is right at your fingertips for convenient data entry and calculations, but it doesn't add any unnecessary width to the keyboard and can be turned on or off with a tap, so it's not a distraction when you're working on other projects.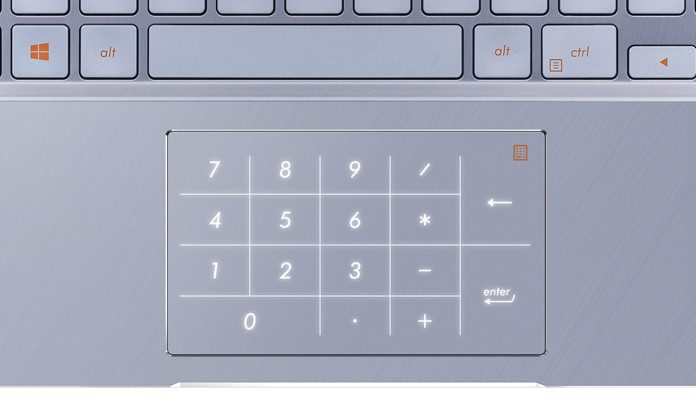 The workaholic
Size, weight, and ergonomics are important, but they don't supersede a responsive experience. When you're taking notes in a meeting, tabbing over to check an email, and then switching over to edit a video presentation, capable hardware is what helps maintain smooth performance.
Intel's 8th Generation Core i3, i5, and i7 CPU options offer up to four Hyper-Threaded cores that run at frequencies as high as 4.6 GHz thanks to Turbo Boost technology. The integrated UHD Graphics 620 engine is ample for photo editing and video streaming, but upgrading to discrete NVIDIA GeForce MX150 graphics with 2GB of dedicated GDDR5 memory makes light gaming an enjoyable option in your downtime after work.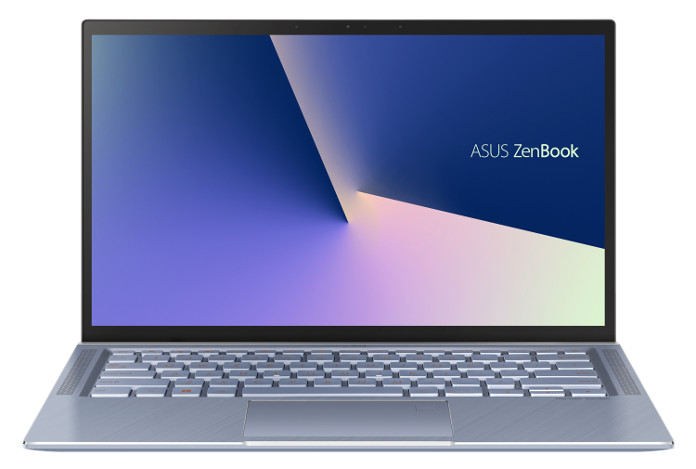 These days, 8GB of system memory is a common luxury for mobile multi-tasking, but the UX431 is available with up to 16GB of RAM to ensure seamless switching between tasks. On top of that, up to 1TB of PCIe-attached solid state storage gives you a powerful combination of low latency and high capacity. You'll have a hard time filling such a spacious drive, and everything you install will launch lightning fast.
Doubling down on sound
Ultra portable laptops can squeeze a lot into their compact form factors, but awesome speakers typically aren't high on the list. A slim chassis means space is limited, and the position of the speakers themselves usually doesn't help. Our ZenBooks have ErgoLift hinges that raise the laptop off the desk, which helps limit the muffling that comes with downward-firing speakers, but we wanted to go further than that for the ZenBook 14 UX431. Streaming movies and music is much more enjoyable with great sound, so we poured our energy into improving not just volume but the audio quality, too.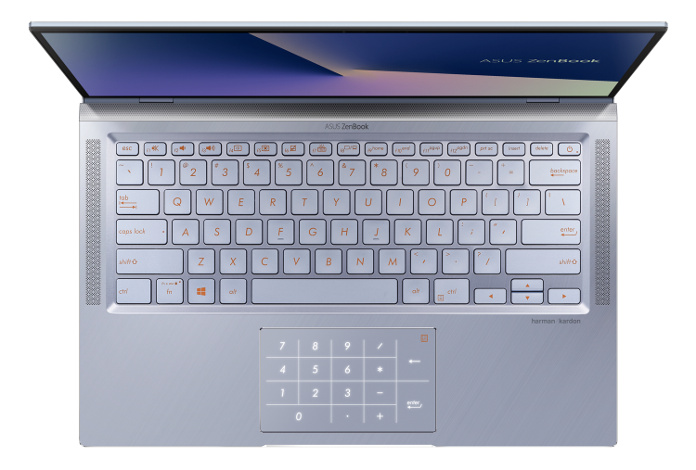 A powerful quad-speaker array delivers clearer sound via two upward-firing high-frequency speakers that flank the keyboard, and two downward firing speakers that pump the bass straight down. Together, they boast an overall frequency response that is 1.4X wider than our previous 14" ZenBook. The bass speakers work in tandem with the ErgoLift hinge to provide deeper, cleaner bass, and the high-frequency speakers on top blast the audio straight up and out into the room. The Harmon Kardon-certified setup uses Smart Amplifier technology to boost the volume while minimizing distortion and preventing damage to the coils in the speakers. ASUS SonicMaster tuning optimizes the entire speaker system to ensure crip, clean sound with powerful bass that feels like it belongs in a much bigger laptop.
Get smart
You spend all day on your laptop, so we made sure to get the little details right by focusing on maximizing productivity. The 47Wh battery will take you from early morning email at home to after-hours brainstorming with your coworkers. In between, gigabit-class WiFi keeps you connected to the Internet at extremely high speeds. The UX431 features an 802.11ac radio with two transmit and two receive antennas capable of 1.7 Gbps peak bandwidth, allowing you to move huge files to and from the cloud in record time or stream video without a hitch.

We carefully loaded the UX431 with I/O befitting a flexible workhorse. There's one USB 2.0 Type-A port for your mouse, and the USB 3.1 Type-A and Type-C ports readily accommodate external storage, flash drives, printers, and other peripherals. You can connect to a second monitor at your desk or in the conference room via HDMI, and the SD card slot lets you pop your camera's memory card into the laptop without the need for a USB adapter. When you want to concentrate on the task at hand or just need a boost from some music while you work, plug your headphones into the 3.5 mm audio combo jack.
ZenBook 14 UX431
CPU
Intel Core i7-8565U, 4C/8T, 1.8GHz (8MB cache, up to 4.6GHz)
Intel Core i5-8265U, 4C/8T, 1.6GHz (6MB cache, up to 3.9GHz)
Intel Core i3-8145U, 2C/4T, 1.8GHz (4MB cache, up to 3.9GHz)
GPU
NVIDIA GeForce MX150
Display
14" LED-backlit 16:9 NanoEdge
14" LED-backlit 16:9 NanoEdge anti-glare
Resolution
Full HD (1920x1080)
Memory
4GB/8GB/16GB 2133MHz LPDDR3
Storage
1TB PCIe x2 SSD + SATA SSD
256GB/512GB PCIe x2 SSD
Networking
Dual-band 2x2 802.11ac

Connectivity
1 x USB 3.1 Gen 2 Type-C (10Gbps)
1 x USB 3.1 Gen 1 Type-A (5Gbps)
1 x USB 2.0
1 x HDMI
1 x SD card slot
1 x Audio combo jack
Bluetooth 5.0
Audio
Quad-speaker Harmon Kardon-certified audio system
Battery
47Wh
Weight
2.62lbs
Dimensions
12.73" x 8.34" x 0.63"
Within your reach
A laptop with high-end style, portability, and incredible performance sounds like an extravagance. The ZenBook 14 UX431 is indeed luxurious, but it will be among our most affordable ZenBooks when it goes on sale in the coming months. Configurations will vary by region, so check with your local ASUS representative for information on pricing on the ZenBook UX431 in your region.
Don't miss the rest of our announcements from CES 2019. You can see all the newest tech from ASUS and ROG in this article.