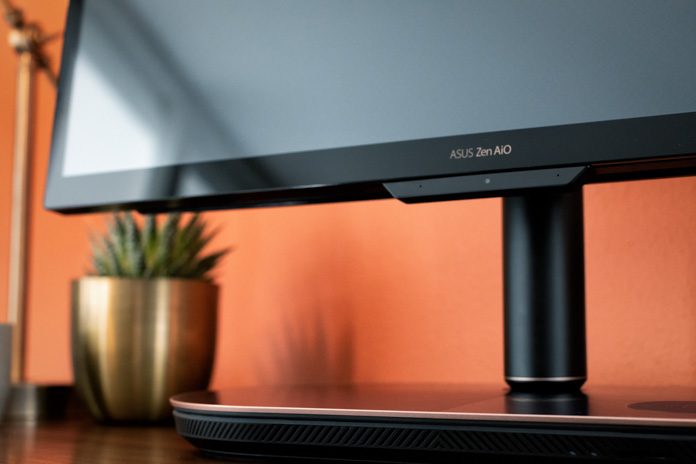 I used to approach my tech choices by finding the beefiest gear for the lowest prices. Power always trumped practicality. How well that tech fit in my space, or even what space it was going in, was secondary.
This worked well when I had a dedicated office, but it was different when I moved into my house. My over-the-top gaming setup didn't fit anywhere, so the living room was the de facto spot. To my dismay, the gaming command station became the room's ungainly focal point.
But things changed after two years working abroad. My full-tower desktop was gathering dust in storage. An ROG GL502VS was my portable gaming go-to. And the old leviathan desk was gone, leaving a blissful, empty space in its wake. The world—or at least an open wall—was my oyster.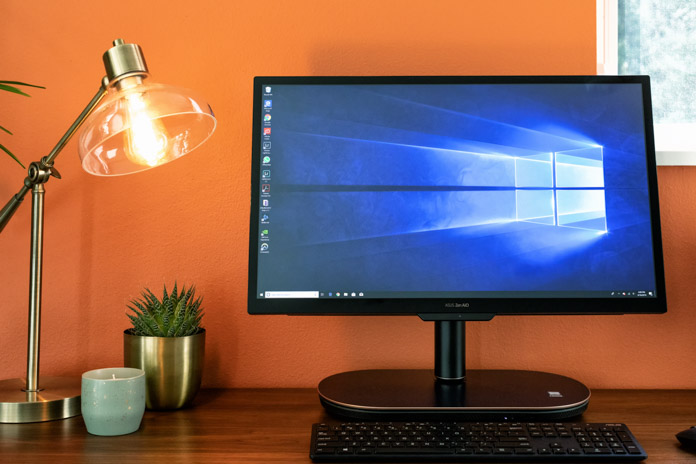 With a chance to start from scratch, I wanted a multimedia workstation that worked with my space, not against it. It needed to be compact and powerful; adept with creative apps; good for gaming; and, if I could be so lucky, upgradeable for future-proofing and that I did it myself! rush.
Although I've never owned an all-in-one desktop, the Zen AiO Pro Z272 immediately stood out as ticking the right boxes, with a space-saving design and all the specs I need. A powerful Intel Core i7 with dedicated NVIDIA graphics could handle all my photography, video, and 3D work. Better yet, I can even upgrade it. It's beautiful, functional, and flexible in all the right ways.
Hello, Zen AiO Pro.
When the doorbell rang, I was surprised by the huge package. It's an imposing box, but beneath all that cardboard and polystyrene is an impressively compact 27" all-in-one. Unpacking the Zen AiO Pro is no different than a standard 27″ monitor, except it's a full PC in a one-stop shop. Oh, and there's only one cable.
At about 18" wide and one inch thick, the Zen AiO Pro's rounded base isn't much larger than most monitors, and I'm pretty sure it's actually smaller than some I've owned. But because we cleverly concealed all the components in the base, this display lookalike is really a full computer boasting impressive specs.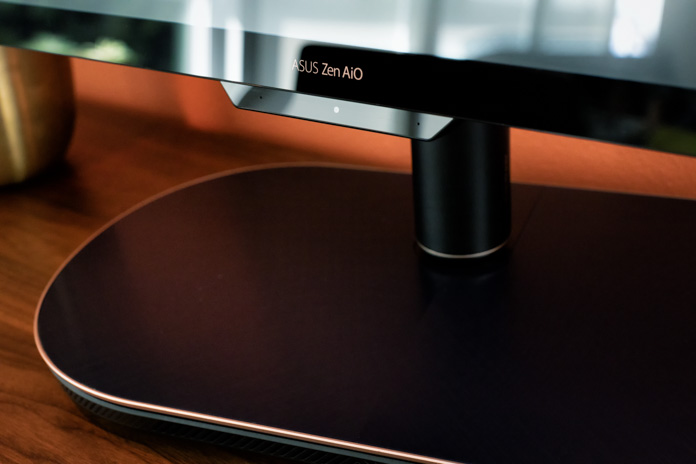 Hidden inside that unassuming base is a six-core, 12-thread Intel Core i7 8700T with a 2.4GHz base clock and a 4GHz maximum Turbo clock for single-core loads. It easily handles those frantic days when I'm flipping between video and photo work. The 16GB of RAM is perfect for photo and video editing, and the dedicated NVIDIA GeForce GTX 1050 is a welcome boost for any intensive multimedia apps needing GPU acceleration. Plus, nothing beats unwinding with a match of Overwatch or League of Legends when all that work is through.
It's also nice knowing the Zen AiO Pro's generous M.2 512GB SSD boot drive fits my Adobe suite, 3DsMax, and plenty of games, while the 2.5" 2TB secondary HDD has enough room for my Lightroom catalog, Premiere projects, RAW photos, and video files.
RAW photos and video files do really add up, so chances are good that I'll need to increase the storage at some point. But unlike my laptop or other all-in-ones, swapping out that 2TB drive for a 4TB won't void any warranties. In fact, I won't even need special tools. Tool-less removal and free reign to upgrade make this all-in-one a PC tinkerer's dream.
Fitting in, standing out
For the first time, I'm designing a space first and picking my tech around that. Yes, I need a dedicated multimedia machine and a big screen. But I also want an inspiring area to write and create, not a command station that sounds like a jet engine and becomes the butt of jokes at movie night.
The Zen AiO Pro saves the day where other potential options like mini desktops and laptop docks fall short. It doesn't take up unnecessary space. It fits in, but looks elegant. And with only one power cable, there's no rat's nest of wires to get me heated.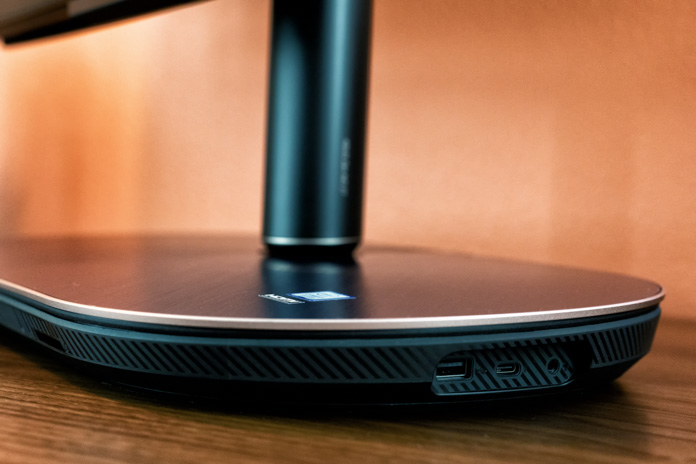 Despite its minimalist trappings, the Zen AiO Pro also maximizes every square inch. There's no awkward fumbling to find ports; the most important ones are on the base's front and sides, while less-used ones are at the back to hide away the cables. I can quickly transfer photos and videos from the front-facing, integrated SD card slot, use my gaming mouse with one of the three USB 3.1 ports, charge my headphones with the Thunderbolt 3 Type-C, and listen to music with the audio combo jack. There's even an integrated RJ45 jack at the rear, though I'm cutting the cable and connecting with integrated 802.11ac Wave 2 WiFi instead.
The intelligent design continues even where you can't see it. Believe it or not, that base is even hiding a wireless Qi phone charger. I set my phone down where I would naturally set it anyway and it began charging instantly. Not only does it save me a USB port, but it saves me from using a cable. You might have missed it, but I'm a little obsessed with purging cables after downsizing my computer space. So, I really appreciate how carefully everything has been planned out on this clever yet compact computer base.
If at some point I do move to a larger, dedicated workspace, I also have room to grow. HDMI-in and HDMI-out give me future flexibility. HDMI-in can extend my laptop display or turn the Zen AiO Pro into a console display (perhaps a dangerous return to the gaming command center days.) The HDMI-out means I can someday add a second screen.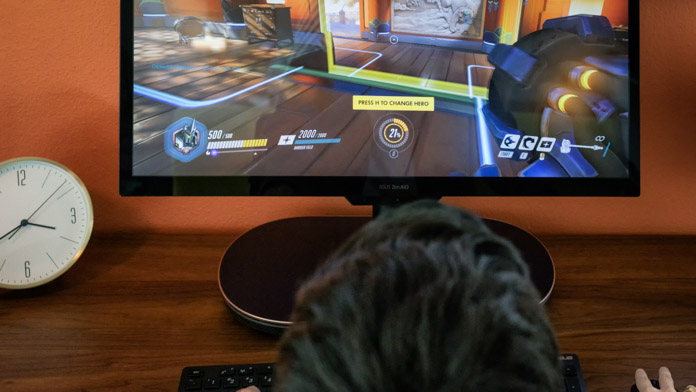 Right now, I'm keeping it simple with just the Zen AiO Pro, but that sure doesn't mean I'm settling. The 4K UHD 27" display eschews an ugly plastic frame for a premium glass surface. Much like the new Zenbook series, the Zen AiO Pro also features super skinny NanoEdge bezels. With just 12.5mm of padding on either side of this huge display, I'm gazing through wall-to-wall glass into my workspace. Or… maybe just getting super immersed in that white-knuckle death match.
The impressive Harman Kardon speakers have been placed on the rear to avoid unnecessary bulk, and they pump out crisp, clear, thumping sound—so much that my "Hey, can I play some music for work?" audio test turned into a spontaneous living room dance party. Added bonus: the rear speaker placement keeps the display flawless in the front.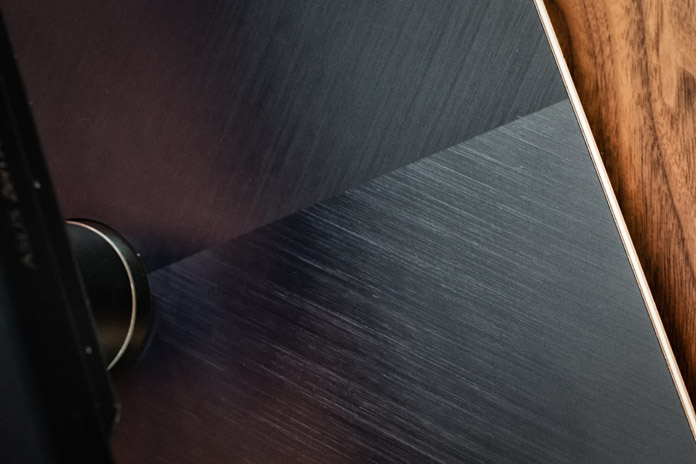 Combining display and device together also means the aesthetic is super stylish and modern. Wrapping the Zen AiO Pro's chassis is our beautiful, classic Deep Dive Blue. What first looks like soft charcoal gives way to burnished navy by day. The base's eye-catching brushed metal chevron draws attention to the center support column, whose luminous, matte finish offers soft contrast. And touches of Rose Gold trim give the Zen AiO a warm luxury. The included Bluetooth mouse and keyboard have the same thoughtful touches, right down to the keyboard's black keycaps—a bit of black tie to the chassis' navy tux. And both peripherals are size-conscious without being small and uncomfortable.
So, that cozy modern aesthetic I'm going for in my new workspace? Wa-pow. Right on target. The suited-up Zen AiO Pro fits in and stands out with its muted blues and warm metallics. Not only am I happy with how this computer looks, I actually find myself stealing glances at my desk's stylish new centerpiece.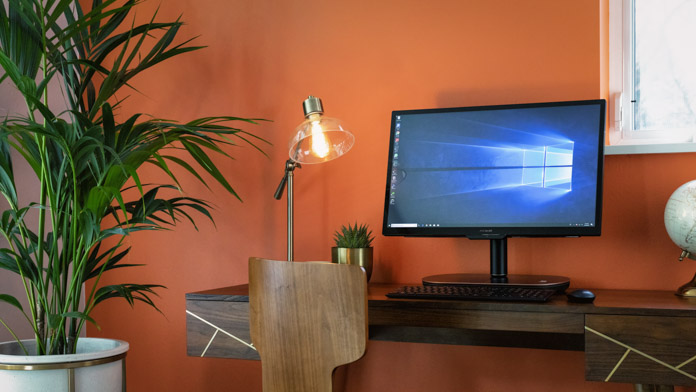 Touch and go
I have a confession. Although I love the hands-on process and occasional bated-breath moments of building my own PCs, there's a certain thrill to the sheer plug-and-play of the Zen AiO Pro. No assembly needed here. With only one cable, Windows is up and going. In a blink, Windows Hello logs me in, courtesy of the tiny IR camera peeking out below. And when I set down my phone on the base, it begins charging immediately. The Zen AiO Pro's integration into my life's workflow is seamless, meaning I'm ready to work within seconds of sitting.
When I got down to business, I quickly discovered that instead of craning my neck or fighting with a persnickety monitor stand, I can get the computer exactly where I want it and make changes with ease. This is a machine that organically moves with me. The display column's articulating hinge gives me all the flexibility I need, from -5° to +15° of tilt and 45° of swivel. It also smoothly slides up and down, providing 85mm of height possibilities.
So when the sun is hitting the front of the house, with a little bit of a twist and a tilt, I can keep working without punishing glare and keep making small adjustments throughout the day. And when I need to get closer to photo touch ups, sliding it all the way down and tilting it back lets me approach it like an easel.
It only takes a finger to smoothly and quietly move it along the vertical axis, and the solid base keeps everything stable during these adjustments. No matter the position, I can always see what I'm doing thanks to the IPS-type display's 178° viewing angle. Color accuracy is also perfect with the PANTONE-certified factory calibration, meaning I have confidence that my photo and video adjustments are actually right.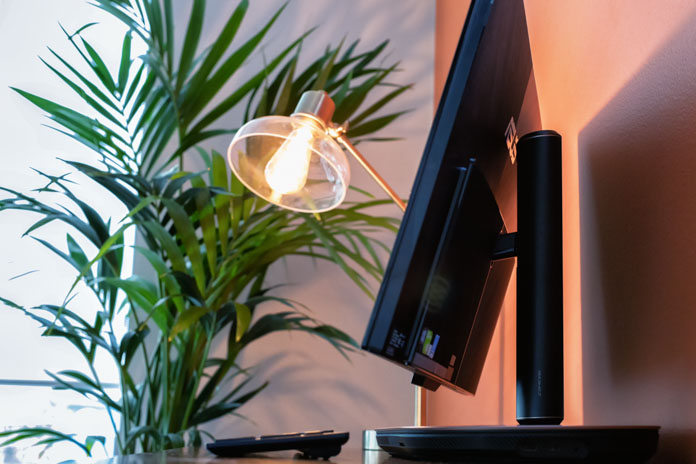 But my favorite feature by far is the touchscreen. The generous 27" UHD 3840×2160 display means I can finally expand more than one Lightroom panel at once and even get my Premiere tool panes under control—necessary for both my editing workflow and my sanity.
The 10-point multitouch display is also incredible. I always feel it's more intuitive to pinch for zooming in and out, and adding a stylus makes it even more of a natural fit for my creative work. A basic capacitive pen works great for simple photo touch-ups by replacing my finger, allowing me to manipulate the canvas while touching up photos with my mouse.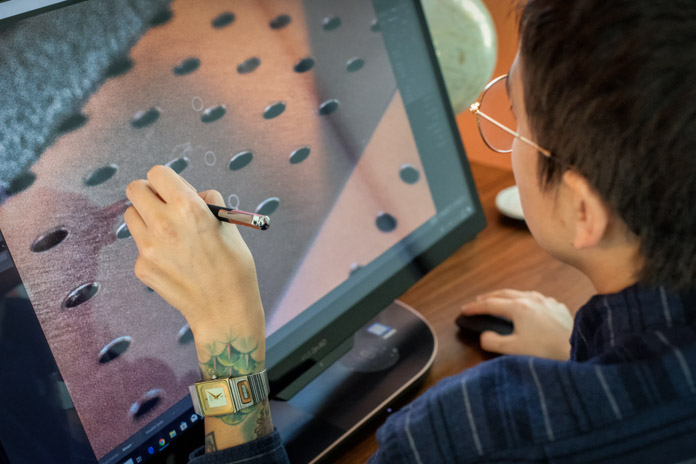 Hands on with a Pro
Despite my earlier confession, I do still crave that hands-on feeling of modding my PC. There's no replacement for knowing I can do it myself, whether it's swapping in a new hard drive or adding RAM as my system requirements change. This is where the Zen AiO Pro shines. Despite its minimalism and all-in-one styling, I'm not stuck with what I have 'til the end of time. And unlike my leviathan gaming desktop, opening up the Zen AiO Pro is simple. I don't need any tools. It's as easy as popping the lid off the base.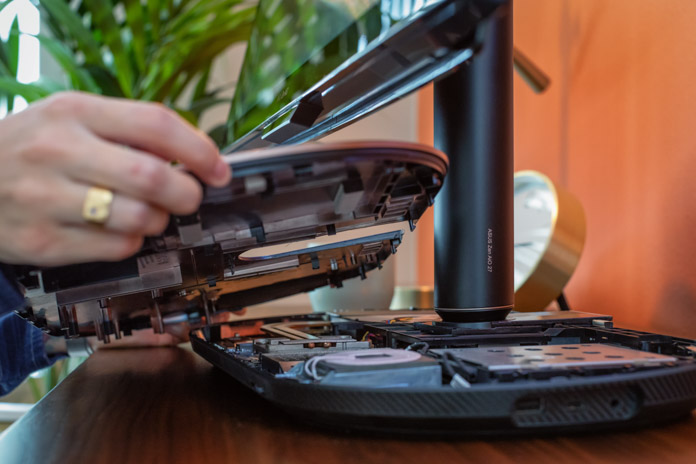 Today, I was only opening the Zen AiO Pro up to take a look. I read that the M.2 slot and 2.5" bay are both easily accessible, but wanted to see them for myself. I also wanted to take a look at the RAM slots, since the 16GB is upgradeable to 32GB.
Once inside, everything is easy to figure out, if somewhat different than a desktop. Facing the display, on the right side I immediately spotted the wire coil where the Qi wireless charging chip is. Above it is the 2.5" drive bay with 2TB drive, and to the left of that is the M.2 slot where the 512GB SSD is hanging out. The Zen AiO Pro can optionally come with Intel Optane memory instead of the SSD, or I can choose to add Optane later. A small Phillips screwdriver is needed to swap either of these.
To the left of the Qi charger is a metal shield with circular holes, which covers the dual RAM slots. RAM upgrades are a (mostly) tool-less maneuver, but your mileage may vary. The metal shield is very securely clipped onto the motherboard. While it's possible to remove it by hand, I had to gently prod with a small flat-head screwdriver before it finally popped off. After swapping the RAM and replacing the metal shield, closing the Zen AiO Pro is a simple matter of snapping the top panel back in place with a firm downward press.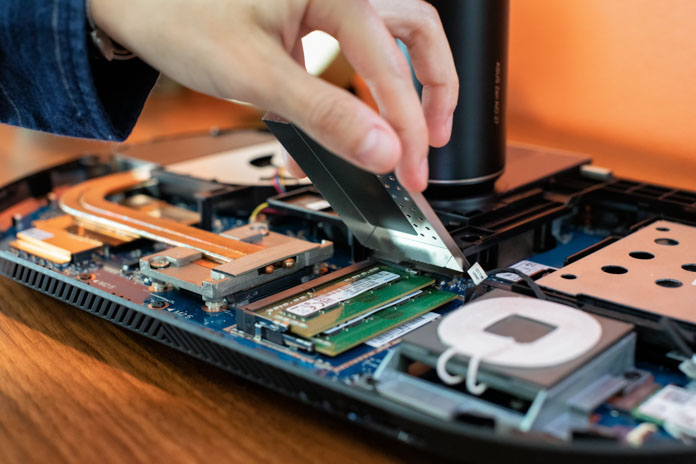 After closing everything back up, it was time to give the computer a whirl with a few benchmarks. I already had some anecdotal experience; my photo editing workflows sped up almost 2x in the Nik Collection, even with Nik Dfine 2's notoriously slow noise reduction. But now I wanted to do some formal tests, starting with the processor and Cinebench. This uses actual CINEMA 4D workflows to measure CPU-based rendering, giving 3D artists and creatives like me some real-world insight into how well that Intel Core i7-8700T processor can handle intensive graphics rendering.
From a cold boot, with all extra processes closed and antivirus monitoring turned off, Cinebench got a median 2402 cb multi-core score and 421 cb single-core score. In practical terms, the multi-core score determines how well the CPU handles intensive tasks requiring parallelization. Processor-based rendering is common for many 3D engines, including Arnold and RedShift, and more processor cores lightens the load and can help speed up your workflow.
Not all programs benefit from more cores, though, so single core performance is paramount for tasks like gaming. This is one of the reasons why the Core i7-8700T and other Core i7 processors are an excellent choice for people like me. They offer a balance between rendering and gaming, perfect for someone who works with multimedia but doesn't want to give up on gaming.
After benchmarking the CPU, I wanted a look at the dedicated NVIDIA GeForce GTX 1050. Beyond GPU-based rendering, this performance would also give me insight into how much the Zen AiO Pro's dedicated graphics are helping with intensive, GPU-accelerated operations. The most obvious ones are video transcoding, color grading, and rendering in Adobe Premiere and After Effects, but many other apps use GPU acceleration, including Photoshop and the Microsoft Office suite.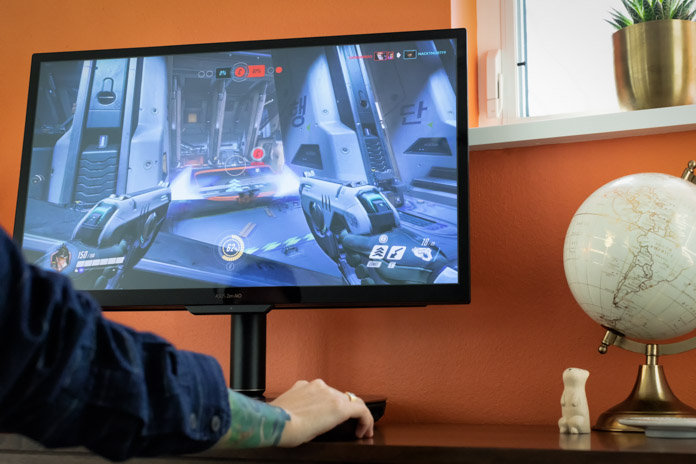 For my hands on with the graphics card, I created a test file with six short clips in a 60 second timeline. Warp stabilizer was applied to three of the clips, while basic Lumetri color corrections and crossfades were applied to every clip. With the GTX 1050 enabled, my H.264 render time was a blazing 22 seconds. But cue the sad trombone, because when I disabled the GTX 1050 to use the integrated Intel UHG Graphics 650 instead the render time was 5.2x longer—almost two whole minutes. That dedicated graphics card really makes a difference.
With those assessments concluded, I felt comfortable diving in to a few final tests. But these were less benchmark, more guns and engines blazing: Overwatch and Rocket League. Gaming may not be its primary purpose, but the Zen AiO Pro handles games well at 1080p. In Overwatch at 1080p, I was right there in the middle of the frantic action for every run-and-gun moment. Even when battles got extra spicy with bullets, explosions, and lasers taking people down left and right, the game was smooth as silk and frame rates stayed above 65 fps.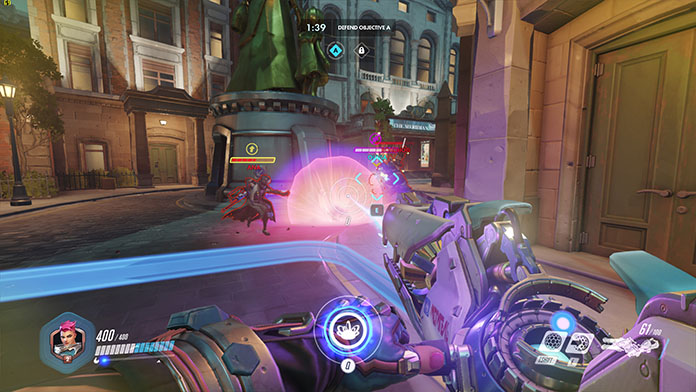 Rocket League's official 4K support doesn't seem to have hit PC just yet, so I stuck with the maximum 16:9 resolution available, 2048×1152. The best part was cranking up all the the settings to the max to enjoy every over-the-top explosion while still getting flawless gameplay. After all, I still needed to course correct when my car spun out of control from an insane collision somewhere near the arena's rooftop. My skills are undeniably rusty, but thanks to the Zen AiO Pro I still clinched some killer "GOAAAAAAAAAL!" moments.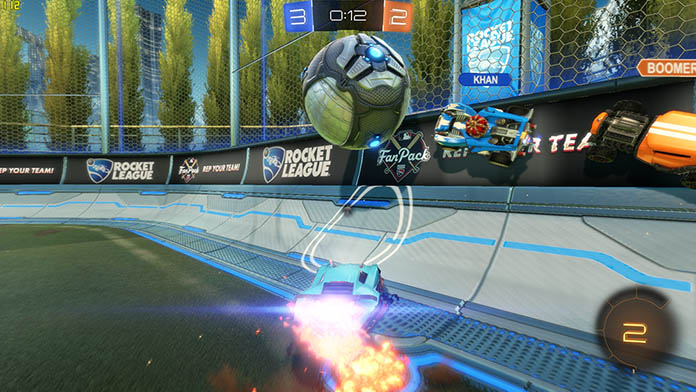 A lasting impression
There's a lot to love about the Zen AiO Pro. The ample screen real estate, high resolution, and upgradeability all stand out. It churns through intense video and graphics work. And the cleverly-designed, compact base solves common space management issues while wirelessly charging your phone.
Though I've downsized from a giant gaming desktop to this modestly-sized all-in-one, I don't feel like I've given anything up. In fact, I've gained a beautiful workspace and powerful machine whose understated simplicity inspires me to work smarter.
But I'm also amused to say the greatest mark left by this computer isn't on me at all. When my mom dropped by the other day, she made a direct beeline for the Zen AiO, plunked down, and immediately began playing around. She's plenty tech-savvy, but it still took her a few moments to realize its secret: "It's a full computer? Not just a monitor?" By the time she left, she'd already dropped a few hints about Christmas and was eagerly on her way to tell my dad all about it.
Creative professional or no, the Zen AiO Pro makes a lasting impression on even the pickiest people. If you're feeling the same, it's now available for $1999.99 USD. You can find it at the retailers in the table below.
ZenAiO Pro Z272
Display
27" UHD touchscreen

Resolution
Ultra HD 3840 x 2160 touchscreen
CPU
Intel Core i7-8700T CPU, 2.4GHz, quad core with Hyper-Threading, 12MB cache, up to 4.8GHz Max Turbo
GPU
NVIDIA GTX 1050
Memory
Up to 16GB DDR4 2400MHz
Storage
2TB HDD+512GB SSD
Networking
802.11 a/b/g/n/ac Bluetooth 4.1

Connectivity
1 x USB 3.1 Gen 2 USB Type-C with Thunderbolt 3 support
4 x USB 3.1 Gen 1
1 x HDMI-In
1 x HDMI-Out
1 x RJ45 LAN
1 x 2 -in-1 card reader
1 x Audio combo
1 x DC-in
1 x Qi Wireless charger in base
OS
Windows 10 Home/Pro
Price
$1999.99 USD
$2599.99 CAD
Availability (USA)
Asus
Newegg
Amazon
B&H
Abt
Office Depot