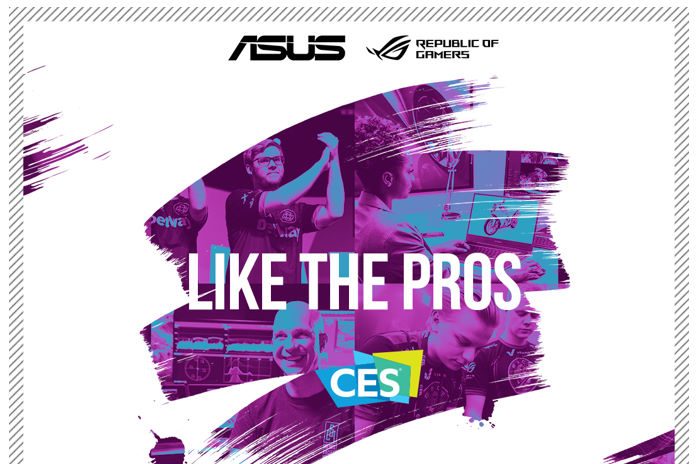 The ball has barely dropped in New York City to mark a new year and a new decade, but we've already hit the ground running with an exciting set of announcements at CES 2020 in Las Vegas. We're debuting exciting new ZenBooks and VivoBooks, gaming gear that's ready for the winner's circle, next-gen wireless routers, and much more. We have in-depth coverage for each of these products, but if you're not sure where to start, we've collected all of our hot new gear in one place for your convenience. Follow the links for the full details of each product.
The business traveler's new best friend
In 2019, Intel issued a challenge to laptop manufacturers with Project Athena, an initiative that called for a new generation of responsive, always-ready laptops. Our ExpertBook B9450 is one of an elite few laptops in the world that delivers the battery life, connectivity, and sleek form factor necessary to meet Project Athena's strict requirements.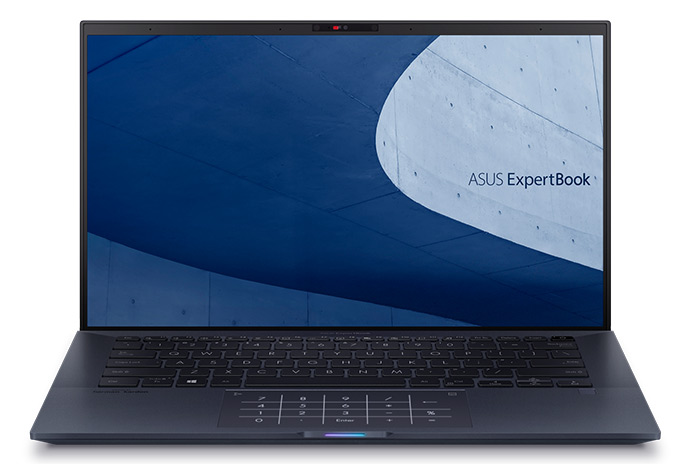 The B9 sets new standards for portability among business laptops. We already pursue the thinnest and lightest designs for every notebook we make, but the ExpertBook B9450 goes even further. By constructing the laptop from a magnesium-lithium alloy, we were able to slim it down to as little as 865g while ensuring that the device meets US military standards for durability. With its 14.8mm thin chassis and ultra-slim 4mm display bezels, the B9 is incredibly easy to slip into a bag. With the optional 66Whr battery that delivers up to 20 hours of battery life under productivity workloads, you almost certainly won't need a recharge in the middle of your workday.
Whether you're working at your desk or on the go, the 10th Gen Intel processors inside the ExpertBook B9450 are ready for action. A full suite of connectivity options, including Ethernet, USB 3.2 Gen 2, and 2 Thunderbolt 3 ports, ensures that the B9 can connect to the latest productivity-enhancing peripherals. Wi-Fi 6 lets the laptop reap the advantages of the next generation of wireless connectivity, and with its available IR camera, webcam shield, and fingerprint sensor, the B9 is equipped with all the tools you need to keep sensitive information secure.
A colorful laptop for every occasion
Our VivoBook family of laptops has long been favored by those who want an everyday machine with a splash of style. At school or on the couch, in the park or on the train, our latest VivoBooks combine our latest innovations in a design that's overflowing with personality.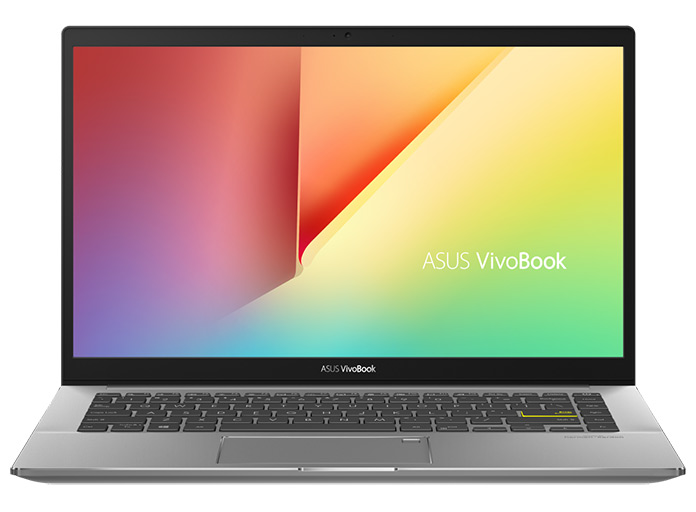 The new VivoBook S-series laptops will ship in three sizes and four bold new colors: Resolute Red, Gaia Green, Dreamy White, and Indie Black. Each laptop is engraved with diamond-cut edges, and a color-blocked Enter key adds a subtle touch of style to your every command. In addition to striking white and black designs, the VivoBook 14 X413 and VivoBook 15 X513 are available in a classy Cobalt Blue, while the VivoBook 14 K413 and VivoBook 15 K513 stand out from the crowd with a sleek metallic lid that's finished in black, gold, or silver.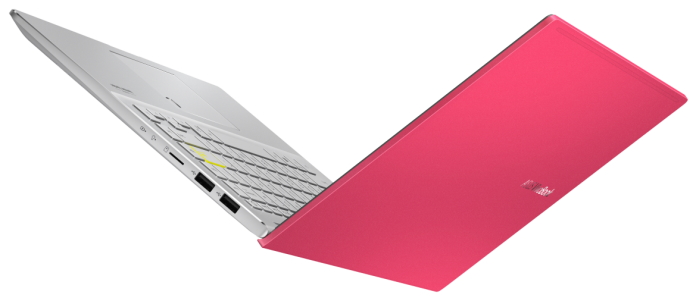 Intel's 10th-generation Core processors power the new VivoBooks, with options ranging up to a Core i7 for those who need the most raw processing power for multitasking and demanding applications. Wi-Fi 6 readies these laptops for the next generation of wireless networking, and for those looking for a significant upgrade in 3D graphics performance from integrated graphics chips, we offer models with Nvidia's GeForce GPUs.
A Chromebook that breaks the mold
Windows laptops aren't only the machines around that can lay claim to being premium devices. Our Chromebook Flip C436 offers all the easy convenience you've come to expect from Chrome OS along with plenty of delightful touches.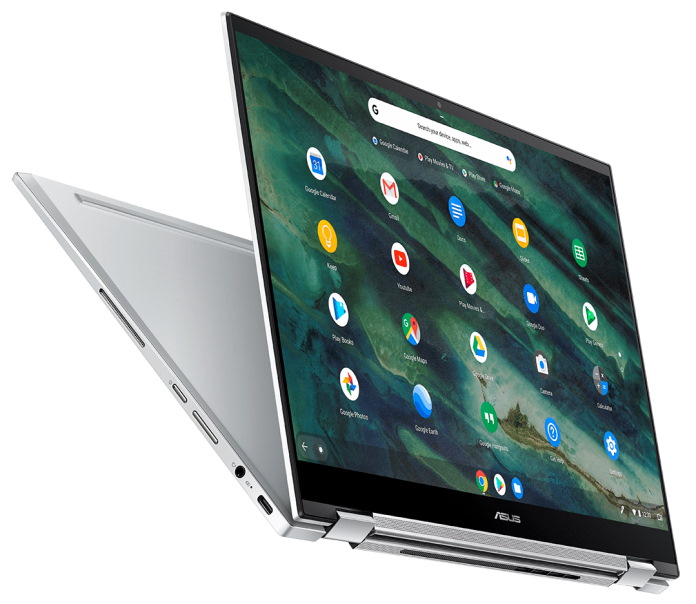 With a 1.1kg magnesium alloy chassis that's just 13.7mm thin, the C436 is as slim and portable and as they come. NanoEdge display bezels allowed our engineers to fit a 14" screen in a chassis whose footprint is more typical of 13" laptops. Speaking of the screen, its 1920×1080 resolution and 100% sRGB coverage let it produce sharp, vivid visuals perfect for spreadsheets and movies alike.
As the first Chromebook to meet Intel's Project Athena requirements, the C436 is armed with the hardware necessary to ensure responsive performance, comprehensive connectivity, and excellent battery life. Purchasers will have their pick from three 10th Gen Intel Core processors, and either 8GB or 16GB of LPDDR3 memory. A three-cell, 42Wh battery is good for up to 12 hours of runtime. For capacious storage and speedy boot times alike, we equip the C436 with M.2 SSDs as large as 512GB. Dual-band Wi-Fi 6 and Bluetooth 5.0 provide access to next-gen wireless connectivity, and a pair of USB 3.1 Gen 1 Type-C ports make it a breeze to connect the C436 to the latest peripherals.
Gaming essentials in a TUF design
For those in search of a durable gaming laptop that doesn't break the bank, we offer our 2020 TUF Gaming laptop lineup. These laptops deliver the powerful gaming components, high-end cooling system, and dependable performance that gamers have learned to expect from TUF laptops.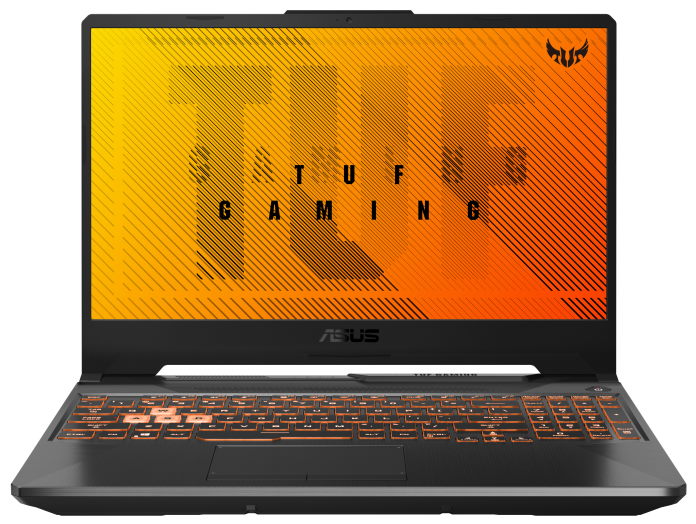 The TUF Gaming A15 and A17 laptops reap the benefits of AMD's latest Ryzen Mobile processors. Built on a leading-edge 7nm process node, Zen 2 CPUs offer a compelling balance of single-threaded performance and multithreaded muscle. Launching later in the year, the TUF Gaming F15 and F17 will feature Intel's 10th-generation Core processors. Regardless of your CPU choice, NVIDIA's GeForce GPUs provide 3D graphics horsepower.
Modern NVIDIA GPUs can deliver exceptional frame rates in today's competitive games, so it only made sense to offer high-refresh-rate displays in the new TUF Gaming laptops—up to 144Hz on the 15" models and up to 120Hz on the 17" versions. The IPS-level displays feature AMD's FreeSync variable refresh-rate technology, which synchronizes the refresh rate of the display with the frame rate of the system for smooth, tear-free gaming. We framed the display with narrow NanoEdge bezels that don't just improve your immersion in your game. They also reduce the overall width and volume of the chassis.
Say goodbye to motion blur and screen tearing
Gamers looking for a competitive edge in today's popular esports titles like Fortnite and League of Legends know the right monitor is key for staying on top of the action. To help gamers maximize their performance in these fast-paced titles, we outfit the TUF Gaming VG27AQL1A with a high refresh rate, G-SYNC, and our unique ELMB Sync technology. This TUF Gaming monitor also marks the debut of an aggressive and exciting new industrial design for the series.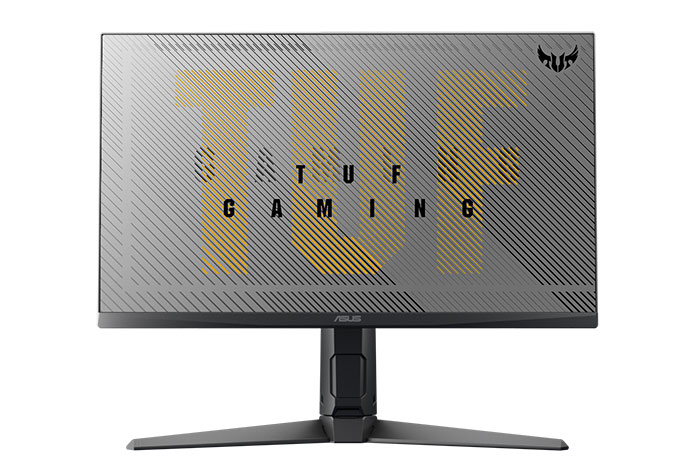 The VG27AQL1A can refresh at up to 165Hz, a 2.75x increase over a typical 60Hz display. With a refresh rate this high, you'll be able to take full advantage of the high frame rates that today's gaming systems can produce in esports titles. Should your frame rate drop below 165FPS in the midst of a frenetic battle, the VG27AQL1A will still have you covered. NVIDIA G-SYNC technology synchronizes the refresh rate of the display with the output of the connected graphics card, ensuring tear-free gaming. Even better, ELMB Sync allows the VG27AQL1A to do something that only TUF Gaming monitors can: use our Extreme Low Motion Blur backlight strobing and G-SYNC simultaneously to ensure crystal-clear motion.
The VG27AQL1A might excel in esports games, but it's no slouch for triple-A titles, either. Its 2560×1440 resolution is an excellent fit for its 27" of screen space, allowing the display to deliver high-resolution crispness. It's also VESA DisplayHDR 400 certified, so it'll produce the brilliant highlights and deep shadows that make gaming in HDR so immersive.
A portable display for on-the-go multitaskers
One of the most powerful ways to expand the functionality of a laptop is to connect a secondary display. Power users routinely connect their laptops to a monitor when they sit down at their desks so that they can keep an eye on multiple windows at the same time. It's a bit harder for frequent travelers to enjoy the multitasking power of a second display, though. After all, your typical desktop monitor doesn't exactly fit into a laptop bag.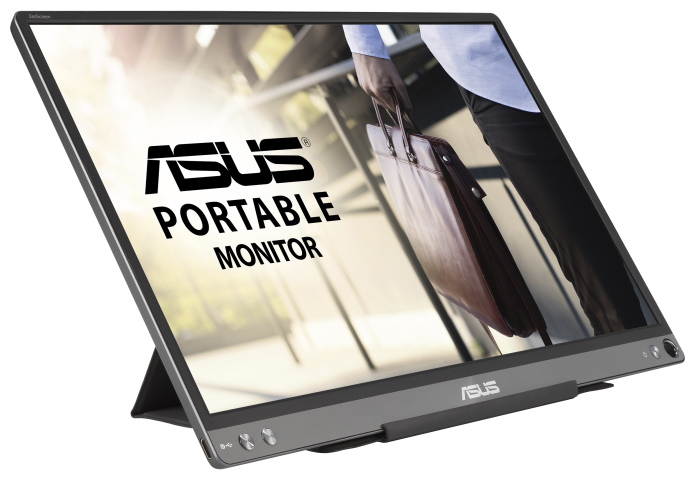 The ZenScreen MB16ACE isn't your typical monitor. This portable screen sports a 15.6" Full HD display, yet it's only 8mm thin. At just 1.56lbs, it'll barely even register on your home scale, and it'll easily slide into your bag or satchel. Ultra-slim display bezels frame an anti-glare IPS panel that'll deliver accurate colors even from wide angles. The ZenScreen draws power and its display signal through a single USB Type-C port. The included Smart Case Lite protects the MB16ACE when it's not in use and serves as an adjustable stand when you put the screen to work.
Powerful and painless wireless networking
A home that's full of smartphones, laptops, and smart devices needs a modern wireless router to seamlessly handle all that traffic. Empowered by our AiMesh mesh networking technology, our new ZenWiFi routers are ready to expand your signal to every corner of your house.
Wi-Fi 6 has officially arrived, and as you bring more and more compatible devices onto your network, its performance will only improve with time. Our ZenWiFi AX Wi-Fi system is capable of 6,600 Mbps in aggregate across one 2.4GHz band and two 5GHz bands when it's communicating with Wi-Fi 6 devices, a performance increase of up to 2.2x over the previous generation. Thanks to OFDMA technology that can divide a Wi-Fi channel into multiple smaller frequency allocations, the ZenWiFi AX will particularly shine in congested environments with many Wi-Fi 6 devices competing for signal.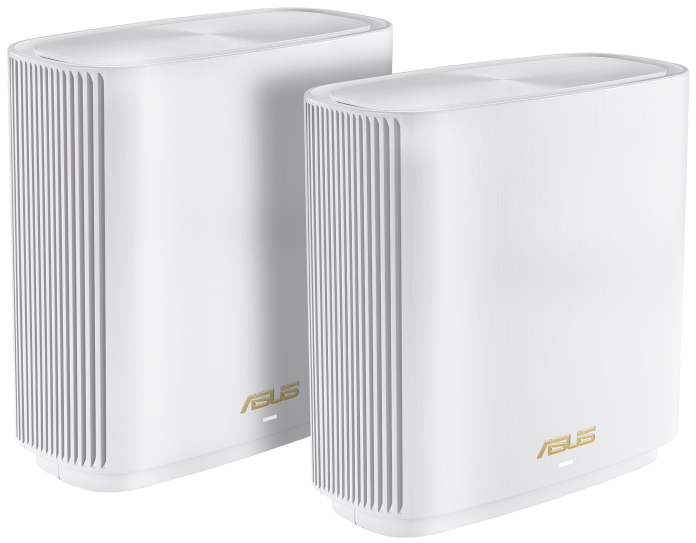 The ZenWiFi AX uses our AiMesh mesh networking technology to make sure that your devices have a stable, high-bandwidth connection in every corner of your building. The system includes two of our latest Wi-Fi 6 mesh nodes that you can deploy strategically throughout your location. The routers communicate with each other over a dedicated 4×4 Wi-Fi 6 backhaul, seamlessly connecting devices to the access point that provides the best signal. Our AiProtection Pro suite of security features, powered by updates from Trend Micro, keeps these devices secure.
The ZenWiFi AC Tri-Band Whole-Home Mesh WiFi System includes two of our AC300 routers. Each supports the 802.11ac Wave 2 standard and 802.11n's 5GHz and 2.4GHz spectral bands, letting the system achieve an aggregate speed of 3000Mbps. With classy good looks inspired by our ZenBook laptop series, these routers won't detract from your household décor as they provide wireless signal to all of your devices.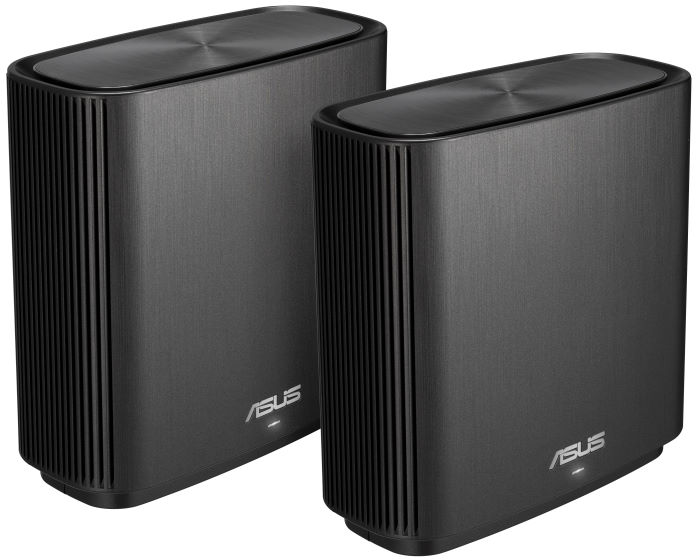 AiMesh technology makes it easy to set up a household network without dead spots, and thanks to a lifetime subscription of security updates from Trend Micro, our AiProtection Pro security suite will keep your network and connected devices secure.
It's technically accurate to call the ZenWiFi Voice a standalone wireless router, but thanks to integrated Amazon Alexa support, it can do so much more than the average router. The Voice is a Wi-Fi 5 router with MU-MIMO support, so it'll provide dedicated, low-latency signals to each compatible device. Its AiMesh functionality means that it'll also work as part of a mesh network.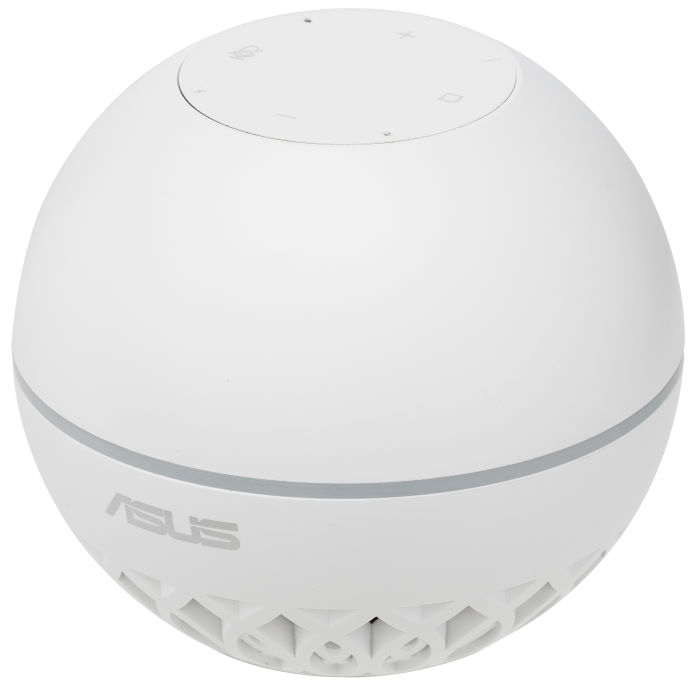 Many wireless routers get tucked into an inconspicuous corner, but you'll want to place the stylish ZenWiFi Voice in a place where you can take advantage of Amazon's voice-activated assistant Alexa. With just your voice, you can get quick answers to questions, play music, control smart home devices, and any number of other tasks. Regular users of popular music-streaming services will appreciate the Voice's full-range, downward-facing driver, though they can also connect the Voice to their home speaker system with the unit's 3.5mm jack.
Gaming hardware at its full potential
Our CES 2020 showcase is jam-packed full of fresh gear from the Republic of Gamers, all carefully designed and tuned to increase your chances of ending up in the winner's circle.
A new era of portable gaming
The original ROG Zephyrus shattered all expectations for ultra-slim gaming notebooks, proving that high-end PC gaming experiences truly can come in portable packages. The new ROG Zephyrus G14 raises the bar yet again. Its unmistakable personalization options, exclusive 4th-generation AMD Ryzen CPUs, slimmed-down chassis, and innovative cooling system set it apart from the competition.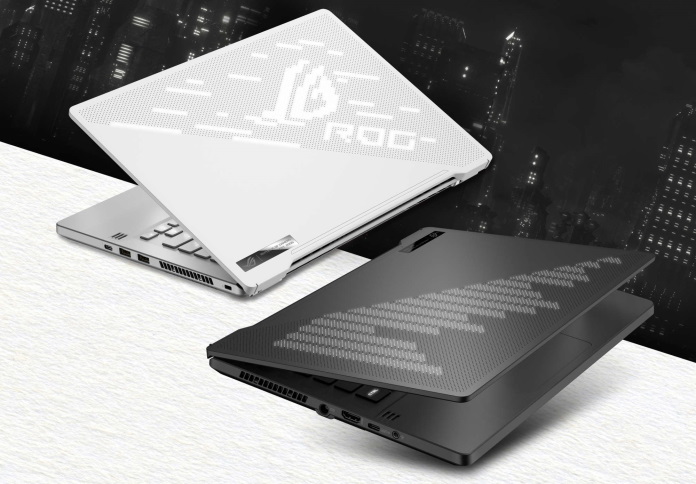 It's no exaggeration to call the G14 an ultraportable gaming powerhouse. Just 17.9mm thin, the 14" laptop slips without fuss into a satchel or backpack, and as it weighs as little as 1.6kg, you'll hardly even notice its weight. Maintaining the G14's gaming credentials in such a svelte chassis required some careful engineering.
Check out Unbox Therapy's first impressions of the Zephyrus G14:
The laptop's slim profile and trim figure will attract some attention, but it's the innovative AniMe Matrix display on the Zephyrus G14's lid that's the real conversation starter. 1,215 white mini LEDs across the lid give you an unprecedented level of personalization options. The AniMe Matrix can show graphics, custom animations, and animated GIFs with a retro feel, and even display visualizations that react in real-time to music.
A comprehensive suite of innovative cooling technologies allow us to equip the G14 with potent gaming hardware. Custom-designed n-Blade fans with 81 liquid crystal polymer blades quietly move a high volume of cool over the G14's array of dense heatsinks, while anti-dust channels slow down the accumulation of dust inside the chassis. We adapted our innovative ErgoLift display hinge for the G14, taking advantage of the way this hinge raises the rear of the chassis for an improved typing experience and better airflow to the laptop's intake vents.
All together, this cooling system proved more than up to the challenge of keeping AMD's latest Ryzen processors and NVIDIA's GeForce RTX graphics cards cool and performing optimally. The G14 features 4th-generation AMD Ryzen Mobile processors built on a leading-edge 7-nm process node. These chips are ideal for multitasking and heavily-threaded applications, yet with high enough clock speeds to deliver snappy performance in games and daily tasks.
To complement these potent processors, we turned to NVIDIA's GeForce GPUs, up to a GeForce RTX 2060. As this GPU is equally capable at churning out dizzyingly-high frame rates in esports titles and delivering smooth high-resolution gaming, we offer models with two different screen types: one with a speedy 120Hz refresh rate and one with a WQHD 2560×1440 resolution display. For the first time in our laptops, gamers can enjoy AMD FreeSync variable-refresh-rate technology with NVIDIA GeForce discrete graphics, thanks to the integrated Radeon graphics processor in 4th-generation Ryzen Mobile CPUs.
Two new gaming desktops step into the spotlight
PC gaming began on desktop computers, and even to this day it's hard to beat the versatility and sheer power of a desktop PC. Our new ROG Strix GA35 and Strix GT35 desktops deliver the potent hardware, comprehensive cooling, and customizability that define the high-end PC experience.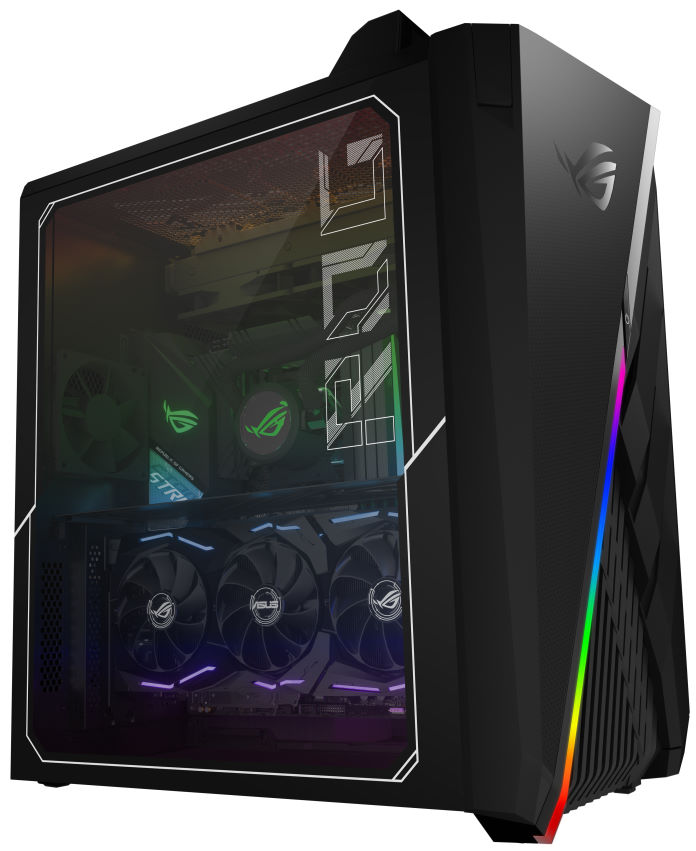 The ROG Strix GA35 features AMD's latest Ryzen processors, up to the 16-core, 32-thread Ryzen 9 3950X. Seated in our ROG Strix X570-F Gaming motherboard alongside up to 64GB of DDR4-3200 RAM, this processor offers blistering performance in heavily-threaded applications and particularly excels at multitasking. The upcoming Strix GT35 will feature Intel's 10th Gen Core processors. Graphics card options from NVIDIA, ranging up to an ROG Strix GeForce RTX 2080 Ti, complete the package.
Modern hardware opportunistically takes advantage of available power and thermal headroom to increase performance, so we established a comprehensive cooling solution for the GA35 and GT35 that enables the processor and graphics card to reach their full potential. The case is subdivided into three cooling zones that separate the CPU, graphics card, and power supply, an arrangement that prevents one component's heat from affecting the performance potential of the others. A liquid cooling loop with a 240-mm radiator keeps CPU temperatures low, while wide air vents cleverly integrated into our Wind Shear chassis design keep fresh air available to all components. All told, the cooling system is so efficient that the total system noise level never exceeded 35 dB in our internal gaming tests.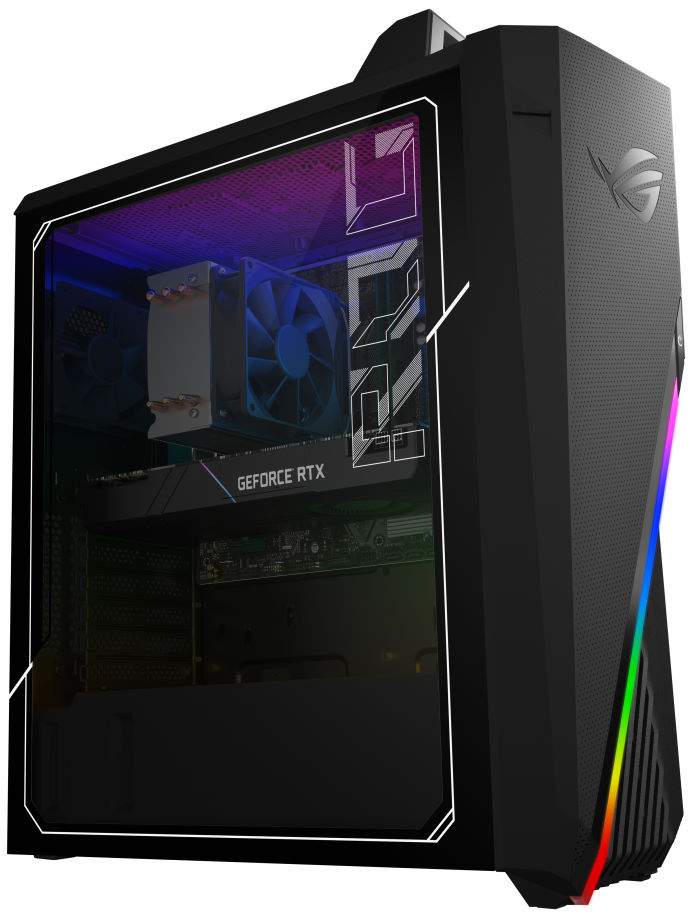 For the new ROG Strix GA15 and Strix GT15 desktops, our design team focused on gaming fundamentals to create powerful machines at a more attainable price point. Both the GA15 and GT15 employ NVIDIA graphics cards up to the potent GeForce RTX 2070 SUPER, a GPU equally at home churning out the high frame rates that esports fanatics demand and at delivering high-resolution gaming experiences. The GA15 will feature AMD processors up to a Ryzen 7 3800X, while the GT15 will use upcoming Intel 10th Gen Core processors.
All this hardware resides inside a chassis that's both practical and eye-catching. Wide vents guide cool air into two separate cooling zones inside the case. An integrated handle makes it easy to transport the GA15 and GT15 safely, while a cleverly-hidden headphone hook keeps your setup clutter-free. A gaming desktop shouldn't be all business, though, so we integrated a glass side panel that exposes the RGB LED-illuminated interior.
The new mainstream gaming laptop
Here at ROG, we're committed to making a high-end gaming accessible for everyone. For the new ROG Zephyrus G15, we take features once reserved for premium systems and bring them to a mainstream audience.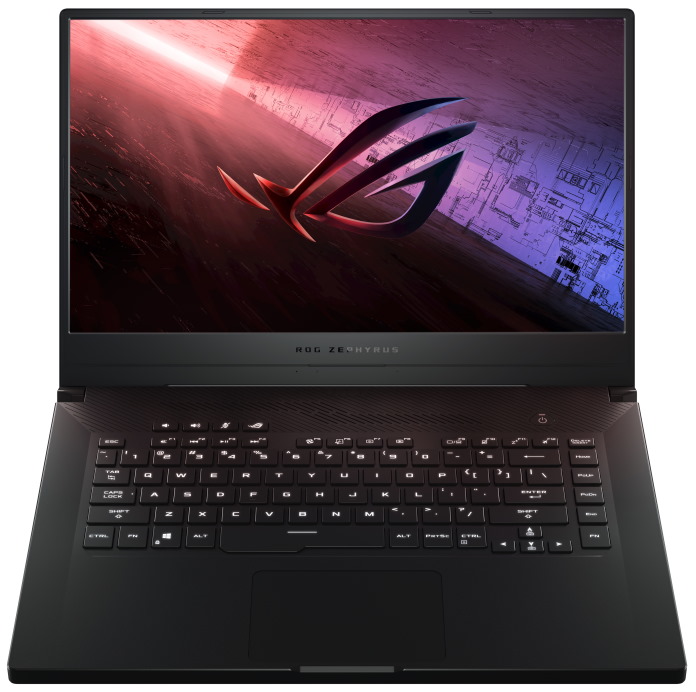 The fun starts with AMD's all-new Ryzen 7 4800HS. This 8-core, 16-thread CPU lets the G15 tackle everything from high-end gaming to 3D rendering with aplomb. With an NVIDIA graphics card up to a GeForce RTX 2060, the G15 is more than ready for today's games, especially with its gamer-focused display. Equipped with AMD FreeSync and a refresh rate up to 240Hz, the display is ideal for today's competitive esports titles.
The Zephyrus G15 is especially well-suited for people who need their notebook to do more than sit on a desk and play games. They need a partner ready to travel at a moment's notice and perform, whether it's for work, school, or play. Not only does the G15 offer surprising battery life, but it supports USB Type-C charging. Whether you're out and about or at home, Wi-Fi 6 will ensure that the G15 can take advantage of the latest innovations in wireless networking.
A display for every taste
Monitor technology has grown by leaps and bounds in recent years. Today's gamers have access to a broad array of immersive technologies ranging from 4K resolutions to ultra-high refresh rates, from high-dynamic-range (HDR) visuals to variable-refresh-rate technologies. Our latest fleet of ROG monitors offers a potent blend of these innovations to every gamer.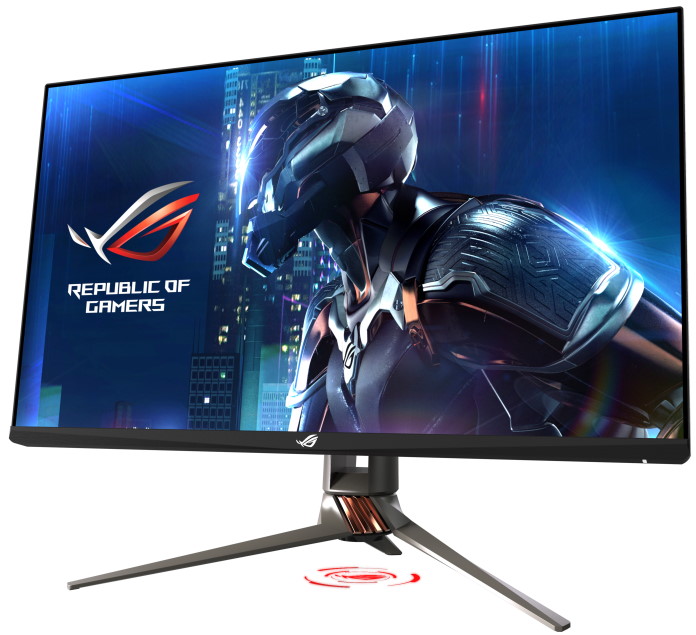 For the ROG Swift PG32UQX, we set out to create the ultimate 4K HDR gaming monitor. A 32" display is a whole lot of monitor, but the PG32UQX's 4K resolution keeps visuals crisp and sharp. As a VESA DisplayHDR 1400-certified display, this monitor produces cutting-edge HDR content thanks to its full-array local dimming backlight. This combination of a 4K resolution and HDR visuals is potent enough, but we went a step further and added variable refresh rates up to 144Hz and support for 10-bit color throughout the entire refresh rate range. The PG32UQX's G-SYNC ULTIMATE certification means it'll deliver impeccably smooth HDR visuals with astonishing color reproduction even as a game's frame rates vary over time.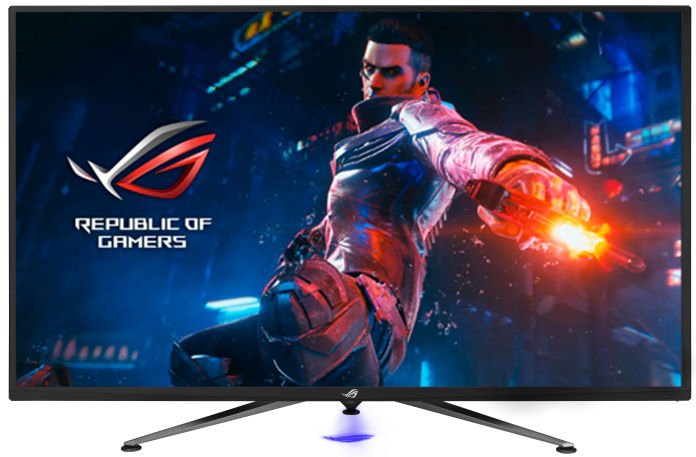 Perhaps you're looking at your gaming desk and thinking that a 32" display just doesn't quite fill all the space you have available. In that case, the ROG Swift PG43UQ and its 43" of screen real estate might satisfy you. Like the PG32UQX, the PG43UQ can deliver 4K content at 144Hz and in 10-bit color, and its VESA DisplayHDR 1000 certification indicates it's primed and ready for some of the best HDR gaming and entertainment experiences available. It supports Adaptive-Sync, as well, so it'll synchronize its refresh rate with the delivered frame rate of compatible graphics cards to ensure smooth, tear-free gaming without the compromises of Vsync.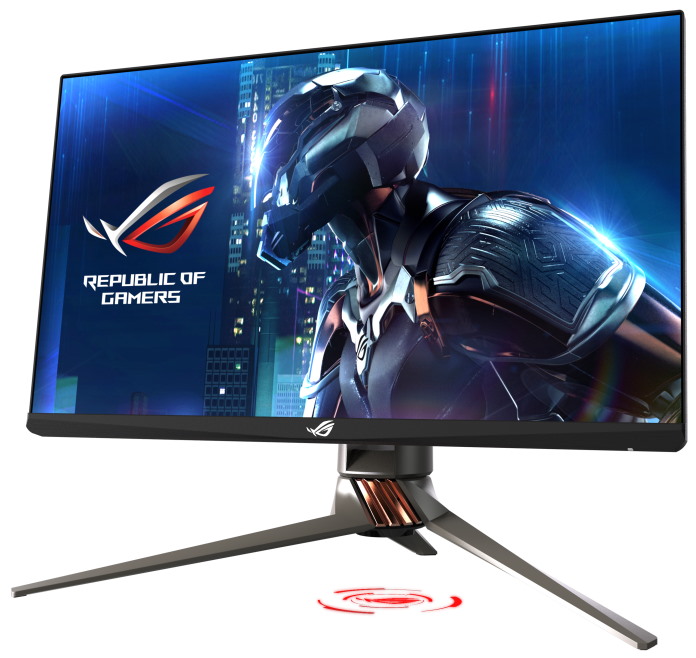 For professional gamers and competitive enthusiasts alike, one of the most important specs of any display is its refresh rate. These gamers use carefully-assembled rigs and optimized game settings to ensure that they're achieving the stratospheric frame rates that give them a competitive edge in frenetic online battlegrounds. For these gamers, we've developed the ROG Swift 360Hz, a monitor with an unparalleled 360Hz refresh rate. This monitor refreshes at a rate that has to be seen to be believed: a full 50% faster than even 240Hz displays. It's no stretch to call it the world's fastest gaming monitor.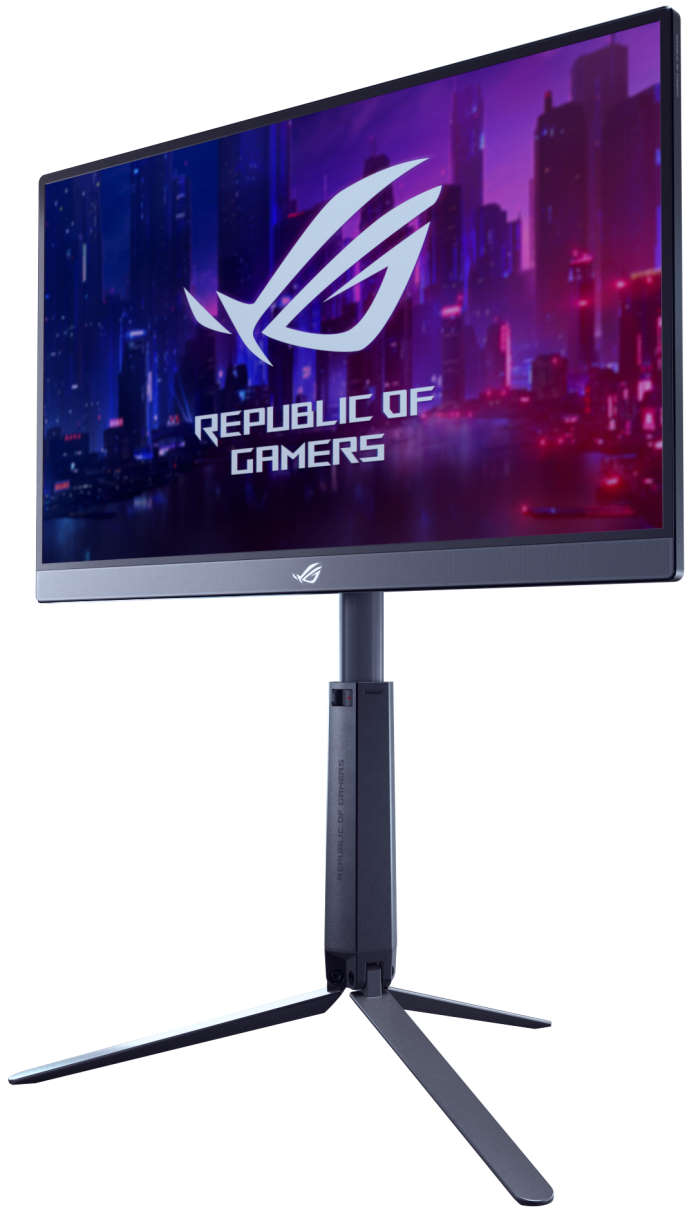 We have quite a treat for the frequent travelers in the Republic of Gamers, too. The ROG Strix XG17AHP is a portable 17.3" IPS display that's slim enough to slip into your laptop bag, yet it comes packed with the display features that you've come to expect while gaming on a desktop. Its 3ms response time and 240Hz refresh rate mean that it'll serve up new frames as quickly as your GPU can produce them, and VESA Adaptive-Sync technology will ensure that those frames are presented smoothly. Our SmartCover will keep the display protected while it's in your bag and serve as a display stand on the go, while the optional Tripod stand gives you more options for deploying the XG17AHP at home or on the road.
Take the power back
Your gaming display has the all-important job of immersing you in your games, but your keyboard and mouse are your tools for controlling the battlefield. Our new ROG Strix Scope TKL Deluxe is a gaming-first keyboard that puts your hands in a prime position for victory. It's a tenkeyless deck that dispenses with the numpad in order to reduce the distance between your hands.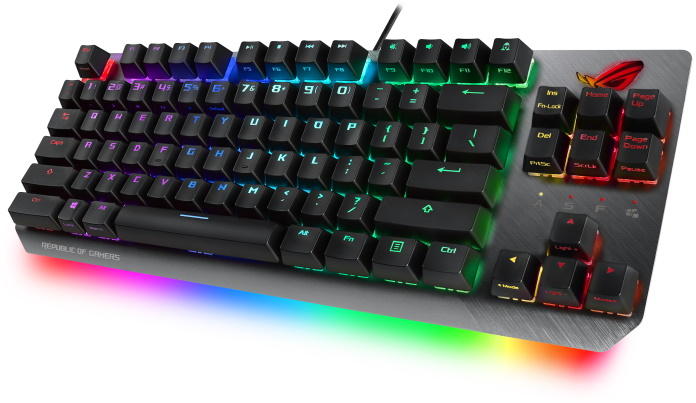 Not only is this a more ergonomic position for most folks, but it'll also open up more room on your desk for mouse movement. The Scope TKL Deluxe will ship with a wide variety of Cherry MX switches, and it'll bring distinctive lighting effects to your desk with its per-key RGB LED lighting, backlight ROG logo, and customizable front-edge light bar.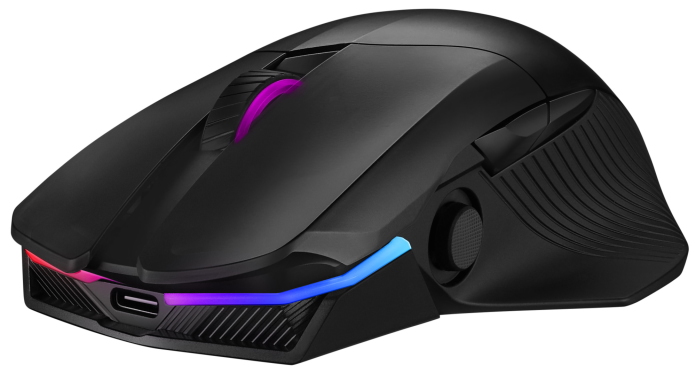 No other controller even comes close to the speed and precision of a gaming mouse. Our new mice implement the latest technologies to deliver the control, customizability, and style that today's gamers expect. The ROG Chakram is an innovative wireless mouse with unique controls and powerful hardware. On the left side, you'll find a dual-mode thumbstick that opens up new, convenient control opportunities. Under the hood, a 16,000 DPI competition-class optical sensor gives you an astonishing 400 inch-per-second accuracy, making sure that all your movements translate to the game, even during the most frantic moments.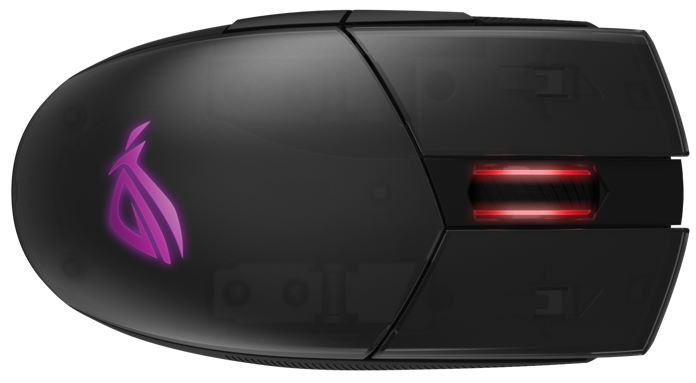 The ROG Strix Impact II Wireless takes a successful formula and dials it up even further. We improved on the original by upgrading its sensor to a 16,000 DPI unit and adding support for high-quality wireless connectivity. By using a 2.4GHz radio frequency link, we were able to provide the low latency and excellent range necessary for gaming while retaining excellent battery life.

The third in our trio of new gaming mice is the ROG Pugio II, an ambidextrous mouse that could find a home on just about any gamer's desk. With its 16,000 DPI optical sensor, it has unimpeachable gaming credentials. Left-handed gamers will appreciate that its side buttons are fully customizable. Since they're held in place by magnets, it's easy to switch the placement of the side buttons, or remove them entirely and replace them with bundled covers.
A wireless headset for a new generation of devices
Gamers across the world are embracing the freedom of wireless headsets, ditching the old cords that used to tie them to their devices. The Strix Go 2.4 offers low-latency, high-quality audio inside a comfortable, convenient design. A lag-free 2.4GHz RF link delivers audio to a pair of 40mm ASUS Essence drivers that produce clean audio with deep bass.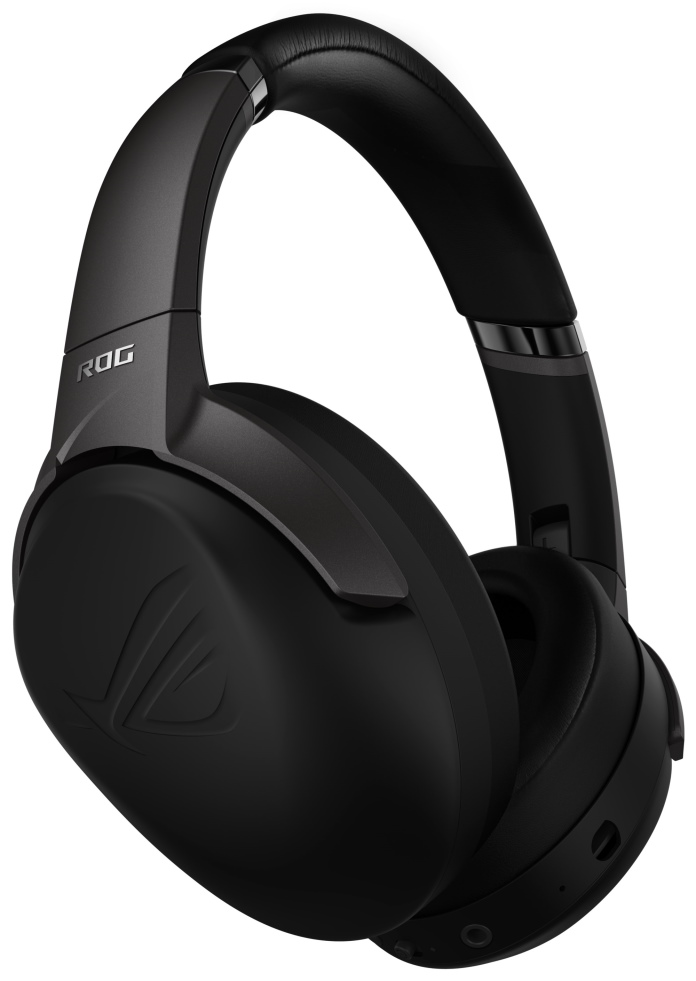 A USB-C wireless transceiver makes it easy to connect the Strix Go 2.4 to a Nintendo Switch or any of today's USB-C equipped phones. Bundled 3.5mm and USB 2.0 adapters ensure connectivity with just about any other gaming device. When you're playing with your squad, attach the AI-powered noise-canceling boom mic. Even against a noisy background, it'll deliver clear audio to your teammates thanks to a proprietary algorithm trained on a massive database of background noise signatures.