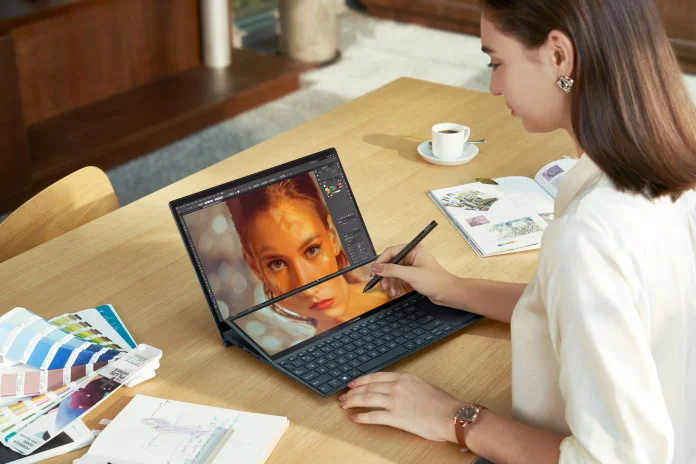 Anyone who's ever used a multi-monitor setup knows why it's handy to have a second display around. That extra screen space is great for looking up information, keeping an eye on email, arranging the control windows for your productivity or content creation software, or just playing a YouTube video, all without disturbing your primary workspace. Users have long connected external displays to their laptops for easier multitasking, but laptops with integrated second displays were almost unheard of until we launched the trailblazing ZenBook Duo. Now, we're ready to up the ante again. Refined and updated inside and out, the ZenBook Duo 14 UX482 makes dual-screen computing on the go easier and more powerful than ever.
The ScreenPad Plus rises to the occasion
Our journey to improve and refine the ScreenPad Plus begins with a big change. As you open the lid of the refined ZenBook Duo, a sturdy new hinge system raises the secondary ScreenPad Plus display towards you. This places the screen at a more natural viewing angle so that it appears bright and readable. It also aligns the top edge of the ScreenPad Plus with the bottom of the primary display for a seamless experience as your eyes transition from one screen to the other.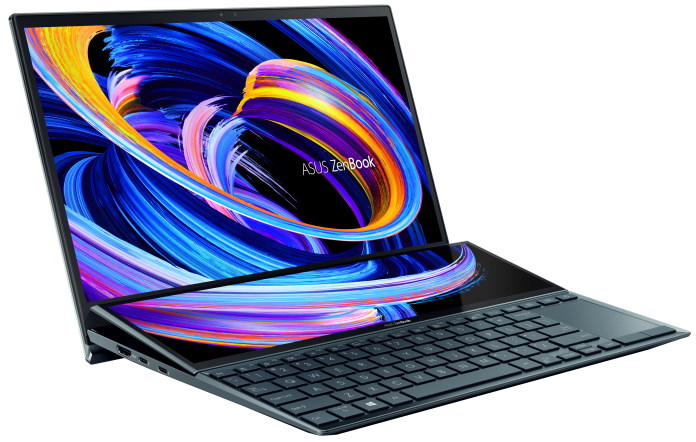 This unique tilting mechanism also has performance benefits. As it opens, it exposes broad vents for the cooling system to draw in plenty of fresh air. The exceptional airflow this arrangement creates keeps the laptop's components humming along at comfortable operating temperatures for high sustained performance.
As much as the new hinge adds to the usefulness and performance of the ZenBook Duo, it doesn't add more weight or heft to the machine. In fact, this year's model is thinner than the original. So take it along with you to the coffee shop, library, or airport. It's easy to pack and it won't weigh you down.
The ZenBook Duo 14 is the dual-screen laptop for everyone
With its lightweight frame, 11th Gen Intel Core CPU, and innovative ScreenPad Plus display, the ZenBook Duo 14 UX482 gives you effortless multitasking that goes anywhere. Its convenient second display empowers everything from daily web browsing to productivity to artistic expression.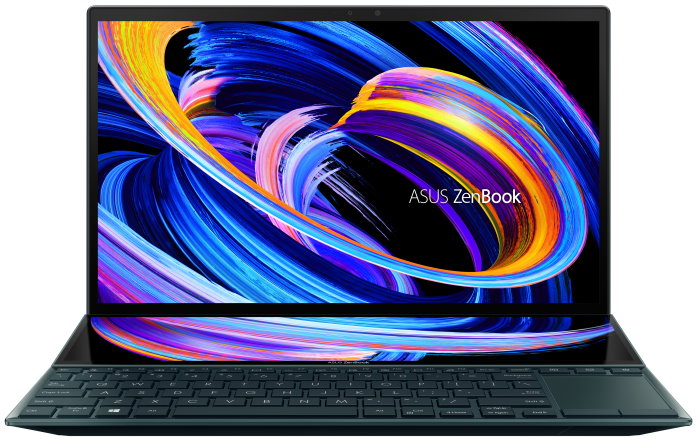 The ZenBook Duo's ScreenPad Plus will grab a lot of attention, but its 14" Full HD primary display has plenty to brag about, too. It's framed on all four sides by vanishingly small NanoEdge bezels. That makes the device surprisingly compact. Even with its 14" display, its footprint is closer to that of prior 13" laptops. The display is PANTONE Validated for accurate colors right out of the box, and it features TÜV Rheinland-certified flicker-free technology to help reduce eye fatigue.
The ZenBook Duo's chassis is finished in a sophisticated Celestial Blue. The lid features an off-center spun-metal finish for a subdued yet distinctive look that's just as comfortable in a boardroom as it is in your living room. Its ErgoLift hinge lifts the rear of the chassis as you raise the lid. This opens up airflow to the bottom vents, tilts the keyboard to a more comfortable typing angle, and improves the quality of the sound you hear from the down-ward facing speakers.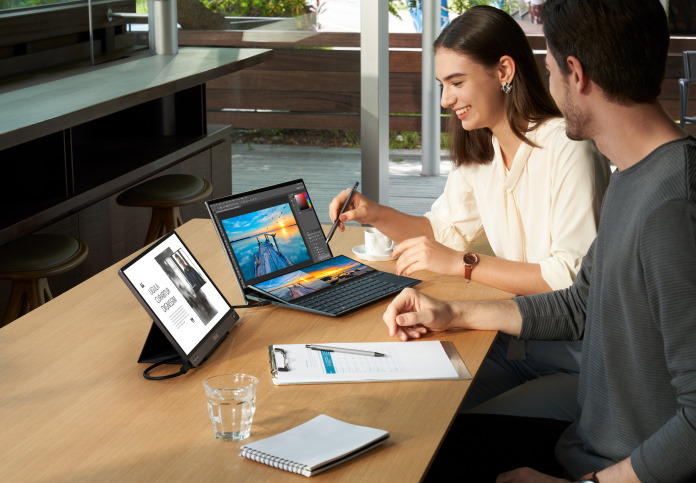 You'll get a snappy, responsive computing experience in all you're doing across both displays with up to an Intel 11th Gen Core i7 CPU. Upgraded Intel Iris Xe graphics open new possibilities for entertainment. Models with optional NVIDIA GeForce MX450 GPU are available, too, for users who want a content-creation boost and even some light gaming. The ZenBook Duo will boot and open apps quickly thanks to its speedy PCIe SSD with up to 1TB of storage space.
ZenBook Duo UX482 models with integrated graphics are Intel Evo certified, so you can be sure they deliver long-lasting battery life, Wi-Fi 6 connectivity, and premium sound quality along with their responsive performance. Connectivity is easy thanks to a pair of Thunderbolt 4 USB Type-C ports. Through these ports, you can charge the ZenBook Duo or a device like your smartphone, connect to an external display, or plug in any of your peripherals.
ScreenXpert 2 enables easy multitasking
Owners of the first-gen ZenBook Duo appreciated how the convenient ScreenXpert software tools let them get the most of their laptop's dual-screen layout. New tools in our ScreenXpert 2 suite make it easier than ever to take advantage of the ScreenPad Plus. This updated control center lets you launch any apps you add with just a couple taps. Just add shortcuts for your favorite programs like Microsoft Word and Outlook or Adobe Photoshop, and you can open them in an instant without cluttering up your desktop. Moving apps and windows from the primary display to the ScreenPad Plus or vice versa is now as simple as a flick of your finger. Want to use the entire ScreenPad Plus as a wide, comfortable touchpad? Tap it with three fingers to trigger Touchpad mode.
We also enhanced the ScreenPad Plus's multitasking capabilities. The new App Navigator represents all open apps and windows as tiles and lets you slide them around to decide which are visible on which screen. If there's a group of apps that you often have open at the same time—office software, your preferred web browser, and an email app, perhaps—you can assign them all to a task group. Whenever you want to open those apps, just tap on the name of the task group in the launcher and they'll all launch in the positions where you placed them.
The upgraded ScreenXpert suite also has some special functions for users of creative apps like Adobe's Photoshop, Lightroom Classic, After Effects, and Premiere Pro. We've created a custom control panel for these apps that gives you powerful touchscreen controls for important functions. Just place virtual controls like sliders, dials, and buttons on the interface and link them to the software functions you use most. We're working to make even more apps compatible with this feature, too.
ZenBook Duo 14
Model
UX482
CPU
Core i7-1165G7
Core i5-1135G7
Display
14" FHD
Pantone Validated
Touchscreen
FHD ScreenPad Plus
GPU
Up to GeForce MX450
Memory
Up to 32GB LPDDR4X
Storage
Up to 1TB SSD
I/O
2x Thunderbolt 4 USB Type-C
1x USB 3.2 Gen 1 Type-A
1x HDMI
1x MicroSD card reader
1x audio combo jack
Dimensions
324 x 222 x 16.9mm
Weight
1.6kg
Battery
70Wh
Tomorrow's laptop is here today
The new ZenBook Duo 14 takes the innovative design of the original and transforms it with key refinements. Between the updated physical design of the ScreenPad Plus, new software tools, and exciting new components that take system performance to a whole new level, the ZenBook Duo makes it easier than ever to harness the multitasking power of a second screen no matter where you go. To learn more about this innovative laptop, contact your local ASUS representative.