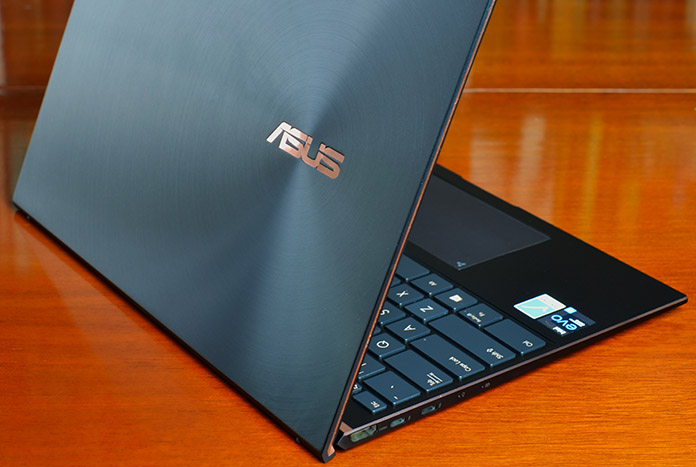 When it comes to my computer hardware, I'm not usually a love-at-first-sight kind of guy, but when I pulled the ASUS ZenBook S UX393 out of its box, I immediately fell in love. I saw right away that the tall 3:2 screen would allow me to see more of my favorite websites and important documents. From the moment I first lifted the thin and light chassis, I knew that this laptop would be able to travel with me anywhere. And thanks to the deep Jade Black finish with veins of Red Copper running along its edges, the ZenBook S has a luxe style that stands out.
Once I brought the ZenBook S into my daily routine, I found that my love for it was no fleeting infatuation. Its slim and compact frame makes it easy to take my work wherever I need, yet its 11th Gen Intel Core processor and thoughtful design give it the power and usability of a much larger machine. When I relax with a show or movie in the evening, I enjoy its bright, vivid screen, and the updated Iris Xe integrated graphics even make light 3D gaming a possibility when my friends invite me to an online session.
This unique laptop takes the stress out of my work life, brings joy to my everyday routine, and gives me the responsive performance I need whether I'm at home, in a coffee shop, or traveling. Pick up a ZenBook S of your own, and you'll fall for it as quickly as I did.
A brilliant display for work and entertainment
Over the years, I've gotten used to the benefits and quirks of the common 16:9 aspect ratio for laptop screens. Displays with this shape are great for entertainment, and they can improve productivity by making room for two windows side by side. I find that I appreciate those benefits more on a large, high-resolution desktop monitor than I do when I'm on the go. When I work on a compact notebook, I'm much more likely to focus on one window at a time.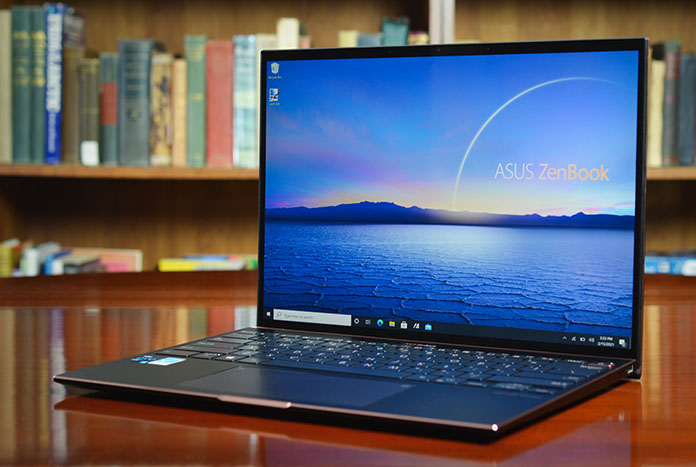 The increased vertical space offered by the taller 3:2 aspect ratio of the ZenBook S makes it a great fit for many of my everyday tasks. Address bars, toolbars, and ribbons can all claim a decent chunk of a screen's vertical space. On the ZenBook S, these elements have room to breathe while leaving plenty of room for me to see the document that I'm working on.
I can really put this extra vertical space to use when I load up a photo-editing app. It's easy to arrange toolbars and panes on a 3:2 screen so that they don't cover up the picture I want to edit. The display is PANTONE Validated for accurate colors right out of the box, so each hue remains vivid and lifelike as I prep my latest snapshot for sharing with friends and family, and I can be sure that any edits I make will look the same on other displays. Even when I'm just browsing the news while I drink my morning cup of coffee, I can read more and see more at a glance without scrolling.
My eyes are living the good life with this screen, too. The display's crisp 3300×2200 resolution makes text and graphics ultra-smooth. Even when I zoom out to get a bird's-eye view, text remains gorgeous and readable. Thanks to the screen's 500-nit maximum brightness, I have enough output at hand to outshine the sunrise streaming in through the windows in my family room or the warm glow of an afternoon on the back porch.
The ZenBook S's screen is just more comfortable to use, too. No matter where I work or what I'm working on, the high pixel density staves off potential headaches by making sure that I don't have to squint. In addition to limiting eye strain, this laptop's Eye Care features help me get a good night's rest. With a quick toggle in the MyASUS app, I can filter the troublesome blue wavelengths that interfere with my circadian rhythm. Enabling Eye Care lets me browse my usual sites late in the evening without disrupting my sleep routine.
Elegant materials, lightweight frame
Some folks can stay productive working at one desk throughout the entire day. I'm the exact opposite. I find creative inspiration, a burst of energy, and renewed focus when I break out of my routine and set up in a new location in the house or at a local library or coffee shop. Besides, my work doesn't let me stay rooted in one spot. My job demands regular cross-country travel, and I can't afford to waste those hours on the plane.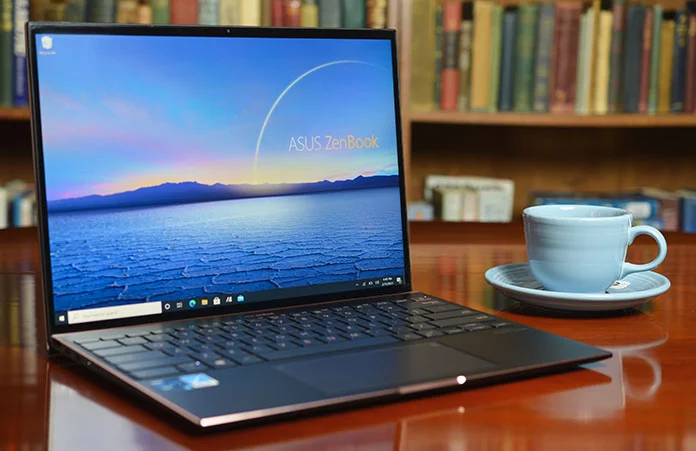 That's why it's so important for me to have a laptop I can pick up without a second thought. The ZenBook S weighs a mere 2.76 lb, so when I'm on the move, it's easy for me to carry it in one hand with a fresh cup of tea in the other. Its compact frame makes it easy to use anywhere. I sometimes work on a project while I cook dinner, for example, and the ZenBook S easily fits next to the cutting board on my counter. Ultraslim NanoEdge display bezels frame the screen on all four sides, making the laptop's footprint just a hair larger than the display itself. Whether I'm huddled up with my kids on the couch, working at the dining room table, or enjoying some sunshine on my back porch, there's always room for the ZenBook S.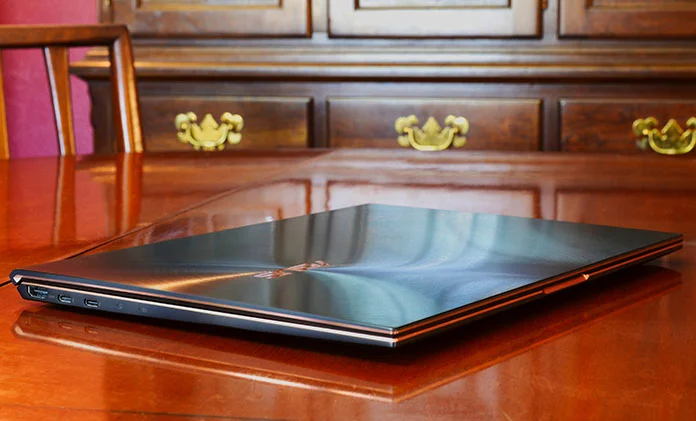 This notebook's understated good looks and premium materials make it a delight for the eyes. Its all-metal chassis is both lightweight and rigid, and it's finished in a sophisticated Jade Black. Our trademark Zen spun-metal finish on the lid catches light and sends it spiraling out in fascinating patterns. Red Copper diamond-cut accents complete the look. This sultry shade peeks out from the edges of the chassis and around the power button. The contrast gives the ZenBook S an eye-catching style of its own that's still unassuming. It fits in at coffee shops and meeting rooms just as well as it does in my breakfast nook. It's the kind of style that inspires me to get down to work or to exercise my creative muscles.
Making light work of my daily to-do list
Some days, I can settle right into my work and knock down my assignments one after another. Other days, I can be easily distracted and thrown off by small hassles and frustrations. The ZenBook S' powerful internal components and thoughtful design remove delays and distractions from my work, keeping me focused and fluent.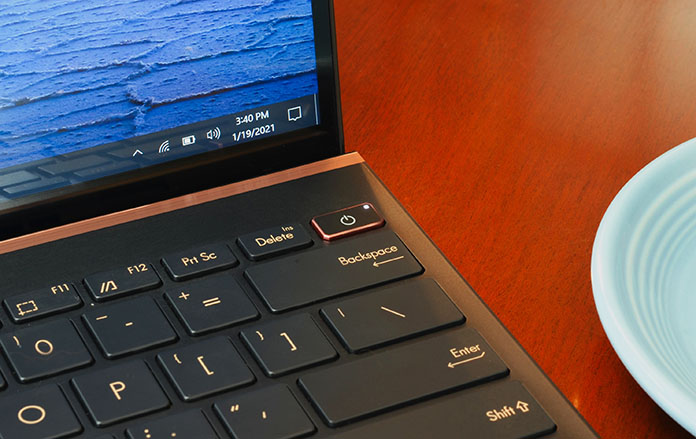 As a child of the '90s, I grew up with PCs that made me sit through one lengthy loading screen after another, so I'm used to being patient with my laptops. The ZenBook S takes the waiting game out of my daily routine. Moments after I press the power button, this laptop is ready to go. Facial recognition via Windows Hello even relieves me from tapping in my password. All but the most complex programs load in a heartbeat, and I've yet to slow the machine down with too many browser windows.
The speedy 1TB SSD in the ZenBook S shares some of the credit for this performance, but the star of the show is its 11th Gen Intel processor. The Core i7-1165G7 CPU has four cores and eight threads, and its high 4.7GHz max Turbo frequency means that it delivers snappy, responsive performance right when I need it. In the light workloads typical of day-to-day use, it even outperforms the CPU in the ROG Zephyrus S15, a powerful gaming laptop from just a year ago. Whether I'm unzipping a large file, making complex calculations on a spreadsheet, or adjusting the tone curve of a high-resolution raw image file, the ZenBook S doesn't miss a beat.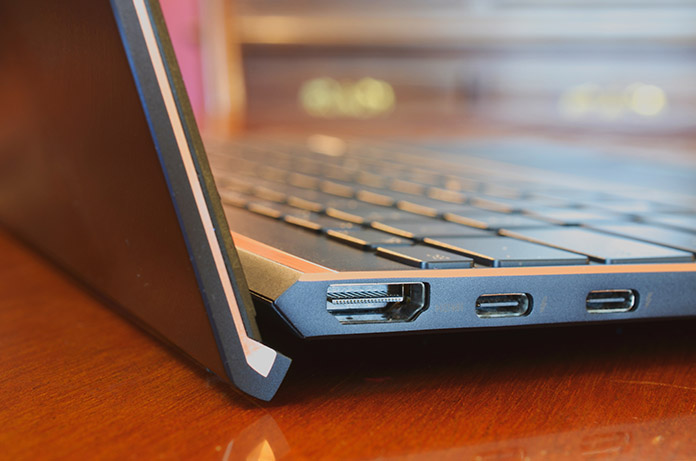 To make sure that the processor has the airflow it needs to operate at peak performance, the ZenBook S employs an ErgoLift hinge that raises the rear of the laptop as I open the lid. This design creates substantial space for ventilation, positions the keyboard at a more natural typing angle, and gives the downward-facing speakers room to deliver surprisingly loud audio. The audio system is tuned by the experts at Harman/Kardon, so I enjoyed clear, distortion-free sound when I played music or joined a remote conference, even when I turned up the volume.
This notebook doesn't make me choose between processing power and battery life, either. I start my typical work day around 8:00am, when I unplug my laptop and settle in with it and a cup of coffee to plan out my day. By the time I set up shop in the kitchen to make dinner, the ZenBook S still has juice to spare, and that's after a long day of Teams meetings, writing, emails, and number-crunching. That kind of battery life means that I don't have to worry whether the laptop is plugged in every night. And even if I don't leave any juice in the tank after a long workday, it only takes about 49 minutes to recharge the battery to 60%.
Frustration-free input and connectivity
In one of my recent Teams meetings, noise from someone's room kept bleeding into their mic. A humidifier, perhaps? I couldn't shut that annoying noise out of my mind, and I kept losing focus on the conversation. With my old laptop, I'd just have to put up with that noise, but the ZenBook S gave me an easy solution. I simply opened the MyASUS app and turned on the ClearVoice Speaker option. The whooshing noise disappeared like I'd waved a magic wand.
That's the power of our Two-Way AI Noise Canceling tech. It intelligently minimizes the background noise in conference calls so that I can hear my friends, family, and coworkers clearly. It's only fair that I don't annoy my own colleagues, so I've been thrilled that Two-Way AI Noise Canceling can also conceal any background noise picked up by my microphone. My dogs and kids can play to their hearts' content even when I'm deep in a work call.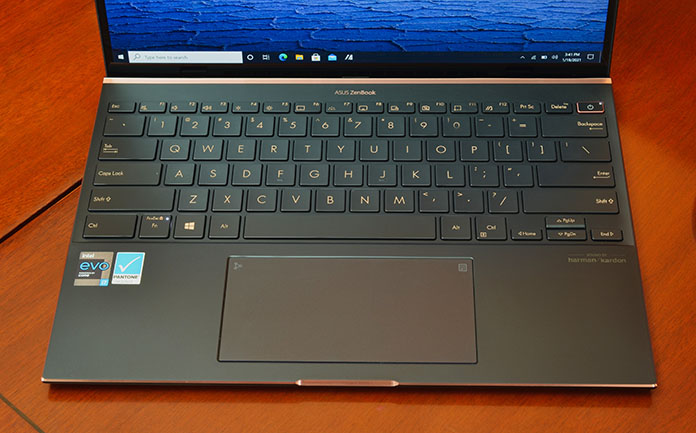 It's features like this that have really endeared the ZenBook S to me. In just a few weeks with this notebook, it's made my life easier in ways large and small. Take the extra-wide clickpad, for instance. The extra space puts its surface within convenient reach of my fingers, no matter how my hands are positioned on the keyboard. More importantly, it means that I can move the mouse cursor across more of the screen without lifting my finger.
The keyboard is an absolute standout, too. I can't say enough good things about its edge-to-edge layout. Since the keyboard uses nearly all of the space of the deck, the keys are the size I'd expect from a 15.6" or 17" device, not a trim 13" laptop. The keys' 1.35mm travel give them a pleasant tactile feel, and when I tested my typing speed and accuracy, I was surprised to find that I'm actually a faster typer on the ZenBook S than I am on my desktop's keyboard.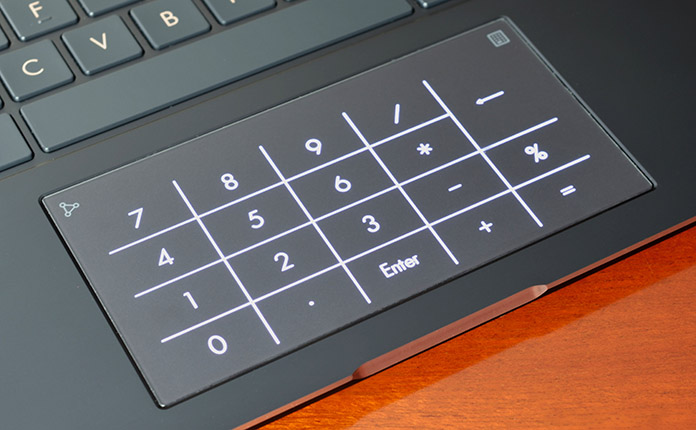 When I need a numpad, I can activate our convenient NumberPad 2.0 with a quick press in the upper right corner of the clickpad. This press lights up an LED-inscribed numeric keypad that lets me input numbers and perform calculations quickly without digging out a separate peripheral. The software intelligently distinguishes between cursor control and data entry so that I can keep using the clickpad to control the mouse even while the NumberPad is activated.
Some ultraportables skimp on connectivity, but the ZenBook S doesn't let me down. With Wi-Fi 6, I have access to high-speed, low-latency wireless connectivity in tandem with compatible routers. For my day-to-day routine, its two Thunderbolt 4 USB Type-C ports are all I need. Using them, I can charge the ZenBook S, connect to an external display, plug in my headset, or charge up my phone. An HDMI port, a MicroSD card reader, and a USB 3.2 Gen 1 Type-A port round out the selection.
Outsized entertainment in a petite package
With its potent components, convenient features, and all-day battery life, the ZenBook S has proven to be my ideal workday machine. It's also taken center stage as my go-to entertainment center after hours. Its high-resolution display covers 100% of the DCI-P3 color gamut, so I've enjoyed a wider range of colors and more vivid reds, blues, and greens than run-of-the-mill laptop screens have offered.
That bright screen makes curling up with the ZenBook S on the couch a real treat, and so does its audio system. I get exceptional audio quality when I connect my studio-grade headphones to the notebook with the included USB Type-C headphone adapter. The treble range is bright and distinct, while the bass is prominent without overpowering the midrange.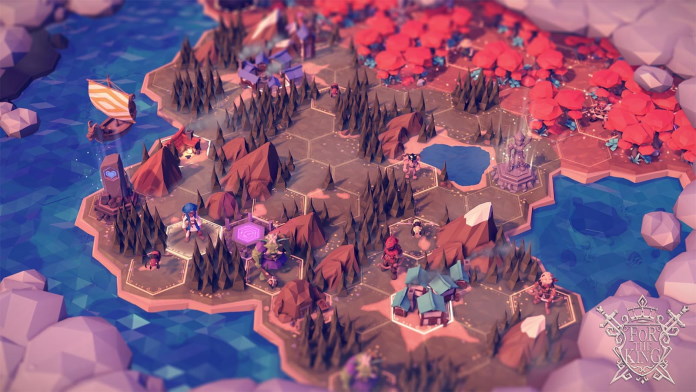 Image source: Gamesplanet
Thin-and-light Ultrabooks aren't usually known for their gaming chops, but the ZenBook S really surprised me when it came time to game. Some old college friends recently invited me to join their Saturday evening gaming group. They don't play the most demanding titles out there—in the last few weeks, we've played League of Legends, Diablo III, and For the King—but the integrated Iris Xe graphics processor on the Core i7-1165G7 has the chops to make those accessible games more than playable.
I enjoyed smooth frame rates as I relentlessly harassed opponents in the midlane of League's iconic map, but more than that, I appreciated how the ZenBook S kept me connected with old friends. Gaming is just how they hang out, even when there isn't a global pandemic on. I'll still  move over to my desktop gaming PC when I want its high-refresh-rate display and ultra-powerful graphics card at my disposal, but thanks to the ZenBook S' capable Iris Xe graphics, I didn't have to fire up another PC when I wanted to join in with my friends on a moment's notice.
Powerful, elegant, portable
I've worked with a lot of laptops over the years, but none of them have made as strong an impression on me as the ZenBook S UX393 has. It's the first laptop I've used that truly gets out of my way. It's never slow, never obtrusive, and never clumsy. From its wide clickpad to its edge-to-edge keyboard, from its dazzling 3:2 touchscreen to its generous port selection, the ZenBook S is designed inside and out for convenience. Any time I ask this laptop to do something, it just says "yes." And its premium materials and luxe finishes make it as much of a pleasure to look at as it is to work with.
The potent 11th Gen Intel Core CPU in the ZenBook S lives up to its premium billing. Its snappy performance all but eliminates the delays that used to plague my work days, and the new Iris Xe  graphics greatly exceeded my expectations for gaming on an everyday laptop. It's remarkable that one ultraportable machine can move so deftly from the demands of the workday to engaging entertainment experiences in the evening.
Spend some time of your own with the ZenBook S, and you'll find that it not only eliminates frustrations you may have with other laptops. It might even dispatch some you didn't even know you had. It wraps remarkable computing power and convenient features into an elegant, portable machine constructed of materials that are as beautiful as they are sturdy and durable. You'll be as impressed as I was at how quickly and seamlessly it becomes an essential companion in every part of your day.