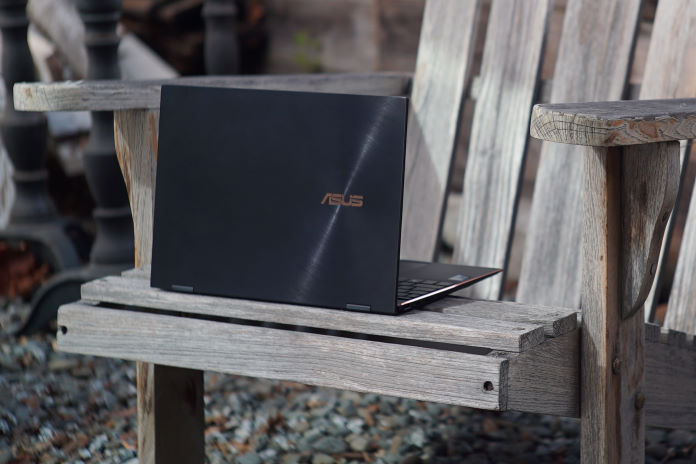 As a content creator and someone who's constantly searching for inspiration, I need a comfortable, portable, and creation-friendly laptop, so I jumped at the chance to incorporate the ZenBook Flip S OLED UX371 into my workflow recently. This trim, convertible laptop uses the latest display and processing technology to squeeze plenty of power into a highly portable, versatile, and stylish design.
When I removed the ZenBook Flip S OLED from its box, I was taken in by the smooth aluminum body and gentle contrast between its Jade Black body and Red Copper chamfers. I was also excited by the possibilities of its convertible design. This laptop's sturdy hinge rotates through a full 360°, and it felt reassuringly secure as I experimented with moving it through all of its modes from laptop to tablet.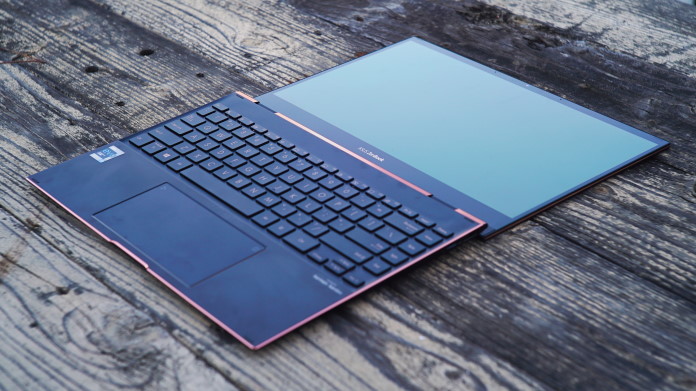 As I powered on the machine, I was struck by the vivid color and perfect blacks of the 4K OLED touch display. I immediately began scrolling through my favorite sources of creative inspiration to see how they were enhanced by this next-generation screen, daydreaming about what it could do for my photo editing and reviewing work. Even YouTube and Netflix videos looked better than ever, so I couldn't wait for the work day to be done so that I could catch up on my favorite shows and playlists.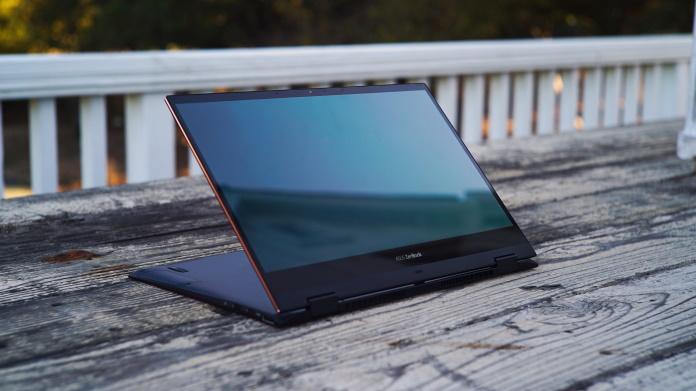 Work has to come before play, of course, and I immediately put the Flip S' crisp screen and full-width keyboard to the test as I drafted article copy and prepared our next social posts for Twitter, Facebook, and Instagram. Any laptop I choose has to have a powerful processor so I can dig into demanding programs and switch through multiple browser tabs without issue, and the ZenBook Flip S OLED's 11th Gen Intel Core i7 CPU had no trouble keeping up. All that power can't weigh me down, though, and I was happy to find how this laptop's compact 13" size made it comfortable to rest on my lap as I curled up on my couch or settled in at the kitchen table. Thanks to the light 2.8lb weight, I could pick it up and move around my house as my work demanded, all without a second thought.
Flip the position
I often need to get outside for inspiration or take a drive for an assignment, so I didn't have to wait long to put the ZenBook Flip S OLED's power and mobility to the test. Shortly after I received the system, I used it to direct a product photo shoot in Los Gatos, California.
Our photoshoots are always a full-day experience, and they start with gathering the products that we plan to feature from our Fremont office. Since I was already going to be carrying around several of our latest products for the day, I appreciated how this laptop didn't weigh down my bag, even with a few photo props along for the ride.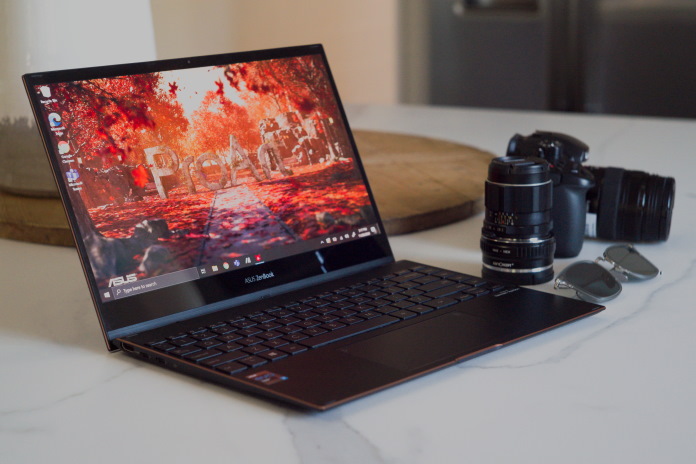 Once I arrived at the Los Gatos location we'd booked, I set the ZenBook Flip S OLED down, opened it up in traditional laptop mode, and connected to the WiFi network. I then pulled up the shot list I'd prepared so our two photographers could reference those ideas as they began creating our lifestyle images. Accessing this Google Sheets list was my first task for the day, and with all the different devices my photographers and I were bringing online for demonstrations, network congestion could have been a problem. Since the Flip S has WiFi 6 connectivity, the WiFi 6 router at the location was able to deliver the bandwidth the laptop needed without a hitch or a stutter. Getting up and running quickly and smoothly set just the right tone for the day's work.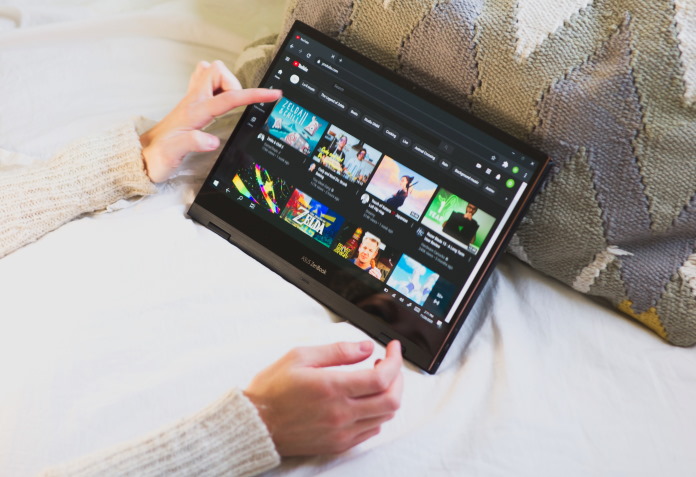 Once we brought in the various laptops, peripherals, and components we planned to shoot, our team of five dispersed to start creating. One of my photographers and I moved upstairs to shoot a few products before I began rotating from room to room and from indoors to outside to see how things were going. As I walked around, I started to use the ZenBook Flip S OLED in its tablet position, allowing me to refer back to the shot list with only a tap of the touchscreen. Instead of fumbling with a traditional touchpad on a clamshell laptop while I was on the move, I only had to look down to the large, bright screen in the crook of my arm to figure out what was next on our to-do list for the day.
Showing its true colors
Thanks to its flexibility and lightweight design, it was effortless to carry the ZenBook Flip S OLED throughout the photoshoot location. After we'd completed the shot list for a few of our products, I uploaded some of our photos to the Flip S to see their colors pop and make quick edits. With true blacks, vivid DCI P3 wide color, and PANTONE Validated color accuracy, the ZenBook Flip S screen proved an ideal partner for making sure each photo's colors and exposures were on target. It's a simple pleasure that goes a long way when I'm ensuring that photos look their best.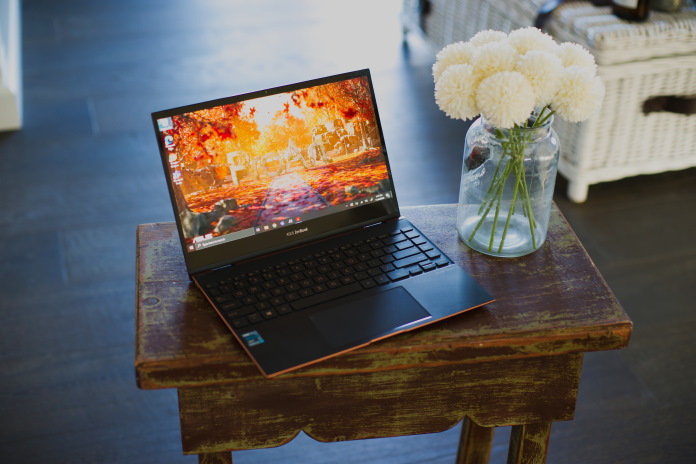 Even though it was tasked with powering a bright, high-resolution display, the ZenBook Flip S OLED's battery held up for the entire photo shoot—and through my evening. For reference, I arrived at the shoot with a full charge, and even after using the Flip S as a photo subject, jotting down notes, referring to our prop list, and watching an ROG livestream during our lunch break, the battery just kept going. After being on our feet all day, cleaning up the furniture we moved, and loading our cars for the return trip to the office, all of us were tired at the end of the photoshoot. This laptop wasn't, though. I finished the work day with 60% battery life remaining.
Once we returned our gear to the office, it was time for me to head home for some dinner and a movie. I was delighted to find that the battery hadn't dropped a single percentage point of life during the long drive home, so instead of digging for the charger and finding the right outlet. I only had to convert the laptop into its stand mode and set it down on my kitchen table to dive deep into my favorite shows and videos as I unwound from the day's work.
As I fired up Netflix and used the touchscreen to find the show I wanted to watch, I appreciated how the Harman Kardon-certified speakers beneath the hinge provided clear, distortion-free audio. The vivid colors and standout contrast of the display immersed me in my YouTube playlist and Netflix Party sessions with my friends.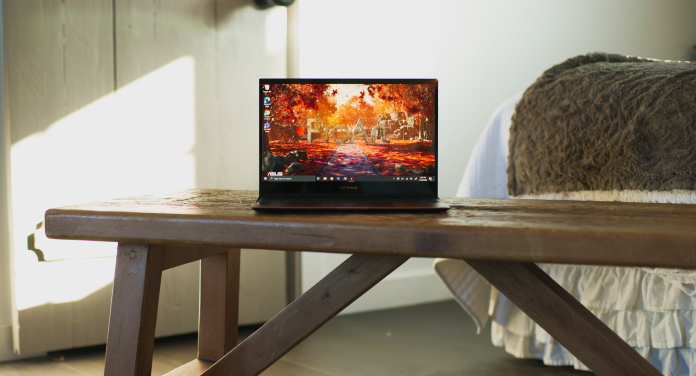 The ZenBook Flip S OLED's display is VESA DisplayHDR 500 True Black compliant, so I was even able to dip my toe into high-dynamic-range (HDR) entertainment on Netflix and YouTube by enabling Windows 10's HDR toggle. I'd been impressed by the colors and contrast of the 4K OLED screen before I enabled HDR, but colors and lighting somehow became even more vivid and lifelike as I queued up supported content. HDR support usually isn't found outside of smaller, less immersive phone screens or massive TVs that I have no chance of taking on the go, so the fact that the ZenBook Flip S OLED offers HDR support in its portable 13" chassis makes it an ideal way to enjoy the cutting edge of video and cinema for me when I'm on the move.
It's got game
This laptop's OLED display proved its worth as a canvas for photo editing and entertainment, and I was impressed by the power of the 11th Gen Intel Core i7-1165G7 CPU throughout my work and play. There was just one more question in my mind: does this laptop have game? Turns out that the answer is yes. My old laptop can't quite handle a game like Rocket League smoothly, but I had a blast with it on the ZenBook Flip S OLED.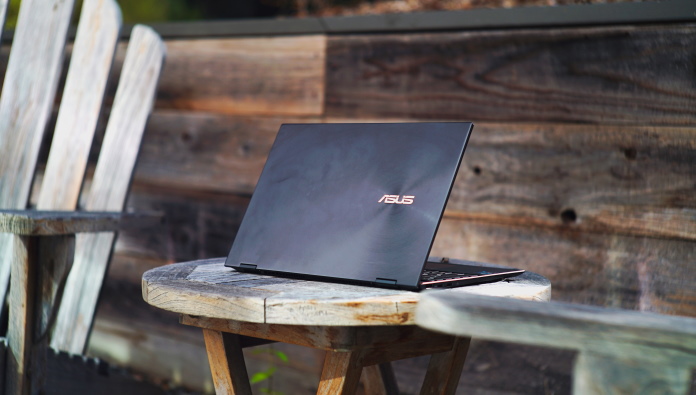 The smooth frame rates from the processor's Iris Xe graphics kept me on top of the fast-paced action, while the vivid OLED display kept motion clear and immersed me in the game's colorful visual style. With one hand on my wireless mouse and the other on the Flip S's sleek keyboard, I was able to keep a steady flow throughout each match. Though this device is thin and light, its processing power stayed true to my expectations. The cooling fans certainly kicked in as I was playing, but the chassis stayed cool to the touch, and noise levels remained pleasant. After an hour of gameplay, I was more than sold on the ZenBook Flip S OLED's competence as a casual gaming companion.
Goes anywhere, does it all
I had high expectations when I welcomed the ZenBook Flip S OLED UX371 into my life, and I was pleased to find that it met every one as I used it for work and play. Its light weight makes it easy to take with me as life and work demand, and its versatile convertible hinge means that it always works with what I'm doing rather than forcing me to adapt my work to its constraints.
The 11th Gen Intel Core i7 processor inside the ZenBook Flip S OLED proved both powerful and power-efficient, and the 4K OLED screen proved an ideal canvas for both creation and consumption. Vivid colors, perfect blacks, crisp motion, and even HDR support for next-gen video mean that no matter what I'm doing, I get an accurate and appealing picture in a laptop that's always by my side. If you've been searching for a versatile and portable laptop that can adapt to everything you do throughout the day, check out the ZenBook Flip S OLED UX371 for yourself.
By Olivia Wray