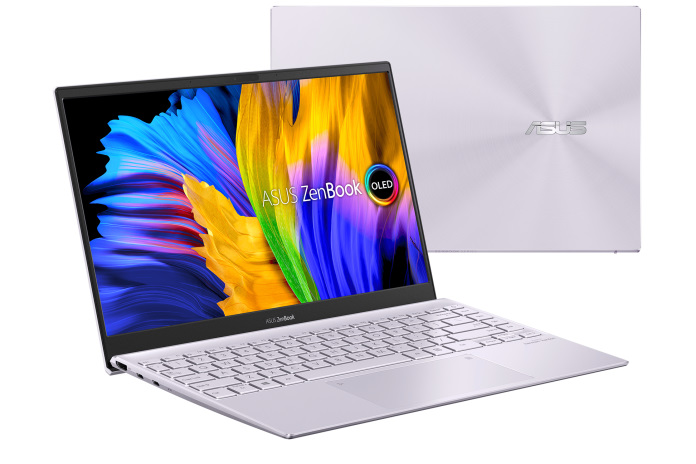 Working from home is the new normal, so you need a powerful PC that's able to video conference, produce, design, and compile just like the desktop you left at the office. But you don't want a big, bulky machine taking up any more space than necessary where you live. The solution? A laptop with high-end specifications in a remarkably compact form factor. Our new ZenBook 13 OLED UM325 and ZenBook 14 UM425 laptops are armed to the teeth with the latest AMD Ryzen 5000-series mobile CPUs, copious RAM, fast storage, and even gaming-ready graphics processors.
For all their power, all of these laptops weigh in under three pounds. And just because you're working from home doesn't mean you're tied to a desk. Batteries that last as long as 16 hours are perfect for changing up the scenery. Lots of I/O, an ErgoLift hinge, a super-thin profile, and the frameless NanoEdge display put comfort and convenience right up there alongside exceptional performance.
The ZenBook 14 UM425 leads off with hard-hitting specifications
When it's time to take care of business, you want quick boot times, instant responsiveness, and blazing file transfers. Our ZenBook 14 UM425UA can do it all. This slim ZenBook can be configured with up to a Ryzen 7 5700U processor, an eight-core model that's tuned for thin-and-light systems. This processor enables simultaneous multi-threading for up to 16 concurrent processing threads. It also features integrated Radeon graphics processors with eight compute units, serving up satisfying performance for productivity during the day and light 3D gaming after hours.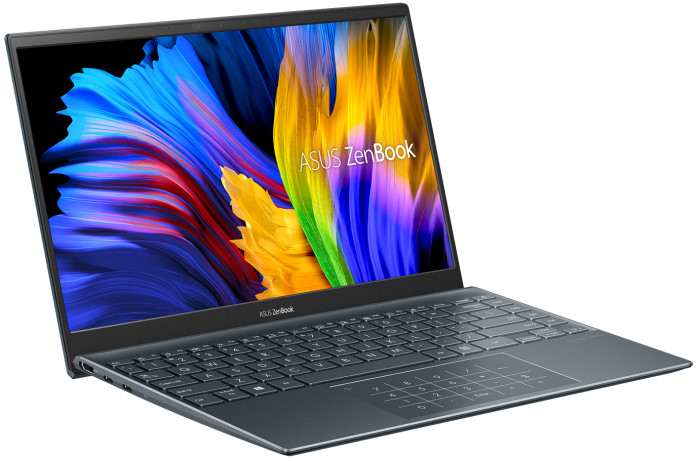 Multi-task to your heart's content. The ZenBook 14 ships with up to 16GB of LPDDR4X memory. You also get plenty of storage space for installing apps and saving projects locally. Choose among SSD options ranging up to 1TB, all of which attach to the PCI Express bus for maximum throughput.
Get ready to go next-gen with the ZenBook 13 OLED UM325
Although it's a bit smaller, the ZenBook 13 OLED is every bit as potent as our 14" model. In fact, it ships with an AMD processor ranging up to the Ryzen 7 5800U. This chip features the same Radeon graphics engine with eight compute units. Our ZenBook 13 OLED can be outfitted with up to 16GB of LPDDR4X RAM and PCIe SSDs ranging up to 1TB.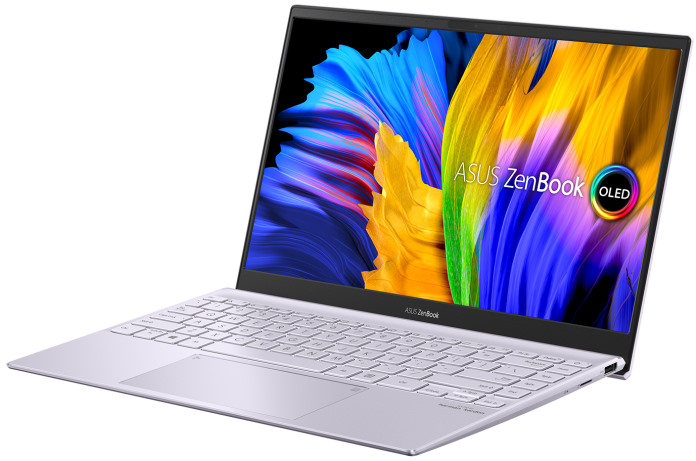 A more compact chassis does make the ZenBook 13 OLED lighter than its larger stablemates—it weighs in at just 2.45 pounds. It's slightly thinner, too. Despite the ZenBook 13's compact dimensions, you get plenty of I/O. There are two USB 3.2 Gen 2 Type-C ports, one USB 3.2 Type A port, an HDMI 2.1 output, and a microSD card slot. That's enough connectivity to set up your own desktop workspace with an external monitor, mouse, and keyboard plugged in.
Bask in the glow of a premium display
The ZenBook 13 OLED and ZenBook 14 are both built around beautiful NanoEdge displays. They fill as much of the body as possible, leaving tiny bezels around the sides for a more immersive experience. The top bezel is thin as well, though we leave just enough room up there for a 720p webcam. That position is deliberate, by the way. Staring into a camera closer to eye level is more flattering than looking down at a hinge-mounted lens. The camera also includes infrared functionality to enable Windows Hello for hands-free logins.
The ZenBook 14 has an IPS-level Full HD display with wide viewing angles that make it easy to keep an eye on what's happening on your PC even as you move around the room. Its 400-nit peak brightness lets you use it in rooms with lots of natural light or even outdoors without having to squint.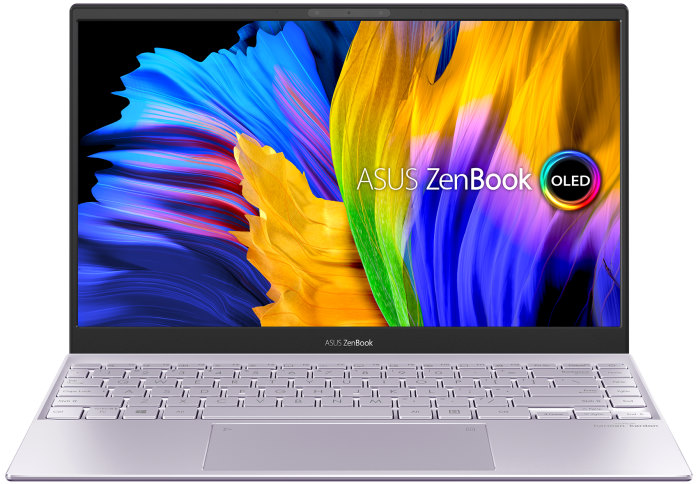 The ZenBook 14's bright display is tough to top, but the ZenBook 13 OLED achieves the feat. Its panel uses OLED technology with a 1920×1080 resolution for colors and contrast you need to see to believe. It supports 100% of the DCI-P3 gamut—the motion picture industry's color space of choice. A contrast ratio of 1,000,000:1 is good for eye-popping high-dynamic-range visuals, which we quantify with a VESA DisplayHDR True Black 500 certification.
The ZenBook is oh-so-comfortable to use
Our ZenBooks strike the perfect balance between size and practicality. Their edge-to-edge keyboards keep your hands positioned comfortably as you transcribe notes or blast through emails. In fact, the typing surface is so roomy that we added a row of extra function keys on the right side.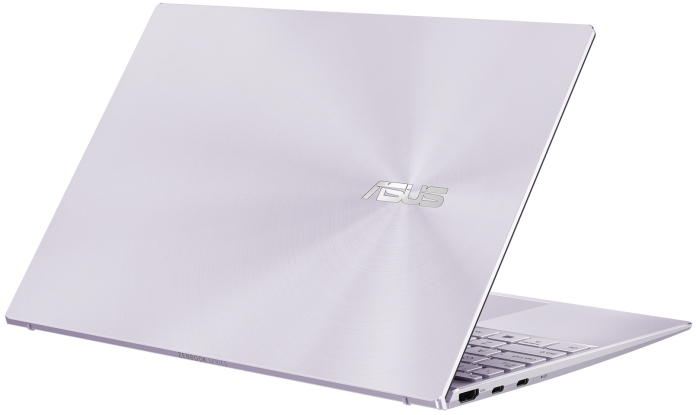 As you open these ZenBooks' lids, their ErgoLift hinges raise the body's back edge up off your desk. This slight elevation tilts the keyboard toward you for a more natural typing angle. It also creates space under the laptop for improved air circulation and better sound quality from the Harman Kardon-certified speakers.
Although thin-and-light laptops usually lack the keyboard real estate for a dedicated ten-key pad, we have a solution for that. When it comes time to get serious about your spreadsheets, simply activate the NumberPad 2.0, which lights up with an LED-inscribed numeric keypad. Our software is smart enough to distinguish between data entry and cursor control, so there's no need to toggle back and forth during data entry.
ZenBook 13 OLED
Model
UM325SA

UM325UA
CPU
Ryzen 7 5800U
Ryzen 5 5600U
Ryzen 7 5700U
Ryzen 5 5500U
Display
13.3" FHD OLED 100% DCI-P3
GPU
AMD Radeon Graphics
Memory
Up to 16GB LPDDR4X
Storage
Up to 1TB SSD
I/O
2x USB 3.2 Gen 2 Type-C
1x USB 3.2 Gen 1 Type-A
1x HDMI
1x MicroSD card reader
Dimensions
304 x 203 x 13.9mm
Weight
1.14kg
Battery
67Wh
ZenBook 14
Model
UM425
CPU
Ryzen 7 5700U
Ryzen 5 5500U
Display
14" FHD
GPU
Up to GeForce MX450
Memory
Up to 16GB LPDDR4X
Storage
Up to 1TB SSD
I/O
2x USB 3.2 Gen 2 Type-C
1x USB 3.2 Gen 1 Type-A
1x HDMI
1x MicroSD card reader
1x audio combo jack
Dimensions
319 x 210 x 14.3mm
Weight
1.22kg
Battery
67Wh
Built for speed, built to last
Whether you're working from home or in an office, our ZenBook 13 OLED and ZenBook 14 were designed to withstand the rigors of daily use. We've dropped them, used them in unbearably hot environments, ran them where it's extremely cold, and verified they perform well at high altitudes. Then we put both models through our own suite of stress tests, pushing each component as hard as possible. The battle-hardened ZenBooks emerged from the other side satisfying the demanding MIL-STD 810H standard for reliability and durability.
For more information regarding pricing and availability of the ZenBook 13 OLED UM325 and ZenBook 14 UM425 in your region, please contact your local ASUS representative.