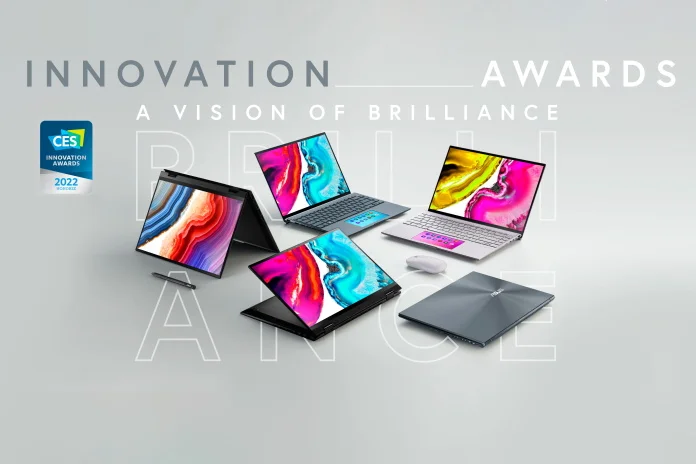 Every year, we travel to Las Vegas for the annual Consumer Electronics Show (CES). It's an unmissable opportunity to introduce our latest and greatest hardware to tech enthusiasts—and engage in a little friendly competition, as well. At the show, the products that stand out from the pack with outstanding design and engineering are honored with CES Innovation Awards. This year, we're proud to announce that our products earned 20 of these accolades. Showcasing the ingenuity of our engineering and design teams, these products demonstrate our relentless pursuit of innovation as we craft hardware solutions for creators, gamers, and everyday PC users the world over.
Zenbooks with OLED panels redefine luxury
Not that long ago, laptops with OLED displays were extraordinarily rare—and priced out of the range of most shoppers. Now, that's all changing. We're bringing the advantages of OLED to a wide range of users with a full lineup of laptops that cater to the needs of everyone from professional creators to movie lovers.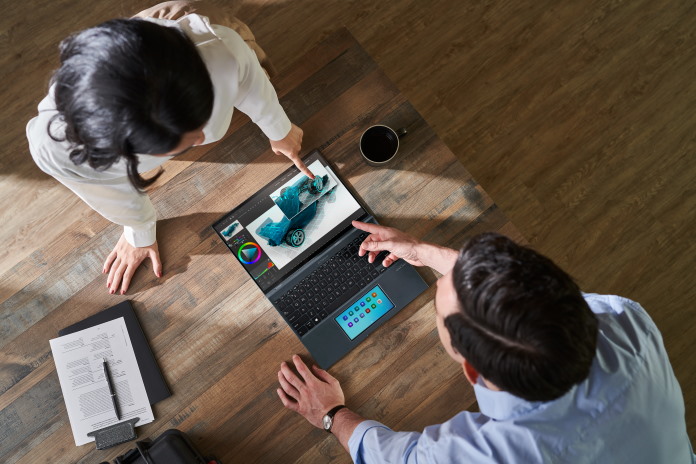 A pair of our Zenbooks earned their status as CES 2022 Innovation Award honorees with their dazzling OLED displays and ultra-slim form factors. They offer everything you need for an enviable everyday experience: gorgeous displays, sophisticated designs, and effortless portability. With their vibrant, high-contrast OLED screens and responsive performance, the Zenbook 14X OLED and Zenbook 14 Flip OLED give you all the power you need and all the elegance you desire.
Gaming laptops that break the mold
Lots of folks like to claim that they think outside the box, but continue to serve up conventional ideas and stale designs. Our gaming laptops—and the raft of awards they earned at CES 2022—prove that we're a different breed.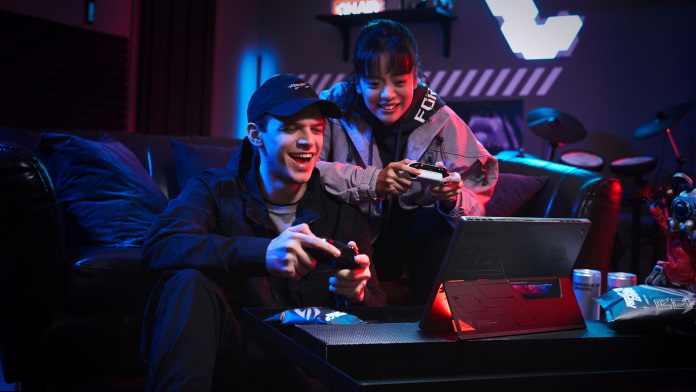 Take the brand-new ROG Flow Z13: thanks to its muscular components, slim and versatile design, and custom cooling solution, it shatters all conceptions about the gaming performance you can expect from a tablet.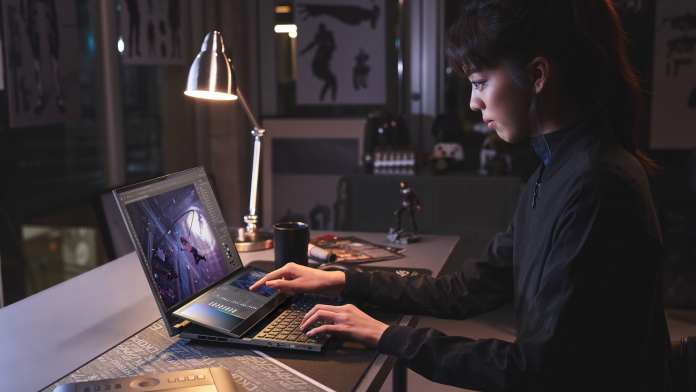 Our original ROG Zephyrus Duo put us in the pole position for dual-screen gaming laptops, and the new ROG Zephyrus Duo 16 expands our leadership in this space with key innovations that drive your experience forward. For its primary 16" screen, you can pick between a dazzling Nebula HDR display with a Mini LED panel and VESA DisplayHDR 1000 certification, or you can go all-in on versatility with the Dual Spec panel that can operate at either 1080p 240Hz or 4K 120Hz. Add in a redesigned hinge, the latest high-end components from AMD and NVIDIA, and premium connectivity, and it's clear why this machine earned a CES 2022 Innovation Award.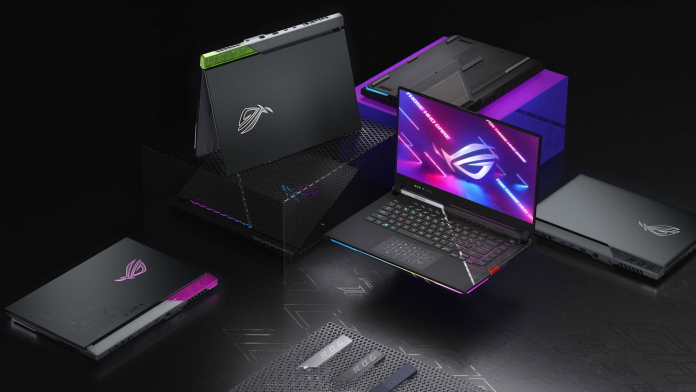 Even our traditional clamshell-style gaming laptops demonstrate our relentless drive for innovation. We brought thin-and-light gaming on the go to the masses with the wallet-friendly and high-performance TUF Dash F15 gaming laptop. We collaborated with legendary artist, DJ, and music producer Alan Walker to craft the unforgettable design of the ROG Zephyrus G14 Alan Walker Special Edition—and then we made the best compact gaming laptop even better with the 2022 ROG Zephyrus G14. And our 2022 ROG Strix SCAR and ROG Strix G series laptops took home CES 2022 Innovation Awards due to their cutting-edge CPUs and GPUs, aggressive style, next-gen DDR5 RAM, and lightning-quick displays.
A new frontier of wireless networking
Reliable, high-speed internet is more important than ever in today's connected homes. For households full of laptops, smartphones, consoles, smart home devices, tablets and more all vying for signal, the latest WiFi 6E standard comes as a breath of fresh air. In select regions, users can access the freshly-opened 6GHz band to rise above the fray and enjoy uninterrupted, high-speed connections.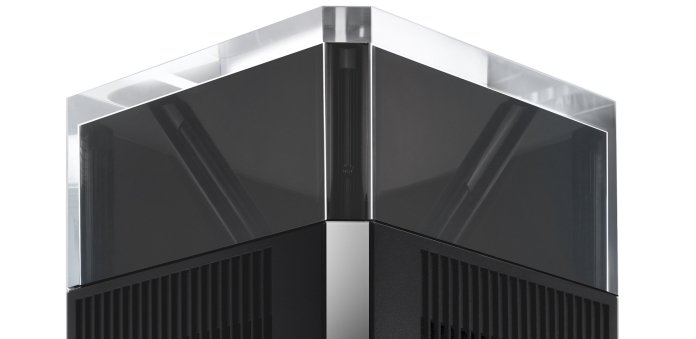 In order to take full advantage of the new generation of wireless networking, you'll need both a WiFi 6E router and WiFi 6E devices. ASUS offers both. A pair of our WiFi 6E routers stood out at CES for their ability to deliver the latest wireless technologies. The ZenWiFi Pro ET12 mesh networking system lets you easily set up a reliable network even in the most demanding environments.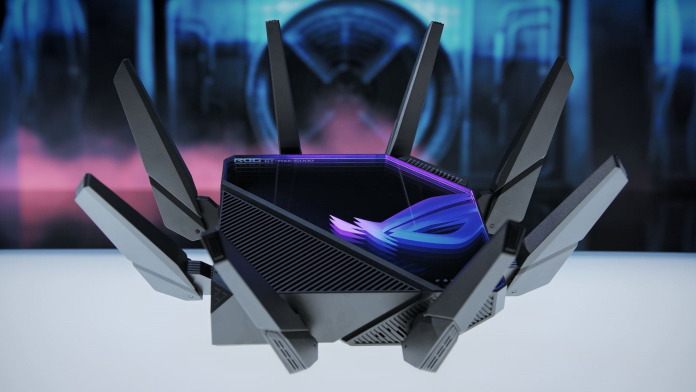 Gamers know that spotty connections can rob you of victory at any moment. The world's first quad-band WiFi 6E router, the ROG Rapture GT-AXE16000, stands ready to deliver championship-grade wireless connectivity. This router offers data rates as high as 4,804 Mbps on the 6GHz band and on two 5GHz bands. Together with the 2.4GHz band's 1,148 Mbps, that's 16,000 Mbps of aggregate throughput, provided that WiFi 6E is available in your region.
The ultimate tool for digital art
For many creative workflows, nothing beats the accuracy, simplicity, and control of stylus input. The new ProArt Display PA169CDV gives creators a secondary display and a flexible input device with Wacom EMR technology, the ASUS Dial, and Control Panel software, all in a slim package design that fits right into a laptop bag.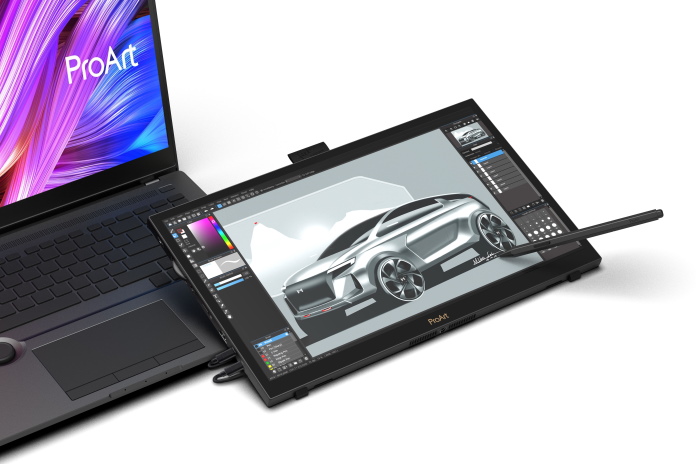 The PA169CDV boosts your creative efficiency with versatile physical controls and customizable software. It starts with natural-feeling and precise stylus input through Wacom's electromagnetic resonance (EMR) tech. To give you quick, fine-tuned control as you're creating, the PA169CDV also includes an integrated ASUS Dial. The Control Panel software interface takes advantage of the PA169CDV's 10-point capacitive multi-touch display to offer creators even more tools for working within Adobe apps. Thanks to its slim package design and versatile kickstand, all this functionality is always right at your fingertips.
A portable OLED display for everyone
If you're looking for a portable secondary monitor to pair with a new OLED-equipped laptop—or if you'd like to experience the benefits of OLED with your current notebook—the new ZenScreen OLED stands ready.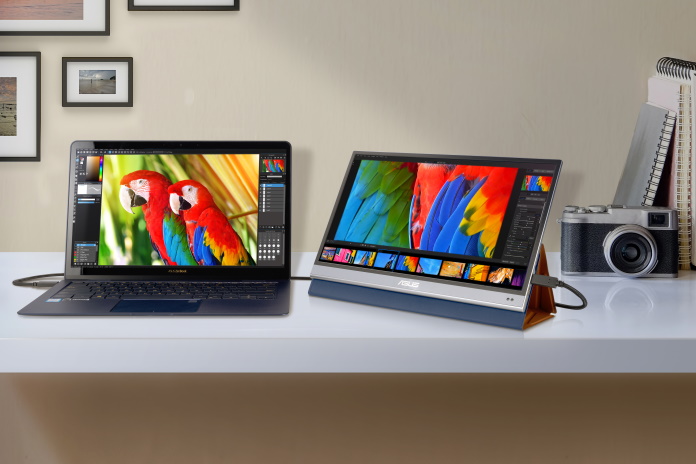 Connect it to your laptop through one of its three USB Type-C ports or its Mini HDMI port, and you'll be able to enjoy its lifelike colors and superior contrast. The ZenScreen OLED a natural fit for high dynamic range (HDR) content, and with its support for 10-bit color, 100% DCI-P3 coverage, and professional-grade color accuracy, it offers vivid-lifelike colors.
The ultimate platform for your 12th Gen Intel build
Enthusiasts the world over are planning new DIY PCs centered on Intel's latest Core processors. For a no-holds-barred motherboard ready to unleash the full potential of your new Intel 12th Gen CPU, the ROG Maximus Z690 Extreme Glacial stands ready.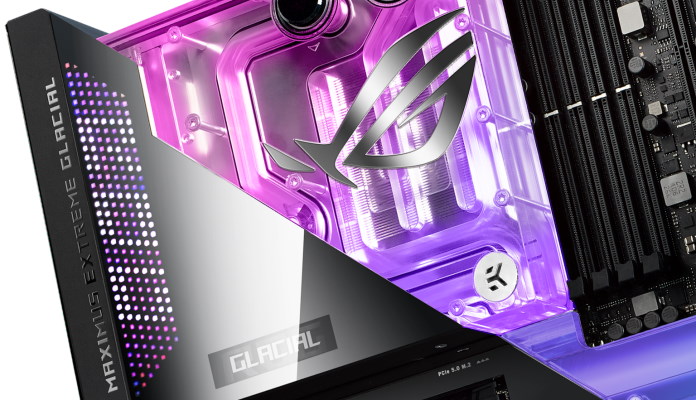 Take one look at its fully water-cooled monoblock, developed in tandem with the liquid-cooling experts at EK, and you'll see why it earned a coveted CES 2022 Innovation Award. Constructed of clear acrylic, ROG X EK UltraBlock is a complete solution for custom-loop motherboard cooling, covering the CPU, VRMs, onboard M.2 slots, PCH, and even the integrated LAN.
More to come
Two additional ROG products have been recognized with CES 2022 Innovation Awards, but we're not quite ready to share the full details about these items. We'll have more information to share when they launch later in 2022. In the meantime, follow this link to learn about all the new laptops, displays, wireless routers, and PC DIY components that we announced at CES 2022.
*The CES Innovation Awards are based upon descriptive materials submitted to the judges. CTA did not verify the accuracy of any submission or of any claims made and did not test the item to which the award was given.