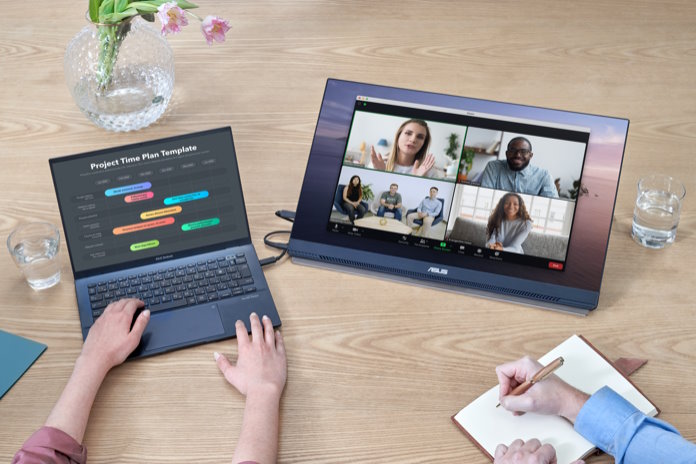 For many of today's employees and home PC users, nothing matters more for their tech than versatility. Think about a busy mom in a remote work arrangement. On any given day, she might join online meetings in her home office space, help her kids with homework, follow an online recipe as she prepares dinner, and wind down for the day with her favorite show. She could use different devices and displays for each of these moments — or she could use the ZenScreen MB249C monitor.
Or think about a business that provides a shared office space for its employees with a hybrid work schedule. On their days in the office, these workers need a setup that they can deploy quickly and efficiently so that they can get right on task. The duties of the day might include meetings, small presentations, and close collaboration with coworkers. A set of separate displays might meet those needs — but the ZenScreen MB249C portable monitor can handle them all.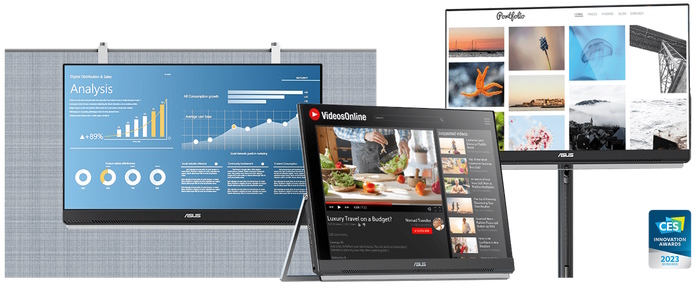 Finally, think about a young professional looking for the right display for his smaller-sized apartment. A standard desk monitor would boost his multitasking abilities when working at home, but might demand more desktop space than he'd prefer. A wall-mounted television would keep him entertained without taking up much space, but wouldn't be convenient for connecting to his laptop. A typical portable monitor would offer versatile usage, but might not be large enough for his needs. He might not have the physical space in his apartment for separate display for work and entertainment — but he would have room for the slim, large, and versatile ZenScreen MB249C.
Rethinking the PC monitor
To create a display with the versatility needed for all these scenarios and more, we went back to the drawing board and challenged the basic assumptions about what a display should look like. The result of our efforts is the ZenScreen MB249C.
The ZenScreen MB249C builds on the concepts that have made our ZenScreen portable monitors such compelling display options for anyone with an on-the-go lifestyle. The MB249C offers a sleek, ultraslim profile, and since it's only 2.8kg, it's easy to move around.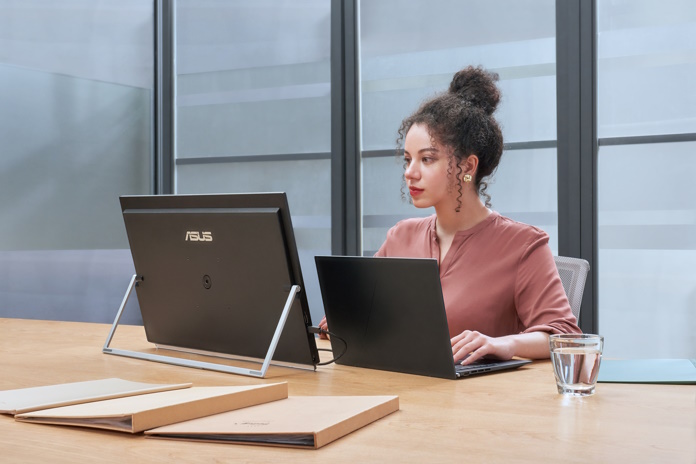 Yet the MB249C stands out with the sheer size of its display panel. As a 24-inch monitor, it's our largest ZenScreen yet. To make this monitor easy to relocate, its kickstand doubles as a carrying handle when you're ready to get on the move. When you're ready to deploy it again, the kickstand offers a wide range of stand angles for ergonomic comfort.
Ready for anything
The ZenScreen MB249C gives you plentiful space-saving set up options. In a shared office space or in any cozy nook of your home or apartment, you'll easily be able to set up this space-saving display.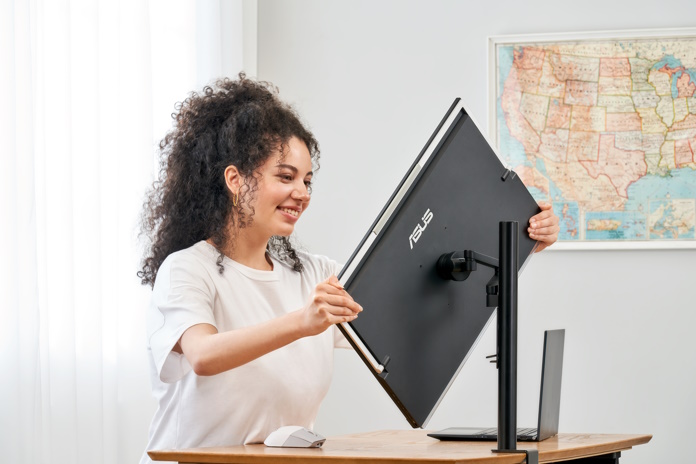 In addition to the built-in kickstand, the ZenScreen MB249C offers a c-clamp stand that you can attach to the edge of your desk. This solution minimizes lets you reap the advantages of a second display without giving up as much desk space, freeing up room for your laptop and peripherals. Its versatile arm with z-axis adjustment lets you quickly position the screen at a comfortable, ergonomic viewing angle.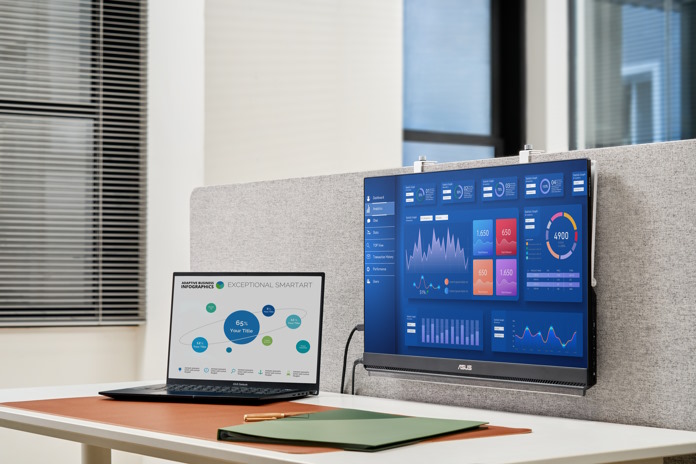 Looking for an easy solution for setting up the MB249C in your corporate office? A partition hook kit lets you hang the display flush against a nearby partition wall for even more space-saving convenience. Both the partition kit and the c-clamp stand are included in the box so that it's always easy to use the ZenScreen MB249C.
Easy connectivity
Connecting the ZenScreen MB249C to your laptop, desktop, smartphone, or gaming device couldn't be easier. Its integrated USB Type-C port accepts display signals from a wide variety of devices. What's more, it even offers 60W power delivery, so it can recharge devices like your laptop even while you take advantage of the multitasking potential of the second screen.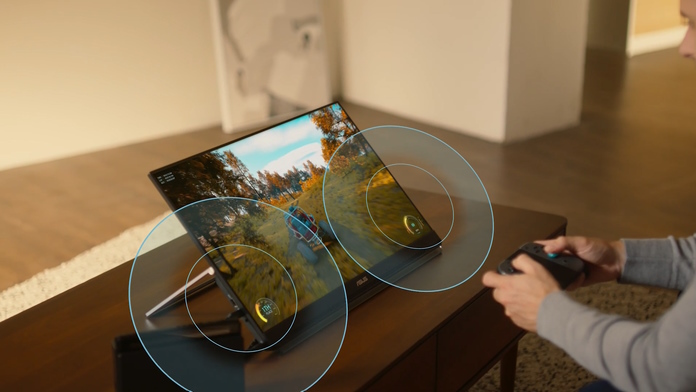 Even if the device you're connecting to the ZenScreen MB249C doesn't have a USB Type-C port with DP Alt Mode, it's quite likely to have an HDMI port. For broad compatibility, the ZenScreen MB249C also has an integrated HDMI port. When you're looking to use this display for entertainment, you can get immersive sound from the two embedded 1-watt speakers, or you can connect your favorite headset to the 3.5mm jack.
Clear, comfortable visuals in any scenario
With the ZenScreen MB249C's versatile usage options and convenient connectivity options, you just might use it anywhere in your home or office. It's well-appointed display ensures that you get a clear image in any scenario. It offers an FHD IPS panel with wide 178° viewing angles. An anti-glare coating reduces reflections and glare, so if you're working in a space near a window you'll be able to work comfortable or share content with a group.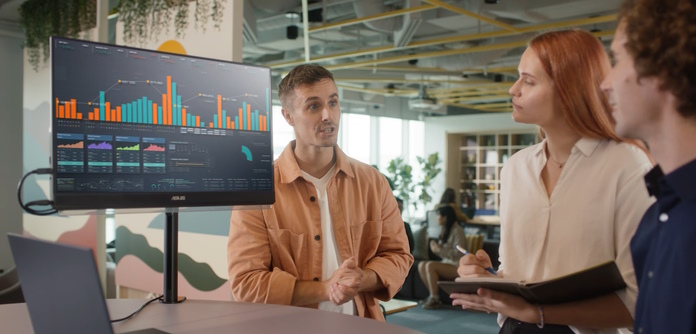 To make sure that you can get your work done without eye fatigue, the ZenScreen MB249C offers ASUS Eye Care technology. ASUS Ultra-Low Blue Light technology protects you from potentially harmful blue light emissions, and ASUS Flicker Free technology eliminates distracting and uncomfortable screen flicker. Both technologies are certified by the experts at TÜV Rheinland, a global provider of technical, safety, and certification services.
A sustainable choice for your display needs
Like you, we have a passion for making a positive impact on the world around us, and we work to empower you to push forward with us toward a more sustainable future. The ASUS ZenScreen MB249C is stringently tested to meet the requirements of world-leading sustainability certifications. This display earned an Energy Star ES8.0 badge due to its energy-efficient design, and it bears an FSC Mix certification due to the sustainable materials used for its packaging.
We even refined our manufacturing process to reduce the environmental impact of the ZenScreen MB249C. An exclusive insert-molding process gives the monitor its light weight and thin profile, all the while cutting down on the materials used.
Redefine your space with the ZenScreen MB249C
There's never been a portable display quite like the ZenScreen MB249C. Its large 24-inch panel empowers your productivity and elevates your entertainment, yet it's thin and light enough for easy repositioning throughout the day. Between the built-in kickstand, c-clamp stand, and partition hook kit, you can quickly set up the MB249C in your home office, a shared office space, your living room, or wherever the day takes you.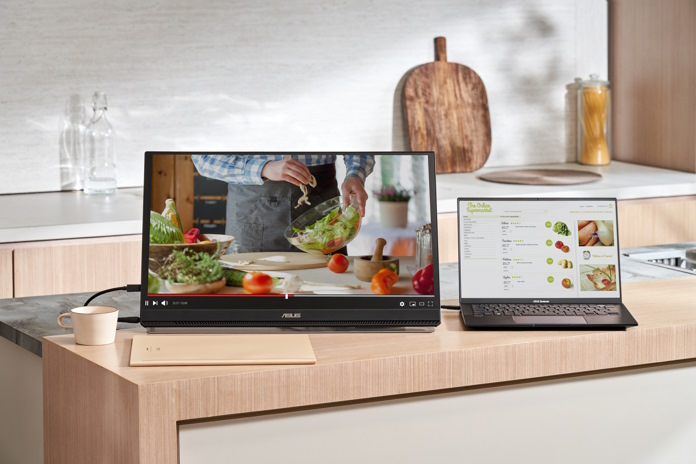 Whether you're equipping your employees for a hybrid or remote work arrangement or finding a new display for your home, the ZenScreen MB249C offers unmatched versatility. Purchase a ZenScreen MB249C of your own today to see the difference that it can make.