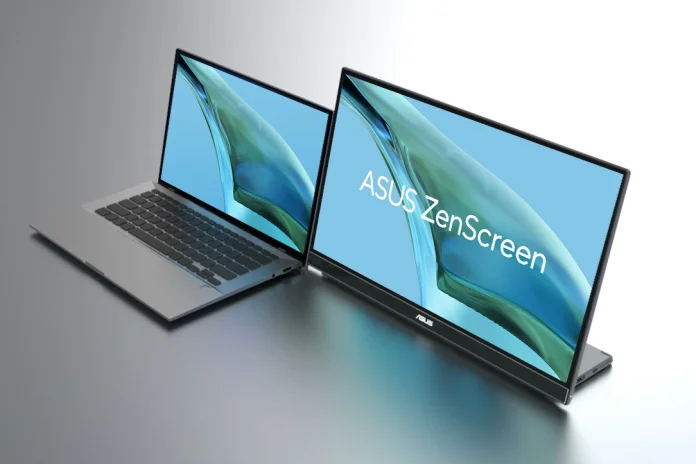 ZenScreen portable displays let you do more with your PC in any scenario. These slim-and-trim monitors slide easily into your bag alongside your laptop, and they're ready to boost your multitasking power at a moment's notice. For CES 2023, we're debuting three new ZenScreen models — all of which garnered CES Innovation Awards this year. The ASUS ZenScreen MB16QHG and ASUS ZenScreen MB17AHG bring ultra-smooth animation to the family with their high refresh rates. And the spacious 23.8-inch ZenScreen MB249C — the largest model in the lineup — uses a space-saving and versatile design to make it easy to add a second display to just about any setup.
High-end display tech abounds in the ZenScreen MB16QHG
When you're selecting a portable monitor, there's no need to compromise on the display specs that matter to you the most. The ASUS ZenScreen MB16QHG gives you the premium tech that you demand in a monitor, all in an ultra-slim design that travels anywhere.
This 16-inch display offers a 2560×1600 resolution. That fine detail delivers exceptional clarity for everything you do with your PC, from editing photos to browsing the web. Its 16:10 aspect ratio opens extra vertical space for increased productivity and more breathing room for the content you care about the most.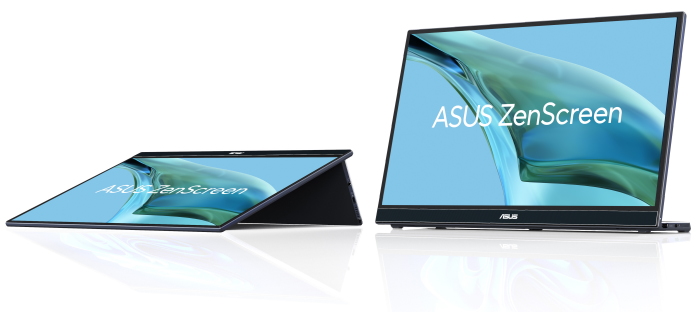 The ZenScreen MB16QHG draws you into your entertainment like never before with lifelike visuals. It covers 100% of the cinema-grade DCI-P3 color gamut, so it offers vibrant, saturated colors that leap off the screen. It even offers a taste of high dynamic range (HDR) tech through contrast and color performance that targets the standards of the VESA DisplayHDR 400 certification.
The icing on the MB16QHG's cake is its speedy 120Hz refresh rate. It refreshes content on the display twice as fast as a model with a standard 60Hz refresh rate, giving you more fluid animation in video, games, and even everyday computing. Since so many of today's smartphones also offer a 120Hz refresh rate, this display is a great fit for augmenting what you can do with your phone.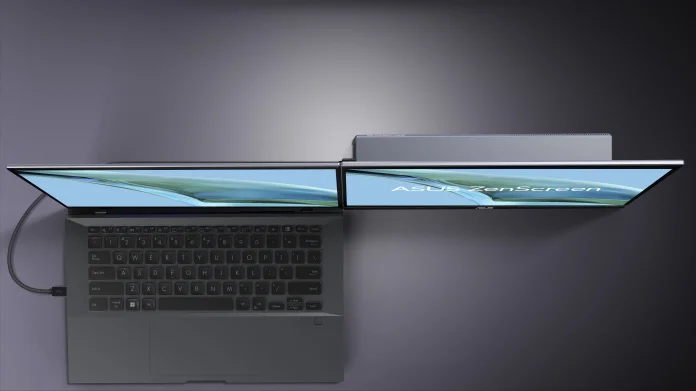 The ZenScreen MB16QHG's 16-inch display makes it an ideal partner for your laptop, as well. With our new kickstand design, you'll be able to align the two displays together easily. The new kickstand supports multiple stand angles ranging from 0° to 90°. Whether you need it flat on the table for collaboration or perfectly upright to match your laptop's display, this design gives you what you need. Since the display is surrounded with luxuriously thin bezels, you'll have a nearly seamless workflow between the two screens. An embedded tripod socket opens even more possibilities for perfectly positioning the ZenScreen MB16QHG for the task at hand.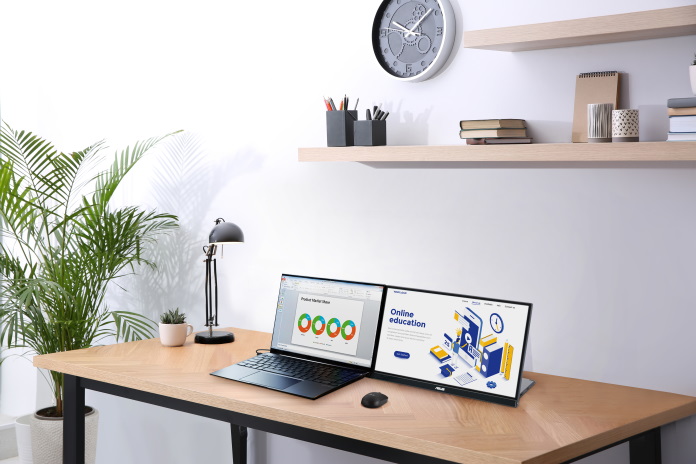 A rich selection of connectivity rounds out the ZenScreen MB16QHG's feature set. Two USB Type-C ports, both wired for display signals and charging the display, give you versatile options. We placed these ports on opposite sides of the display so that the cord won't come between your laptop's display and ZenScreen MB16QHG, no matter which side of the laptop you prefer to set up the portable display. An HDMI port provides broad connectivity with a broad range of devices, and a 3.5mm audio combo jack gives you a convenient port to plug in your headset.
At ASUS, we continually review our manufacturing and packaging processes to meet our commitments to sustainability. The packaging for the ZenScreen MB16QHG bears a certification from the Forest Stewardship Council, a global non-profit that promotes responsible forest management. The MB16QHD's FSC Mix certification demonstrates our commitment to sourcing forest-based materials from responsible suppliers.
The ZenScreen MB17AHG beckons with a 144Hz refresh rate
Looking for a big portable display primed for great entertainment experiences? The ASUS ZenScreen MB17AHG has everything you need. This thin and light monitor uses the same kickstand, connectivity, and frameless design as the MB16QHG, but its 17.3-inch FHD panel offers the 16:9 aspect ratio that's standard for media of all kinds. You'll enjoy your favorite shows and streams in full detail without letter boxing. The MB17AHG offers even smoother animation with its 144Hz refresh rate, perfect for fast-paced action of all kinds. FreeSync Premium tech provides smooth, tear-free visuals in media and day-to-day productivity.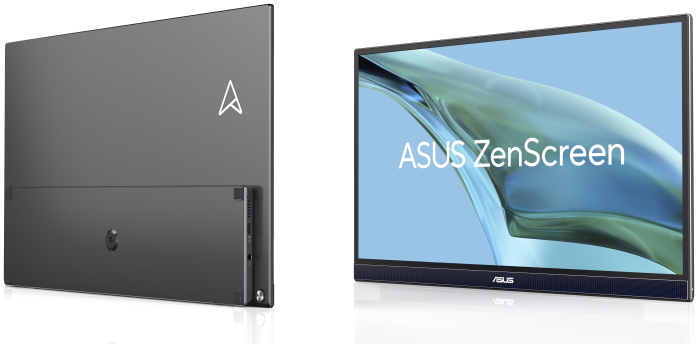 When you need to adjust any of your monitor settings, the DisplayWidget app makes it easy. After a quick download, you'll be able to tweak any of the settings you typically find in a monitor's on-screen display (OSD). Additionally, you'll have full control voer the ASUS-exclusive features of the MB17AHG — all from the comfort and convenience of your mouse and keyboard.
The ZenScreen MB249C fits effortlessly into any scenario
Today's workers and home PC users demand flexible tech that travels as easily as they do, whether they're traveling from the office to a client meeting or from their home office to their living room. With the ASUS ZenScreen MB249C, we've reimagined the desktop display to better fit the needs of people today.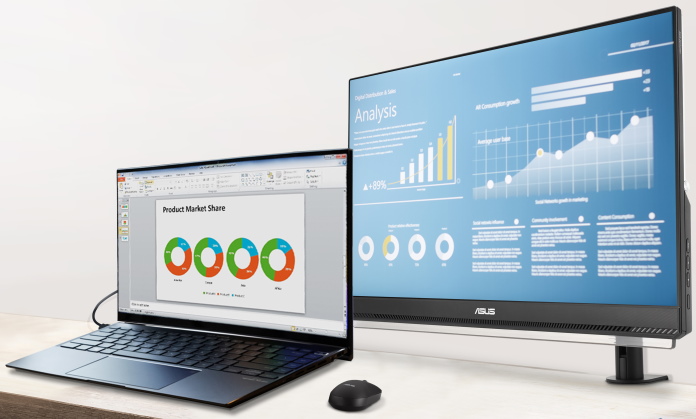 At 23.8 inches, the ZenScreen MB249C offers the same screen space for productivity and entertainment as many standard desktop monitors, but it offers so much more than those ordinary models. Through an exclusive insert molding process, we were able to make it supremely thin and light. It's a mere 17.7mm thick, and it checks in at a featherweight 2.8kg. The kickstand doubles as a carrying handle when you're ready to get on the move, and it offers a wide range of stand angles when you're ready to deploy it again.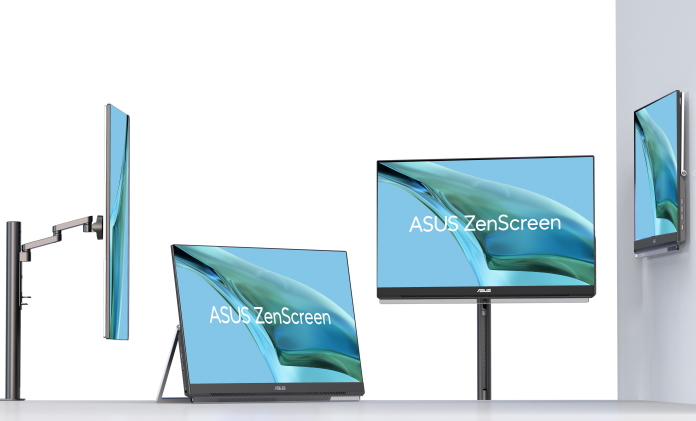 The ZenScreen MB249C gives you plentiful space-saving set up options. In the box, you'll find a c-clamp stand that you can attach to the edge of your desk. The versatile arm with z-axis adjustment lets you position the screen ergonomically. This stand lets you reap the advantages of a second display, all without giving up as much desk space. Looking for an easy solution for setting up the MB249C in your corporate office? A partition hook kit lets you hand the display flush against a nearby partition wall for even more space-saving convenience.
A full-function USB Type-C port with 60W USB Power Delivery gives you versatile connectivity, and its HDMI port ensures compatibility with a wide range of devices. As with the ZenScreen MB16QHG and ZenScreen MB17AHG, it bears an FSC Mix certification due to the sustainable materials used for its packaging. It also earned an Energy Star ES8.0 badge due to its energy-efficient design.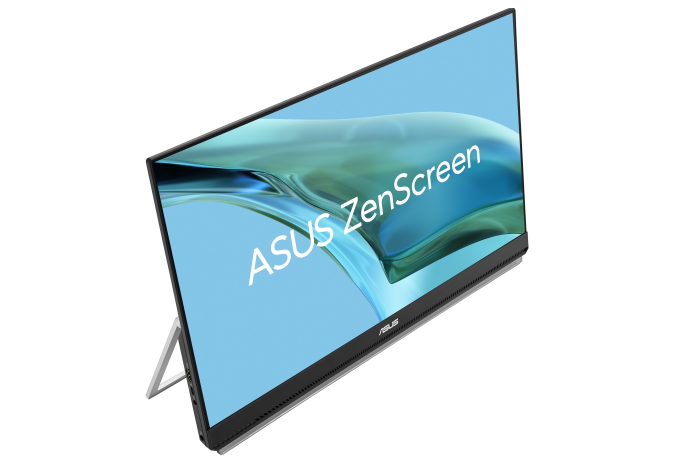 These three displays make it easy to augment everything you do with your laptop or PC with designs that travel as readily as you do. For more information on the pricing and availability of the ASUS ZenScreen MB16QHG, the ASUS ZenScreen MB17AHG, and the ASUS ZenScreen MB249C in your region, please contact your local ASUS representative. Click here to learn about all the products that we announced for CES 2023.