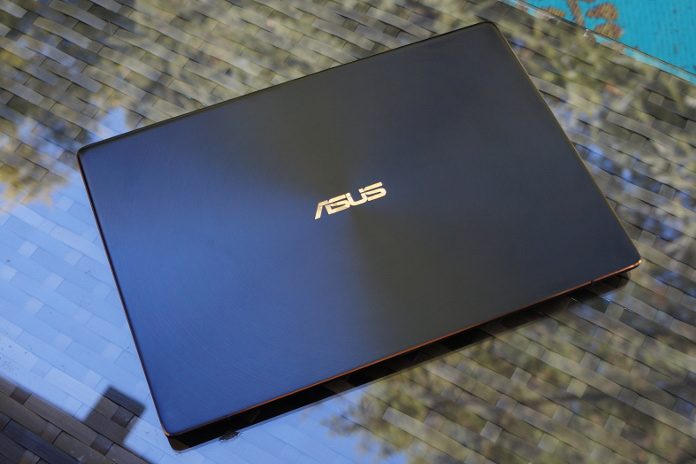 The first ultrabooks were meant for the road. Thin and portable, they made light work of business trips and the types of tasks you typically do most often when working away from the office, like sending emails while waiting for a delayed flight, or putting the finishing touches on a Powerpoint in your hotel room. But these early ultraportables were no match for the setups we had back at HQ. They were companion devices that focused on portability over performance, and they weren't capable enough or comfortable enough for heavier loads or extended work sessions.
We've come a long way since those days, though. More powerful mobile chips, improved cooling, and innovative designs have allowed us to build ultrabooks powerful enough to be your daily driver, not just a pinch hitter for when your real computer can't come along for the ride. For the flagship ZenBook S UX391, we wanted to do more than capitalize on industry-wide advancements.
We wanted to build an ultrabook that wouldn't leave you pining for your setup at home. So we spec'd out a notebook powerful enough for demanding workloads, combining a quad-core 8th Gen Core i7 processor from Intel, a crisp 4K display, plenty of RAM, and a speedy SSD. Then, we set about reimagining the chassis to deliver something that is both beautiful and ergonomic. We spent months working out how to improve the design of the keyboard and hinge to make the laptop more comfortable to use, and even longer getting its bold cosmetic finishes just right. The end result is a laptop that makes you actually want to travel for work.
Red-eye of the tiger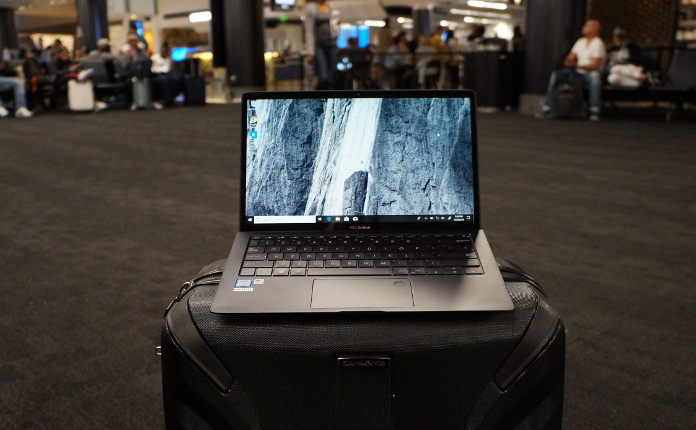 The last few months have involved way more travel than is normal for me. I spend most days working from home with my customized ROG Strix Flare mechanical keyboard with Cherry MX red switches, trackball mouse, and a big monitor. But wedding season, plus a couple of work trips, and several family visits have meant packing up my laptop and schlepping to the airport more often than is preferable (hint: never). This summer of nomadic life coincided the launch of our newest ultrabook, the ZenBook S, so I jumped on the chance to "test" one for an extended period of time and hopefully lighten the load while on the road.
The only thing I hate more than traveling for obligations is taking time off to do it, so I opted for a couple of three-day transatlantic trips with red-eye flights, as few layovers as possible, and no checked luggage. Weighing in at 2.2lbs, the UX391 is the kind of lightweight you want as your date when you're headed for a destination wedding on a long-haul flight. At 12.9mm thick, it slipped into my purse among the magazines I promised myself I wouldn't read until I'd done at least two hours of work. Its total weight with the charger is 2.9lbs, so it wasn't a burden while I did laps of the airport late at night.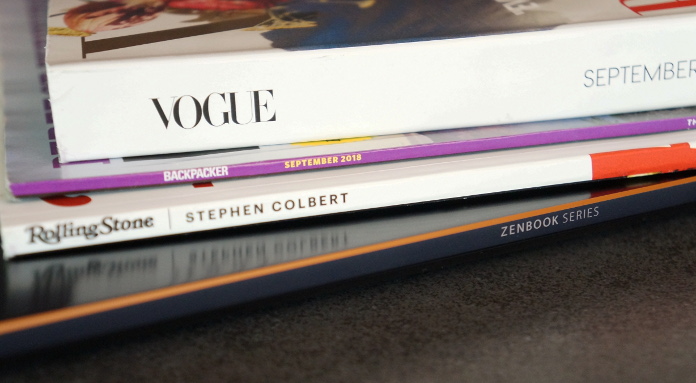 Airport bars aren't the most glamorous of places, and the UX391 stuck out like a sore thumb while I passed the time during my layover. Available in rich red or moody blue, the ZenBook S is the evening wear of laptops. The version I took with me is colored Deep Dive Blue, an inkier, moodier shade than we've used in previous generations. It's almost black but shines navy in just the right light. The alternative is a deep Burgundy Red that is bold but demure. Rose gold, diamond-cut edges are the perfect accents and add a subtle sparkle that highlights the laptop's razor-thin spine. I felt oddly smug as I worked away while sipping my whiskey. Sure, it wasn't my ideal Wednesday night, but I wasn't the only one working, and at least I was drinking at the bar like a civilized adult while everyone else was tethered to the wall outlets at their gate.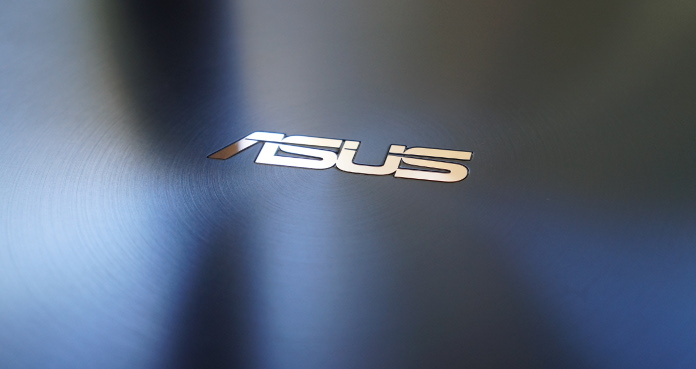 There's no place like home
I hate to work on the road, and it's nothing to do with the chaotic schedule or constantly changing environment. I don't need to be "in the zone" to get lost in a big project, so crowded airport lounges and echoing lobbies don't bother me. I don't mind interruptions, which makes the tray table dance of short haul flights a non-issue. I don't feel sick reading in the car, so I can easily whip out my laptop and fire off a barrage of emails when my cab is stuck in traffic. It's just that without my comfy desktop keyboard and Bluetooth mouse, working on my own laptop feels oddly foreign, as though I've borrowed someone else's computer. And dragging around my laptop, charger, and headphones is enough of a pain without adding unnecessary accessories like a travel mouse to the mix. It always takes me a day or two to get used to the keyboard. Working on the ZenBook S requires no adjustment, though. In fact, it's probably the nicest laptop keyboard I've ever typed on. Period.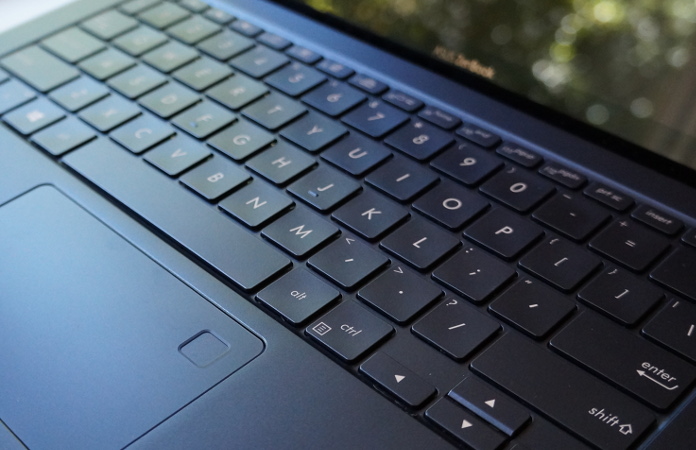 Shallower by virtue of their slim design, ultrabook keyboards aren't known for their great typing feel. A shorter travel distance means you're more prone to typos, and typing can feel mushy or clunky if the keys don't spring back quickly enough. The ZenBook S UX391's keyboard features modified switches that accentuate its 1.2mm of key travel and offer pleasant feedback that's satisfying without being clunky. The walls of the rubber domes that sit underneath each keycap have been slimmed down so that the dome compresses more easily as you type. When you depress the keys, they spring back with delightfully delicate little clicks. The keycaps themselves are slightly curved, so they cradle the tips of your fingers as you plug away.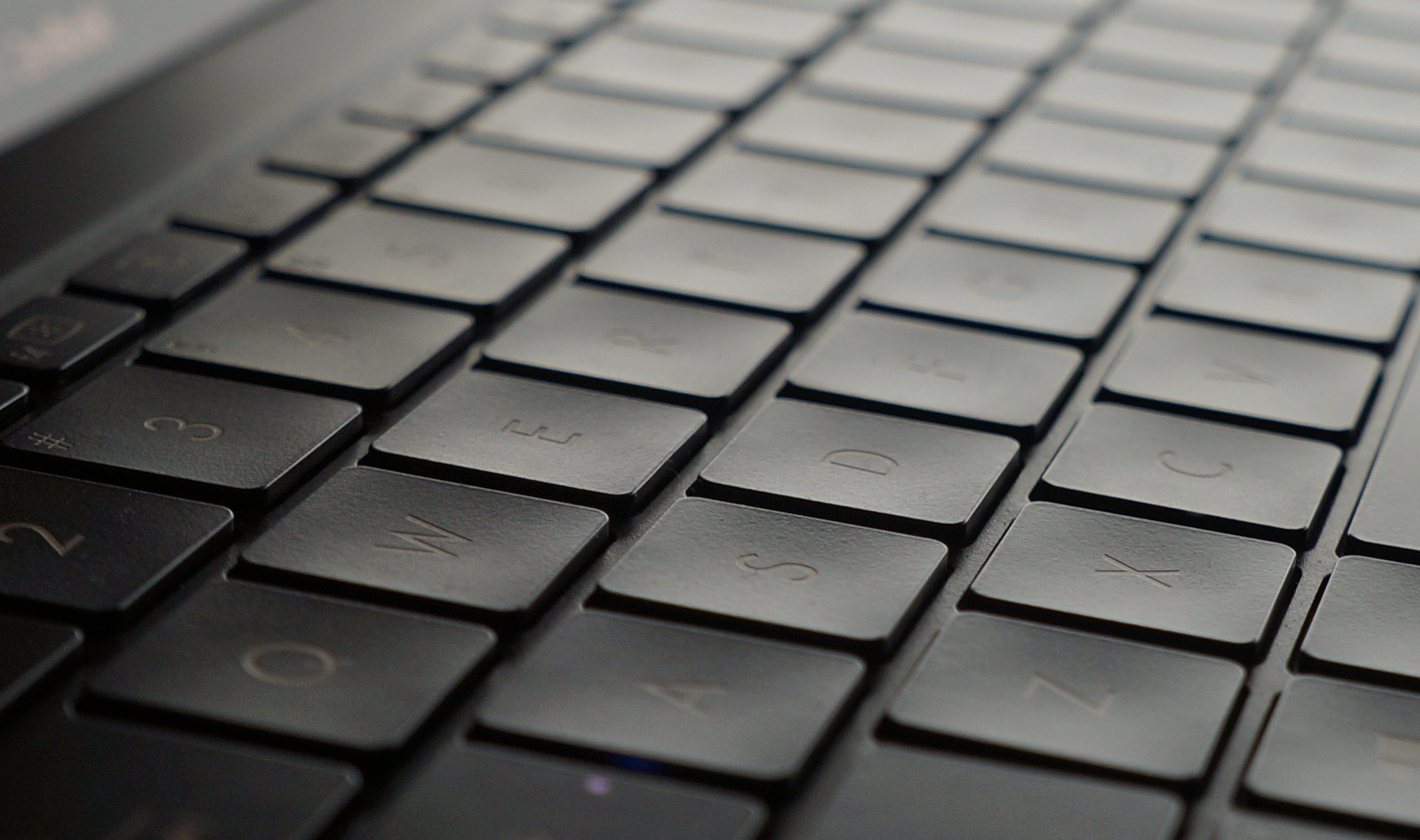 When I'm traveling, I have a tendency to put certain kinds of work off until I get home. If I know it's going to take more than an hour, I'll try to rearrange my to-do list and shuffle that task as far down as possible. That's not realistic when you're on the road for longer than a couple of days, or if you're traveling every other week. Toting around the UX391, I was able to tackle whatever was most urgent, whether it was editing, drafting my next story, or clearing out my inbox. Between the soft glow of the keyboard's backlight and the light tippity-tap of the keys quietly affirming my steady progress, typing long articles like this one on the plane was almost relaxing.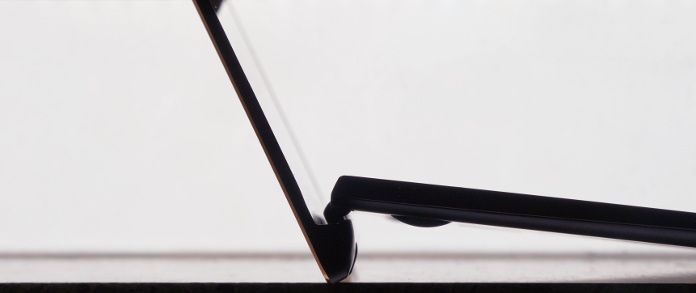 The keys themselves play a big role in the UX391's awesome typing experience, but so does the ErgoLift hinge, which props up the keyboard at a 5° angle so that your hands are in a more comfortable position as you type. This also makes it a bit easier to use the ZenBook on your lap. Usually, when I find myself without a flat surface to set up camp, I'm forced to use my computer as the laptop gods apparently intended — on my lap — and it's the worst. I end up pushing down on my wrists to stop the laptop from sliding away as it rests at an awkward angle on my legs, and typing with my elbows tight against my sides as a result. The ErgoLift tilt is just enough to counteract the slope of my legs while I sit with my feet flat on the ground, so I don't feel like my laptop is constantly trying to run away away while I work.

When you are sitting at a table, the rubber feet on the bottom stop the base from slipping or sliding around, and though the UX391 doesn't sit flat, it doesn't rock back and forth or flex as you hammer away at the keys. That's no small feat for a laptop is this thin and light. Wrapped in sleek, shiny metal, its frame is reassuringly solid. The durable aerospace-grade aluminum is sturdy and feels smooth to the touch. On the keyboard deck and palm rests, its brushed matte texture feels markedly different from the silky trackpad, which is easy to find without looking down. The built-in fingerprint sensor makes logging in with Windows Hello really easy.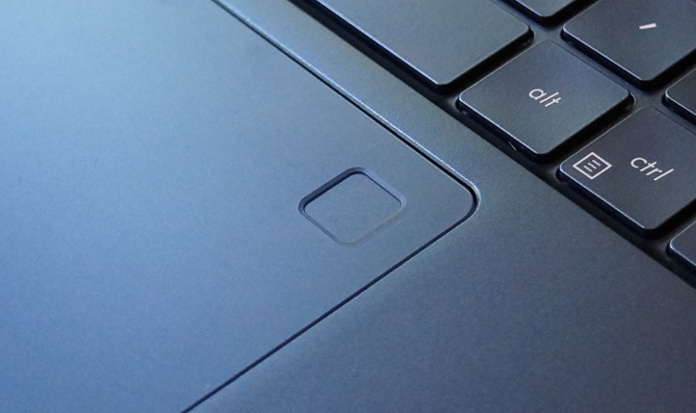 Look alive
Writing makes up a significant portion of my job, but I also spend a lot of time in Photoshop, and in photo editing size absolutely matters. The ZenBook UX391 squeezes its 13.3" display into a chassis that's just 12.2" wide, so it's not replacing the monitor on my desk anytime soon, but the NanoEdge display shrinks the side bezels down to just 5.9mm for a more expansive canvas that's almost frameless. It makes jobs that are realistically much more comfortable on a big display, like wrangling massive spreadsheets and editing photos, feel a lot less cramped than the small footprint suggests.
We didn't compromise on crucial features for the sake of a compact frame, though. The top bezel is a bit thicker to accommodate the HD webcam, which is right where it should be: level with your face rather than capturing a weird, low angle from down near the keyboard.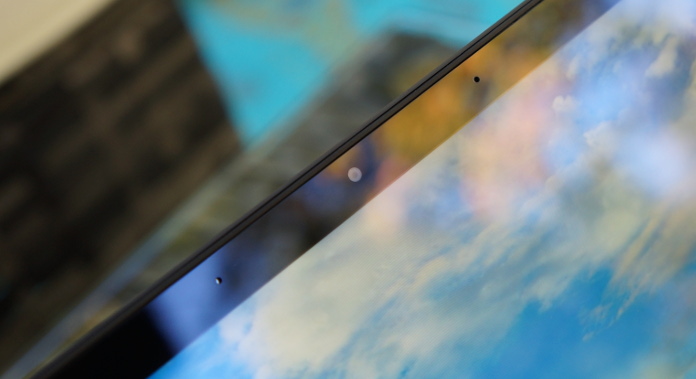 The 4K UHD display is awesome for editing high-resolution photos. Most of the pictures I take are never going to be printed. They'll live here on Edge Up, or on the ASUS social media channels. With 100% coverage of the sRGB gamut, the UX391 lets me see every shade of the standard color space used for content on the web.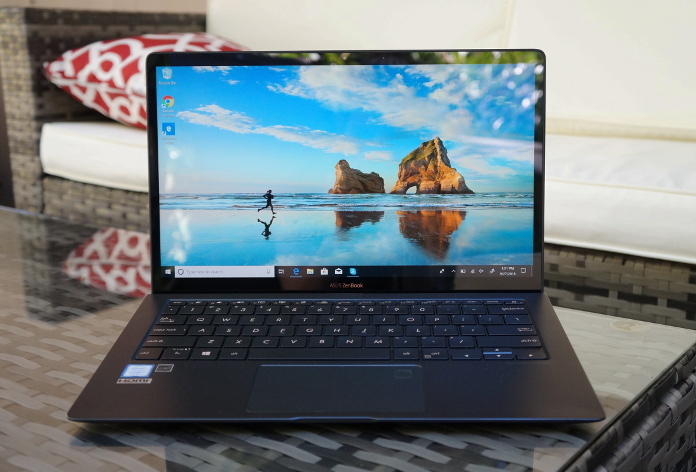 I usually hate editing on the go. It's hard to match the brightness of my display at home, but the UX391 is plenty bright, even for the days when I actually half-way embraced vacation and worked outside. Constantly changing overhead lighting is a pain when you're forced to move from place-to-place, and it makes it hard to see what you're working on. Thanks to the ZenBook's 145° hinge, there's more range for positioning the display just right, and the wide 178° viewing angles keep the colors vivid even if you're not sitting directly in front. That's not a big deal for me when I'm working alone, but collaborating with coworkers is a lot easier when everyone can see what's on the screen, and when I'm traveling, I don't often have the luxury of plugging into a big monitor.
Powering up
The ZenBook S is based on Intel's 8th generation Core i7-8550U with four cores and eight threads. It's designed for heavy multitasking and is capable of juggling all of your usual productivity apps in addition to photo editing and even light rendering jobs. You don't need to worry about saving your more demanding work until you get home, or cutting down on simultaneous tasks.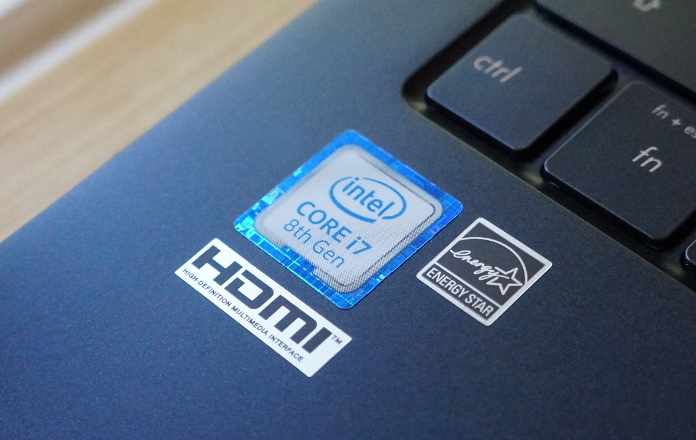 The UX391's CPU is complemented by 16GB of RAM and had no problem with my chaotic idea of a productive workday. My baseline for productivity is about two dozen Chrome tabs at any given time (gross, I know), as well as separate Edge and Internet Explorer windows, Photoshop, Excel, Word, and GIMP. Sure, I could probably consolidate a bit (especially with Photoshop and GIMP, there's no excuse for that), but I'm pretty used to my workflow and I don't want to have to change how I work to fit the device I'm using.
I use cloud-based apps for productivity and the bulk of my storage, but I still somehow end up with a ton of locally stored "miscellaneous" files that I can't bear to delete. Despite the majority of my work living in the cloud where coworkers can access it, all my personal files are stashed on the ZenBook's roomy 512GB SSD, where I know I can quickly access the archive of quarterly slide decks and monthly reports that I know no one else has. The PCIe NVMe drive in the ZenBook S is much faster than a SATA SSD in performance benchmarks. Day to day, it ensures not only snappy load times for apps and files, but also a much faster boot time than a standard hard drive, so you can get down to business that much quicker when time is tight. If you remove the back cover on the ZenBook, you can get a peek at the SSD to the right of the fan. It's held in by just a single screw, so you could swap it for a larger drive down the line if you wanted to.
What's cooler than being cool?
With all that power purring away inside such a petite package, thermals needs to be carefully considered, and the cooling on the ZenBook S UX391 is a confluence of efforts from the inside out. It starts with a fan that measures just 3mm tall. We've had blowers this slim before, but for the UX391, we had to redesign the structure of the fan itself.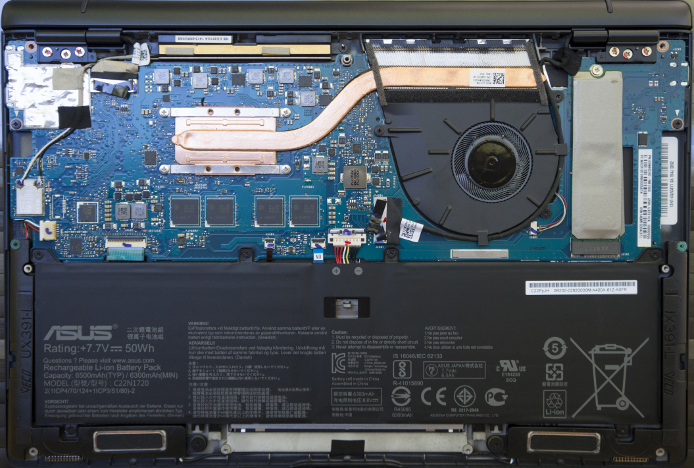 Modifying the tooling process allowed us to squeeze in 40% more liquid-crystal-polymer blades without making the fan any bigger. Then, we altered the shape of the shroud to help with air intake. This dainty little fan is able to spin at slower speeds while moving 13.4% more air than our old design, so you get more airflow with less noise. The UX391's fan is more efficient and barely audible when it spins up. It's library-levels of quiet whispering away inside the chassis, so it won't distract you when you're working.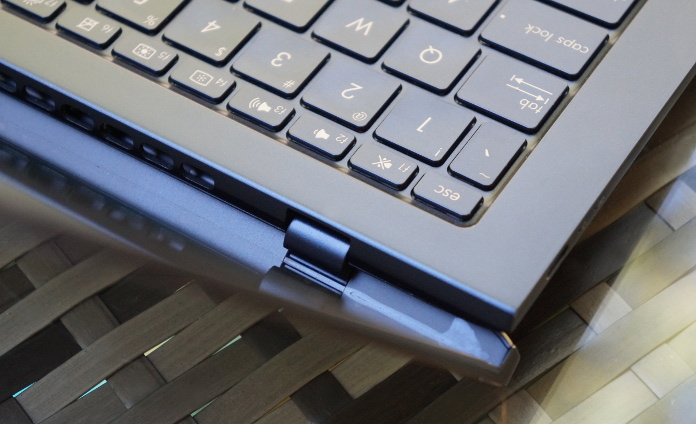 The new and improved fan works in tandem with our unique ErgoLift hinge to keep the laptop cool from the outside. With the bottom raised up off the desk, the intake vents on the underside of the laptop are unobstructed and can suck in more air. A vent concealed in the hinge exhausts warm air, and together, the fan and modified chassis are able to keep the CPU temperature 5℃ lower than the previous generation.
Long nights allow
When I travel, I'm used to working until my battery dies, but the UX391 regularly outlasted my will to work while I was in transit. Despite an incredibly slim profile, it squeezes in a 50Wh battery that can go all day on a single charge. "All day" is pretty subjective when you're traveling across multiple time zones, and just how long depends on the tasks at hand. Without internet access to distract me and with the cabin lights dimmed, I passed out way before the UX391 on my overnight flight. Though my access to outlets was sporadic at best as I trudged around airports, fast charging made sure my battery never got dangerously low. It delivers a 60% charge in 49 minutes, and gets to 100% in roughly 90 minutes.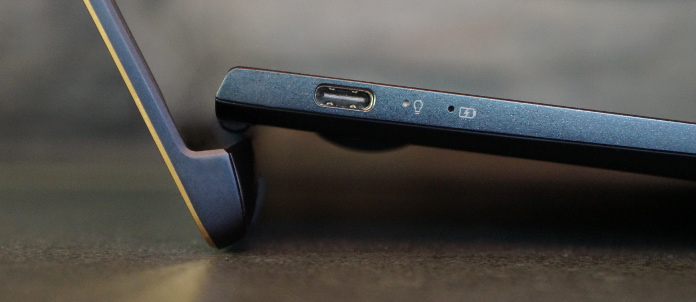 Charging happens via USB-C, and the UX391 has a three of them in total: one on the left and two on the right. The flexibility to plug in and charge from any of them is especially nice when outlets are further away and you can't wind the cord around the laptop to the one port capable of delivering power. When you're setting up at a desk, the two on the right support Thunderbolt 3 for hooking up to external monitors or connecting next-gen storage devices. It's not all USB-C, though. Hidden away in the ErgoLift hinge is a familiar 3.5-mm audio combo jack for plugging in your favorite headphones or headset. When you're home, you can ditch the headset in favor of the Harmon Kardon-certified speakers and built-in microphone. The speakers are on the underside of the laptop, but the sound isn't muffled thanks to the extra space created by the ErgoLift hinge.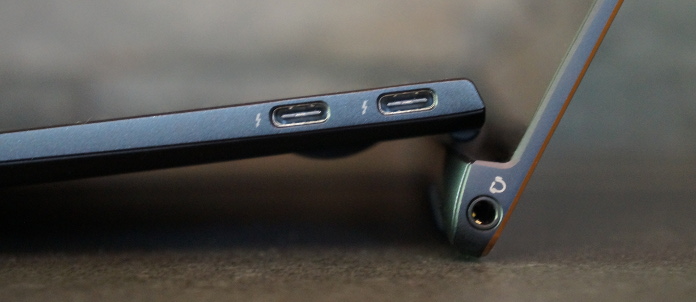 UX391UA-XB74T
UX391UA-XB71-R
CPU
Intel Core i7-8550U, 1.8GHz (8MB cache, up to 4.0GHz)
GPU
Intel UHD 620
Display
13.3" LED backlit
Resolution
4K UHD, 3840 x 2160
Full HD, 1920 x 1080
Memory
16GB KLPDDR3
8GB LPDDR3
Storage
512GB PCIe SSD
256GB SATA SSD
Networking
802.11ac Wi-Fi with 2x2 antenna
Connectivity
3 x USB Type-C with Thunderbolt 3
1 x Audio jack
Battery
50Wh
Dimensions
12.24" x 8.38" x 0.5"
Weight
2.2 lbs
OS
Windows 10 Professional
Price
$1,499 USD
$1,999 CAD
$1,199 USD
Availability (USA)

US Vendors

US Vendors

Availability (Canada)

Canadian Vendors

N/A
The total package
With its NanoEdge display and razor thin chassis, the ZenBook S is one of our most compact ultrabooks to date, but we didn't have to water down the specs or compromise on the design to get there. Thanks to Intel's 8th Gen processors and blazing fast storage, it can go toe-to-toe with bulkier laptops in terms of performance. The design is the result of months of work to perfect usability and aesthetics alike.
Available in striking Deep Dive Blue or seductive Burgundy Red, the UX391 uses a modified hinge for a more ergonomic typing experience, and tweaks to the keys themselves make each press more pleasant, especially for prolonged work sessions. The Deep Dive Blue UX391 is priced at $1,499 USD and $1,999 CAD and is equipped with a 4K UHD display, 16GB of RAM, and 512GB of PCIe storage. The Burgundy Red model is available in the United States for $1,199 USD and features a Full HD display, 8GB of RAM, and a more modest 256GB SATA SSD. Check the table above for retailers selling the ZenBook S near you.