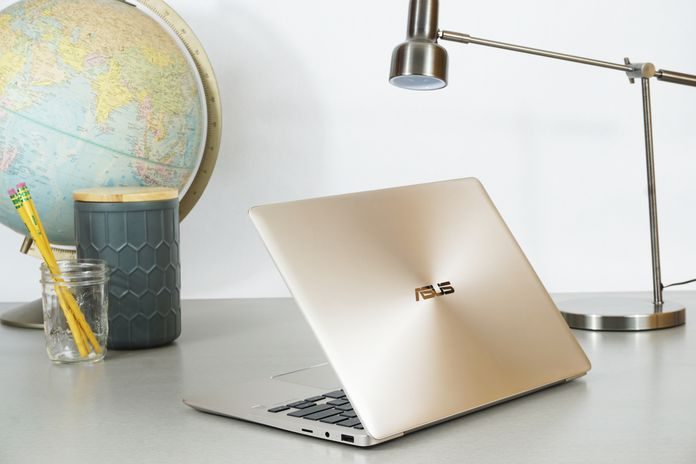 Last year's ZenBook UX330UA brought a balance of beauty, performance, and price to our ZenBook family, but its successor takes it to a new level. The ZenBook UX331UA is achingly beautiful, thin, and light, with premium touches, including a sleek metal finish and a NanoEdge display that reduces the size of the bezels on either side of the screen.
Based on a quad-core 8th Generation processor from Intel, it features 8GB of RAM and a speedy 256GB SSD, so it's just as capable as it is beautiful. Best of all, it's priced at $799.99 USD, so it won't break the bank. 
It begins with the finish
The first thing that struck me about the ZenBook UX331UA when I pulled it out of the box was its breathtaking exterior. The Icicle Gold color shimmers on the spun-metal lid, and it's matched on the rest of the glossy, crystalline chassis. It looks pretty sitting on your desk and literally sparkles in natural light.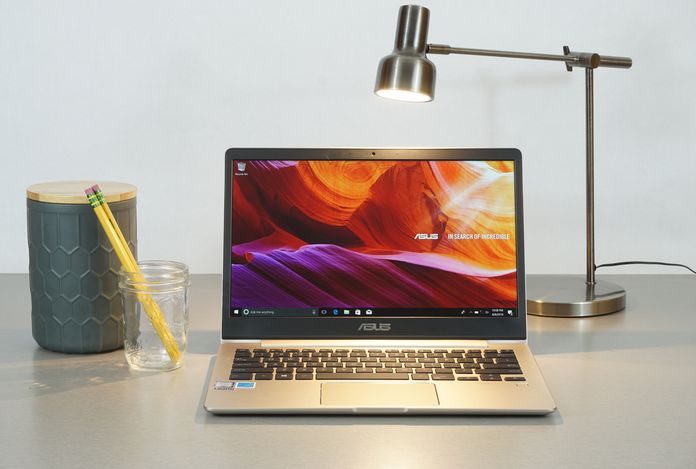 The 13.3" Full HD display is equally gorgeous, with rich, vivid colors. It has a matte coating to reduce glare from windows and other bright lights, and the wide 178° viewing angles ensure you can see what's on the screen even when you're not sitting directly in front of it. Full coverage of the sRGB color space means the display is capable of showing all the shades available on the average PC monitor, which is important if you dabble in creative work and skip between working on the go and a desktop-like setup at home.
The display feels large for such a compact laptop thanks to the thin 6.86-mm NanoEdge bezel. The laptop itself is just 13.9mm thick, and at a mere 2.5lbs, it's light enough to carry around all day.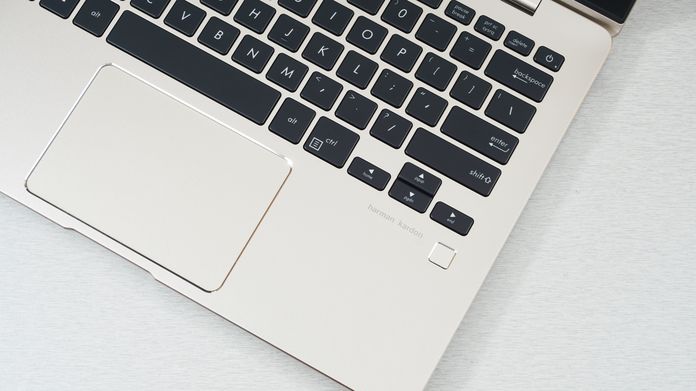 The keys offer a generous 1.4mm of travel and a satisfying snap on the rebound, and I loved being able to dial up the multi-step backlighting when I was working at night. The large trackpad's surface felt smooth and fluid while offering just the right amount of resistance as I swiped and clicked through my work day. The trackpad and Windows Hello-friendly fingerprint sensor perfectly match the surface of the UX331UA, and both are set off by a glistening silver edge.
My laptop, my desktop
My own daily driver is a laptop that fits into the same class as the UX331UA but is a couple of years older. The difference in performance is astonishing, but that's what you get with a CPU that has double the cores, threads, and cache, not to mention the bump up from an HDD to an SSD. Even with significantly more powerful components, the 8th-generation Intel Core i5-8250U chip in the UX331UA fits into the same 15W power envelope as the previous generation's dual-core laptop CPUs.
With its four cores and eight threads, the Core i5-8250U deftly handled everything I threw at it, even when I was multitasking across different applications, like working on an article while streaming music and juggling a bunch of open browser tabs. The UHD Graphics 620 pulled its weight by allowing me to edit photos by the dozen with no performance slowdown. I was able to export all 170MB of a multi-clip movie in about one minute with my music playlist still streaming in the background. The 256GB SSD keeps load times to a minimum and is roomy enough for all of my current projects, so I don't need to rely on a permanent internet connection because I'm working in the cloud at all times.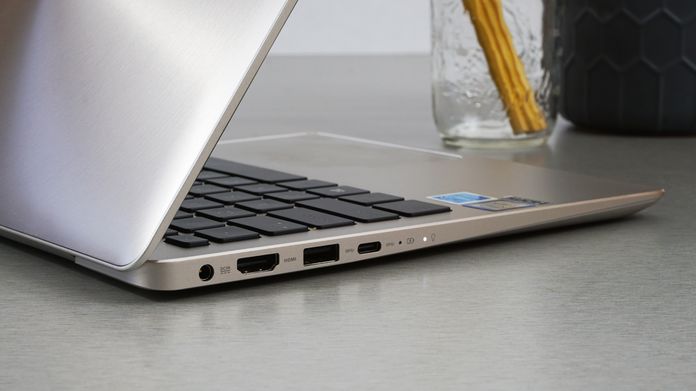 Like many laptop users, I require a certain amount of portability for when I'm traveling for work or simply want to get out of my office for a spell, and the UX331UA offers that in spades. But when I'm at my desk, I use my laptop as essentially a desktop replacement, and I needed the ZenBook's cadre of ports to complete my desk setup. I connected a second display via the full-sized HDMI port, and the two USB Type-A ports accommodated my high-end keyboard and mouse. The microSD card slot is indispensable for my nearly daily photo and video creation needs. Being able to pop the card from my camera or phone straight into my laptop is really convenient.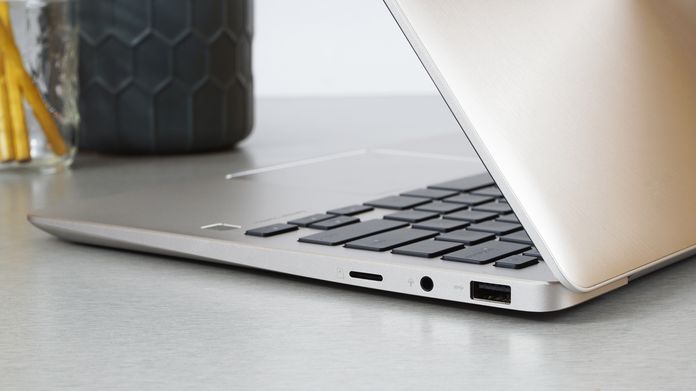 There's also the 'ol reliable 3.5mm audio jack for headphones, but the integrated Harman Kardon speakers served me well whether I was at my desk or working around the house. I often listen to music or have a sports broadcast streaming in the background while I work, and I found that these speakers delivered nicely balanced audio for everything from Philip Glass to Hank Williams. The audio from some of the video streams I had running was so loud and strong that it filled the room.
Pushing it
One of the major challenges that comes with packing a thin laptop full of powerful components is cooling. There's just not a lot of physical space for fans and vents, and pushing the components to work hard usually means a hot lap and loud fans. That's not ideal when you're at your desk, but it's even less desirable when you're working from the couch or an airplane seat. Luckily, the bottom of the UX331UA never got too warm, which my legs appreciated a great deal.
When you're trying to quietly get some work done while streaming some relaxing tunes, there's nothing more annoying than having the fans kick on so loudly that it sounds like an airplane taking off. Even when I was pushing the UX331UA, though, I rarely heard the fans at all.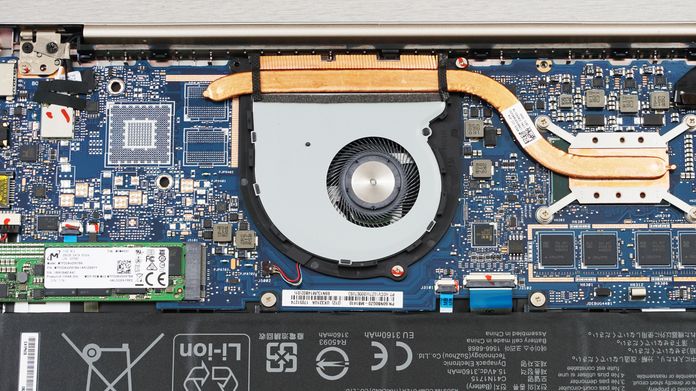 I popped the bottom cover off of the UX331UA to have a closer look at the cooling system. The rear cover is held on by ten T5 screws and a pair of small Phillips screws hiding under two of the rubber feet. With the panel off, I exposed a thin fan and heat pipe system, which has been fine-tuned since the UX330UA was released. The fan measures just 3.5mm in height and works in tandem with the thin heatpipe to funnel heat away from the components and out through a vent hidden in the hinge.
Pushing performance beyond everyday productivity usually kills a laptop's battery pretty quickly, but the UX331UA is a champ. It survived nearly an entire workday on a single charge despite my demanding a couple hours of streaming music while I wrote, researched online, and edited photos and video.
UX331UA-AS51
UX331UA-Q52SP
UX331UA-DS71
UX331UN-WS51T
CPU
Quad-core Intel Core i5-8250U 1.6GHz (6MB Cache, up to 3,4GHz)
Quad-core Intel Core i7-8550U 1.8GHz (8MB Cache, up to 4GHz)
Quad-core Intel Core i5-8250U 1.6GHz (6MB Cache, up to 3,4GHz)
GPU
Intel UHD Graphics 620
NVIDIA GeForce MX150
Display
13.3", 178° viewing angles
Resolution
Full HD 1920 x 1080
Memory
8GB DDR3
Storage
256GB SSD
512GB
256GB SSD
Networking
802.11ac Wi-Fi with 2x2 antenna
Connectivity
2 x USB 3.0 Type-A
1 x USB 3.1 Gen1 Type-C
1 x HDMI
1 x Micro SD card reader
1 x Audio combo
Battery
50Wh
Weight
2.6 lbs
Dimensions
8.7" x 12.7" x 0.5"
OS
Windows 10 (64-bit)
Price
$799.99 USD
$1,250 CAD
$899.99 USD / $1,099 CAD
$999.99 USD
Availability (USA)

US Vendors

N/A

US Vendors

ASUS Store
Newegg
Amazon
Micro Center
Best Buy
Availability (Canada)
N/A
Costco
CDW
Best Buy

Canada Vendors

N/A
A small price to pay for the performance
I have to keep reminding myself that the UX331UA is technically a mid-range ultrabook. The aesthetics scream premium all the way around, and its classy gold look mirrors that of laptops that typically cost north of a thousand bucks. While lots of ultrabooks are meant mostly for working on the road, I was able to set the ZenBook up as a replacement for my desktop and use it as my daily driver thanks to its array of ports. 
You can pick up the ZenBook UX331UA for $799.99. You can step up to a slightly more powerful Intel Core i7-8550U processor for $899.99 USD and $1,099 CAD. If you want additional graphical horsepower for heavier creative work, the UX331UN has NVIDIA GeForce MX150 discrete graphics and will run you $999.99 USD.