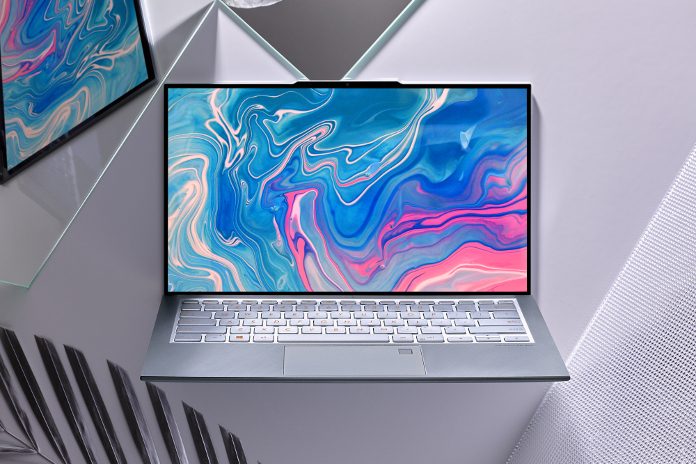 Our ZenBook line has always epitomized our best in terms of laptop design. It's built on the premise that the finest ultrabooks are a potent blend of style and power, and we've spent the past few years refining our own definition of the ultimate ultraportable. We've made razor thin fans, reduced bezels to minuscule measurements, and packed more performance into increasingly smaller packages.
For the ZenBook S13 UX392, we're pushing boundaries of ultrabook design once more to deliver on the promise of a true, no compromise thin and light laptop. We took everything we learned with the ZenBook S UX391 and poured it into the UX392. Then, we added a few unique tweaks just for the UX392, including discrete graphics, thinner bezels, and a stunning new chassis.
Tangled up in blue
One of the biggest changes for the ZenBook S13 is its visual appearance. We embraced the color blue for our flagship ZenBooks back in 2011, but last year we broke from tradition with the Burgundy Red ZenBook S, which was a borderline shameful shade of scorching scarlet. The UX392 is continuing that trend by striking out on its own with a new hue. The silvery blue is much more subtle than the ZenBook family's trademark navy, and the paler color shows off the signature Zen ripples on the lid beautifully. Dubbed Utopia Blue, it offsets Rose Gold accents and square lines that add an element of industrial design to an otherwise pastel picture.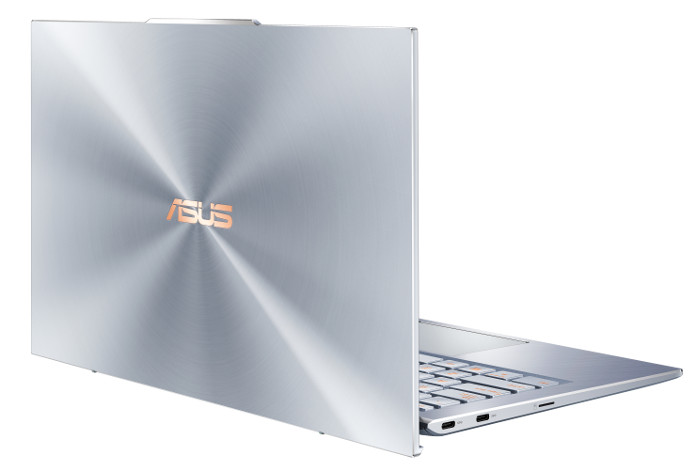 Lift the lid on the UX392 and you'll see that we managed to squeeze in an even bigger display. The 13.9" Full HD screen is surrounded by our most impressive NanoEdge bezel to date. The 4-way NanoEdge design feels less cramped when you're working, but it also helps us to keep the laptop's physical size in check. Despite the larger display, the UX392 manages to retain the same physical footprint as the UX391.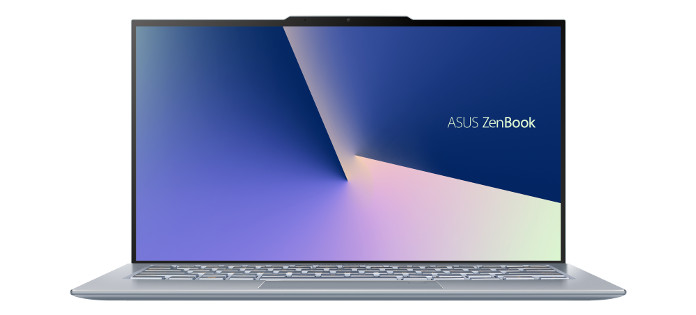 We've taken narrow bezels to the extreme on the sides with 2.5 mm bezels that melt into the background while you work. To keep the webcam in its rightful spot, we added a bump to the top bezel. Its primary purpose is to house the HD webcam, but it also serves as a handy tab for lifting the laptop's lid. Finding the tab with your thumb is easy, so you can pull the lid up in one smooth motion rather than fumbling around for a barely-there indent on the front edge. It's a small change that makes all the difference during day-to-day use, and was worth the effort it took to change the shape of the glass on the display and alter the design of the laptop's lid.

Discreetly powerful
Aesthetically, the ZenBook S13 unlike any other ZenBook we've made, and the surprises continue under the hood. Intel's 8th Generation of ultrabook processors have been a staple for the ZenBook for over a year, and the ZenBook S13 ups the ante with up to a Core i7 based on the latest Whiskey Lake architecture. The Core i5 and Core i7 configurations both use four cores and eight threads to deliver smooth performance, whether you're focused on bigger jobs, like video encoding, or doing lots of things at once, like processing photos while you hop between productivity apps, your email, and your web browser. The CPU is backed up by support for up to 16GB of RAM to keep your system responsive when you've got lots of different applications running simultaneously.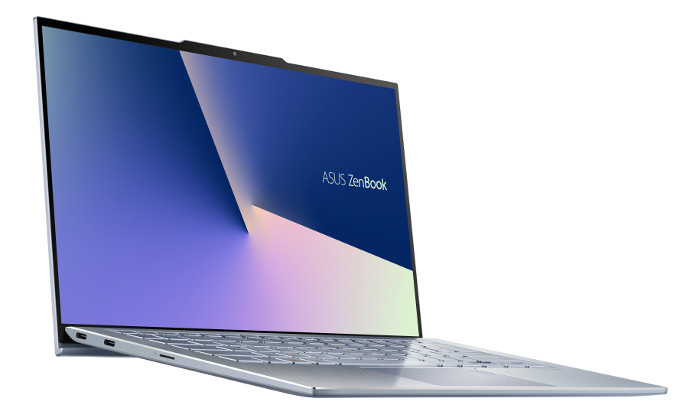 While plenty of ultrabooks rely on an integrated GPU for graphics, the UX392 manages to squeeze in a discrete GPU from NVIDIA. The integrated Intel UHD Graphics 620 is more than enough for occasional content creation, but if you're editing photos with lots of effects, the NVIDIA GeForce MX150 discrete GPU offers a boost to move things along. Large media files and burgeoning Powerpoint decks don't have to vie for space or face cold cloud storage when you install new applications because up to a 1TB of PCIe x4 SSD maxes out the ZenBook S13 on storage speed and capacity.
More compact but still cool
Squeezing more components into the same 12.9-mm thick package as the first ZenBook S required a bit of ingenuity on our part. To ensure no space was wasted, the metal chassis is CNC-milled from a block of aluminum. This allows us to carve out the curved lid and complex cuts surrounding the keyboard without any unnecessary gaps. Machining allows us to make the walls thinner while still leaving enough material in key areas to avoid sacrificing strength, and shaving thickness in any area means more room for the components. We still had to rearrange some of the parts inside, especially since we added a second fan to account for additional heat generated by the discrete GPU. We changed the shape of the motherboard and relocated some of the internal components so everything fits nice and snug.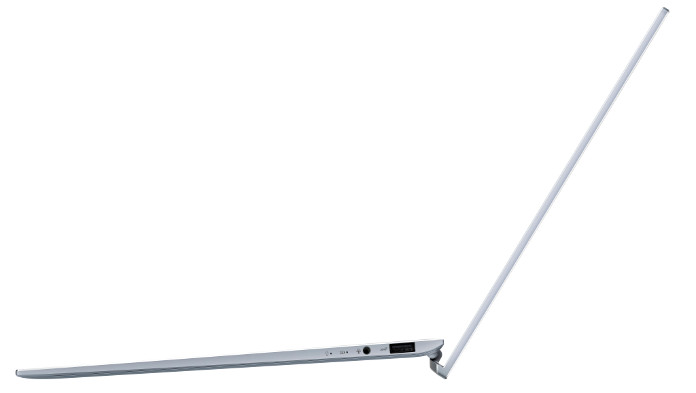 While everything inside is packed in tightly, nothing about using the ZenBook S13 feels cramped. The backlit keyboard spans almost the full width of the laptop, and though ultrabook keyboards are often shallower because of their slim design, the UX392 actually features a slightly longer 1.4 mm of travel than the UX391. The rubber domes under each key have been modified so that they collapse more easily, eliminating any feeling of mushiness when you type. Below the keyboard is a roomy trackpad with an integrated fingerprint sensor that makes for quick and convenient login via Windows Hello.

If you prefer a proper mouse over a trackpad, you can plug one in via the USB Type-A port on the side. Many ultraportables draw the line atl USB-C, so an old-school connection is a rarity, but it's extremely useful for plugging in USB drives along with other peripherals that haven't yet made the jump to the more modern USB Type-C. In addition to its standard USB port, the UX392 has two USB 3.1 Gen 2 Type-C ports with up to 10Gbps of peak interface bandwidth. You can use either to hook up to an external display or to charge up the battery. Fast charging brings support for juicing quickly on the go, though the 50Wh battery is enough to last a full day, so you probably won't need to worry about that. The USB ports are joined by a 3.5-mm audio combo jack so you can plug in any headset you like and a MicroSD card slot for quickly pulling photos and videos off your phone.
ZenBook S13 UX392
CPU
Intel Core i7-8565U, 4C/8T, 1.8GHz (8MB cache, up to 4.6GHz)
Intel Core i5-8265U, 4C/8T,1.6GHz (6MB cache, up to 3.9GHz)

GPU
Up to NVIDIA GeForce MX150
Display
13.9" LED-backlit IPS NanoEdge display
100% sRGB color gamut
400nits brightness
Resolution
Full HD (1920 x 1080)
Memory
Up to 16GB LPDDR3 2133MHz
Storage
Up to 1TB PCIe 3.0 x4 SSD
Networking
Dual-band 2x2 802.11ac
Connectivity
2 x USB 3.1 Gen 2 Type-C (10Gbps)
1 x USB 3.1 Gen 2 Type-A (10Gbps)
1 x MicroSD
1 x Audio jack
Battery
50Wh
Dimensions
12.4" x 7.7" x 0.5"
Weight
2.2 lbs
OS
Windows 10 Professional
A different kind of blue
The ZenBook S13 UX392 piles powerful performance and portability into an impossibly small chassis. With discrete graphics, a quad-core CPU, and a roomy 13.9" display, it pushes the boundaries for what's possible inside a 13" laptop. The ZenBook S13 will be available in the coming months with pricing and regional configurations to be announced closer to the release date.
Don't miss the rest of our announcements from CES 2019. You can see all the newest tech from ASUS and ROG in this article.