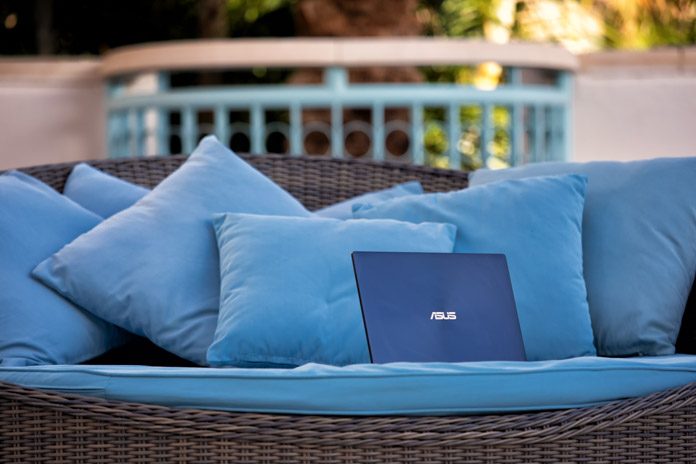 Remote work is more common than ever. But even as people give up traditional offices for coffee shops and coworking spaces, some are giving up the concept of a permanent home entirely. They live itinerant lives on the road, working wherever there's WiFi and dubbing themselves "digital nomads."
Traveling that much means being picky about your technology. As a digital nomad myself, I know exactly what it's like. I read every last online review to assess its suitability, obsessing over every packed item. Anything that doesn't make the cut gets left behind to keep my luggage as light as possible. After living that life for two years with two trusty sidekicks, a compact work laptop and a ROG Strix GL502VS for gaming in my downtime, toting multiple laptops through security was getting old. It was time to try something new.
Enter the ZenBook 15 UX533FD. It might be the new ZenBook family's biggest brother, but it's earned acclaim as the smallest 15″ laptop today, and it's compact enough to convert even long-time skeptics like me. Years ago, I swore off laptops bigger than 13″ in size, thinking they were too unwieldy. I even had myself convinced that I really preferred the smaller screen. But in my enlightened, post-ZenBook life, the unfathomable has happened: I'm in love with a 15.6″ laptop.
Finding the perfect combination of power and portability is a tough balance, and this sleek and ultra-slim powerhouse caught my eye for good reason. The ZenBook's thin bezel guarantees a travel-ready footprint, so I could envision it going anywhere with me. We crammed powerful specs including an 8th Gen Intel Core i7 processor and NVIDIA GeForce GTX 1050 with Max-Q dedicated graphics into a thin and light package with an all-day battery that would allow me to untether from outlets and truly work from anywhere, exactly as I prefer. On paper, it's everything I'm looking for in a laptop. Over the course of six weeks through the US, Israel, and Turkey, I was going to test for myself whether a picky traveling professional can really fly solo.
Road-tested, nomad-approved
Weight always matters on travel days; no one wants to attract the luggage scale's evil eye, and packing smart matters even more when you're covering so much ground. In six weeks, we were flying and driving over 18,000 miles. Add an unexpected foot injury and every pound would count. Tottering around in a cam boot makes you seriously reconsider your packing priorities. Good news was already in hand. The ZenBook 15 tips the scales at only 3.5 lbs. That puts it in the same weight class as my old 13" laptop, but with over 17% more screen real estate.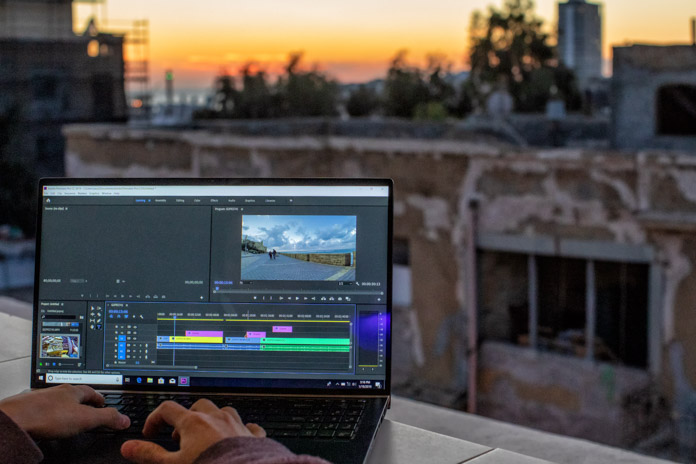 Despite its screen size, the ZenBook's thin bezels keep the chassis just under 14" across. Only a bit larger than a magazine, the ZenBook 15 pops out for security and effortlessly slips back. My carry-on backpack, stretched to capacity before with my 13" and 15.6" laptops inside, now has a luxurious amount of room. Enough for even my giant DSLR camera and lenses, with more to spare.
For people who want something even smaller and lighter, the ZenBook 13 UX333FA and ZenBook 14 UX433FA are also the smallest laptops in their size class. However, after years on 13.3" laptops and as an avowed 13" laptop-lover, I was surprised by how much I loved the larger ZenBook's 15.6" screen packed into a 14" chassis.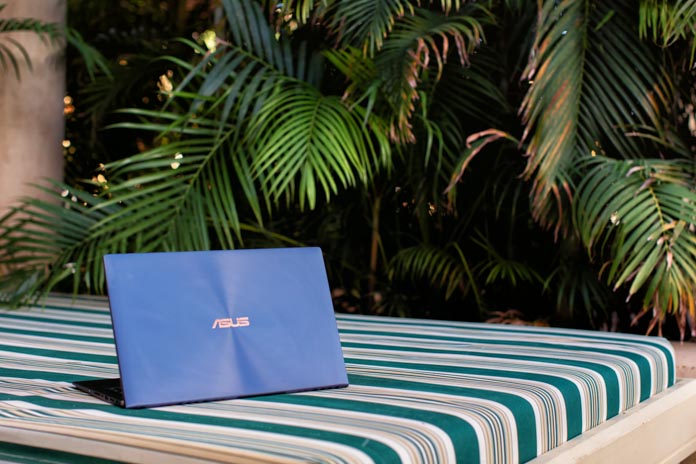 Beyond getting more screen real estate for less, this is also a stunning laptop. The model I tested is wrapped in beautiful and lightweight Royal Blue aluminum, with a subtle brushed circle pattern on the exterior lid. The deep blue continues around to the keyboard and touchpad for a monochrome look that really sets this apart from other ultrabooks. There are no plastic parts to detract from the smooth finish, and for an additional touch of luxury, the laptop is gently trimmed in Rose Gold. Far from being ostentatious, the result is understated yet gorgeous.
When the world is your office, gear needs to be light, durable, powerful, and multi-functional. It has to fit the changing needs of each dynamic day. And when space is at a premium, every item has to earn its place. After working around the world in almost every imaginable situation, I still wasn't sure I could downsize from two machines to one. Nor did I expect to find a PC that perfectly withstands the daily abuses of a globetrotting, pack-up-and-go lifestyle.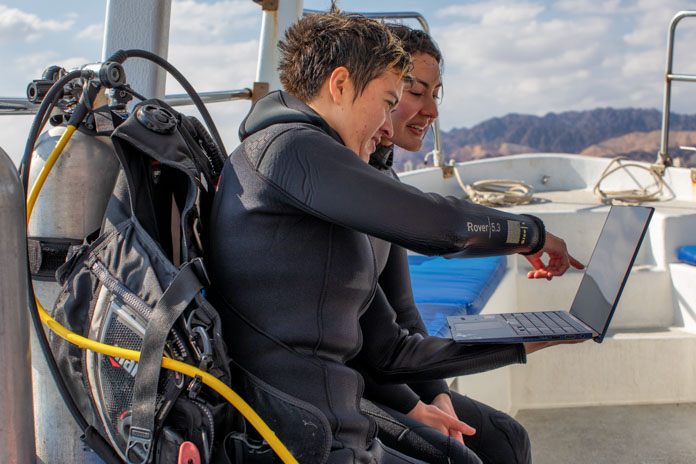 It seems I've met my match, though. After all, I'm hard on my gear. I work on top of mountains and in briny air. My laptops get dropped, scraped, and bounced around. Shelling out for a ruggedized laptop that compromises on portability isn't an option for me, but the ZenBook's military-grade strength gives me peace of mind that I'll never again be left laptop-less because of harsh weather conditions in some far-flung location.
Window to the world
The Full HD 1920×1080 screen shines thanks to the narrow bezels and wide 178° viewing angles. The NanoEdge display offers a near-frameless view. With only 3 mm of barely-there bezel on the sides, the result is a more immersive experience while working on the go. I see less laptop, which helps me focus on what's on the screen, whether I'm writing, editing, or gaming. Full 100% sRGB coverage ensures photos ensures I see every shade when I'm editing photos, too.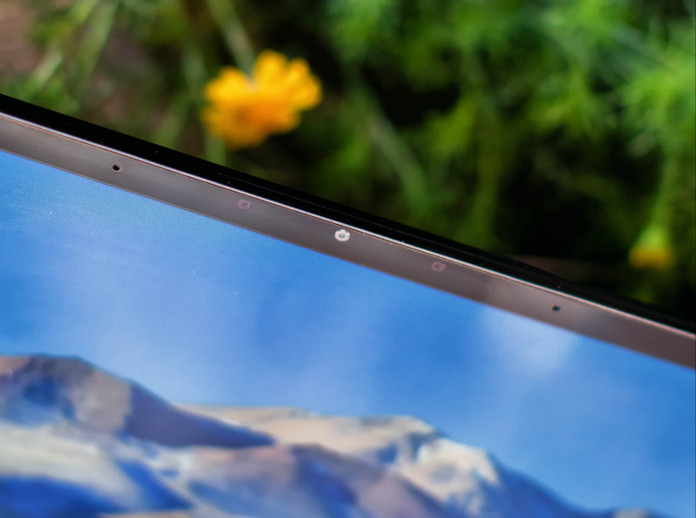 Barely noticeable at the top of that ultra-thin bezel is a tiny, 3D IR webcam enabling Windows Hello's facial recognition. It was my first time using the tech, and it's delightful not messing around with the extra password entry. I was perfectly logged in across a variety of lighting and working conditions, not to mention laptop positions. The webcam and mic performance were also excellent, even while presenting a late-night webinar from a dimly lit AirBnB.
The last crucial detail when office-hopping is connectivity. As other chumps at the coworking space dug around for USB hubs and SD card readers, I had all the creature comforts. The reversible USB Type-C 3.1 Gen 2 supports speeds up to 10Gbps as well as display-out, and there's a traditional USB 3.1 Type-A port for older storage devices along with an SD card reader for transferring photos straight from my camera. An extra USB port means I don't have to choose between an external drive and my wired gaming mouse, and my wireless headphones got plenty of mileage from the Bluetooth 5.0. The dual-band 802.11ac WiFi allowed me to use the less-crowded 5GHz band and keep the music going, even on hotel and free city WiFi. Finally, even though I didn't get a chance to use it on this trip, the full-size HDMI port facilitates a totally dongle-free lifestyle.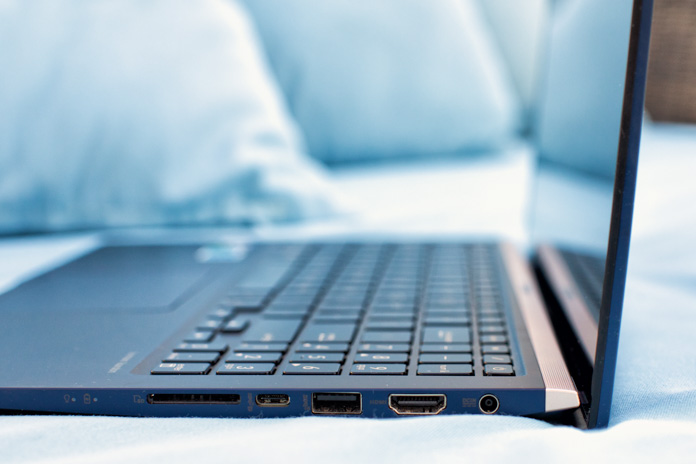 Function meets fun
Paring down weight is well and good, but I still need to get a lot done. Between professional photo editing, video rendering, and gaming for both work and play, performance is one area where I can't compromise. Remote work is only possible thanks to laptops that are powerful, portable, and durable enough to replace desktops and survive life on the road. These don't always perfectly meet a remote worker's every need, which is why people like me are often spotted carrying two laptops or a laptop with a tablet and keyboard, especially when the tablet can be a second screen or on-the-go email machine.
But times they are a-changin', and the ZenBook punches far above its weight when you get it in the ring. With Intel's 8th Gen processors and up to 16 GB of RAM purring beneath those brushed aluminum-and-rose-gold exteriors, this PCs is more than pretty—it's powerful enough for the range of creative tasks that I throw at it daily.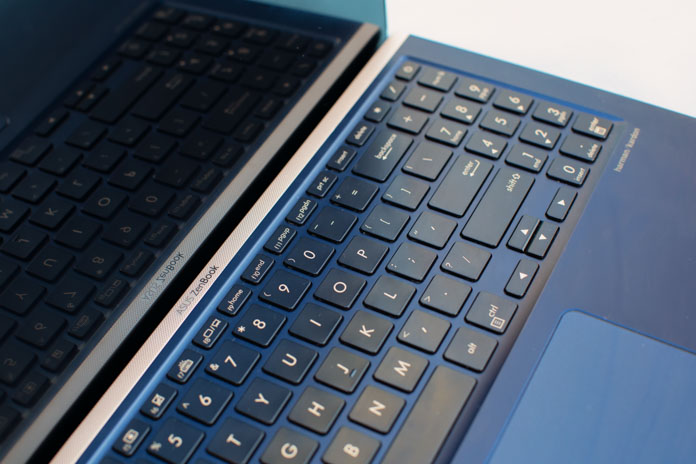 Discrete graphics guarantees stronger performance on multimedia tasks, and the ZenBook 15's NVIDIA GeForce 1050 with Max-Q deftly handles video editing as well as 3D rendering, and even some light gaming when I need to unwind. I saw a significant speed increase in Adobe Premiere and Lightroom while I worked on different projects. Working alongside the GPU is 16GB of RAM and a quad-core Intel Core i7-8565U with four cores, eight threads, and a Turbo Boost clock of 4.6GHz. They helped keep me moving when using intensive effects like Warp Stabilizer. Stabilizing a 49-second clip was 2x faster on the ZenBook compared to my old computer, and while my old laptop would be basically inoperable during this time, the ZenBook didn't break a sweat and I was able to switch over to answering email in the meantime.
Even importing media is a major upgrade. I rack up thousands of photos on event days. Getting them into Lightroom is an ordeal that requires planning and patience. My ritual habit is to begin importing, brew tea, check back, drink my tea, check back, and if I'm lucky it'll finally be done. With the ZenBook's PCIe SSD storage, my tea didn't even have time to finish steeping. Importing images, generating previews, even backing up my Lightroom catalog is lightning quick—and 1 TB meant a welcome break from my usual backups to external drives.
Work and play all day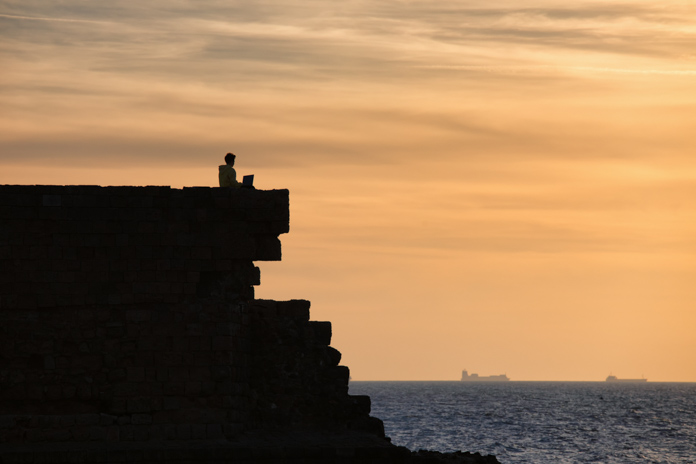 For me, battery life and ergonomics are close to the top of the list, especially because I work from all kinds of places. Outside coworking spaces, some of my best productivity spots are cafes, rooftops, beaches, hammocks, airports, and moving vehicles, none of which are known for their standing desks or power outlets. I've traveled with people who use external batteries, collapsible laptop risers, Bluetooth keyboards and mice, and even small second screens. Remote workers are experts at turning their laptops into portable ergonomic workstations.
Thankfully, the ZenBook's battery life is nothing short of spectacular. During one particularly long road trip workday from the passenger seat, the laptop lasted like a champ. From my morning work session through hours of driving in the hot sun, evening email, and Netflix, it never even entered battery saver mode.
I eked out over ten hours with the screen at full brightness and mixed use including music and video streaming, media editing, importing photos, and productivity apps. That kind of endurance means leaving the external battery pack at home, saving a merciful few extra pounds of weight and precious extra bag space. It's also a welcome break from my universal travel adapter, which inevitably requires some sort of wacky MacGuyver-type setup and a few calming breaths to actually get a proper laptop charge going.
Great battery life gives me free reign to roam, but when I'm totally untethered from a wall, I become my own worst ergonomic enemy. On this trip alone, I edited photos at the back of a bouncing intra-city taxi bus and wrote from a zippy manual Fiat's passenger seat, roaring around northern Israel's curves. At this very moment, I'm revising my article from a chilly diving boat in the Red Sea. No matter the situation, a laptop takes its toll as your sole workstation. Tendinitis, neck pain, eye strain—if working on a new computer isn't working for me, I feel it within minutes.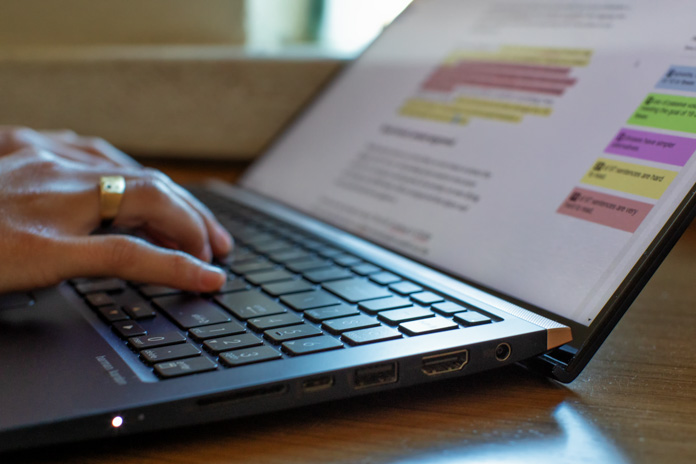 That's where the new ZenBook family's thoughtful touches go above and beyond, and I noticed a difference immediately. The ErgoLift hinge raises the keyboard at an angle. The gentle 3° tilt is enough to prevent my wrists and hands from pain, and it keeps air flowing under the laptop for improved cooling and better speaker performance. The cooling benefits were especially noticeable during intensive multimedia work. Where other laptops would quickly be wheezing and overheating, the ZenBook's quiet fan kicked in only after several minutes of rendering stabilized video effects.
Some other details aren't quite so visible, but I can still feel them. My fingers rest naturally in the slightly scooped keys compared to the typical flat, chiclet keyboards I've grown used to, and the keyboard is better than your usual ultrabook keyboard for typing. Hammering away on ultrabook keys can be uncomfortable because you're bottoming out on each keypress. That's especially annoying for hard typists like me, and the side effect is pain and fatigue that can impede productivity. But no issues here; the keys on the ZenBook boast a generous 1.4mm of travel despite the thin chassis. It's so comfortable, even the local wildlife showed appreciation.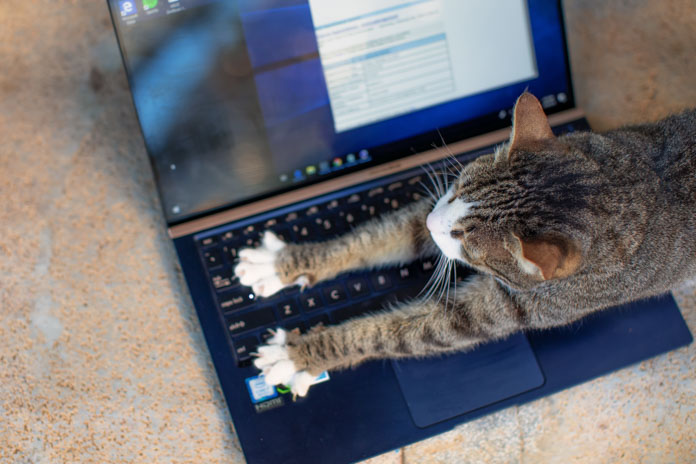 The keyboard spans almost the full width of the laptop, but we managed to squeeze a numeric keypad in by borrowing real-estate from the trackpad when needed. The touchpad converts into a backlit numpad that can be dismissed when you're not using it. The top row of function keys are also way more useful because their primary purpose isn't F1-F12, but adjusting volume, brightness, and the keyboard's four-stage backlight.
Meet your match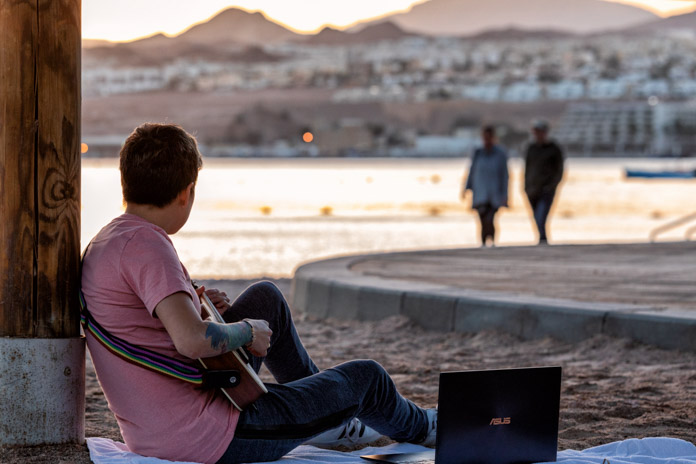 Can you replace two laptops with just one? Can one ultralight ultrabook really do it all? Hopefully it won't take you 18,000 miles, eight flights, a road trip, and a diving boat to decide. But, for me, the answer is yes. I was able to ditch two bulkier laptops for the slimline ZenBook 15 UX533 without compromising on performance or modifying my workflow. The ZenBook 15 is now available for $1,399 USD and $2,279.99 CAD. You can find it at the retailers listed in the table below.
ZenBook 15 UX533FD-DH74
CPU
Intel Core i7-8565U, 4C/8T, 1.8GHz (8MB cache, up to 4.6GHz)
GPU
NVIDIA GeForce GTX 1050 Max-Q


Display
15.6" NanoEdge

Resolution
Full HD 1920 x 1080
Memory
16GB 2400MHz DDR4
Storage
512GB PCIe 3.0 x2 SSD
Networking
dual-band 802.11ac Wi-Fi, Bluetooth 5.0
Connectivity
1 x USB 3.1 Gen 2 Type-C
1 x USB Type-A (up to 10Gbps)
1 x USB 2.0 Type-A
1 x HDMI
1 x Micro SD
1 x Audio combo jack
Battery
73Wh
Weight
3.73lbs
Dimensions
35.4cm x 22cm x 1.79 cm
13.94" x 8.66" x 0.7"
OS
Price
$1,399.99 USD
$2,279.99 CAD
Availability (USA)

United States Vendors

Availability (Canada)

Canada Vendors