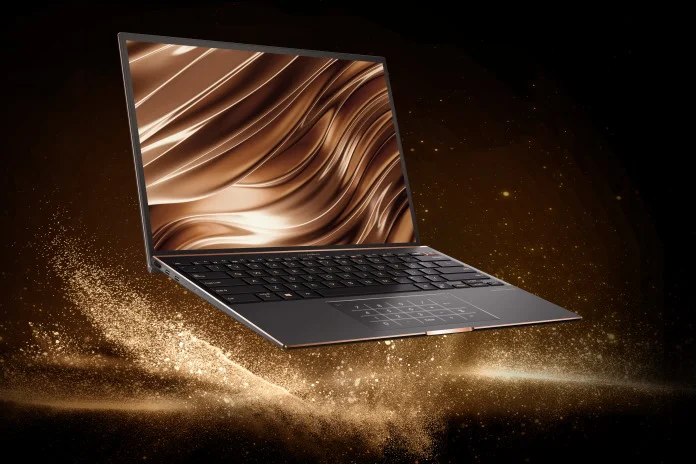 Fine craftsmanship is unmistakable. Nothing matches the look and feel of well-chosen materials formed by seasoned hands. You can sense thoughtful design immediately in the way that a product anticipates your needs, its controls falling readily to hand. An element of luxury pulls it all together, transforming a practical product into one that delights as much as it satisfies. Our Fall 2020 ASUS ZenBooks and ExpertBook take the series' legacy of craftsmanship to a new level.
With their emphasis on refined materials and user-centered design, these laptops draw the eye and invite close inspection. Look over the new ZenBook S, ZenBook Flip, ZenBook Pro, and ExpertBook laptops, and you'll find models with luxurious metal alloys, vivid OLED displays, and compact, lightweight designs.
Each of these products has its own story to tell. The ZenBook S and its 3:2 touchscreen offer expanded possibilities for your workflow.  For those who need a supremely flexible device that's equally at home on a desk, in a family room, and out on the road, the convertible ZenBook Flip S and ZenBook Flip 13 beckon. The ZenBook 14 updates our classic Ultrabook design for the next generation. We bolster the new ZenBook Pro 15 with the extra CPU and GPU processing capabilities you need for demanding content creation. And the ExpertBook B9450CEA is an incredibly portable laptop for the business traveler or anyone else that values an incredibly lightweight machine with uncompromised battery life.
The beauty of these laptops isn't just skin deep. They're loaded with powerful components and convenient features that take the fuss out of work and entertainment. Most of the lineup features Intel's 11th Gen Core CPUs. These new chips boast greatly improved single-core performance for one of the snappiest mobile computing experiences around, and next-generation Iris Xe integrated graphics have the potential to bring true AAA gaming to Ultrabooks for the first time . Thunderbolt 4 ports offer charging, power delivery, and display output in addition to high-speed file transfers. Spacious and speedy SSDs, plentiful RAM, and Wi-Fi 6 round out the experience.
Read on for a full introduction to the new features coming in the new ZenBooks and ExpertBook, as well as a closer look at each upcoming model.
Tiger Lake, Wi-Fi 6, and Thunderbolt 4, oh my!
Intel just announced the details of its 11th generation of Core processors, code-named Tiger Lake. Built with an updated 10nm SuperFin silicon process technology, these chips offer clear benefits to a wide range of users.
The changes are headlined by a significant boost to peak operating frequencies, especially in lightly-threaded workloads. You'll feel that boost in the overall responsiveness of your laptop throughout all of your daily work. These chips' snappy performance will minimize time spent waiting around and maximize your productive flow. The graphics processor integrated into 11th Gen CPUs also benefits from a boost in frequencies, but that's not all. The new Iris Xe integrated graphics processor roughly doubles the graphics performance of the last generation. Select ZenBook models will offer a discrete GPU from NVIDIA for users who need even more graphics horsepower.

Thunderbolt 4 is also making its debut alongside Tiger Lake. The Thunderbolt interface is useful for all kinds of uses, ranging from high-speed data transfers to driving an external display to charging your laptop. When you buy a laptop with Thunderbolt 4, you know that you're getting the best possible Thunderbolt connectivity around.
As household networks become more and more congested with smartphones, laptops, and smart devices vying for a signal, it's time to take advantage of the latest in wireless networking technology. The new ZenBooks and ExpertBook feature Wi-Fi 6. Compared to earlier generations, you can see significantly improved performance on a congested network when you pair a Wi-Fi 6 router with compatible devices. Check out one of our ZenWiFi wireless routers if your current router is getting a little long in the tooth. They combine mesh networking with the latest wireless standard to ensure bandwidth throughout your home, and they have a chic style sure to fit in with your home's decor.
Hear and be heard, loud and clear
We're excited to offer compelling new features to users of our new ZenBooks and ExpertBook. Our latest technology helps you sound your best in meetings, takes care of your eyes, and offers you the best Wi-Fi experience.
Whether you're remote conferencing or checking in on your parents with a quick video call, clear audio is more important than ever. Our Noise Canceling audio technology works in two ways to give you a great experience. ClearVoice Speaker filters out ambient noise coming in from other people in the call. Are they trying to talk next to a running washing machine? That's their problem, not yours. If you're trying to talk over a barking dog or passing traffic, ClearVoice Mic works to suppress any background noise that's coming in through your microphone. And if you're in a group of people talking through one microphone, your listeners will appreciate how far-field normalization makes all of your voices sound equally clear.
We're also updating the fan profile settings for our latest ZenBooks. Some users want the absolute highest performance, and don't mind a little fan noise to get it. The new Velocity mode has an aggressive curve that will let the fans perform to their full potential. Users who never want to hear their laptop's fans at all might prefer Whisper mode, which prioritizes silent operation. Our new Dynamic mode offers a balance between the other two options, preferring silent operation but leveraging the capabilities of the cooling system when users load up an intensive task.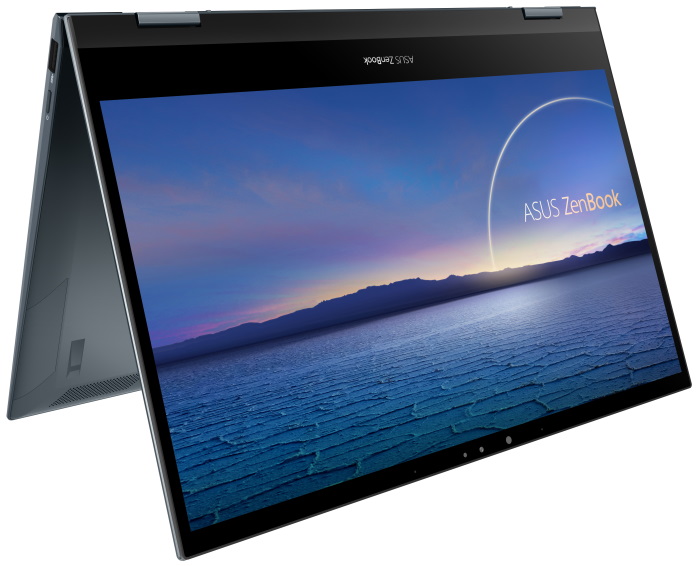 Select members of the new ZenBook line offer TÜV Rheinland Eye Care Certification. This seal of approval gives you the assurance that the laptop's screen uses flicker-free technologies to reduce discomfort and eye fatigue. Even further, you can use our low blue light tool to reduce exposure to wavelengths that can adversely affect your natural sleep cycle.
Finally, our latest ZenBooks offer a suite of technologies that work together to ensure that you have a fast and stable wireless internet connection. Wi-Fi SmartConnect keeps your laptop automatically connected to the router that provides your device with the best signal, even as you move around your house or office. Wi-Fi Stabilizer filters potential signal interference from sources like USB 3 data transfers so that you can maintain the range and bandwidth you expect while taking full advantage of your laptop's I/O. RangeBoost uses a multi-antenna array to eliminate dead zones. No matter how your laptop is oriented in a room, it'll be able to take full advantage of the wireless signal available.
A stunning screen makes the ZenBook S a standout
Compact and elegant, the ZenBook S stands out with a style all its own. The spun-metal pattern across the lid gives the laptop's Jade Black finish subtle depth as light plays across its surface. Diamond-cut Red Copper edges and accents complement the look and create a powerful impression.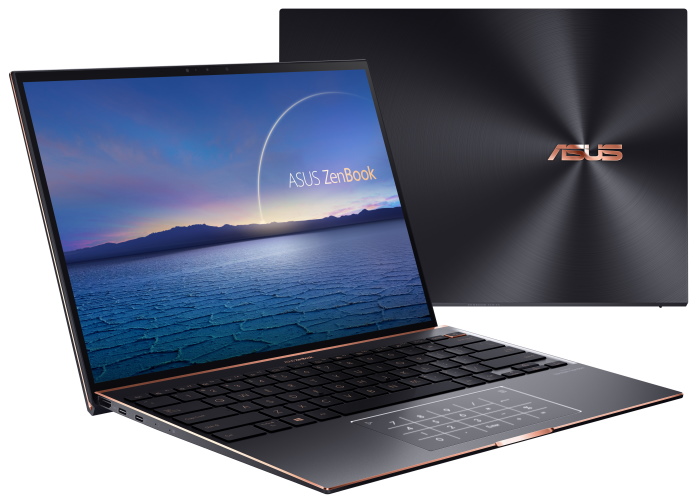 Laptops often use displays with a 16:9 aspect ratio these days. That's a fine choice for entertainment, since most media is tailored for televisions featuring the same ratio. Perhaps you've found yourself wishing for a laptop screen with more vertical space, though. The ZenBook S delivers with a bright, high-resolution 3:2 touchscreen. You'll be able to see more of your favorite websites and documents without scrolling as frequently, and menus like the ribbon in Microsoft Office won't intrude quite so much into your workspace.
There's a lot more to like about the ZenBook S's touchscreen. Its high-DPI 3300×2200 panel will keep text and images clear even when you zoom out. You can use it in a well-lit office or even outdoors without squinting due to its exceptional 500-nit peak brightness. It covers 100% of the wide DCI-P3 color gamut and 133% of sRGB, letting you enjoy vivid hues in your favorite media. Since it's Pantone Validated, you can trust those colors to be highly accurate right out of the box.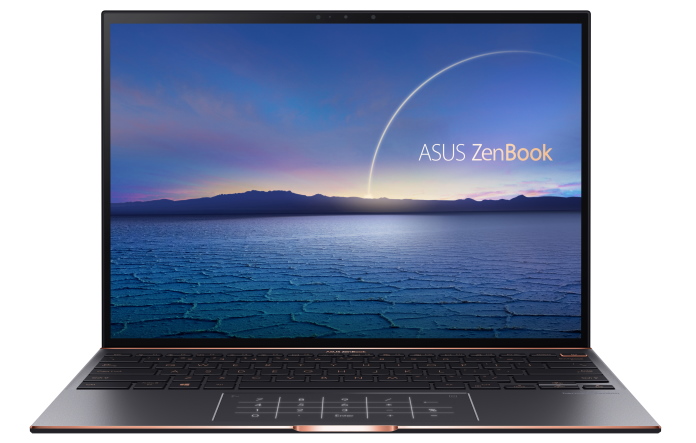 Narrow NanoEdge display bezels on all four sides of the display keep the laptop's profile compact. The ZenBook S is highly portable, only checking in at 2.76lbs. The laptop's 15.7-mm thin chassis is easy to hold with one hand and even easier to slip into a satchel. We're able to keep its frame light without sacrificing strength by using a special magnesium alloy. It'll hold up under duress, too, as it demonstrated by passing marks in a suite of military-grade durability tests.
The ZenBook S has a small footprint, but we took advantage of every square inch to make sure that it's comfortable to use. Since the backlit keyboard uses the full width of the chassis, the keycaps are larger than what you might be used to from other 14" laptops. The keys have a generous 1.35mm of travel. The typing experience is improved even further by the ErgoLift hinge, which raises the rear of the laptop as you open the lid. Lifting the laptop also improves airflow into the cooling solution and enhances the sound quality of the Harman/Kardon certified speaker array.
Our NumberPad 2.0 lets the touchpad play double duty as a ten-key numpad. Tap a button in the upper right hand corner of the touchpad, and illuminated keys will appear on the touchpad so that you can quickly enter data or perform calculations.
The latest components keep the ZenBook S responsive and fast-loading throughout your work day. It's powered by Intel Core CPUs ranging up to an 11th Gen Core i7, and we pair the CPU with up to 16GB of RAM to keep the laptop agile even as you're multitasking. A fast NVMe SSD up to 1TB serves up speedy storage, helping the operating system and your apps load up quickly. A pair of Thunderbolt 4 USB Type-C ports give you flexible connectivity options, and there's an HDMI port, a microSD card reader, and a USB 3.2 Gen 1 Type-A port. A 67Wh battery keeps the pixels glowing. Need a quick fill up? It'll fast charge to 60% in just 49 minutes.
The ZenBook Flip S is a long-lasting convertible with a 4K OLED screen
If you like the looks of the ZenBook S but prefer the flexibility of a convertible laptop, take a peek at the ZenBook Flip S. It shares the Jade Black finish and Red Copper diamond-cut highlights of its clamshell sibling, but employs a stepless 360° ErgoLift hinge that lets you flip the screen over into tablet mode. As it's just 13.9mm thin and 2.65lb, it's easy to hold and use in any mode.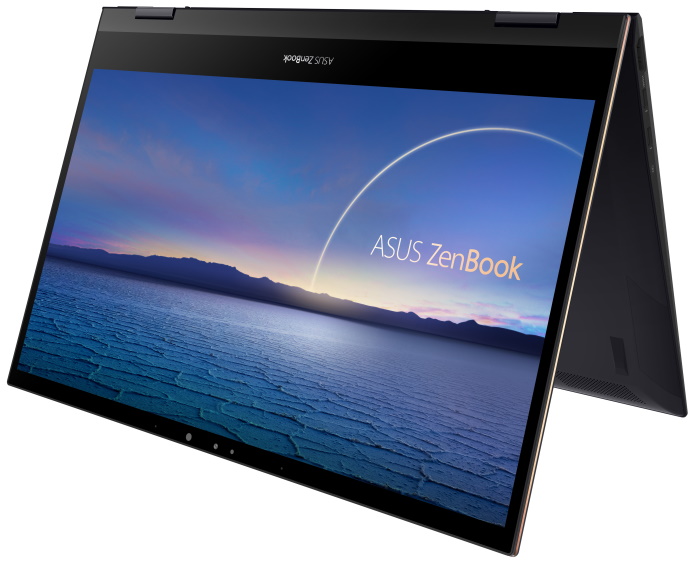 Slim NanoEdge bezels frame the ZenBook Flip S's available 4K touchscreen. As a VESA DisplayHDR True Black 500 display, it produces startling highlights and bottomless blacks. It has 100% DCI-P3 color gamut coverage, so colors are vibrant and clear. In fact, the display is Pantone Validated for color accuracy in creative workflows. If you can't bring yourself to put your fingers on such a lovely screen, then pick up the included ASUS Pen. The laptop supports stylus input with 4,096 levels of pressure sensitivity. As with the ZenBook S, the touchpad switches to NumberPad 2.0 mode with the tap of a button.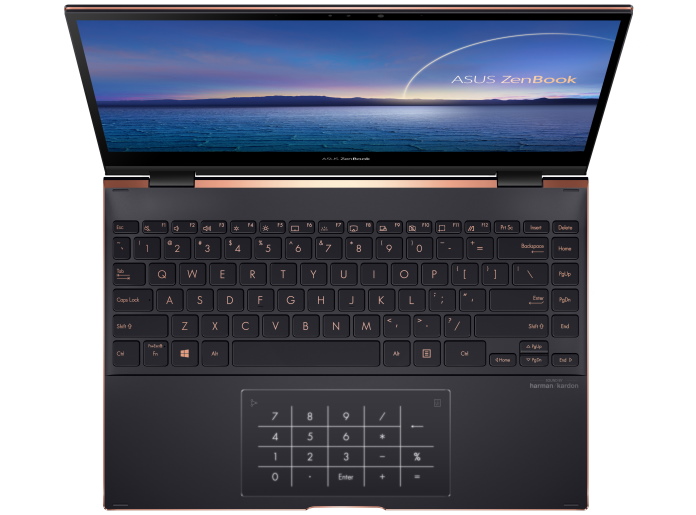 The ZenBook Flip S's processing power comes courtesy of an 11th Gen Intel Core CPU. There's up to 16GB of LPDDR4X on offer, as well as a PCIe SSD storage as large as 1TB. You'll find two Thunderbolt 4 ports, an HDMI port, and a USB 3.2 Gen 1 Type-A port. A 67Wh battery provides a full day of work and play.
The classic ZenBook 14 is back and better than ever
There's just something special about a classic. The ZenBook 14 is stylish and ready for work and entertainment of all kinds. It comes with key upgrades that improve the user experience on all levels. The striking new Lilac Mist finish, available in select regions, makes this ZenBook a real head-turner, and a more sedate Pine Gray option still draws the eye with a subtle touch of green.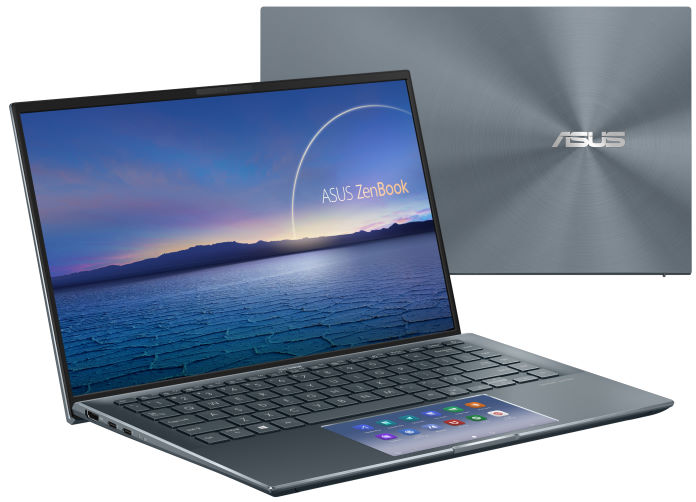 Armed with an Intel CPU ranging up to an 11th Gen Core i7, this laptop offers snappy, responsive performance. To help the CPU performance its best, we increased the thickness of its fans and added extra fan blades. These changes resulted in 15% more air flow but quieter operation. An available NVIDIA GeForce GTX MX450 GPU gives the ZenBook 14 a graphics boost so that you can enjoy some light gaming.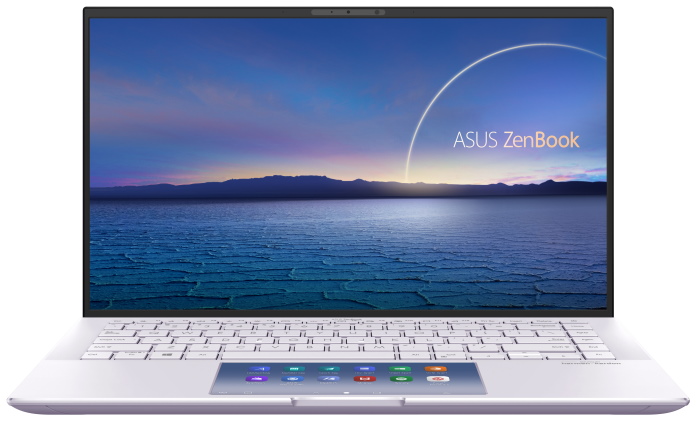 As light as 2.6lb and with an ultraslim chassis, the ZenBook 14 can easily follow wherever you go. Models with the ScreenPad 2.0 are just 17.9mm thin, and the models with the NumberPad 2.0 are even thinner at 16.9mm. The 63Wh battery gives it plenty of life on the road, and it's convenient to charge up thanks to its pair of Thunderbolt 4 ports. There's a USB 3.2 Gen 1 Type-A port, an HDMI 2.0 port, and a microSD card reader on tap for even more connectivity options.
The ZenBook Flip 13 is the portable laptop for your on-the-go lifestyle
Need a laptop that's as mobile as you are? Consider the ZenBook Flip 13. It's an effortlessly portable laptop that makes it easy for you to stay on top of your work and your online life.
The ZenBook Flip 13 is a slim machine that doesn't skimp on connectivity. It's just 13.9mm thin and only 2.87lb, yet it has two Thunderbolt 4 USB Type-C ports, an HDMI port, and a USB 3.2 Gen 1 Type-A port. Battery life is excellent, too. In our internal tests, this laptop lasted 16 hours, and it can charge back up to 60% in just 49 minutes.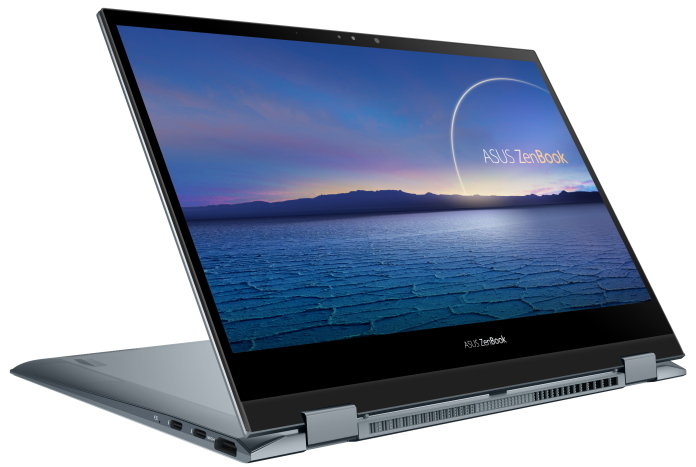 Its 360° ErgoLift hinge lets the ZenBook Flip 13 play the role of several different devices. Want to curl up on the loveseat and watch your favorite show on its 13.3" OLED display? Rotate the screen all the way over into tablet mode. This is also an excellent mode for drawing or writing using the included ASUS Pen. The FHD panel supports stylus input with 4096 levels of pressure sensitivity, so it'll capture your creations seamlessly.
Between its tablet, tent, clamshell, and stand modes, the ZenBook Flip 13 is ready for any occasion. When it's time to type, you'll appreciate the generously-sized caps on its edge-to-edge keyboard and the natural typing angle created by the ErgoLift hinge. NumberPad 2.0 gives you numpad functionality when you need it.
Under the laptop's hood you'll find cutting-edge components. The ZenBook Flip 13 is powered by Intel CPUs ranging up to an 11th Gen Core i7 which harnesses the increased power of Iris Xe graphics. That processor works in tandem with up to 16GB of high-speed 4266MHz LPDDR4X RAM, and a PCIe SSD up to 1TB provides plenty of space for your apps and files.
The ExpertBook B9450CEA has business credentials, will travel
Some folks can conduct most of their work day in the same office, but many of us have jobs that keep us on the move. When you're traveling for conferences, checking in with clients, or meeting with your team, you need a laptop that can go the distance. Even if you're working primarily out of a home office, a portable device gives you the freedom to take breaks from your desk chair while staying on top of your projects. The ExpertBook B9450CEA is precisely engineered to meet the needs of today's on-the-go professionals.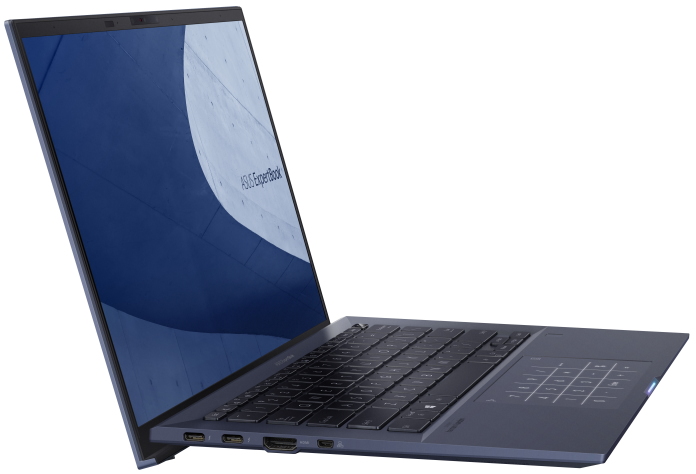 Even in a lineup of thin and light laptops, the ExpertBook B9450CEA stands out for its portability. The model with a 66WH battery is only 2.2lb and just 14.9mm thin. Its chassis is constructed of a lightweight magnesium-lithium alloy that offers superior strength and rigidity. Its battery life is nothing short of astonishing. It endured for up to 23 hours in our internal tests, and when you do need a quick battery fill-up, it can hit 60% capacity in just 39 minutes.
Durability and portability go hand in hand. The ExpertBook B9450CEA is a battle-proven unit that's earned its MIL-SPEC 810-H rating, so you can trust it to hold up under the stresses of day-to-day operation. We went further and built in spill resistance to its backlit keyboard, too. For privacy, there's a physical webcam shield, and the fingerprint sensor and IR camera give you powerful tools for keeping the laptop secure.
The ExpertBook B9450CEA's 11th Gen Intel Core CPU will more than keep up with the most common applications used in the business world. Up to 32GB of LPDDR4X give it substantial multitasking capabilities, and the dual SSD storage system provides the space to keep all your projects under your fingertips. There's a pair of Thunderbolt 4 ports that give you the fast charging, power delivery, and display connectivity that you need. If your work needs a wired network connection, you can use the Micro-HDMI to RJ45 dongle, and the rest of the time you have speedy Wi-Fi 6 keeping you connected.
The ZenBook Pro 15  empowers creators with a potent CPU and GPU combo
Professional artists aren't the only ones editing media. Whether it's for work or in our own hobbies and ventures, many of us touch up photographs and edit videos. The ZenBook Pro 15 provides the hardware you need for this kind of work in a slim, portable platform.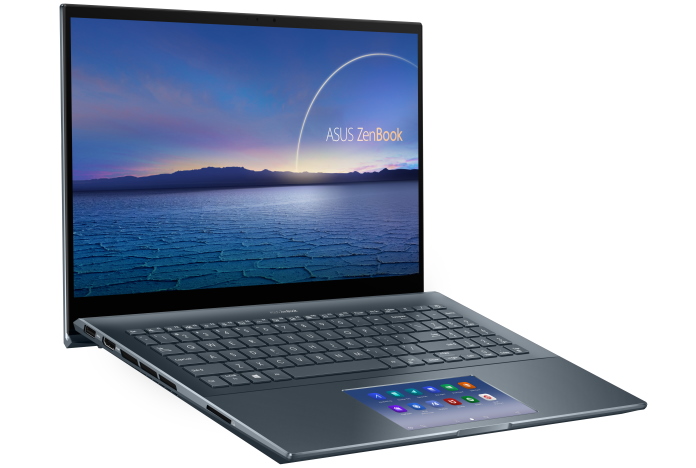 A powerful 45W 10th Gen Intel Core processor delivers the multithreaded CPU performance required by applications like Adobe Photoshop and Premiere. We pair it with up to 16GB of DDR4 memory and an NVIDIA GPU ranging up to the GeForce GTX 1650Ti. Many popular content creation apps can take advantage of GPU acceleration, so the ZenBook Pro 15's extra graphics horsepower will help you get your projects polished and published without undue delay. A 1TB PCIe SSD offers copious storage space for your projects, and an extra-large 97Wh battery keeps those high-powered components working when you're out on the road.
The ZenBook Pro 15's available OLED  display is a fitting canvas for your projects. Its 3840X2160 resolution will let you edit assets in full detail, and it covers 100% of the DCI-P3 color gamut. The display can reach 450 nits of brightness, as well, so you can get your work done without retreating into a dark room. The innovative ScreenPad 2.0 gives you another flexible input option. Its touchpad is a fully-featured touchscreen where you can position app controls, browser windows, messaging apps, and more.
Outfitting the ZenBook Pro 15 with professional-grade hardware and a brilliant display didn't prevent us from keeping it slim and portable. It's just  b and 17.8mm thin, so it's an easy addition to your backpack or satchel. A Thunderbolt 3 USB Type-C port gives you flexible connectivity options, and there's a USB 3.2 Gen 1 Type-A port, HDMI 2.0 port, and an SD card reader, as well.
Luxurious laptops that you'll love to use every day
Between your work obligations, your online communities, and the entertainment that helps you unwind after a busy day, you might spend a good portion of your day with your laptop in hand.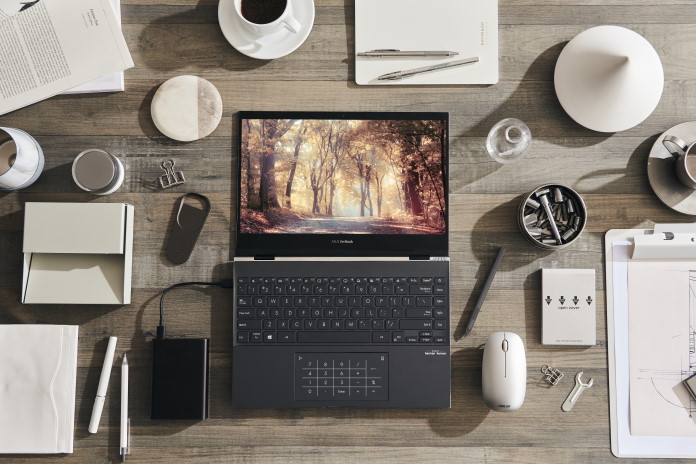 One of our new ZenBooks or ExpertBooks will fit seamlessly into your routine. They're lightweight and portable companions as you go about your day. They're loaded with cutting-edge hardware that minimizes the wait and delay in your work and entertainment. And they've got an unmistakable style that's sure to draw you in. Your new partner for work, entertainment, creation, and community is waiting.
These new laptops will be hitting shelves soon, so check with your local ASUS representative for pricing and availability.