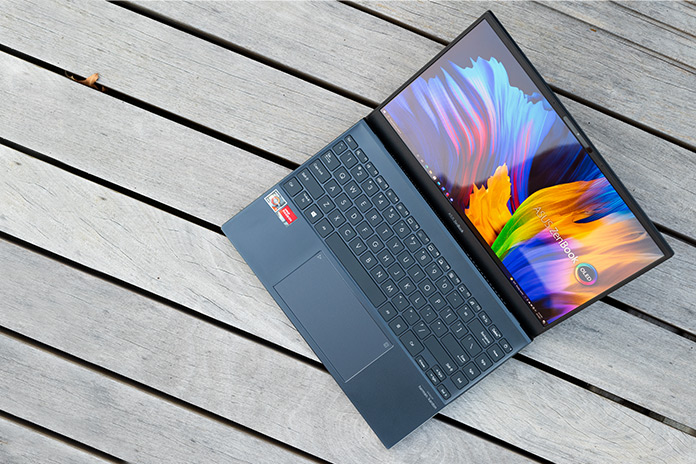 After the keyboard and touchpad, the display is arguably the most important part of your laptop. You look at it every minute you're using the PC. Recently, an exciting new display technology—organic light-emitting diode, or OLED—has begun appearing in everything from pocket-size phones all the way up to giant TVs. And I'm a total convert. My phone uses an OLED panel. My TV uses an OLED panel. I'm so taken with this tech that I won't buy a device or display that uses any other screen type. When we infused our mainstream ZenBook 13 OLED UX325 and UM325 laptops with Full HD OLED panels earlier this year, I knew that I needed to make one my daily-driver PC. Over the past couple weeks, I've done just that. 
Why am I so excited by OLED? Unlike most liquid-crystal displays (LCDs), which use a backlight that has to be illuminated all the time, OLED panels give us control over the brightness of every single pixel, including the ability to turn each one off entirely. This unprecedented, fine-grained control produces true blacks, more consistent brightness across the screen, and incredible contrast. A pure white pixel can shine right next to one that's completely black without any blooming or other artifacts.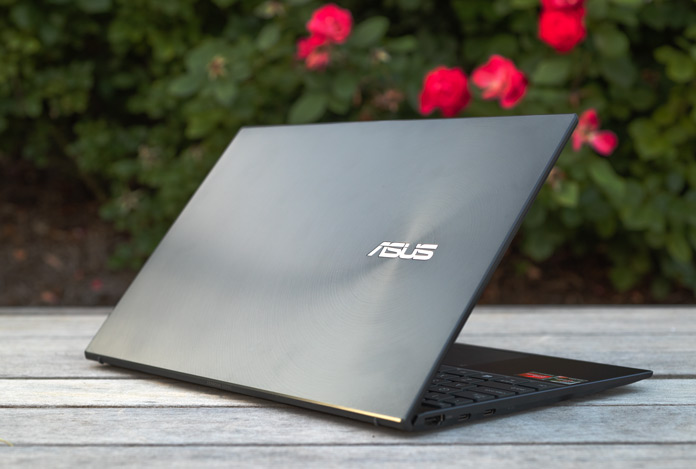 Because each pixel on an OLED screen can transition directly from one brightness level to another without any kind of chemical change, their response time—a measure of motion clarity—is consistently lower than what even the fastest LCDs on the market can achieve. That's a boon for sports, fast-paced action movies, and even games, where LCDs might show distracting blur. OLED screens can also display more saturated reds, blues, and greens than most LCDs, reproducing photos and videos that pop off the screen like nothing else. Because of their incredible contrast ratios and vivid color palettes, OLEDs are also ideal for displaying true high-dynamic-range (HDR) content—the future of photos, movies, and games. Laptops without this per-pixel brightness control simply can't reproduce HDR content in a satisfying way.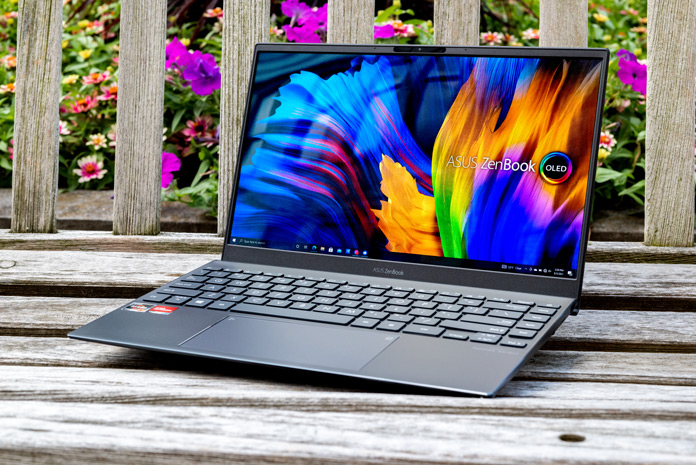 If all that tech talk sounds intimidating, here's the short take: OLED is the closest thing we have to a perfect display technology right now. Despite all those virtues, it's been hard to find an OLED screen in a laptop at all, much less one that's thin, light, and attainably priced. But the ZenBook 13 OLED UM325 that I've been using combines this practically perfect display tech with a stylish, solid chassis, a satisfying keyboard and trackpad, and exceedingly long battery life, all in a razor-thin chassis. Better yet, the price of entry is just $899 USD: well within the range of everyday laptop buyers. 
Subtle style and satisfying inputs
Of course, a laptop isn't just the sum of its parts. Style matters, and the ZenBook 13 OLED UM325's design fits in anywhere. Its aluminum chassis is anodized in a deep Pine Grey finish that sports just a hint of verdancy in the right light.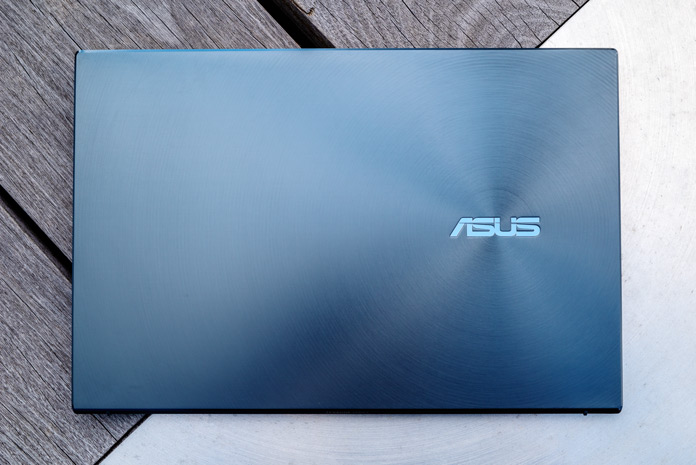 The dark tone of this finish lends visual weight and sophistication to the compact chassis. Diamond-cut edges around the lid and keyboard deck add a subtle gleam when they catch surrounding lights. Our signature Zen spun-metal finish radiates outward from an offset ASUS logo set into the aluminum lid. Like its namesake, this ZenBook projects a sense of calm and capability that makes me eager to open it up and get down to work. It's simply a satisfying object to behold.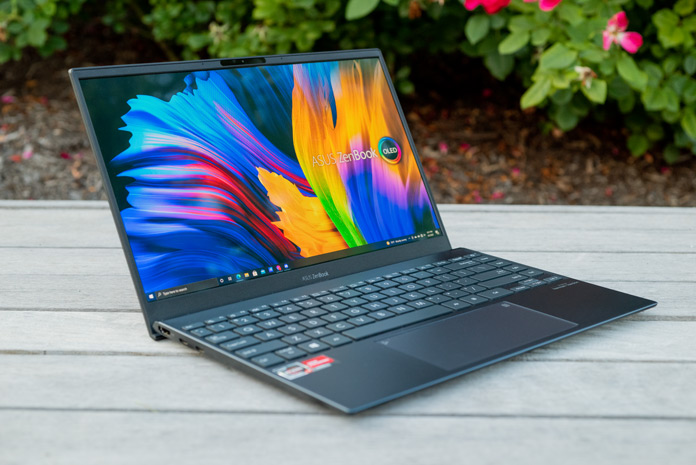 When I open up this ZenBook, its ErgoLift hinge raises the keyboard deck to a more comfortable angle for typing. This slight upward tilt enhances the already pleasant feel of the keys themselves. They're at once tactile and cushiony, providing a typing feel that's well-suited to long hours of data entry or creative writing alike. When the sun goes down, or when I find myself in a dim environment like a coffee shop or airline cabin, a white backlight with three brightness levels helps me find each key with confidence.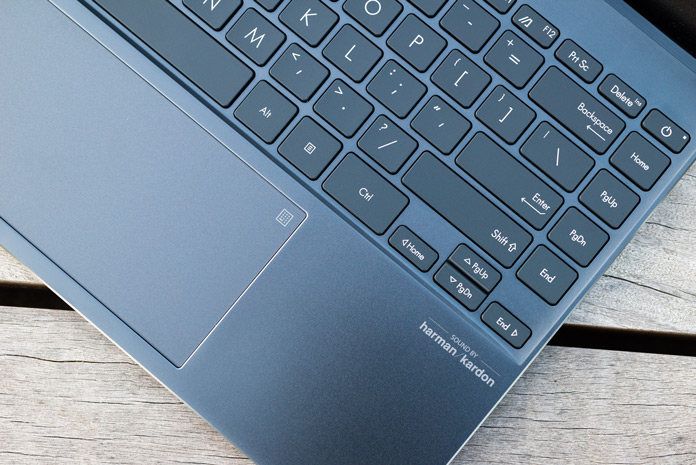 Beneath the keyboard, a large and responsive Precision Touchpad tracks my fingers without a hint of latency, allowing me to fluidly position windows or seamlessly use gestures like two-finger scrolling or four-finger pinching. The best touchpads provide a direct connection to the windows and content on screen, and the ZenBook 13 OLED UM325's gave me the kind of control I crave.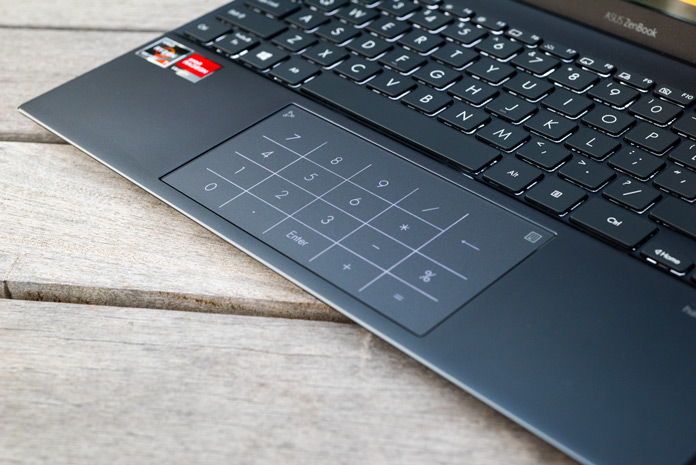 As a bonus, whenever I need to enter numeric data, I don't have to reach for a separate peripheral with this laptop in my bag. A brief press in the upper right corner of the touchpad illuminates the NumberPad 2.0 inscribed on the glass surface for quick ten-key work. 
OLED impresses
Of course, the star of the show for the ZenBook 13 OLED is its 13", Full HD OLED panel. And I'm happy to report that it's every bit as stunning as I had expected. The moment I reached the Windows desktop for the first time, the vivid color palette of this 100% DCI-P3 panel proved a feast for the eyes. The pure yellows, greens, and violets of our default desktop wallpaper came through in a way that I can only describe as startlingly true to life.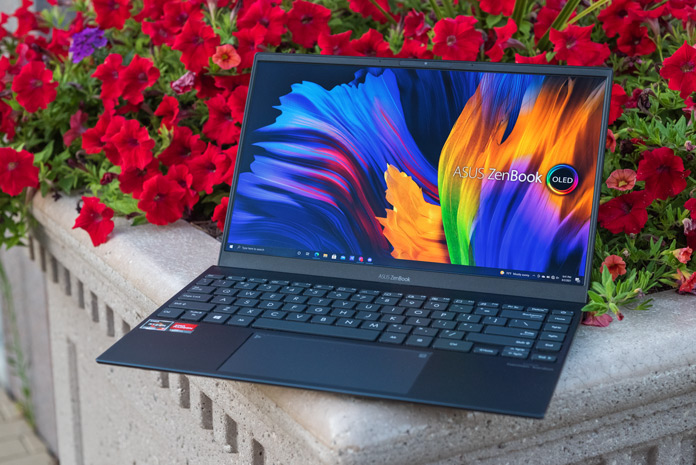 It's always difficult to convey what next-generation display technology looks like without seeing it for yourself, but the best example I can suggest is to think about the experience of looking at flowers like deep violet and fiery red petunias or hot pink snapdragons in person. These are some of the most vivid colors in nature, yet when you see them on most computer monitors, something is always dulled, always lost in translation.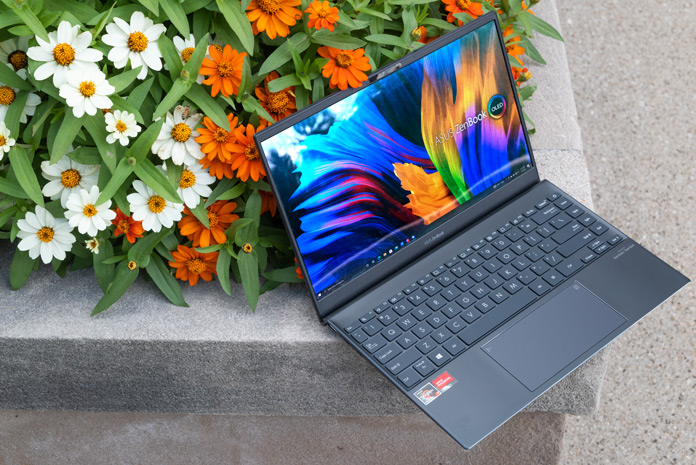 The ZenBook 13 OLED's panel feels like looking right through a window onto a flower garden, not just a picture of one. It's an immensely satisfying viewing experience. And when I remind myself that this laptop costs less than $1000 USD, I pinch myself. I think it's fair to say that this is one of the best laptop displays I've ever laid eyes upon, and the fact that it's available in such a reasonably priced laptop feels like a massive technological advance.
That heady experience came before I enabled the HDR toggle in Windows and set out to see whether this compact laptop could live up to the experience of watching movies and streaming content on my 55" OLED TV. When I pulled up some of my favorite HDR videos by creators like Jacob and Katie Schwarz, I was pleased to find that they came through with sparkling highlights and all of the same inky-deep blacks I enjoy in my living room. Thanks to PANTONE Validated color accuracy and VESA DisplayHDR 500 True Black certification, I knew I was enjoying that content just as its creators intended. And unlike my massive TV, all of these visual delights reside in a 2.5lb chassis that I can slide into my bag and take anywhere. 
A new look for a favorite game
Hades has become my preferred way to unwind thanks to its ever-changing gameplay and its lush, evocative isometric graphics. Each journey through the underworld in this game winds through chambers bursting with colorful backdrops and enemies. Sickly chartreuse flames, rivers of orange lava, deadly fuchsia waves of energy, and purple gems of occult power await at every turn. I've spent many dozens of hours in Hades fighting to escape the chains of its subterranean depths, but the ZenBook 13 OLED made me want to revisit this game with fresh eyes thanks to its eye-popping color reproduction.
My pulse quickened and butterflies began fluttering in my stomach as I struggled for survival, dodging pink beams of deadly light and striking down bright orange enemies in shadowy dungeons illuminated by flickering green braziers—all reproduced more vividly than I'd ever seen them. I was more invested than ever in defeating my foes and reaching the surface. And when my journey ended in failure, as it so often does, the pool of blood that marked my plunge back to the deepest depths of the underworld was surrounded by a void of pure black thanks to the OLED screen. Death in Hades had has never felt so final, even if it was is just a temporary inconvenience for player character Zagreus. 
Hades isn't hard for PCs to run, but its art style is a torture test for any display. Animations appear and depart in the blink of an eye, mobs of fast-moving enemies swarm from all directions, and background artwork favors heavy black outlines drawn right next to vivid colors. Screens with slow response times can lose all those details in a blurry mush, but the ZenBook 13 OLED kept Hades' underworld satisfyingly crisp as I traversed it. The included USB-C DAC, powered by an audiophile-grade ESS chip, kept every footstep and sword slash clear and detailed through my ROG Delta Core headset, too. It proved a welcome cherry (or perhaps pomegranate) on top of my Hades experience.
High performance that lasts
The light weight and a slim chassis just 0.54" thick make the ZenBook 13 OLED an attractive traveling partner, but those ingredients are just the start for a truly portable system. For maximum range away from an outlet, the ZenBook 13 OLED houses a 67WHr battery. Paired with a selection of power-sipping Ryzen CPUs, this large battery promises impressive endurance, but I had to put it to the test myself.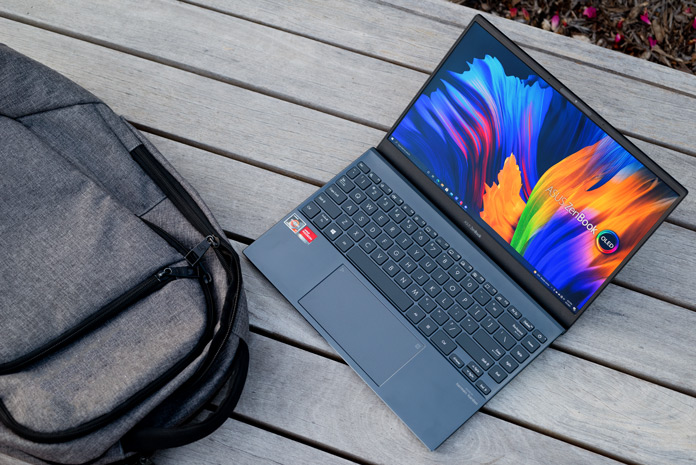 To see how long the ZenBook 13 OLED could go between charges, I set its screen to a comfortable 50% brightness and unplugged it at the beginning of a recent work day full of Microsoft Teams meetings, copy editing, and cloud collaboration. This workload is reasonably representative of the average person's demands of a thin-and-light notebook like this one. 
The most computing-intensive part of my work day comes in the morning as I catch up on email and join various department meetings. Given that I'm participating in Microsoft Teams video calls and editing documents left and right in Google Docs during this period, it usually doesn't take that long for most laptops to reach 50% battery or less. The ZenBook 13 OLED UM325 proved more than up to my workload without the help of an outlet. Not only did I not hit 50% before lunch, it took over five hours of constant use to discharge the battery to that point. And this ZenBook just kept going into the evening. As I wound down for the day, the ZenBook 13 OLED had plenty of juice left—so much so that when I shut the laptop for the last time that day, I had more than 20% battery remaining. Even though I plugged in the convenient USB-C charger at this point, I would have been able to get right back to work in the morning had I forgot to charge the system. No range anxiety here.
Perfect pixels for everyday work and play
One recent night, I kicked back on my deck and enjoyed a glass of wine while the sun set and the summer heat gave way to a welcome cool breeze. The ZenBook 13 OLED UM325 proved a perfect partner as I kept an eye on a good friend's Twitch stream. Even as I dimmed the OLED screen to match the fading light, I enjoyed vivid colors, perfect blacks, and crisp motion as my friend worked his way through the cartoony environment of the newly released Pokemon Unite. 
ZenBook 13 OLED
Model
ZenBook 13 OLED UM325
(UM325UA-DS71)
CPU
Ryzen 7 5700U (8 cores, 16 threads, up to 4.3GHz)
Display
13" Full HD OLED
100% DCI-P3
Pantone Validated
GPU
AMD Radeon Vega 8 integrated graphics
Memory
8GB LPDDR4X RAM
Storage
512GB NVMe SSD
I/O
2x USB 3.2 Gen 2 Type-C with DP Alt Mode
1x USB 3.1 Gen 1 Type-A
1x HDMI 2.0b
MicroSD card reader
USB-C audio adapter with ESS DAC
Dimensions
12.0" x 8.0" x 0.6" (30.4 x 20.3 x 1.4 cm)
Weight
2.51lbs (1.14kg)
Battery
67Wh
Where to buy (USA)
ASUS Store
Amazon
B&H Photo Video
Adorama

That seamless integration with my everyday routine has been a hallmark of every ZenBook I've had the pleasure of using, and the ZenBook 13 OLED UM325's uniquely satisfying display makes it all the harder to give up—so much so that I sense a new laptop purchase in my future. If you want to add some OLED goodness to your own daily routine, pick up a ZenBook 13 OLED at the retailers above, or find an ASUS OLED laptop that's right for you with our handy guide.