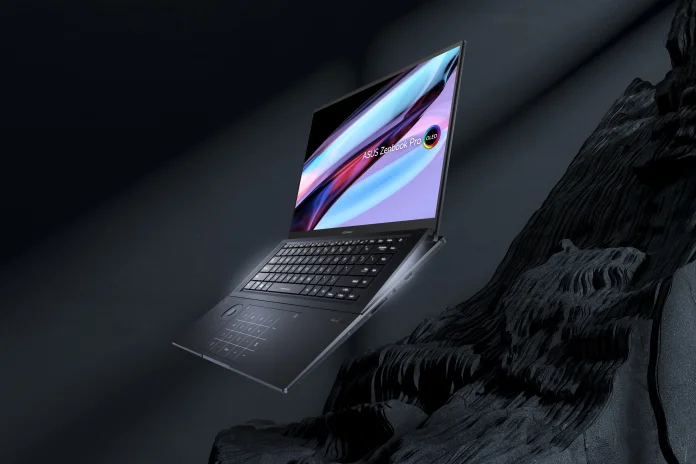 As a creative professional, you're used to looking at the big picture, at the way that the individual elements of a project come together into a seamless whole. That's what you get with the refined and updated Zenbook Pro 16X OLED laptop, debuting at CES 2023. Like individual brushstrokes executed with precision, each component and design element of this creator-focused laptop uniquely elevates your work. It's the sum total of these brush strokes that makes the complete picture — and that picture reveals a
Great cooling that elevates everything
The importance of cooling in a creator's laptop can't be overstated. Powerful cooling allows vital components to hit and sustain the high levels of performance you need for demanding tasks like rendering 3D scenes and encoding video. Efficient cooling allows you to work undistracted by noisy fans and uncomfortable laptop skin temperatures. And innovative cooling techniques allow for supremely thin laptops that travel easily, making sure that you're always ready to capitalize when inspiration strikes.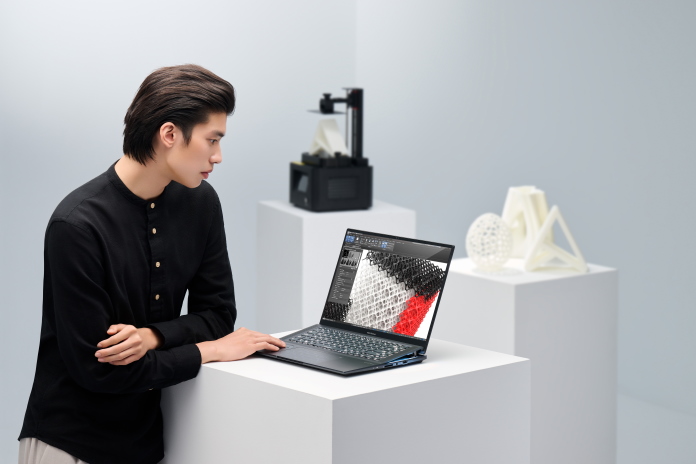 For 2023, we refined the Zenbook Pro 16X OLED to give you even more cooling power. Going from the inside out, it all starts with the ASUS Supernova system-on-module (SoM) design. Developed in collaboration with Intel, the SoM module is 38% smaller than the motherboard core area in our last-gen model, increasing the overall cooling efficiency of the system and boosting performance — more on that in a moment.
Liquid metal thermal compound, painted through an automated process on the surface of the CPU, keeps the chip up to 7° Celsius cooler than traditional pastes. A wide-coverage 3D curved vapor chamber moves heat not only from the CPU and GPU, but also the nearby VRMs and other circuitry, to heatsinks bristling with fins so that it can be exhausted from the chassis.
All this would add up to an effective cooling solution on its own, but we take it to the next level with our innovative Active Aerodynamic System (AAS) Ultra mechanism. As you open the lid of the laptop, the display hinge raises the rear of the keyboard by up to 14.5mm. Not only does this position the keyboard at a more ergonomic angle for typing and point its speakers more directly at your ears for better audio, but it also opens wide vents to improve airflow by 30%.
The vapor chamber and AAS Ultra do so much work in tight spaces that we're able to keep the Zenbook Pro 16X OLED slim and trim. This laptop's CNC-milled aluminum alloy unibody is a mere 16.9mm thick, making it an easy fit in your laptop bag. And with a large 96Wh battery, it's fully prepared to give you incredible endurance while you're on the move.
Performance that doesn't quit
Since the Zenbook Pro 16X OLED has such an effective and comprehensive cooling solution, we're able to equip it with supremely powerful components. Its 13th Gen Intel Core CPU offers nimble, speedy performance as you're building your latest creation, and when it's time to finalize your work, its sustained processing power saves you valuable time.
We pair this potent chip with up to 32GB of overclocked LPDDR5X RAM. The Supernova SoM design lets us extract cutting-edge performance from the memory thanks to the shorter physical length between it and the CPU, as well as the low-loss substrate like PCB. This tech allows the memory frequency to reach 7500MHz for supreme performance in creative apps.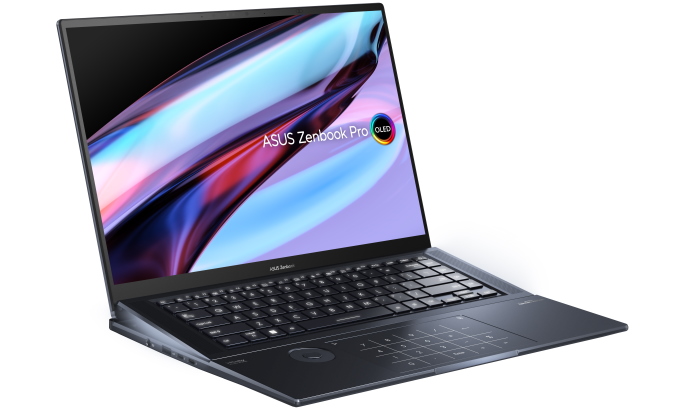 For exceptional power in GPU-accelerated tasks, the Zenbook Pro 16X OLED features a cutting-edge NVIDIA GeForce 40 Series GPU. NVIDIA Studio drivers ensure professional-grade reliability and compatibility with your favorite creative apps. The Supernova SoM design allows us to push this powerful GPU to its limits.  With the smaller motherboard core area, we had more room for discrete GPU power components. We took advantage of that space to bolster the GPU's TGP from 70W up to 110W. All told, the Zenbook Pro 16X OLED's 155W TDP (in Performance Mode) puts it in elite company.
The SoM design's many benefits add up to a significant performance increase. To assess the full impact of the new design, we compared the performance of two of our latest Zenbook Pro 16X OLED laptops, one with the SoM design and one without, to the performance of our last-gen model. The 2023 model without the SoM design takes advantage of its next-gen components and refined cooling solution to offer 4.1x faster 3D rendering speeds, as benchmarked in Blender, and 1.1x more video editing performance, as demonstrated in Adobe Premiere Pro Auto Reframe testing. The Zenbook Pro 16X OLED with the SoM design, on the other hand, offers a jaw-dropping 8.9x increase in 3D rendering speeds and a 1.4x increase in video editing speed.
Many creative workloads are sensitive to storage transfer speeds. The Zenbook Pro 16X OLED provides up to 2TB of blazing-fast PCIe 4.0 x4 SSD storage. With up to 6500Mb/s transfer speeds available, your creative apps will be able to rapidly load assets so that you can do more in real time.
A pixel-perfect canvas for creative work
The Zenbook Pro 16X OLED's premium display serves the needs of a wide range of creative professionals. This OLED panel is well suited for any work that requires vivid, accurate colors. It's Pantone Validated for accurate colors right out of the box, and since each pixel is its own light source, it offers perfect blacks and dazzling contrast. This display's VESA DisplayHDR True Black 500 certification and Dolby Vision attests to the premium HDR experiences that it offers.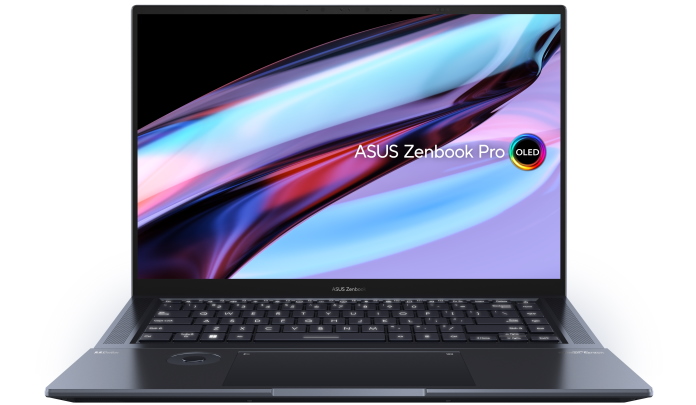 We use ultra-slim NanoEdge display bezels to fit this large 16-inch display into a chassis that's similar in size to a traditional 15-inch laptop, offering you a 90% screen-to-body ratio. It offers a 16:10 aspect ratio with an increased vertical dimension that lets you see more at a glance without scrolling, and its detailed 3.2K resolution brings out the fine detail in your projects.
For game developers, 3D animators, and all creators who work with moving media, the Zenbook Pro 16X OLED has a 120Hz refresh rate that renders animation smoothly so that you can track fast-paced motion. The supremely low response time of the OLED panel ensures that you'll have exceptional clarity in moving images, too.
The right tools for the task at hand
For certain creative workflows, nothing works better than a traditional keyboard and mouse. Other times, you need options. The Zenbook Pro 16X OLED gives you a rich toolkit for working efficiently.
It starts with the comfortable keyboard, raised to an ergonomic angle by the AAS Ultra mechanism. It offers vivid per-key WhiteRGB backlighting so that you never have to hunt for a key, even in a dim studio. For a touch of style, you can synchronize the keyboard backlighting with the two sidebars and the ASUS monogram on the lid. ASUS Intelligent Lighting goes a step further by using the laptop's lighting to communicate important system information.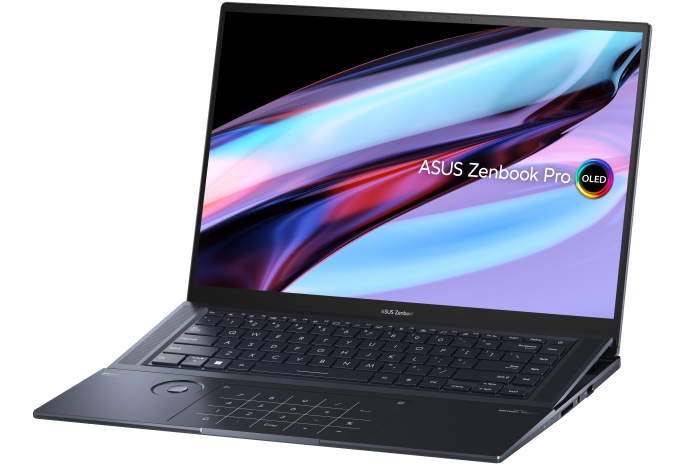 For ease of use, we increased the size of the touchpad by 84%, ensuring that it'll always be in reach and that you can do more with each swipe of your finger. Haptic feedback provides clarity and responsiveness to each command. When you need the number-crunching power of a numpad, you can activate the NumberPad, an illuminated region of the touchpad that you can use to quickly enter numerical data.
Many creative workflows benefit from the comfortable feel of a stylus. The Zenbook Pro 16X OLED is compatible with the ASUS Pen 2.0. With 4,096 levels pressure sensitivity, it's perfect for drawing smooth, natural-looking lines.
For quick access to your most commonly used functions in creative apps, we embedded the exclusive ASUS Dial into the palm rest of the laptop. This fully customizable rotary tool works seamlessly with apps like Adobe Premiere Pro, Photoshop, After Effects, and Lightroom Classic to give you quick shortcuts to the tools you use most. And since it's a dial, it's a very natural way to adjust functions such as brush size, exposure, and more.
As important as your laptop is to your work, it's almost certainly just one part of your full kit. The Zenbook Pro 16X OLED ensures that the right connectivity options are always ready when you need them. A pair of Thunderbolt 4 ports offer 40Gbps transfer speeds and unmatched versatility. Whether you need to connect external storage, hook up a display, or recharge your smartphone, these ports offer what you need. An SD Express 7.0 card reader gives you high-speed access to storage media from your camera, and an HDMI 2.1 port allows you to connect a high-resolution, high-refresh-rate display.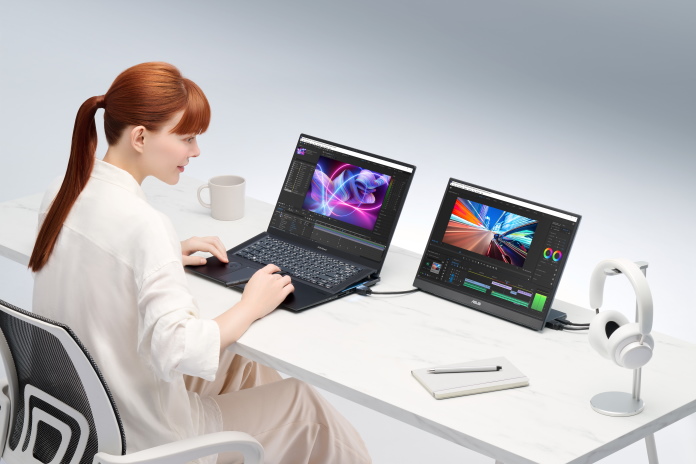 For creators who need a workstation replete with power, elegance, and portable, the Zenbook Pro 16X OLED stands apart. With its dazzling, professional-grade OLED display, exceptional cooling, premium components, and creator-focused input options, it gives creators a complete solution. For more information about the Zenbook Pro 16X OLED in your region, please contact your local ASUS representative. Click here to learn about all the products that we announced for CES 2023.