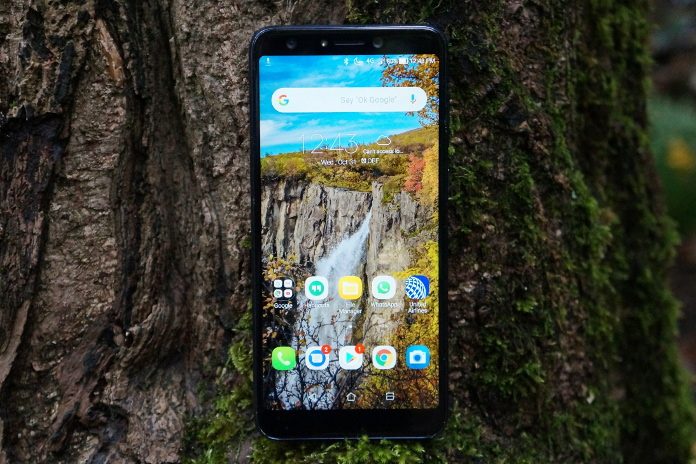 I long ago learned that spending $600 or $700 on a smartphone is not a good idea for me. I have put three phones in the washer. I have cracked four screens. I have somehow managed to get the goo from the inside of a (broken) snow globe into my phone and lived with a weird lava lamp screen for four months. It's just better if I don't spend a ton of money on my phones, but that doesn't mean I can't have nice things.
A sleek glass construction, face unlock, a fancy camera setup, and lots of RAM and storage used to be exclusive to the high-end. They used to be the reason why you wanted to spend more money on a better phone. But with advancements in mobile technology, it's possible to get all of that for under three hundred bucks. The ZenFone 5Q takes the key elements of our flagship ZenFone 5Z smartphone and distills them down for a beautifully compact phone that still checks all the boxes. With four separate cameras, a gorgeous 6" display, and loads of storage, this phone is made for adventures.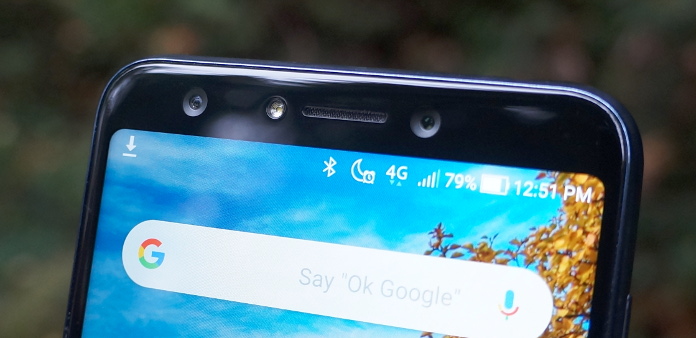 Who needs friends anyway
Over the past few years, I've replaced my weekend recovery ritual of a greasy sandwich with a hike. You know your abstemious friend who preys on you when you're drunk and vulnerable and convinces you to exercise at a ridiculously early hour the next morning? That's me. I am that friend, and I end up hiking alone a lot. It's tempting to crawl back into bed when someone inevitably bails, but I enjoy the shot of smugness when people eventually surface, phone in their apologies, and are mildly ashamed when I tell them, yes, I did actually manage to get myself dressed and out the door. And in this weather!
I've grown to love the quiet solitude of a nice, long hike, but I wouldn't be a millennial if I didn't take a thousand pictures to prove I was there, on the side of that mountain, looking so smug. Also, hiking alone is dangerous, or whatever, so I've always got my phone with me. The problem is solo photo shoots are a bit of a chore unless you want to carry around a selfie stick (ugh, please no).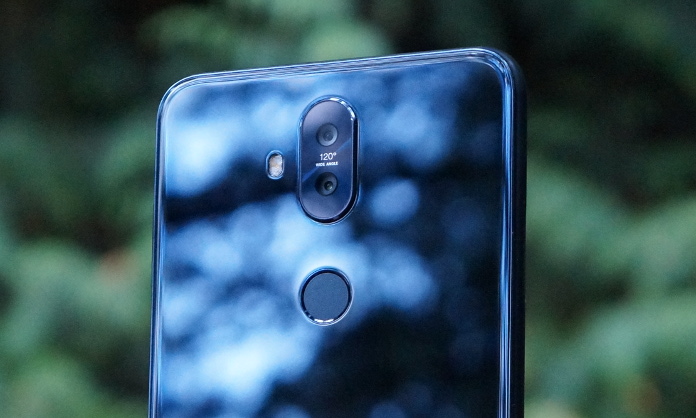 While wide-angle cameras are more often used for group shots, they can be extremely useful for anyone who likes to go it alone, too. The ZenFone 5Q is a solo adventurer's dream. It pairs its primary front-facing and rear-facing cameras with secondary wide-angle cameras that ensure you always get the shot, even if you're on your own and the trail is devoid of willing volunteers.
I toted the ZenFone 5Q around for a summer of solo travel and adventures. My goal was to road-test the wide-angle cameras on both the front and back beyond the usual picturesque landscapes (though I caught plenty of those, too). My first excursion was a hike to the top of Oregon's Saddle Mountain. It's a roughly 5-mile out and back trail with 1,900 feet of elevation, and it takes you through lush green forest and across the rocky face of the mountain before summiting at an awesome viewpoint. I took the ZenFone 3 Deluxe with me last time I was up there and had to take multiple shots to squeeze in the amazing views in front of me.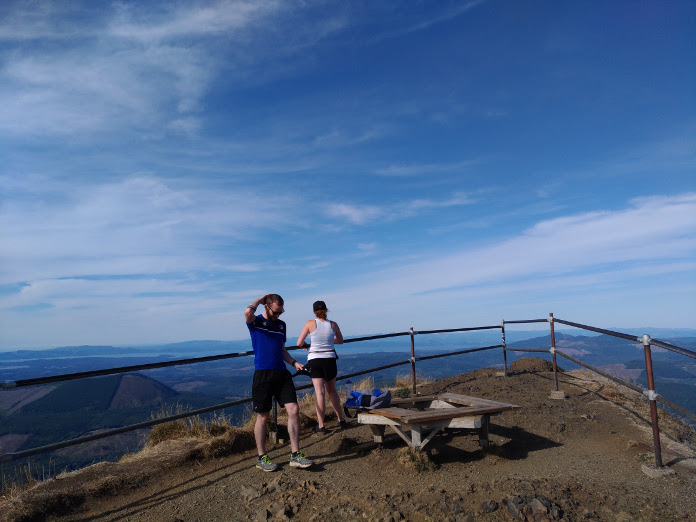 When I got my hands on the ZenFone 5Q, I knew I wanted to bring it to the top of Saddle Mountain. I was sure the pictures captured with a wide-angle lens would be even more epic than anything I caught with the ZenFone 3.
Wet, cold American summer
I headed for the trail early on Saturday morning, checking the weather as I downloaded some podcasts and an offline map for the drive. The ZenFone 5Q has 64GB of storage and support for an additional 2TB via MicroSD, so I wasn't worried about media sucking up all my space for photos. I downloaded a handful of my favorite albums, just in case I wasn't feeling Freakonomics on the way home, and scrolled through the hourly forecast. The weather looked mostly clear and sunny, so I packed my bag, layered on the sunscreen, and hit the road.
The ZenFone 5Q has a huge 6" display, but it's razor-thin bezels and sleek metal-and-glass construction make it extremely compact. The narrow body makes it easier to hold in one hand, and even though it's got the biggest screen of any phone I've used in recent memory, it still fits into the same generic dash mount I've used for the last couple of years. On the drive out to the mountain, the giant screen made it even easier to see the route in Google Maps. For once, I didn't miss the turn for the trailhead and end up on the final stretch of highway to Cannon Beach.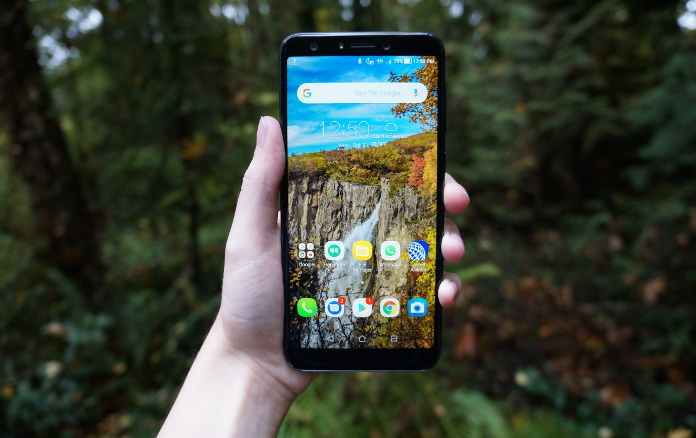 As I drew closer to my destination, the clouds rolled in. Living in the Pacific Northwest, clouds don't mean much of anything, so I wasn't too worried at first. But then the rain started. Just a sprinkle, but it got progressively worse, and by the time I pulled into the parking lot, it was properly raining. Suddenly the sunscreen seemed stupid. I was realistically going to spend about two hours in the cold and would then have to drive home in wet clothes. As the rain hit downpour status, I reasoned that it would probably be fine once I got moving. The trees would provide some cover. Besides, the clouds were low; the weather at the summit might be fine. Maybe. I made the executive decision to leave my hoodie in the car so I'd have something to change into.
The first 1.5 miles of the Saddle Mountain trail are an easy climb with almost all of the elevation stuffed into the final mile. It's a gentle runway for an unpleasant but very brief last leg. The pay-off at the top is the reward: 360-degree views that, on a clear day, stretch eastward into Oregon, west to the Pacific Ocean and as far north as Washington's Mount St Helens. During the height of summer, you can see Mounts Rainer, Hood, and St Helens all at once.
The trail through the forest was muddy and wet. I trudged past the hike-in campers, huddled in their rain jackets drinking coffee, and messed about with the camera to distract myself. I'm a sucker for big, tall trees that stretch high into the sky, but it's not easy to capture vertical scale with a regular camera. You usually end up shooting trees that are further away and the resulting images never really do the atmosphere justice. The ZenFone's 5Q's regular 16MP camera has an 80° field-of-view, which is fairly standard for a smartphone. The 6MP wide-angle camera is equipped with a much broader 120° field-of-view, which makes for more immersive photos that better match what you're seeing with your own eyes. Even if it's just the trees in my own yard, I like to see some of the sky without cropping out the ground below.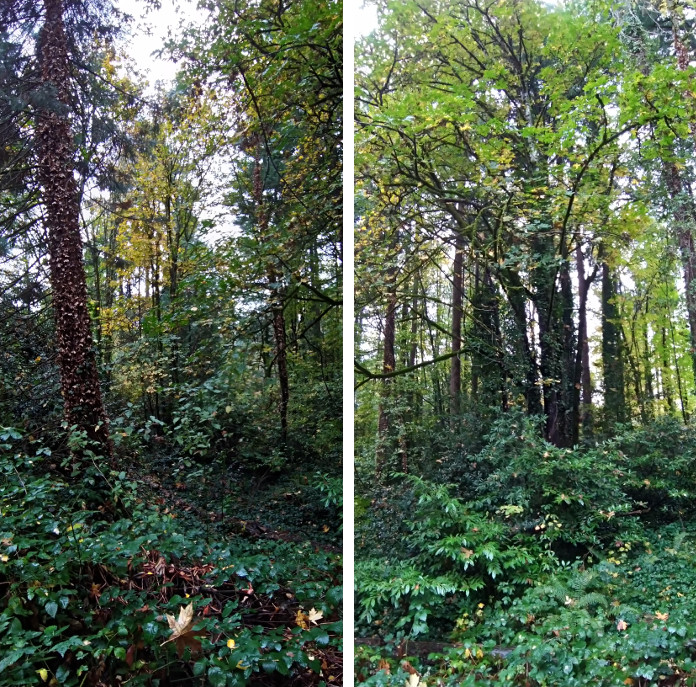 The canopy of leaves seemed to just be collecting water to dump on me with every gust of wind, so I soldiered on, edging past the slower hikers and dodging the muddiest patches as I hurried along. Breaking through the trees to the mountainside meadow usually affords you a taste of the view at the top, with a sheer drop to remind you of the seven miles of winding mountain road that deposited you at the trailhead about a mile back. Not today. Hello, wall of clouds! Visibility was bad, not just for photography, but for actually navigating the now very rocky trail, so I tucked the ZenFone into the waistband of my leggings and powered on.
As I got closer to the top, the clouds lifted a little, so I could see where I was going. The rain had turned to a drizzle and I was warm from the effort. I started to think of how awful this part of the hike is when the sun is beating down. With no tree cover and no greenery, it's just rocks, dirt, and a guide wire to cling to when you feel like you really might die of thirst. I started to appreciate the crappy weather as I climbed the last few yards to the top. Sadly, not even the ZenFone 5Q could turn this scene into anything resembling a view.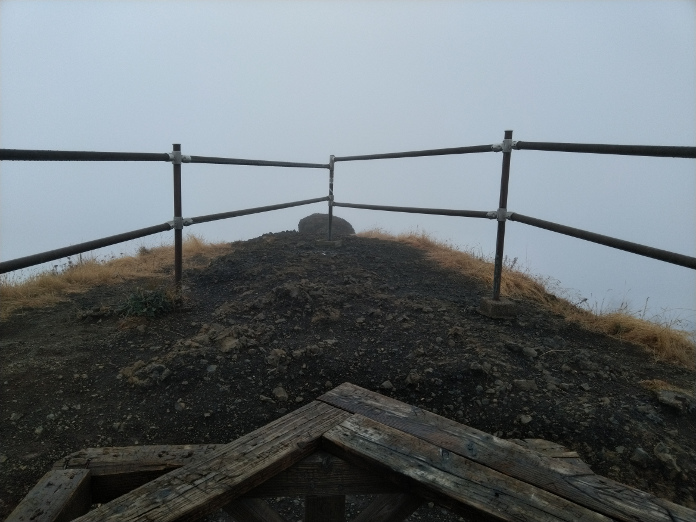 With a screen of clouds surrounding me, there was absolutely nothing to see. The rain had stopped, though, so I turned the camera on myself. My drowned rat visage could still serve as proof that I had made it to the top, and the ZenFone 5Q is all about selfies.
While most phones have their most powerful camera in the back, the front-facing camera on the 5Q boasts the highest resolution of all four. The 20MP primary camera has a slightly wider than normal 85.5° field of view, which is ideal for selfies that aren't just a frame filled with your face. The second camera on the front matches the 6MP 120° one on the back. Usually these are best for group shots, where you're trying to squeeze everyone in, but they're great for solo selfies too, even if there isn't a whole lot going on around you. The wide-angle lens was able to capture a sense of the scale of my perch at 3,200 feet, even though I couldn't see anything beyond the safety railing.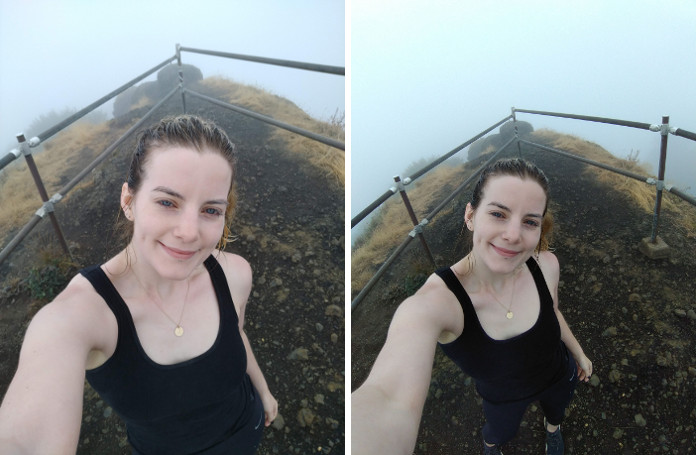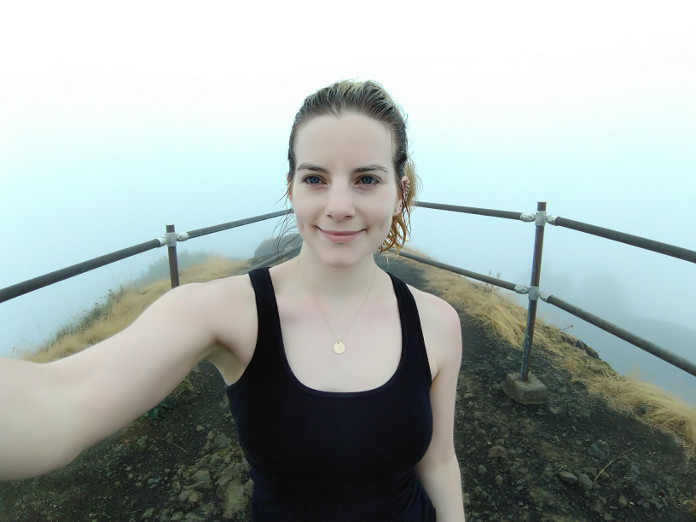 With the wind picking up, I made a beeline for the path back. I hit the most treacherous part of the trail just as the heavens reopened. I jogged down faster than was probably safe, the thought of a hot shower and something strong to drink propelled me towards a new personal best for the trail. "How is it at the top?" someone called out to me as I slid past them in the mud. "Bracing!" I shouted over my shoulder. Back at the car, I clipped the ZenFone back into my dash mount and started plotting a drier hike for the following weekend.
Do-over day
Silver Falls State Park is a loop that measures between seven and nine miles depending on your map and the number of detours and double backs you do while trying to see all 10 of its waterfalls from both the bottom and the top. I always do the longest version because it's mostly flat, and because there's soft serve and beer at the trail head.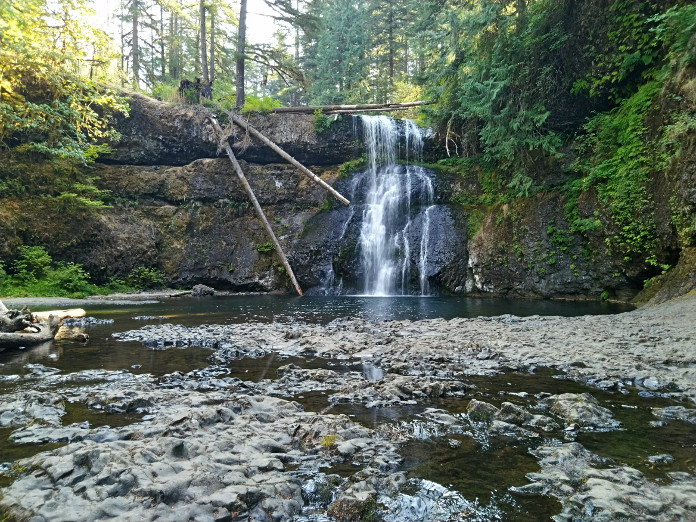 This is a leisurely hike that is super enjoyable, and there are lots of opportunities to stop along the way, but I tend not to take too many photos because I'm always mindful of the fact that I'll need my GPS for the drive home. You can easily burn half a day on the trail, and snapping countless photos and videos of waterfalls eats through battery like nobody's business.
The ZenFone 5Q capitalizes on a power efficient Snapdragon 630 CPU with Adreno 508 graphics to make the most of its 3300mAh battery. On a regular weekday, I can get a day and a half out of single charge, so I knew I'd be good for the half day of lazy hiking and photography and have plenty of gas in the tank for the drive home.
Chasing waterfalls
The trail starts with roughly two miles of forest before you get to the first waterfall, but the ZenFone 5Q was out way before I hit North Falls. Toggling back and forth between the 16MP main camera and the 6MP wide-angle camera is done via an on-screen button, so I was messing around taking photos of the trail and experimenting with the different fields of view to figure out how to frame things just right.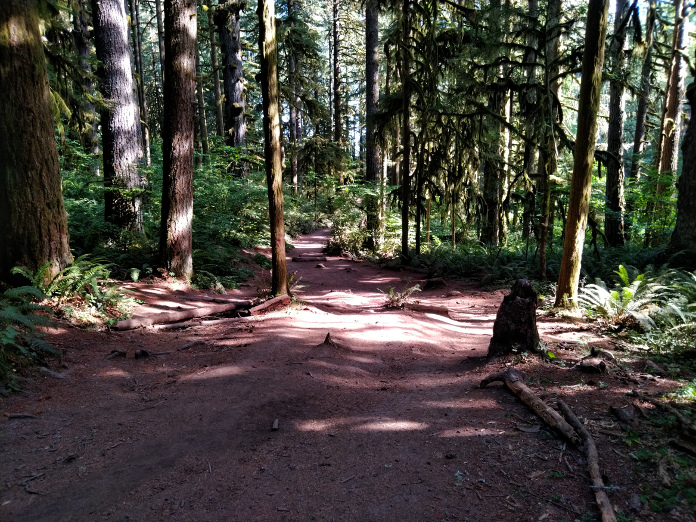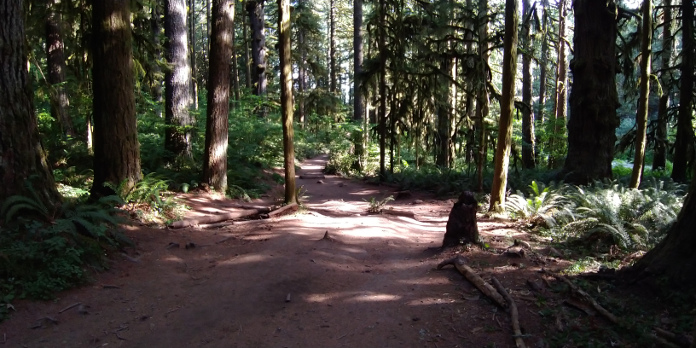 Most of the camera's different modes are accessible with either of the rear-facing cameras by swiping left. Pro mode allows you to adjust exposure, shutter speed, white balance, and more, which is very handy when you're dealing with bright sunlight against dark shadowy forest, or contending with cascading water that's constantly changing the focus of the picture. Slow Mo and GIF modes make for more interesting snapshots than your standard still. They are basically made for the Trail of the Ten Falls.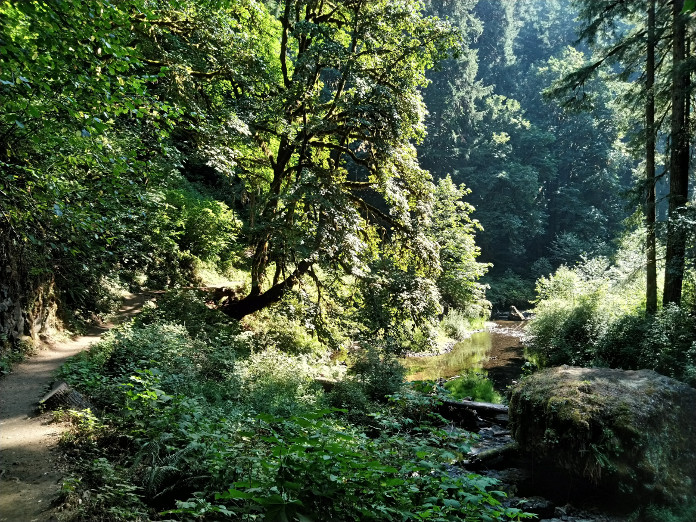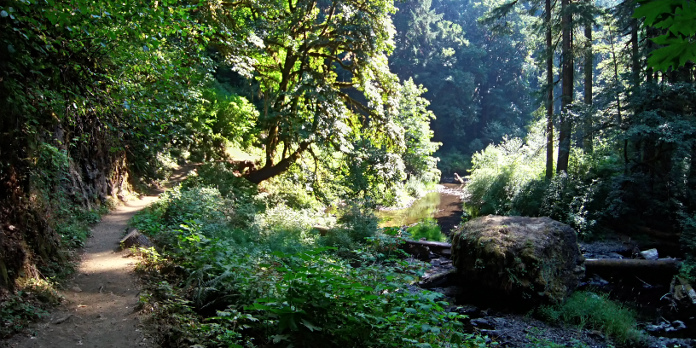 Beauty mode can help you out when you're on the last waterfall and looking a little sweatier than is ideal for a portrait. For front-facing photography, you have the same on-screen shortcuts for flipping between cameras and modes. The primary camera is great if you're taking a new profile picture, but the wide-angle camera can't be beat for those obnoxious "Look where I am" selfies that go straight to Instagram.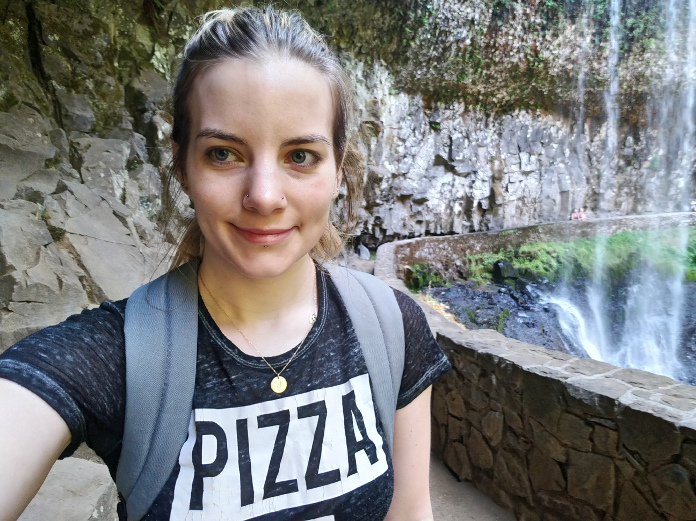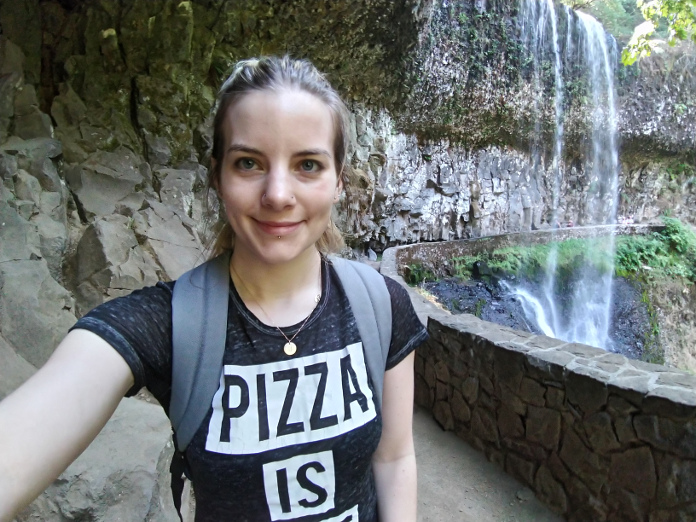 The waterfalls of Silver Falls State Park vary in size. Some are really tall, others are very wide, but they're all hard to capture on camera up close. The ZenFone 5Q's wide-angle lens was on deck for most of the hike. Stopping at the grotto behind North Falls to eat lunch, HDR did an admirable job contending with the variation of dark and light inside the basalt cave.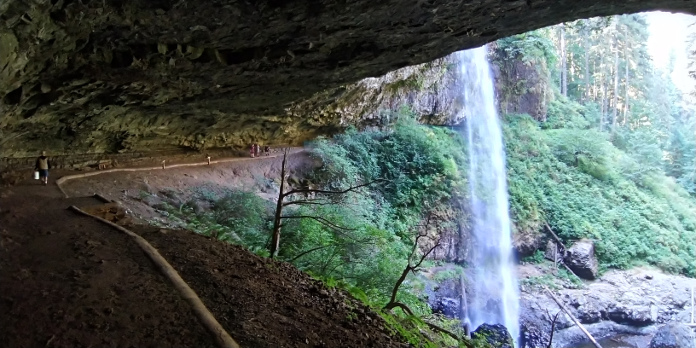 By waterfall number seven or so, you start to get desensitized, at least from a photography perspective. I took the opportunity to test out GIF mode and slow-mo instead of taking more stills. With slow-mo and GIF mode available in both the regular and wide-angle lenses, I was able to frame some awesome vertical shots that captured the full height of the waterfall as well as the water crashing down on the rocks below. For this GIF, I steadied my phone on the rock wall so I could get a really stable shot of the continuous water flow.
The last waterfall on this hike is probably the most crowded. Lots of the falls have their own dedicated trailheads just a short distance away, so it's easy to visit one or two without doing the full slog.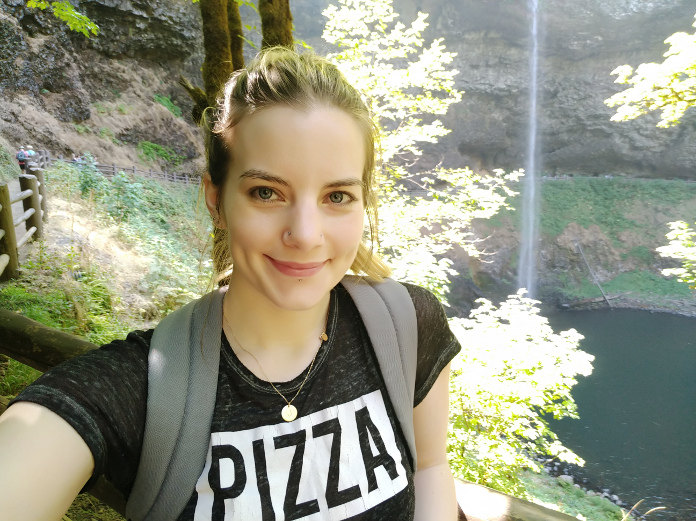 As families posed together and couples asked passersby to take their photo, I hopped up on some of the rocks and took my own pictures, relieved I didn't have to rely on a stranger to frame the shot the way I wanted. It was also nice to not have to suffer the indignity of admitting that yes, I do want you to use Beauty mode. The time for au naturale was about six waterfalls back.
Sea to sky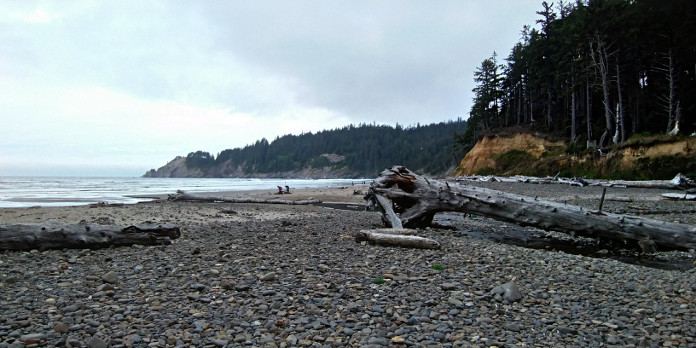 Buoyed by my success at Silver Falls, I vowed to hit one more trail before heading off on several weeks of travel that would take me away from my weekend routine on the trails. My favorite Neahkahnie Mountain trail is eight miles but feels like 12 the first time you do it. There's lots of scrambling over tree roots and mud, and it's spectacularly varied, with wide views that beg for a wide angle lens. From moody cliffs to secluded beaches, at times you feel like you're teleporting between multiple different trails.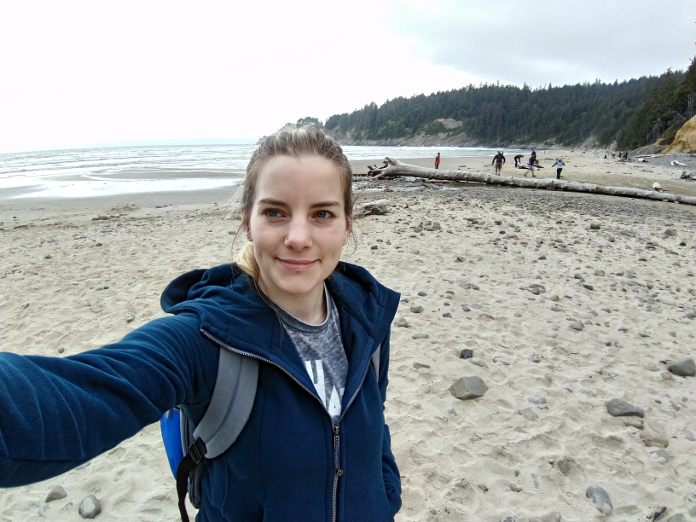 After the sprawling Short Sand Beach speckled with surfers brave enough to get in the cold water, I hit Devil's Cauldron for some lunch. Devil's Cauldron can look a bit bland and grey when the clouds are low, but today the water was foamy and blue and against the brown cliffs. Not even the ZenFone 5Q could get everything in the frame but the shot is wide enough to capture the swirling inlet as well as the rocky cliffs further north.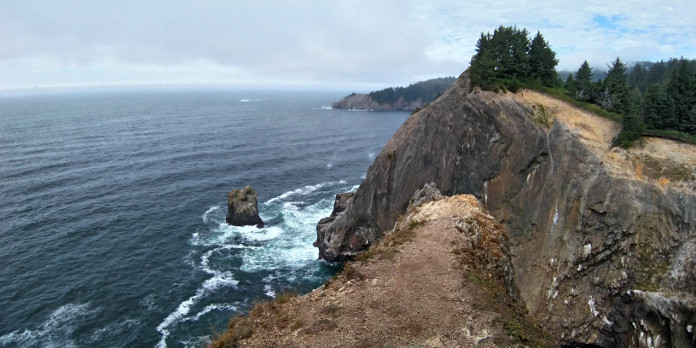 After lunch, it was up to the top of Neahkanie Mountain via the Oregon Coast Trail. It's a slow, low-effort climb that's poorly signposted and filled with obstacles and switchbacks. The rest at the top is awesome, though. After an easy scramble and a scraped knee, I was awarded a sunny view of Nehalem to the south.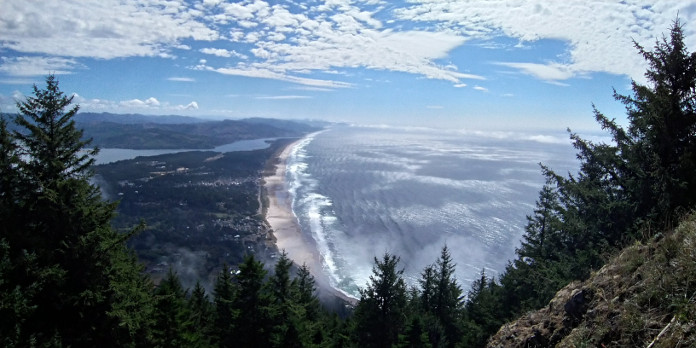 City slicker
Nature is full of gorgeous landscapes and wonderful expansive scenery, but I realistically only spend a fraction of my time in the great outdoors. The rest of the time, I'm in the city, though I still take just as many photos.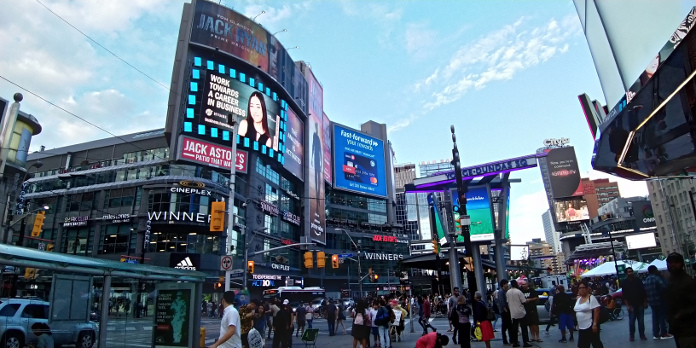 Walking through Toronto's Eaton Centre during a recent visit to the Great White North, I stopped to take a picture of one of my favorite pieces of public art in the city. These Canadian geese are enough to make you forget you're in a mall, and I have a million photos of them. I've never had issues getting all of the geese in the frame, but the wide-angle lens brings more of the glass roof into the picture and makes things a lot more dramatic.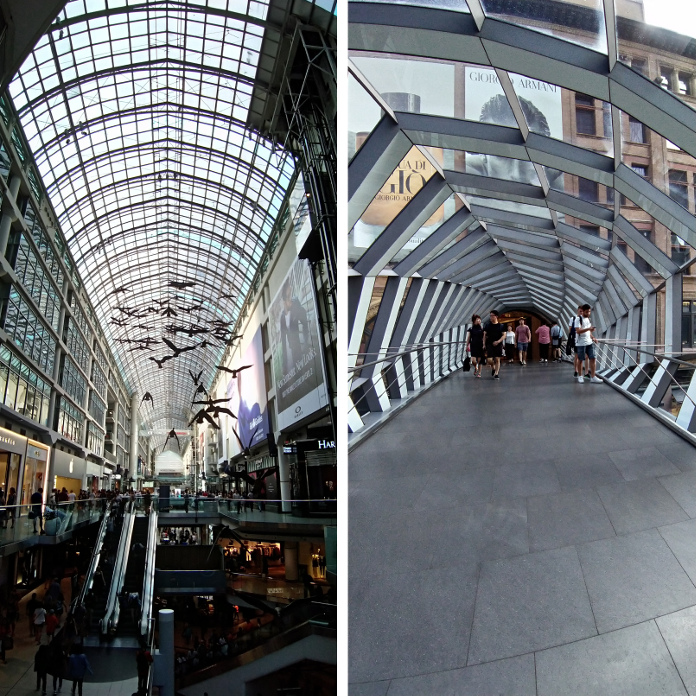 Turn 180° and you see the new skybridge connecting the mall to the department store across the street. It's all glass and bronze, and it's beautiful, but the full effect of its construction is only really felt when you can stand at one end and look along the entire length of the walkway. It rises gently in the middle and the curve is a lot more obvious with a taller portrait shot.
The ZenFone 5Q's wide-angle camera was clearly a big hit with me, but its 16MP primary camera deserves a shout-out too. Its higher resolution photos are crisp, even in the dark. Flip through the gallery below for an assortment of regular photos from the ZenFone 5Q's camera.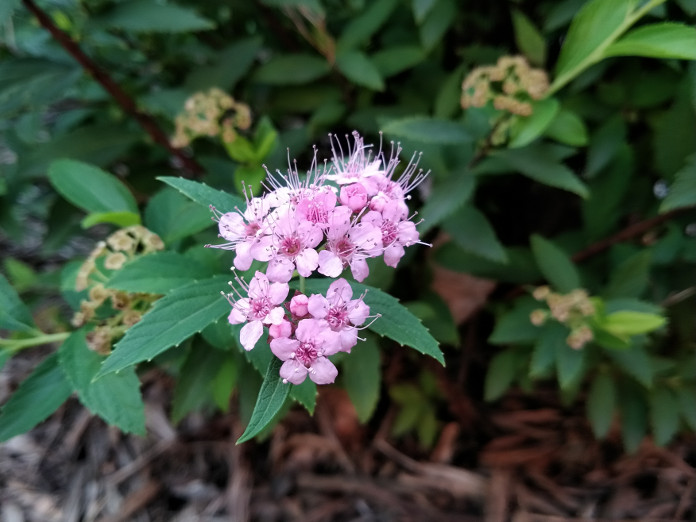 br>
ZC600KL
Processor
Snapdragon 630 SoC
8 x Cortex-A53 CPU cores, clock speeds up to 2.2GHz
Adreno 508 Graphics
Memory
4GB
Display
6" Full HD+ IPS
1080 x 2160
18:9 aspect ratio
Storage
64GB
Micro SD support (up to 256GB)
Primary Camera (front)
20MP Sony IMX376 image sensor
f/2.0 aperture
85.5° field of view

Secondary Camera (front)
6MP with 120° wide-angle lens
Rear Camera
16MP
f/2.2 aperture
80° field of view
Secondary Rear Camera
6MP with 120° wide-angle lens
Battery
3300mAh
Connectivity
Bluetooth 4.1
2 x Nano SIM (support 3G, WCDMA, 4G LTE)*
802.11 b/g/n/ac Wi-Fi
NFC
Micro USB
3.5-mm audio

*Both SIM card slots support 3G/WCDMA/4G LTE, but only one SIM card can connect to 3G/WCDMA/4G LTE service at a time.
Operating System
Android O with ZenUI 5.0
Weight
168g
Price
$299 USD
$449 CAD
Availability (USA)

US Vendors (Black Model)




US Vendors (White Model)

Availability (CAD)

Canada Vendors (Black Model)




Canada Vendors (White Model)
More to see
Buying a mid-range phone usually means shopping around for the best deal on an older phone that used to be the best. The ZenFone 5Q is inspired by the best bits of our current flagship, the ZenFone 5Z. It combines a powerful quad-camera setup, a beautiful screen, and long battery life with loads of storage for all your photos. Useful extras, like support for dual-SIM and the ability to expand your storage via MicroSD, make the ZenFone 5Q a bargain at $299 USD and $449 CAD. Available in black and white, the ZenFone 5Q is sold in the US and Canada at the retailers listed in the table above.