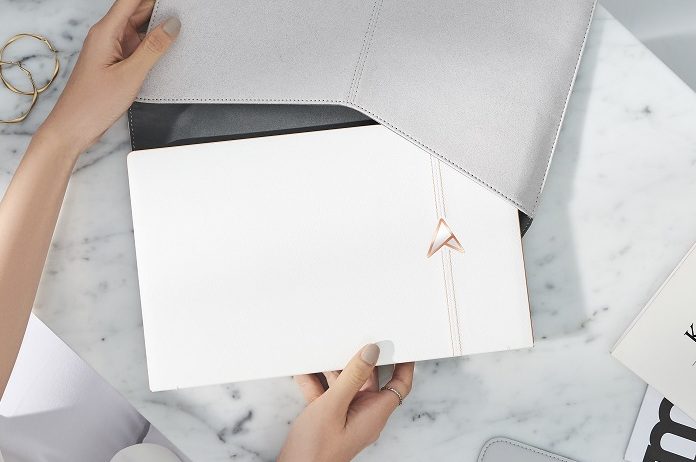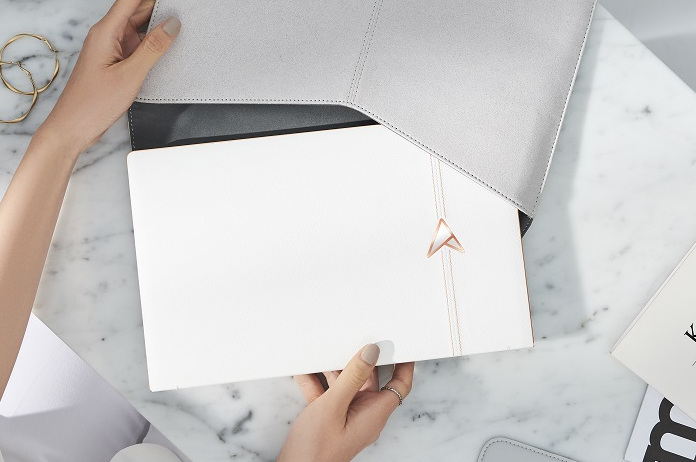 This year, ASUS celebrates 30 years of innovation. We got our start back in 1989 building high-quality motherboards, and before long, our family of products expanded to include monitors, mice, laptops, and everything in between. We've spent decades innovating and refining our motherboard designs, but we've been pushing the boundaries of what's possible in every category, from the newly-announced ZenFone 6's rotating camera module to the ScreenPads that streamline productivity on all of our ZenBook and VivoBook laptops.
To mark our 30th anniversary, we're releasing some special editions of key products, including the ZenFone 6 and an X299-based motherboard. But none is more luxe than the 30th anniversary ZenBook, which experiments with new materials to give our 13" ZenBook UX334 a birthday makeover.
The ultimate leather notebook
The first ultrabooks introduced us to the concept of luxurious mobility. Impossibly slim and dressed in futuristic silver metal, they were far from the bulky black plastic that we'd been cramming into backpacks and briefcases. Fast-forward a few years to slimline and sleek becoming the new normal and high-end looks decidedly different. We've deployed jewel tones and rose gold accents to elevate our top-of-the-line ZenBooks, allowing them to stand out in a sea of monotonous grey. But we wanted to take their prestige even further to commemorate three decades of unrelenting innovation, and the ZenBook 13 UX334 Edition 30 is unlike any ultrabook in its lineage.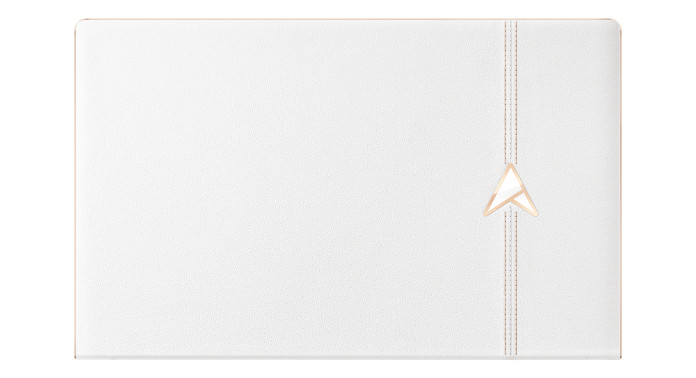 Wrapped in Italian top grain leather that's dyed Pearl White, it's soft to touch and feels more like an expensive piece of stationery than a laptop. It bears the ASUS 30th anniversary emblem on its lid instead of our usual mirrored logo. Fashioned from gold-plated ceramic glaze, the stylized "A" is accented by diamond-cut Rose Gold edges along the laptop's lid as well as dusty rose stitching that runs through the white leather. Even with this fancy treatment, the ZenBook is still just 0.73" thick.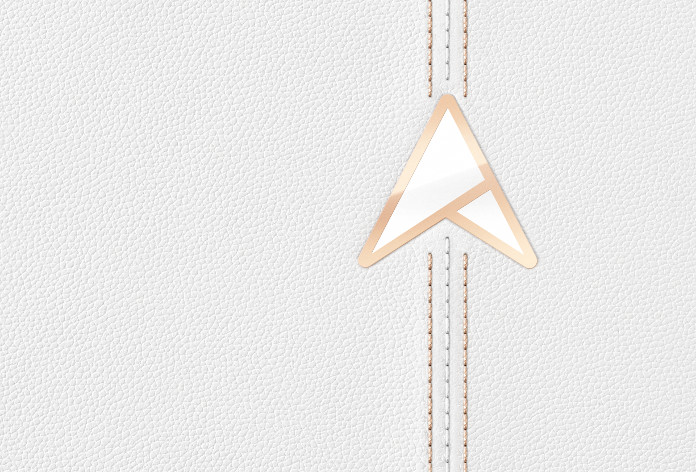 The leather layer atop each ZenBook is hand-stitched, and a complimentary sleeve bundled with the laptop uses a blend of the same covering and a rougher, textured fabric that's colored soft grey to keep from showing wear. Each element of the 30th anniversary ZenBook's packaging has been carefully considered to match the high-end laptop within. The UX334 ships in a box styled to match the laptop. Nestled inside the plush soft-touch lining is a gold VIP card that signifies this laptop's exclusivity and the limited edition status of your new device. To make sure your entire setup matches, a mouse pad and Pearl White mouse are included in the box, and it's all topped off with a color-coordinated power adapter.
The white theme continues as you lift the lid to expose a uniform hue across the keyboard and palm rests. Like our standard ZenBook 13 UX334, this model's trackpad is augmented by the ScreenPad 2.0, an innovative secondary display for streamlining your workflow. The ScreenPad is trimmed in Rose Gold to match the laptop's edges, and when the ZenBook is powered on, you're treated to a special ScreenPad wallpaper that's only available on this model of the UX334. It's echoed by a similarly unique startup screen and desktop wallpaper that you won't see anywhere else.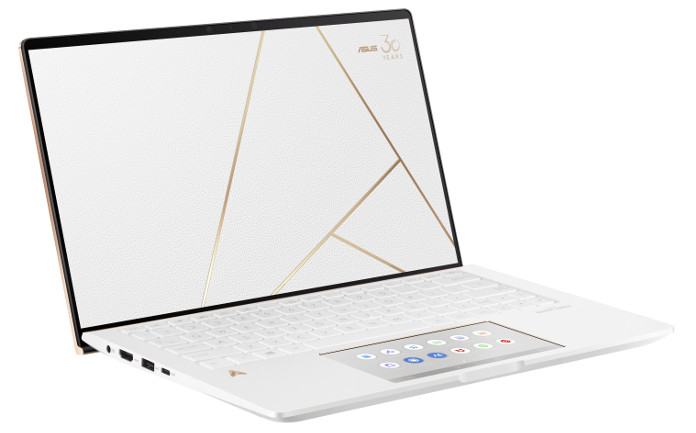 More than meets the eye
Beneath the carefully crafted leather exterior, the ZenBook 13 UX334 shares its DNA with the 2019 ZenBook family. It features the same 13.3" Full HD screen bordered by a four-way NanoEdge bezel that delivers a 95% screen-to-body ratio. Those barely-there bezels make the display feel roomier, which is especially important when you're away from your desk with no external monitor within reach, and they all but melt away when you're streaming video or flipping through slides. The sides have been slimmed down to 2.9 mm, while the top bezel is slightly thicker to accommodate an HD IR webcam for video calls and logging in with facial recognition. Full coverage of the sRGB color space dutifully reproduces every shade as you edit images, and wide 178° viewing angles keep colors vivid, even for the coworkers leaning in to give feedback on projects.
Under its decadent hood, the UX334 is powered by up to a Core i7-8565U processor from Intel. This powerful chip squeezes four cores and eight threads into a 15W TDP. Although it's designed to drive power-efficient ultrabooks, the potent array of execution resources deftly handles multithreaded workloads like 3D rendering and content creation. The 8th Gen Intel CPU is complemented by 16GB of RAM and up to 1TB of PCIe-attached SSD storage to ensure your system boots in a blink and launches applications quickly. An NVIDIA GeForce MX250 discrete GPU provides a boost for jobs like video editing and photo projects with lots of complex effects, proving that beauty and brawn can coexist in the same lightweight package.
Productivity prevails
Of course, there's more to getting work done than raw performance; a great laptop is as comfortable to use as it is powerful. The ZenBook 13 UX334 Edition 30 benefits from the same ErgoLift hinge as the rest of the family. This unique design raises the keyboard up at an angle when the laptop is open. The 3° tilt adds a gentle slope to the keyboard for a more ergonomic typing experience, while a satisfying 1.4 mm of key travel avoids the mushy, shallow feeling that's almost synonymous with slim and light laptops. Combined, these elements keep fatigue and typos to a minimum, while the multi-stage backlight keeps you productive well into the night.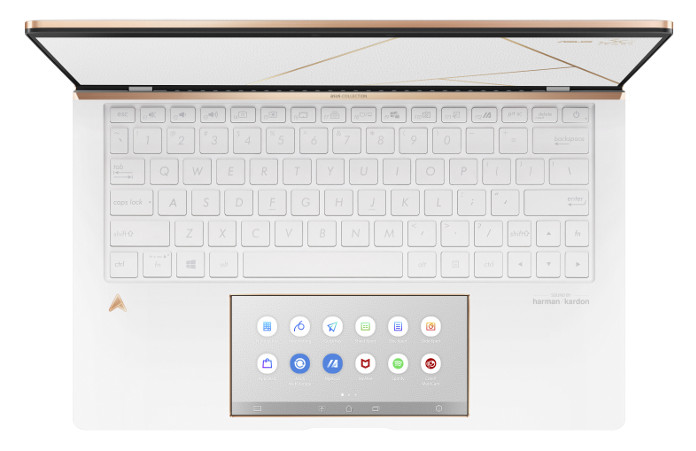 Shining out from underneath the keyboard is the ScreenPad, a 5.65" touchscreen that extends your laptop's display to the trackpad. It also serves as a handy dock for important tools you want to keep handy, whether that's your favorite chat app, a calculator, or calendar.
This Full HD display is capable of hosting anything you feel like dragging down. A special the App Switcher function on the navigation bar allows you to quickly relocate tasks from the ScreenPad up to the main display. Specific apps, like Calculator and Calendar, work particularly well as permanent fixtures on the trackpad, and you can run multiple apps at once and switch between them using the App Navigator.
Optimizations for ScreenPad 2.0 improve the appearance of apps thanks to a default 1000 x 500 resolution that makes text and icons larger and more visible. You can easily switch to the screen's native 2160 x 1080 resolution through the settings menu. Beyond its better-looking visuals, the latest ScreenPad significantly improves battery life by tapping into Intel's integrated graphics engine rather than engaging the discrete GPU. If you'd rather kick it old school with a normal trackpad, ScreenPad mode can be turned on or off by using a shortcut in the navigation bar.
Ready for the road
Lots of ultrabooks prioritize form over function, but the ZenBook 13 UX334 Edition 30 balances its progressive design with practical touches that combine in a great platform for working on the road. Two USB Type-A ports are primed for peripherals and external storage. One is USB 3.1 Gen 2 and offers speeds up to 10Gbps, while the second USB 2.0 Type-A port is perfect for connecting the included mouse for more precise input. There's also a reversible USB Type-C port, along with an HDMI port for hooking up to external displays. The microSD slot allows you to easily transfer photos from your phone and the requisite 3.5 mm audio jack is ready to accommodate your favorite headphones for listening to music while you work.

The ZenBook 13 UX334 Edition 30 is the epitome of a premium laptop tailored for life on the road. Its stylish exterior embodies a bold design that's understated, yet distinct enough to turn heads. Powerful hardware inside ensures you can tackle all your usual tasks away from your desk, even heavy multitasking and creative work. It's the perfect blend of ASUS style and innovation to celebrate our 30th anniversary.
ZenBook 13 UX334 Edition 30
CPU
Up to Intel Core i7-8565U, 4C/8T, 1.8GHz (8MB cache, up to 4.6GHz)
GPU
Intel UHD Graphics 620 / NVIDIA MX250
Display
13.3" NanoEdge
5.65" ScreenPad 2.0
Resolution
Full HD (1920 x 1080)
Full HD+ ScreenPad (2160 x 1080)
Memory
Up to 16GB
Storage
Up to 1TB PCIe SSD
Networking
Intel Gigabit 802.11ac (2x2)
Connectivity
1 x USB 3.1 Gen 1 Type-C
1 x USB 3.1 Gen 2 Type-A
1 x USB 2.0 Type-A
1 x HDMI
1 x MicroSD slot
1 x Audio combo jack
Bluetooth 5.0
Battery
50 Wh
Weight
TBD
Dimensions
11.93" x 7.44" x 0.73"
OS
Windows 10
Look for the ZenBook 13 UX334 Edition 30 this month. Check with your local ASUS representative for availability and pricing in your region.
We announced a lot of hot new tech at Computex 2019. You can find all of the latest gear from ASUS and ROG in this article.