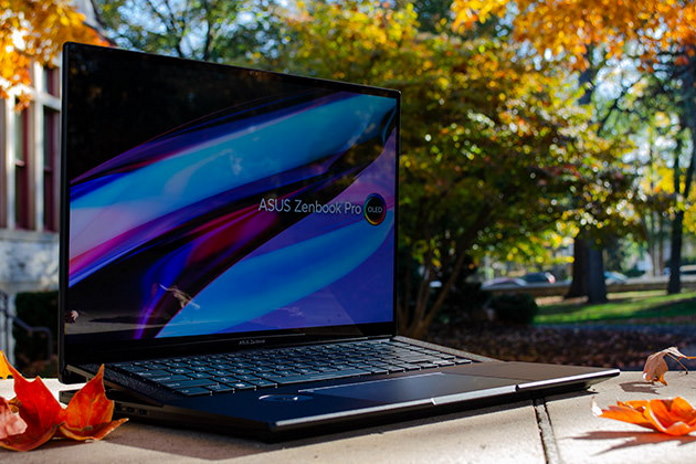 A lightweight ultraportable laptop with a modern CPU can take many folks a long way, but once you start exploring creative pursuits it's easy to hit the limits of a standard machine. When you do more with your laptop, you need a laptop that can do more—and today's architects, engineers, filmmakers, game developers, 3D animators, and photographers definitely need notebooks capable of streamlining and accelerating their workflows. The Zenbook Pro 16X OLED supports creators in these fields and many more with its world-leading display, innovative design, and exclusive controls.
Don't let your creative ambitions get slowed down or derailed by an aging, underpowered laptop. Whether you're encoding videos for your YouTube channel, building 3D assets for your next game, or creating complex artwork with mixed media, the Zenbook Pro 16X OLED gives you what you need. Recently, I put this versatile machine to work in my own home studio, and it blew through the challenges that were holding back my projects.
A premium display that elevates everything
Speaking as someone whose work involves spending time with a wide variety of laptops every year, I can confidently say without exaggeration that the Zenbook Pro 16X OLED has the best laptop display I've ever used. It's a high-resolution touchscreen with full stylus support and plenty of space for working in creative apps, and it checks all my boxes for image quality: exceptional contrast, lifelike colors, and clear animation.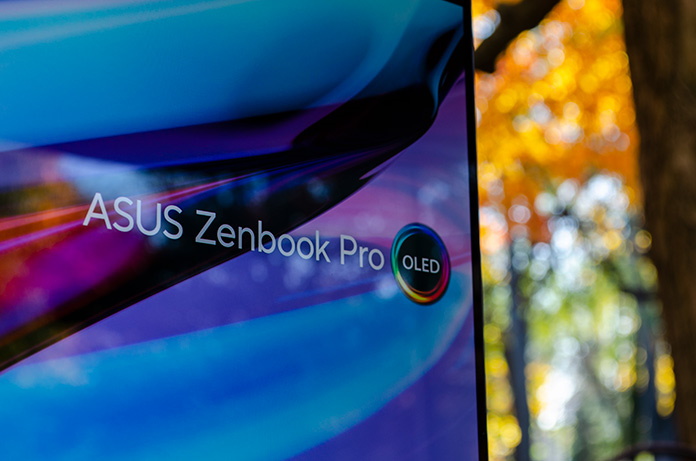 When I'm editing photos or videos, I need to see every color with pinpoint precision. An older-style laptop display with washed-out colors just won't cut it for me any more. The Zenbook Pro 16X OLED's display delivers what I need. It's Pantone Validated for color accuracy, so I could trust it to paint each pixel correctly the moment I pulled it out of the box. It covers 100% of the cinema-grade DCI-P3 color gamut. What's more, blacks and highlights are much more lifelike on this screen than they are on a traditional laptop display. As an OLED display, it can produce true, inky blacks and dazzling whites for near-infinite contrast.
It's hard to overstate how much this all matters. The vibrant colors and perfect contrast produced by the Zenbook Pro 16X OLED's display let me see visual assets properly at every step of the development pipeline. I can do HDR color grading. When I relax with a movie or show in the evening, the shadows in every scene have immersive, cinematic depth. Even when I'm just browsing the web, messaging friends and coworkers, or tackling some email, the crisp, clear contrast between blacks and whites lets me read everything without eye strain or fatigue.
When I work with moving media, the Zenbook Pro 16X OLED ensures that I can see every frame perfectly with virtually no blur or inaccurate colors. A pixel in a traditional LCD panel might take upward of 16ms to transition from one color to the next, and during that time the image often appears blurry—especially when I'm watching fast-paced video or playing games. The OLED panel in the Zenbook Pro 16X OLED has a 0.2ms response time that ensures that I get accurate, clear images when my projects are in motion.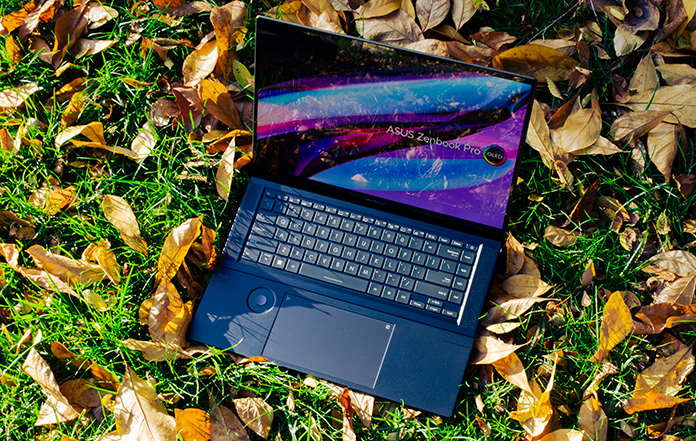 Even the Zenbook Pro 16X OLED's modern design elevates its display above what I used to get from laptops in the past. I love the extra visual space that its 16-inch, 16:10 display provides—not to mention the richly detailed 3840×2400 resolution. In a traditional laptop design, a screen that big would make the machine so large it wouldn't fit into my satchel. But the Zenbook Pro 16X OLED frames its screen with ultra-narrow NanoEdge display bezels so that the laptop is surprisingly compact for how much real estate it offers.
Effortless performance, effortless cooling
Rendering videos and exporting projects takes time—and for many creators, that time is money. The Zenbook Pro 16X OLED's premium components shave precious time off of these intensive tasks so that I can rapidly get back to work.
The star performer in this machine is the Intel Core i9-12900H CPU. Paired with 32GB of RAM in my model, this processor offers the sheer speed I need for responsive performance in demanding apps like DaVinci Resolve. And with its 14 cores and 20 threads, it breezes through tough tasks like rendering, exporting, and encoding. Since many creative apps can harness the power of a GPU, the Zenbook Pro 16X OLED features an NVIDIA GeForce RTX 3060 Laptop GPU.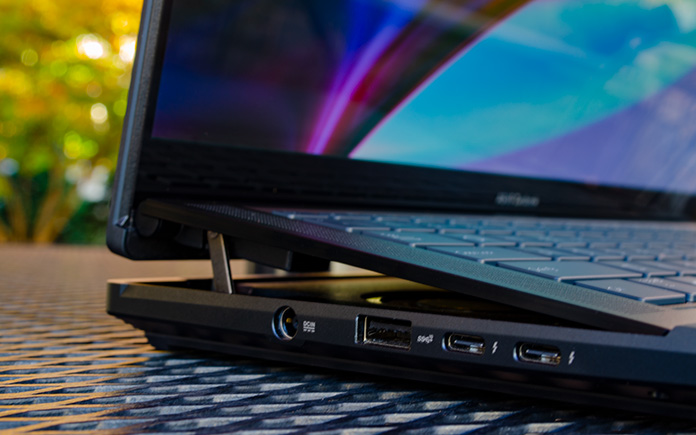 To unleash the full performance of these high-end chips, the Zenbook Pro 16X OLED boasts an innovative thermal design. Under the hood, a dual-fan cooling system and a 3D-curved vapor chamber tame the temperatures of the CPU and GPU. The precision-engineered AAS Ultra mechanism goes a step further. When I open the laptop's lid, it raises the rear of the keyboard by up to 14.5mm.
The tilting keyboard never fails to attract attention when I work at the local coffee shop, but it offers so much more than just style. The mechanism opens up wide vents to improve airflow by 30%, so the keyboard stays cool under my fingers and the CPU gets all the cooling air it needs for pure performance. Tilted up at a 7° angle, the keyboard is comfortable and ergonomic to use, even for hours at a time. The AAS Ultra design even enhances the laptop's audio, as the dual tweeters on the keyboard deck can create a better stereo image when they're pointed more directly at my ears.
Intelligent design elements streamline creative work
A well-appointed keyboard and clickpad are all I need for basic tasks like web browsing and email. The Zenbook Pro 16X OLED's ergonomic keyboard with excellent key travel and its large clickpad with haptic feedback technology are a cut above what I'd get from a standard laptop—but they're only the start of how this machine empowers my creative pursuits.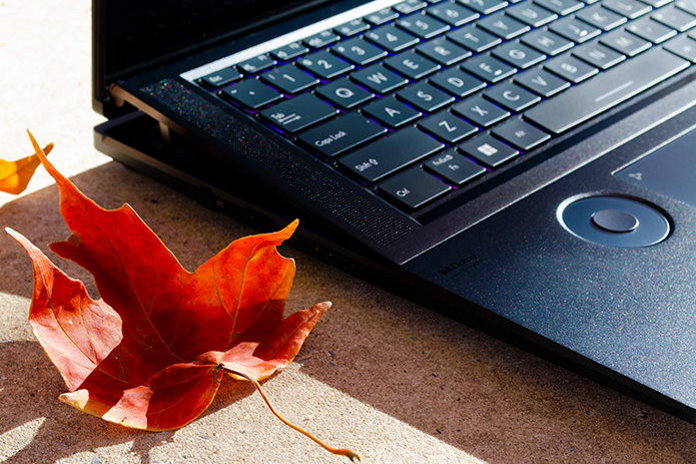 A keyboard and mouse work great in many situations, but many controls inside of popular creative apps work better with a rotary control. That's why the Zenbook Pro 16X OLED has a built-in ASUS Dial. This physical device makes it easy to change brush size in Adobe Photoshop, smoothly move backward and forward in the Timeline in Adobe Premiere Pro, or adjust the brightness of the laptop's display—and so much more. It's fully customizable, too, so I can define my own functions for use in my favorite apps.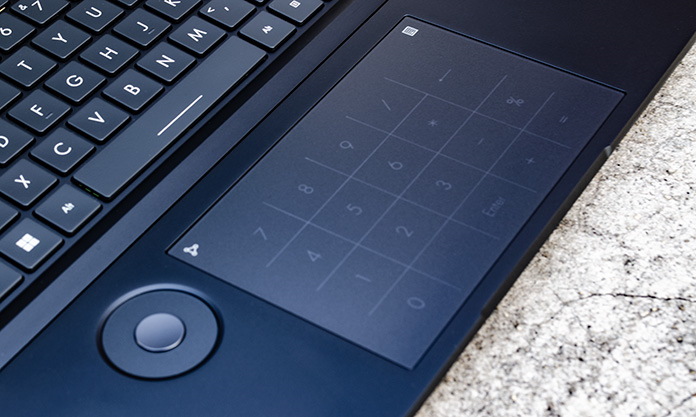 Sometimes, a numpad is exactly what I need to streamline my work. But much of the time these keys go unused. The ZenBook Pro 16X OLED splits the difference with the NumberPad, an illuminated region of the touchpad that I can toggle whenever I need it. It's the best of both worlds. Without a numpad cramping its style, the laptop's keyboard offers me full-size, comfortable keys. And at any time, I can toggle the NumberPad and crunch some numbers quickly.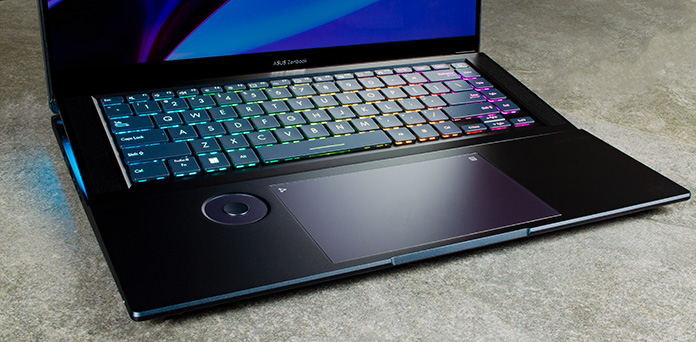 Even this laptop's keyboard backlighting goes above and beyond what I get from standard laptops. It features per-key White-RGB backlighting that can be exceptionally bright, so it shines clearly through the slim, modern text on each key cap. Augmented by light bars on either side of the keyboard, this backlighting offers a variety of smart interactive effects. It gives me a handy visual reminder when I get a new email. It responds to events like changing the performance mode, plugging in a USB device, or changing the foreground application with a custom animation. It even lets me know when the laptop's battery is getting low.
Professional good looks that never feel out of place
I could get some of the Zenbook Pro 16X OLED's features, like its powerful CPU, discrete GPU, and advanced cooling, with a gaming laptop. That's certainly a route that many creators go—especially those with an after-hours gaming hobby. But gaming laptops don't always have an aesthetic that inspires my creative work, and they don't always communicate professionalism when I'm meeting with clients.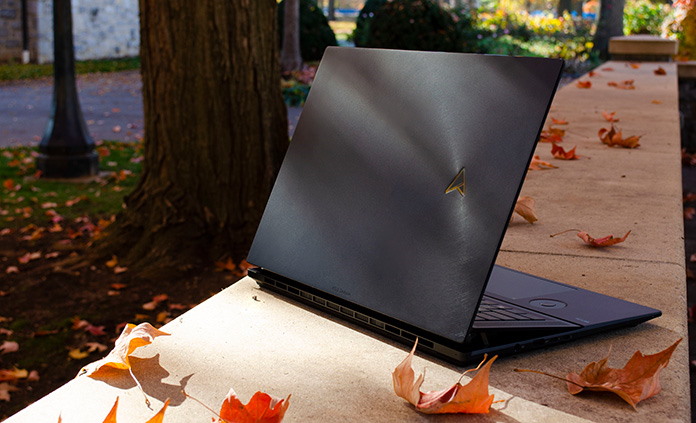 That's why the Zenbook Pro 16X OLED is a better fit for me. With its sophisticated Tech Black finish, glossy detailing, and all-metal construction, this laptop has a confident look that fits in no matter where I take it. The iconic spun-metal Zenbook finish and our new illuminated monogram logo on the lid set the laptop apart from the crowd with just the right amount of personality. The anti-fingerprint coating on the outer surfaces keeps it looking sharp even as it follows me throughout my day.
A creator's dream machine
A dazzling, world-beating display. Powerful components empowered by exceptional cooling. The innovative AAS Ultra tilting keyboard mechanism. The ASUS Dial. Any one of these elements would be enough to elevate the Zenbook Pro 16X OLED above the crowd of contenders—and it offers them all.
The Zenbook Pro 16X OLED proved to be the perfect partner for my creative projects, and it'll do the same for yours. Purchase one of your own today to reap the advantages of everything that it has to offer.
ASUS Zenbook Pro 16X OLED
Model
UX7602
CPU
Intel® Core™ i9-12900H processor
Intel® Core™ i7-12700H processor
Display
16" 16:10 4K OLED HDR 60 Hz NanoEdge touchscreen
ASUS Pen 2.0 support
OS
Windows 11 Home
Windows 11 Pro
GPU
NVIDIA® GeForce RTX™ 3060
Memory
16 GB / 32 GB LPDDR5 5200 MHz onboard
Storage
512 GB / 1 TB / 2 TB PCIe® 4.0 x4 SSD
Wireless
WiFi 6E
Bluetooth® 5.2
Camera
1080p FHD camera with 2 x IR camera
I/O
2 x Thunderbolt™ 4 USB-C®
1 x USB 3.2 Gen 2 Type-A
1 x HDMI® 2.1
1 x SD Express 7.0 SD card reader
1 x audio combo jack
1 x DC-in
Touchpad
Haptic touchpad with ASUS NumberPad 2.0 / ASUS ErgoSense touchpad
Audio
Harman Kardon-certified Dolby Atmos® sound system with built-in speakers
Built-in array microphone with Cortana and Alexa voice-recognition support
Battery
96Wh
AC adapter
200 W DC-in adapter
Dimensions
355 x 252 x 16.9 mm
Weight
2.4 kg
Availability (U.S.)
ASUS
Availability (CA)
ASUS