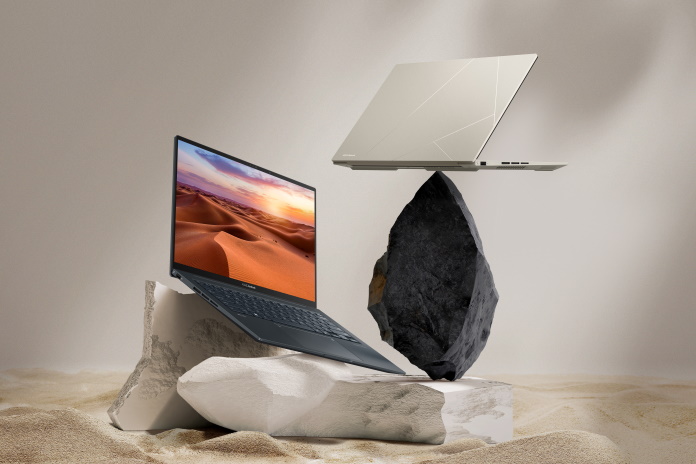 These days, you'll find Zenbooks in all manner of places. From professional studios to coffee shops, from home offices to small businesses, these lightweight, ultraportable laptops bring effortless performance and elegant style. For creators who need a workstation that travels anywhere, for on-the-go professionals who need a lightweight, long-lasting laptop, and for anyone who desires a sophisticated PC for everyday computing and entertainment, our lineup of 2023 Zenbooks stands ready.
For CES 2023, we're introducing a wide range of new Zenbooks. The classic Zenbook series serves everyone who wants a laptop with more: more style, more luxury, and more performance. The premium design of the Zenbook 14X OLED exudes confident sophistication, while the agile Zenbook 14 Flip OLED travels everywhere and does everything with its versatile design. For those with creative ambitions, we offer the Zenbook Pro series. The refined and upgraded Zenbook Pro 16X OLED puts a premium on power, while the lithe and lean Zenbook Pro 14 OLED makes light work of creative tasks in a compact design.
The Zenbook Pro 16X OLED: ultimate power, cinematic visuals
In the 2023 Zenbook Pro 16X OLED, exceptional performance, intuitive controls, and innovative engineering come together in functional beauty. Breakthrough technology allows it to deliver the performance you need for the most demanding creative tasks, no matter where your work takes you.
Developed in partnership with Intel, the latest ASUS Supernova System-on-Module (SoM) design combines the CPU and memory on a low-loss circuit board. This reduces the motherboard core area by 38%, giving us more room for dGPU power components and increasing the overall cooling efficiency of the system. And that's not all. The reduced distance between the CPU and the memory allows us to overclock the RAM up to 7500MHz for supreme performance in creative apps.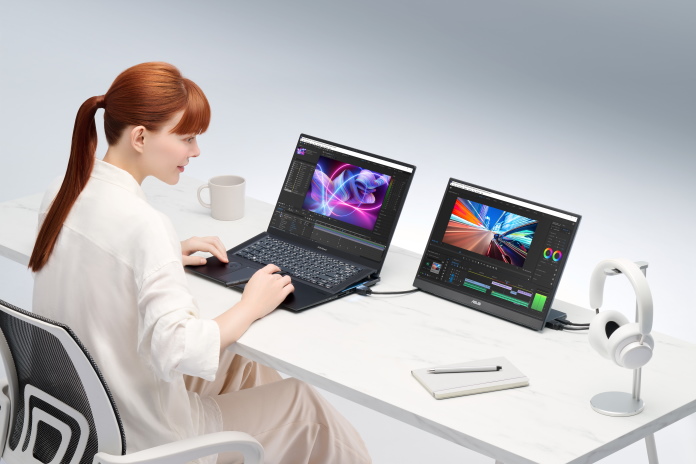 The SoM design, alongside our airflow-increasing Active Aerodynamic System Ultra (AAS Ultra) mechanism and liquid metal thermal compound, allows us to unleash the powerful components in the Zenbook Pro 16X OLED. With up to an Intel Core i9-13905HJ, up to an NVIDIA GeForce RTX 40 Series Laptop GPU, and up to 32GB of ultra-fast LPDDR5X DRAM, this machine offers more video editing performance and 3D rendering capacity than you might have thought possible from a thin-and-light laptop. Since the SoM design reduces the distance between CPU and the memory, the memory frequency can reach up to 7500MHz.
The Zenbook Pro 16X OLED's exceptional display empowers creators of all kinds. As an OLED display, it delivers infinite contrast, vivid colors, and immersive HDR experiences. The 3.2K resolution brings out the fine detail in your projects, while the 16:10 aspect ratio lets you see more at a glance. And the speedy 120Hz refresh rate and low response time give you fluid animation and clear motion as you work with any kind of moving media.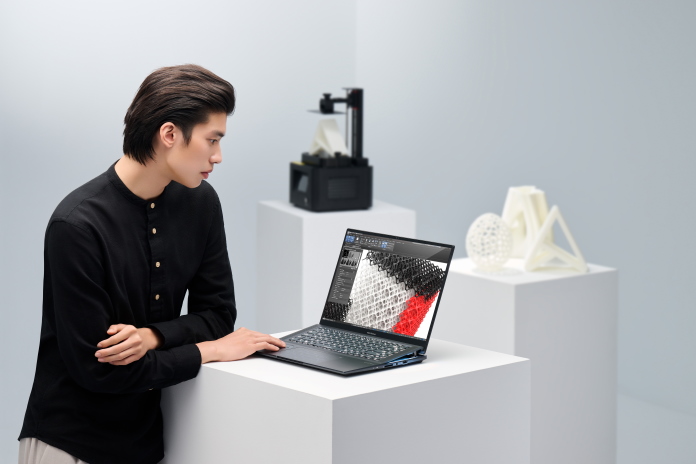 Convenient and intuitive features keep you in control of every moment. The versatile ASUS Dial returns to give you quick access to your most used functions in creative apps. The enlarged touchpad, complete with haptic feedback and ASUS NumberPad tech, streamlines your creative workflow. The AAS Ultra mechanism tilts the keyboard up to 7° for ergonomic, comfortable typing. The White RGB intelligent lighting system notifies you of key system events while letting you personalize the look and feel of the laptop.
The Zenbook Pro 14 OLED: portable performance
For some creators, portability is more than a nice-to-have feature. It's an essential part of their creative process. They need a laptop that's always handy, always easy to bring along, always ready to respond in the moment to the spark of inspiration. The Zenbook Pro 14 OLED is less than 18mm thick and weighs just 1.6kg, so it's an easy traveling companion for today's musicians, artists, and photographers.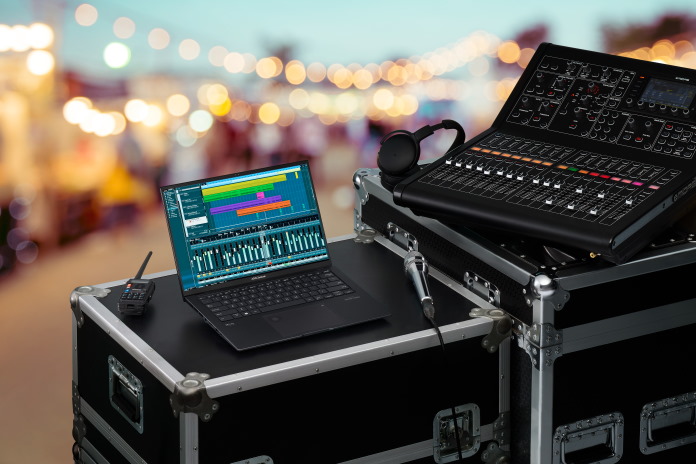 Tucked inside ultra-slim NanoEdge display bezels, the Zenbook Pro 14 OLED offers a premium 14.5-inch 2.8K OLED display. With its fluid 120Hz refresh rate, Dolby Vision support, and Pantone Validated colors, it gives you smooth animation, cinematic HDR experiences, and vivid, glorious colors. Your next laptop should absolutely have an OLED display — click here to learn more about what this tech has to offer.
Don't be fooled by this laptop's slim, compact chassis — it may have similar dimensions to other 14-inch ultraportables, but this machine boasts credible power for creative work. With up to the latest 13th Gen Intel Core i9-13900H processor and a studio-grade GeForce RTX 40 Series Laptop GPU, this machine is more than ready to keep up with your creative flow.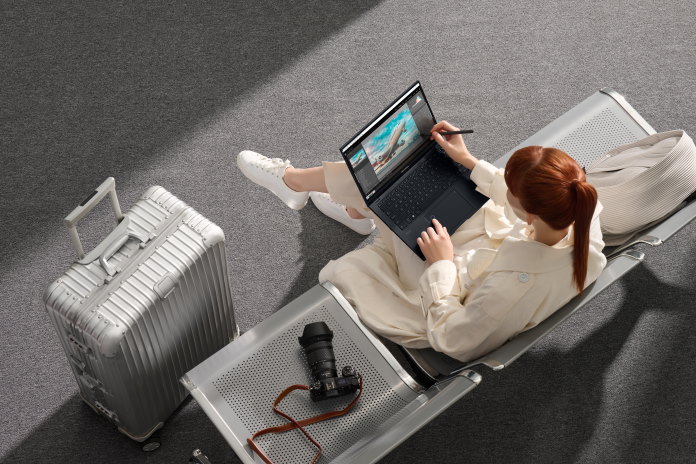 A suite of thoughtful features gives the Zenbook Pro 14 OLED versatility for any situation. It offers a high capacity 76Wh battery for true creative freedom. The ASUS DialPad gives you intuitive control over your creative apps. And with ASUS Pen 2.0 support, you'll be able to quickly sketch ideas and take notes in the moment — then turn those concepts into high-quality art.
The Zenbook 14X OLED: bringing luxury to everyday moments
The Zenbook 14X OLED brings a breath of fresh air to your everyday computing. Catching up with the news in the morning, browsing social media feeds, settling down on the loveseat in the evening with a show, and checking email are things we do every day with our laptop. These activities may not require the supreme power of a creator-focused machine, but they should be effortless, stress-free, and intuitive.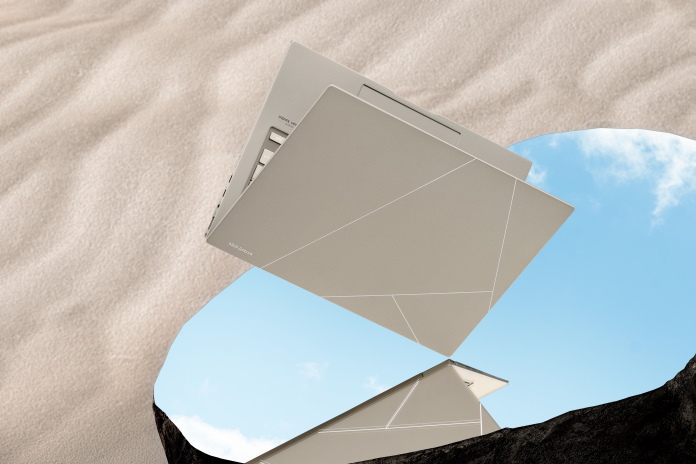 The moment you pick up the Zenbook 14X OLED, you'll feel the difference. For this model, we developed a new eco-friendly plasma ceramization finishing process that reduces the laptop's total environmental impact. It results in a ceramic-like finish with a pleasing, grounded texture that we accent with a Sandstone Beige color. Alternatively, the Inkwell Gray finish offers a sophisticated, professional look that fits in well in any context.
This laptop's 14.5-inch OLED display stands ready to immerse you in entertainment with its bold, vivid colors, and it eases everyday computing with its exceptional contrast. Its 2.8K resolution gives you plenty of room for multitasking, while its fluid 120Hz refresh rate delivers fluid animation.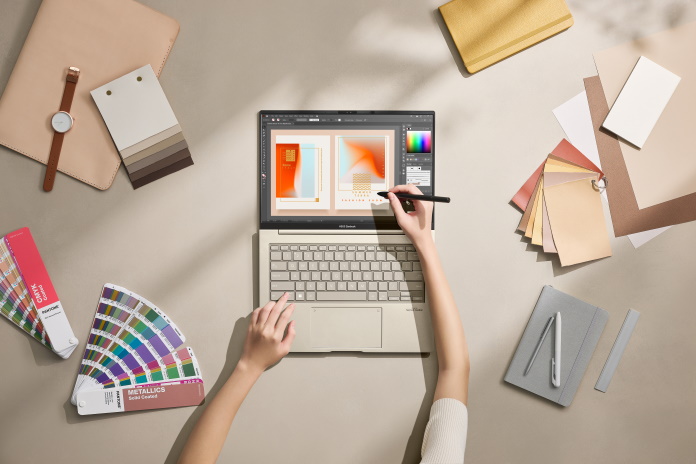 The Zenbook 14X OLED takes the wait and delay out of your everyday routines with up to an Intel Core i9-13900H CPU, up to 32GB of fast LPDDR5, and up to a speedy 1TB PCIe 4.0 SSD. These premium components allow the laptop to boot up at a moment's notice, load your apps and files promptly, and switch gears to a new task without a stutter or hitch. With up to an NVIDIA GeForce RTX 3050 Laptop GPU, you can efficiently edit photos and videos.
The Zenbook 14 Flip OLED: effortless versatility
People everywhere love the versatility of a laptop with a 360° hinge. Whether you're curling up with a show on the couch, typing out an email, or browsing the web while you drink your morning cup of coffee, these laptops always give you the experience you're looking for. The Zenbook 14 Flip OLED offers you all the comfort and convenience of its 360° ErgoLift hinge along with a premium OLED display and components ready to deliver snappy performance.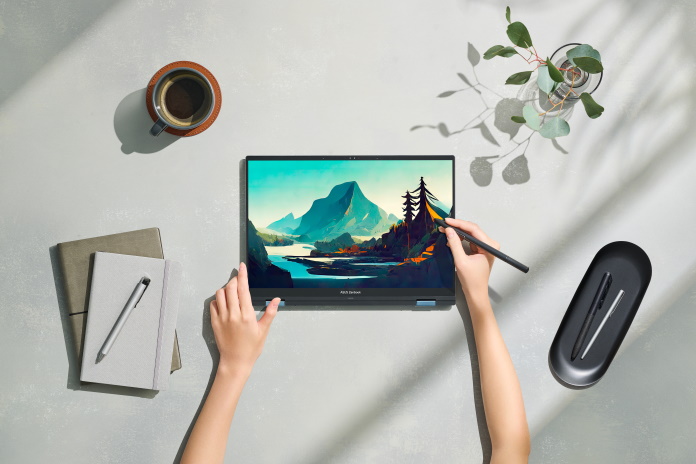 Slim NanoEdge display bezels surround the Zenbook 14 Flip OLED's 2.8K OLED display for an 87% screen-to-body ratio. This roomy resolution gives you great workspace in a compact device, keeps text sharp and crisp, and brings out the fine detail in media. As a Pantone Validated display with 100% coverage of the DCI-P3 color gamut, this screen delivers vibrant lifelike colors that leap off the screen due to striking contrast of the OLED panel tech.
Wherever you take the Zenbook 14 Flip OLED, it'll empower you with the right tools for the moment. Support for styluses with 4096 levels of pressure sensitivity, like the ASUS Pen, lets you turn the spark of inspiration into shareable art, if you have an interest in creative pursuits and gives you a natural way to take notes and sketch out ideas. The FHD IR camera with an AI camera solution makes logging in with Windows Hello a breeze, and the dual-microphone array with AI Noise Cancelation makes sure that you're always heard clearly when you hop on a call. The NumberPad, an illuminated region of the touchpad that functions as a numpad, lets you easily input numerical data, and the premium Dolby Atmos audio system, fine-tuned by the experts at Harman / Kardon, gives you immersive, clear sound in any context.
Effortless performance comes courtesy of an Intel 13th Gen Core CPU paired with up to 16GB of LPDDR5 RAM. A 1TB PCIe SSD gives you fast and responsive access to apps and files, and it makes sure your laptop boots up rapidly.
Whether you're a professional creator or an aspiring artist, an everyday PC user with a taste for luxury, or an on-the-go professional who needs a portable laptop ready to do more, our 2023 Zenbook lineup has what you need. For more information about the pricing and availability of the Zenbook Pro 16X OLED, Zenbook Pro 14 OLED, Zenbook 14X OLED, and Zenbook 14 Flip OLED in your region, please contact your local ASUS representative. To learn more about all the products we announced at CES 2023, click here.