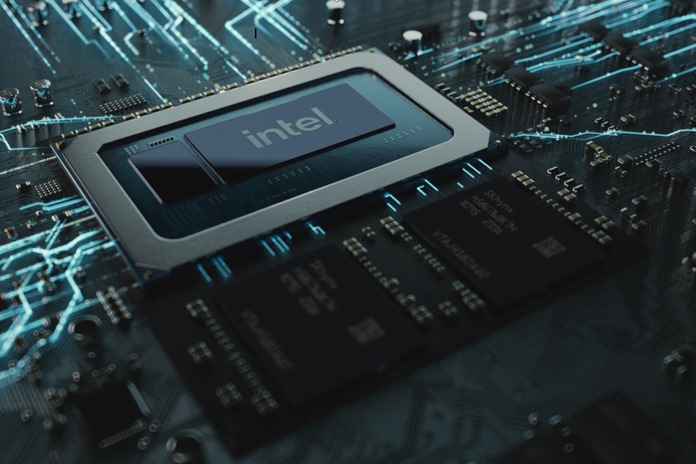 In creative pursuits like 3D animation, CAD, VR simulation, video editing, or game development, your laptop can make all the difference. If you pick a model with baseline performance and limited cooling, you could easily spend too much time waiting for your laptop to catch up to where inspiration has taken you. To help you make the most of every moment that you're in your creative flow, we're debuting new tech in our 2023 Zenbook 16X Pro OLED: the ASUS Supernova System-on-Module design (SoM). Developed in partnership with Intel, this approach reduces the core motherboard area by 38%, giving you greater performance and better cooling.
Greater performance where you need it most
The performance improvements are substantial, especially for memory-sensitive creative workflows. To assess the full impact of the new design, we compared the performance of two of our latest Zenbook Pro 16X OLED laptops, one with the SoM design and one without, to the performance of our last-gen model.
The 2023 model without the SoM design takes advantage of its next-gen components and refined cooling solution to offer 4.1x faster 3D rendering speeds, as benchmarked in Blender, and 1.1x more video editing performance, as demonstrated in Adobe Premiere Pro Auto Reframe testing. The Zenbook Pro 16X OLED with the SoM design, on the other hand, offers a jaw-dropping 8.9x increase in 3D rendering speeds and a 1.4x increase in video editing speed.*
How the ASUS Supernova System-on-Module design works
The numbers don't lie. The Supernova SoM design delivers substantial performance benefits for creative workflows like 3D rendering, even when compared to a laptop from the same generation with broadly similar hardware.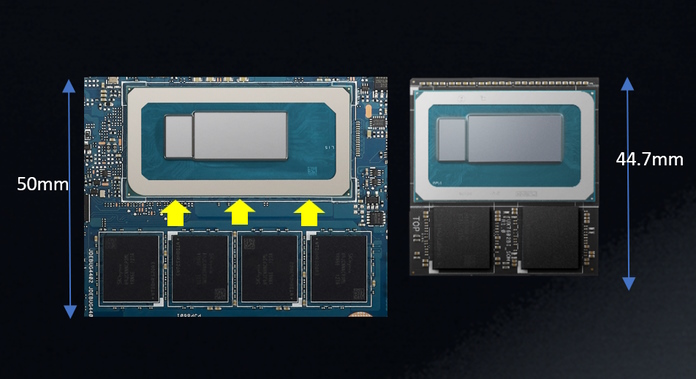 How does it work? First and foremost, the SoM design reduces the core area of the motherboard. Compared to the space required for the CPU socket and DRAM chips on our 2022 Zenbook Pro 16X OLED, the SoM module is 38% smaller.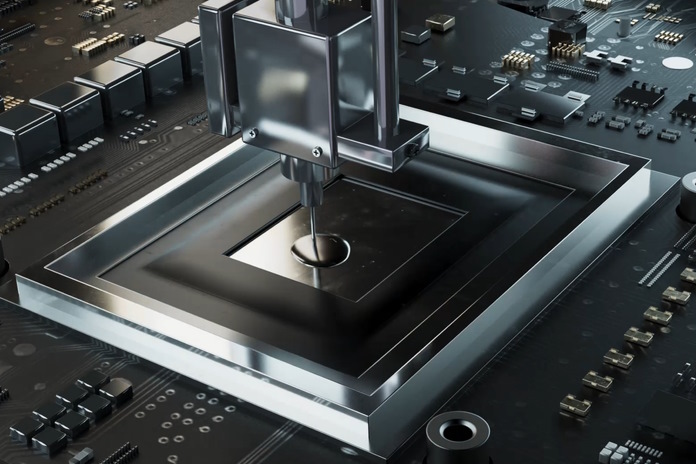 These compact dimensions have wide-ranging effects on the laptop's performance. The first is cooling. Since the core motherboard area is smaller, the wide-coverage 3D curved vapor chamber can move heat away from the CPU and nearby circuitry more efficiently. On top of that, liquid metal thermal compound, painted through an automated process on the surface of the CPU, keeps the chip up to 7° C cooler than traditional pastes.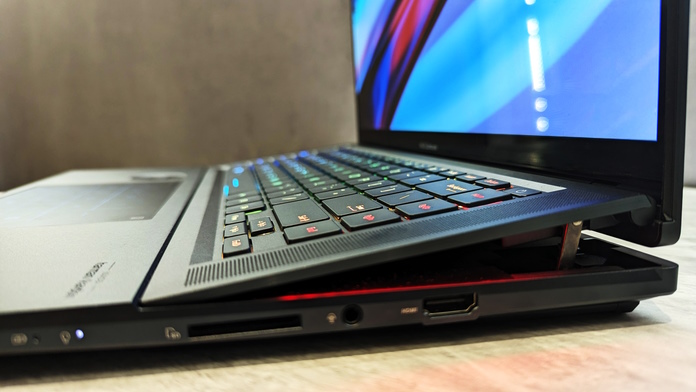 All this would add up to an effective cooling solution on its own, but we take it to the next level with our innovative Active Aerodynamic System (AAS) Ultra mechanism. As you open the lid of the laptop, the display hinge raises the rear of the keyboard by up to 14.5mm. Not only does this position the keyboard at a more ergonomic angle for typing and point its speakers more directly at your ears for better audio, but it also opens wide vents to improve airflow by 30%.
Blazing-fast memory speeds
In addition to excellent cooling, the ASUS Supernova System-on-Module design gives you exceptional memory performance. In the 2023 Zenbook Pro 16X OLED, we offer up to 32GB of LPDDR5X RAM. This speedy memory delivers faster data access and copious bandwidth for responsive experiences in memory-sensitive creative workflows.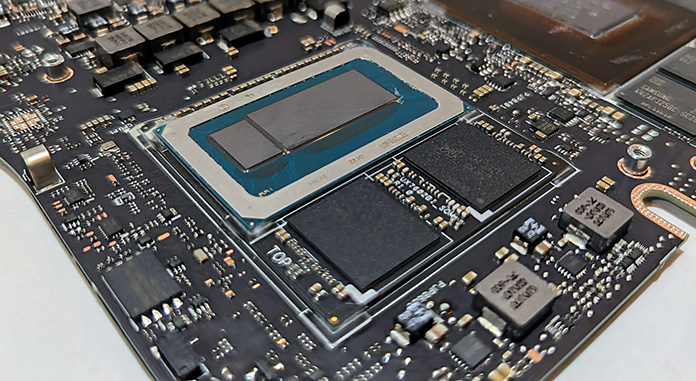 The SoM design allows us to do more than simply offer next-gen memory. We're able to overclock it. Thanks to the shorter physical length between the memory chips and CPU, as well as the low-loss substrate like PCB, this tech allows the memory frequency to reach 7500MHz for supreme performance in creative apps.
Making room
In the tight confines of a laptop chassis, any space that we save by making one element more compact is space that we can use to bolster another element. Since the Supernova SoM design reduces the size of the motherboard core area, it gave us more room for discrete GPU power components.
We took advantage of that space to bolster the GPU's TGP from 70W up to 110W. The increased TGP lets us outfit our 2023 Zenbook Pro 16X OLED models with higher-tier laptop GPUs from NVIDIA's 40 Series lineup. Considering that this laptop boasts a 45W Intel 13th Gen CPU, it offers you a 155W TDP in Performance mode, putting this machine in elite company indeed.
A complete creative workstation that travels
The ASUS Supernova System-on-Module design allows the Zenbook Pro 16X OLED to offer incredible performance for creative workloads. But that's just the start of what this versatile machine has to offer.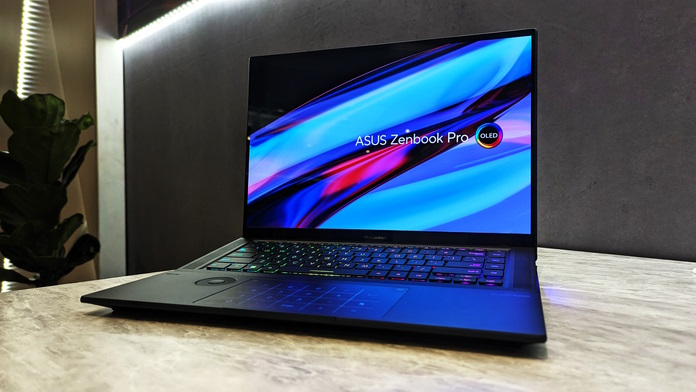 The Zenbook Pro 16X OLED's premium display serves the needs of a wide range of creative professionals with its Pantone Validated colors, perfect blacks, and dazzling contrast. It offers vivid per-key WhiteRGB backlighting so that you never have to hunt for a key, even in a dim studio. For ease of use, we increased the size of the haptic touchpad by 84%, ensuring that it'll always be in reach and that you can do more with each swipe of your finger. For quick access to your most commonly used functions in creative apps, we embedded the ASUS Dial into the palm rest of the laptop. This fully customizable rotary tool works seamlessly with apps like Adobe Premiere Pro, Photoshop, After Effects, and Lightroom Classic to give you quick shortcuts to the tools you use most.
For creators who need a workstation replete with power, elegance, and portable, the Zenbook Pro 16X OLED stands apart. Click here to learn more about this powerful and versatile laptop. For more information about the pricing and availability of the Zenbook Pro 16X OLED in your region, please contact your local ASUS representative.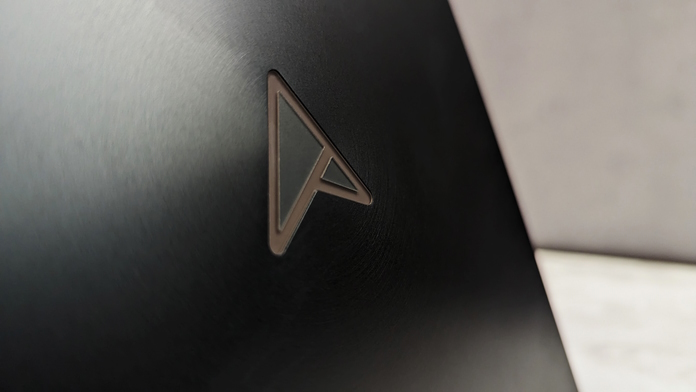 * Performance claim is based on Blender and Adobe Premiere Pro Auto Reframe benchmark, comparing the score of Zenbook Pro 16X UX7602ZM tested by ASUS in Dec,2022 (configured with an Intel Core i9-12900H CPU, 32GB LPDDR5, and 1TB PCIe 4.0 SSD) to Zenbook Pro 16X UX7602VI (with an Intel Core i9-13900H CPU, 32GB LPDDR5x, and 2TB PCIe 4.0 SDD), and Zenbook Pro 16X UX7602BZ (Intel Core i9-13905H CPU,32GB LPDDR5x, and 2TB PCIe 4.0 SSD). Test settings: select Performance mode under Fan profile in MyASUS, and idle the laptop for 10mins prior to running the benchmark under AC mode.