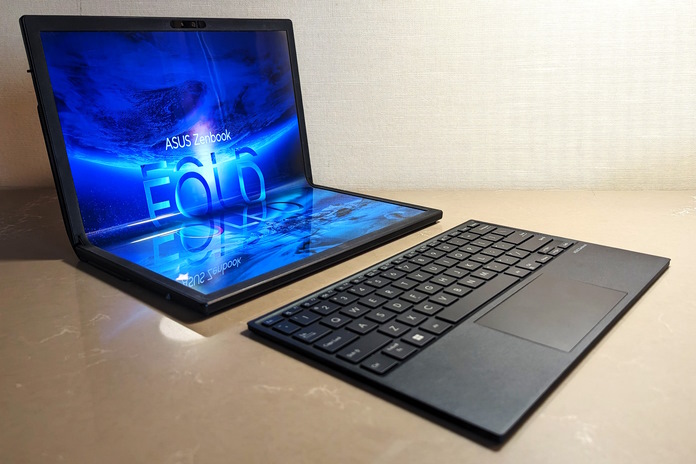 Recently, some coworkers asked if I'd join them in Las Vegas for the yearly Consumer Electronics Show (CES) to help showcase our new product lineup to customers and media.  The choice wasn't hard: stay home in damp and dreary Pennsylvania, or spend a few nights out on the town in Nevada's most famous desert oasis? I booked that flight right away. Since this trip happened during a busy season of the year for me, I needed to bring along tech that would keep me productive at every step of the way. I knew exactly which laptop I wanted for the occasion: the Zenbook 17 Fold OLED.
This laptop is so versatile that I almost don't want to call it a laptop, and that versatility proved invaluable on the trip. At various stages of the journey, I needed the portability of a laptop, the convenience of a tablet, and the multitasking power of a desktop. I could have lugged along three separate devices for these different scenarios, but the Zenbook 17 Fold OLED let me get away with only packing one. With its folding display and detachable, wireless keyboard, this laptop gave me exactly what I needed for every moment.
Easy productivity at 36,000 feet
Like many other professionals who travel for work, my first requirement for an everyday laptop is portability. Gigantic 18" displays are undeniably fun for gaming, but when I'm prepping for a presentation from an airplane seat, I need a more compact device.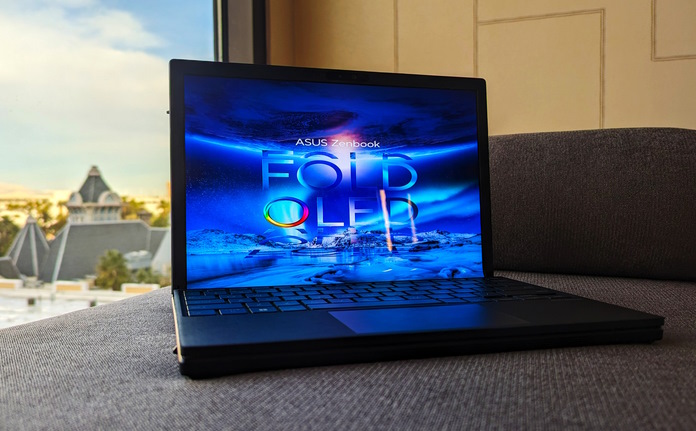 In its laptop mode, that's exactly what I get with the Zenbook 17 Fold OLED. The included ASUS ErgoSense Bluetooth keyboard snaps into place on the bottom half of the device and the display settings automatically adjust to give me a 12.5-inch laptop that fits anywhere. In moments when I was doing more browsing and reading than typing, I sometimes tucked away the keyboard to take advantage of both sides of the folding display, all without increasing the profile of the laptop. Since the display is a touchscreen, I could open apps and files with a tap of my finger and use the virtual onscreen keyboard anytime I needed to enter text.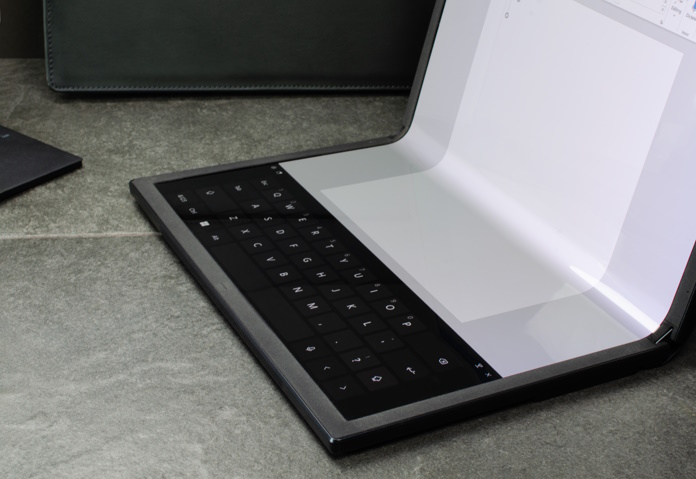 The Zenbook 17 Fold OLED's premium display gave me the perfect viewing experience for every moment of the journey. In an airplane during the wee hours of the morning, it kept colors vibrant and text perfectly clear even as I turned the brightness way down so as not to disturb nearby passengers trying to sleep. As I kept working in an airport terminal during a layover, I needed the exact opposite: a screen bright enough to combat the natural light flooding in through large floor-to-ceiling windows. With its 500-nit peak HDR brightness and exceptional contrast, the Zenbook 17 Fold OLED's display is an ideal choice for working in brightly lit environments like that airport lobby — or my backyard patio at home. Click here to learn why your next laptop should have an OLED display.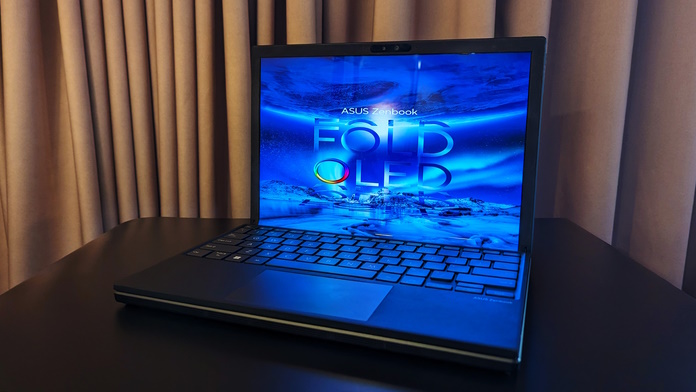 The substantial 75Wh battery in the Zenbook 17 Fold OLED kept me productive throughout the journey. Using the device primarily in laptop mode with most of my apps set to dark mode (I eagerly await a world where apps load in dark mode by default), the Zenbook 17 Fold OLED lasted well over 10 hours before it needed a quick recharge through one of its USB Type-C ports. Its battery life does vary depending on scenario, as it obviously consumes more power when its full screen is lit up than when I'm only using half in laptop mode. However, in the usage mode that makes the most sense for me when I'm away from an outlet, the battery more than kept up with my needs.
The laptop that turns into a desktop
Of course, there are plenty of thin-and-light laptops on the market capable of keeping me productive on long flights. All our latest Zenbooks bring effortless performance and elegant style in ultraportable designs. But with all due respect to those sophisticated machines, none of them can pull an Optimus Prime and transform at a moment's notice from a compact laptop to a desktop with a spacious 17-inch display. For the moment, that capability is the sole province of the Zenbook 17 Fold OLED.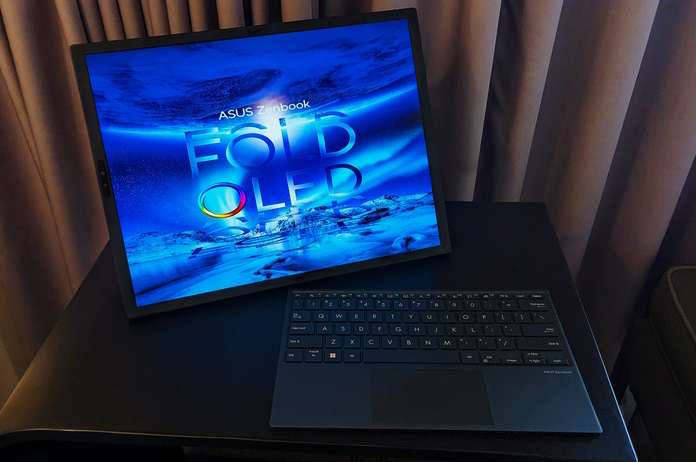 It's no mere parlor trick, either. I never failed to turn heads when I unfolded the laptop's display in public, but it's an eye-catching feature with real productivity benefits. Fully unfolded, this device offers 17.3 inches of OLED goodness in an extra-tall 4:3 aspect ratio, perfect for multitasking with two open windows. There just isn't another 12.5-inch laptop on the market that can make the same claim.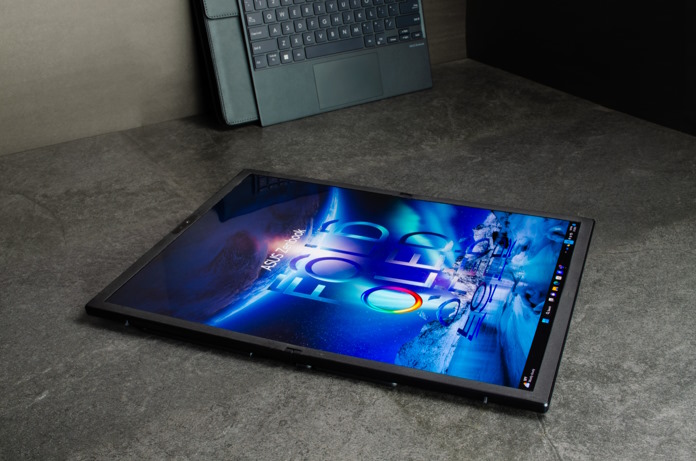 When I arrived in Las Vegas and checked in to my hotel room, I was able to quickly deploy the Zenbook 17 Fold OLED into desktop mode. The sturdy hinge includes a built-in kickstand, and the wireless ErgoSense keyboard is held in place with magnets, so unfolding the device, propping it up with the kickstand, and arranging the keyboard only took moments. With the multitasking prowess of the large display speeding up my work, I was able to quickly get my work done so that I could enjoy a little fun on the town before calling it a day.
A host of modern conveniences
The Zenbook 17 Fold OLED's versatility and conveniences begin with its folding display and detachable keyboard, but they extend far beyond those headlining features. Its HD infrared camera with AdaptiveLock and the new Intel Visual Sensing Controller not only lets me log into Windows with a glance, it also senses when I move away from the laptop and locks it for security. To preserve battery life, it also dims the screen when I look away.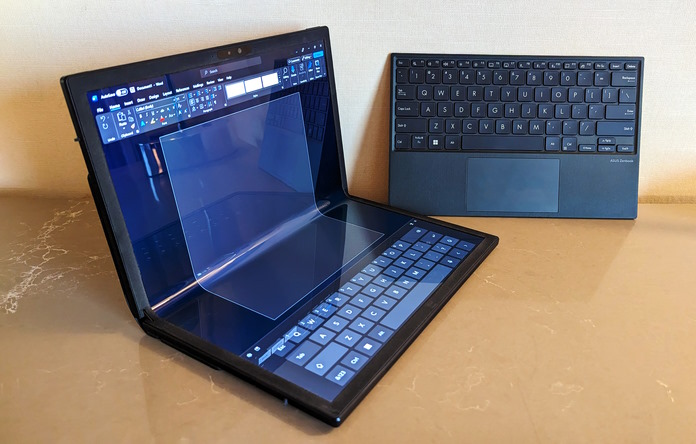 The Zenbook 17 Fold OLED is set up for hassle-free teleconferencing, too. The 5-megapixel AI camera uses ASUS 3DNR technology to make sure that I look my best during video calls, while the quad-microphone array with AI noise-canceling tech ensures that I can hear and be heard clearly.
Versatile next-gen connectivity makes everyday computing effortless. The Zenbook 17 Fold OLED offers two Thunderbolt 4 ports that are ready for anything. Either one will charge the laptop or recharge a connected device like my smartphone. They're wired to connect a high-resolution external display, and they let me connect my favorite peripherals and high-speed storage devices. And with WiFi 6E, I can enjoy premium, interference-free wireless networking with a compatible WiFi 6E router.
The Zenbook 17 Fold OLED delivers road-ready performance
Fully opened, the Zenbook 17 Fold OLED looks a lot like a large tablet. Yet this machine boasts hardware far beyond what I'd get with most any tablet on the market. An Intel Core i7-1250U CPU runs the show alongside 16GB of LPDDR5 RAM and a spacious 1TB PCIe 4.0 SSD. These components offer a compelling blend of snappy performance and multitasking power, and they more than kept up with me as navigated large spreadsheets, juggled far too many browser windows, edited photos, and kept tabs on email and the office chat. With such efficient components, the Zenbook 17 Fold OLED's cooling solution can run under the radar. I can't remember a single moment throughout the business trip when I even heard the laptop's fans spin up.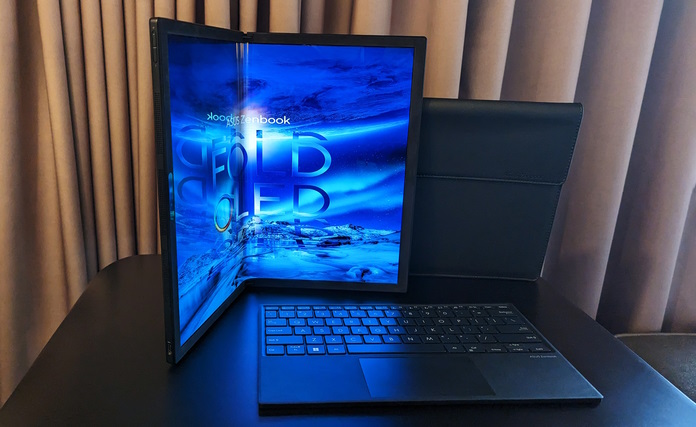 In addition to a great Windows 11 experience, the Zenbook 17 Fold OLED stands head and shoulders above other tablets with its folding display. While I was interacting with customers in our showroom and answering questions about our new products, the Zenbook 17 Fold OLED was a convenient way to keep an eye on my reference materials. With the display lightly folded into reader mode, the device fit easily in my hands while letting me view two documents or apps simultaneously.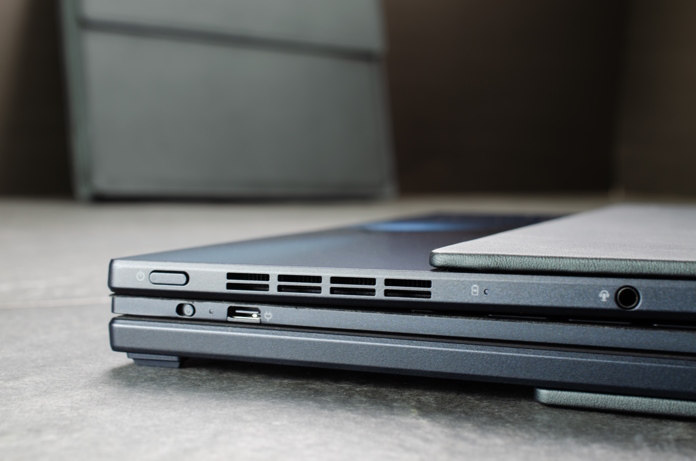 When it came time to tuck the Zenbook 17 Fold OLED away in my backpack, I once again admired how much versatility it packs into such a compact frame. Other laptops and tablets are thinner, to be sure, due to the necessary thickness of the folding display design, but when this device is folded up and tucked inside its included leather carrying case, it's just about the size of a hardcover novel. For me, the ability to deploy the Zenbook 17 Fold OLED as a desktop or tablet is more than worth the tradeoff of a little extra thickness.
Zenbook 17 Fold OLED
Model
UX9702
CPU
Intel Core i7-1250U
Display
2560x1920 Foldable OLED touchscreen 100% DCI-P3
GPU
Intel® Iris Xe Graphics
Memory
16GB LPDDR5 onboard
Storage
1TB NVMe SSD
Wireless
Wi-Fi 6E
Bluetooth® 5.2
Camera
5 MP camera
HD IR camera
I/O
2x Thunderbolt™ 4 USB-C®
1x audio combo jack
Battery
75Wh
Dimensions
Unfolded: 378.5 x 287.6 x 8.7~11.7 mm
Folded: 287.6 x 189.3 x 17.4~31.9 mm
Weight
Without keyboard: 1.6~1.7 kg
With keyboard: 1.99 kg
OS
Windows 11 Pro
Windows 11 Home
Availability (U.S.)
ASUS
Newegg
Adorama
B&H
Availability (CA)
ASUS
Newegg
Amazon
CDW
One device, limitless possibilities
Over the years, I've gotten used to having different devices for different tasks. I fire up my desktop PC when I want top-tier performance and wide connectivity. If I want to hang out on the couch and watch a show, play mobile games, or browse the web, I'll pick up my tablet. And when I need to get things done while I'm traveling or away from my home office, I'll bring along my thin-and-light laptop.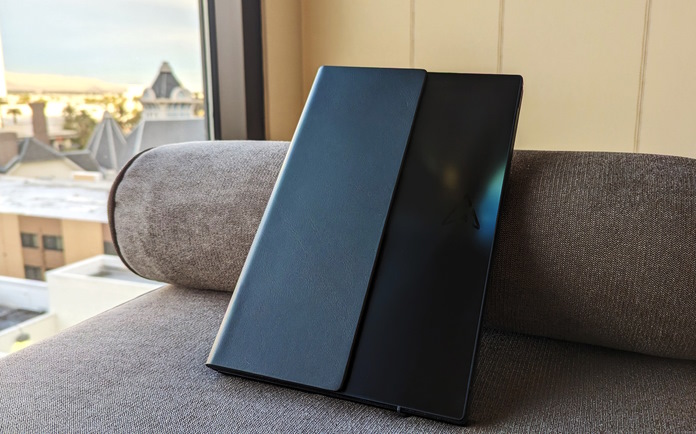 The Zenbook 17 Fold OLED disentangled my life of many devices by giving me a desktop, a laptop, and tablet all in one machine. I can't overstate how much it streamlined my work trip to Las Vegas. It let me stay productive to and from the event, while also giving me a true desktop PC experience in my hotel room and the portable convenience of a tablet on the showroom floor.
If you're tired of juggling multiple devices and are ready for a laptop that can be so much more than a laptop, there's no better option than the Zenbook 17 Fold OLED. With its versatile design and cutting-edge folding display, it offers an experience that's only limited by your imagination. Purchase one today to see how it can unfold the incredible in your own life.